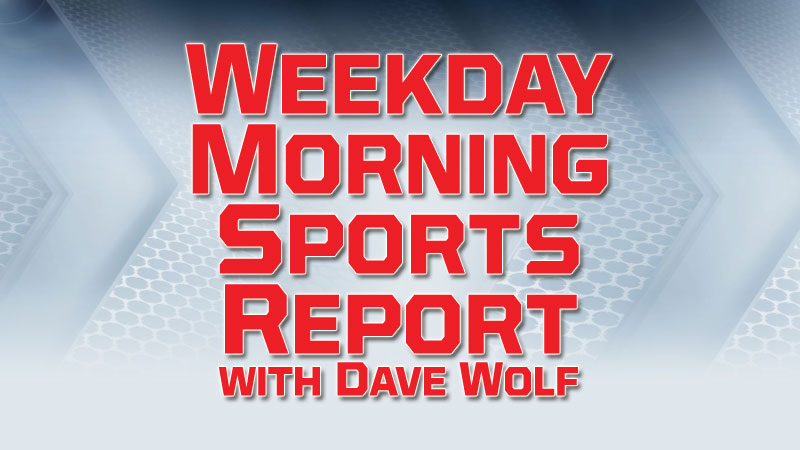 MHSAAFB – St. Joseph names Pratley as new head football coach
The next head coach for the St. Joseph Bears football team has been named.   Andrew Pratley, who previously was the head coach and Holland High School becomes the 18th head coach in St. Joseph football's 104 year history.   Pratley led the Dutch to a 17-38 record in his six seasons at the helm at Holland from 2013-2018, including a 2017 playoff appearance.  Pratley has also been a head coach at West Branch Ogemaw Heights from 2004-2012, while there he was 60-37 with seven appearances in the playoffs, taking the Falcons to the semifinals in 2009.  Pratley will serve as the West coach in the upcoming MHSFCA East West All-Star Game. He was the MHSFCA Coach of the Year for the 2017 season as well National High School Football Coaches Association Coach of the Year that same season.  Pratley made his decision known that he was stepping down at Holland high school via a post to the Holland Football Facebook Group.  "While I certainly was not looking to leave, one opportunity was just too good to pass up. This process, and ultimately this decision, was extremely difficult, but one that we feel is best for our family. I will forever be #hpsproud of my time in Holland. With that said I have accepted the Head Football position at St. Joseph High School as the new head football coach."    The Bears open up the regular season on Thursday, August 29th at Battle Creek Central.
NCAAMBB – Men's College Basketball
Last Night
Wake Forest 75, Notre Dame 68
Eastern Michigan 76, Toledo 69
Central Michigan 84, Kent State 74
Wake Forest 75, Notre Dame 68 – Childress' hot hand helps Wake Forest down Irish, 75-68
Wake Forest coach Danny Manning was surprised by a few things in his team's 75-68 victory at Notre Dame, but one of them wasn't the comeback made by his junior guard Brandon Childress. After going 0-for-12 from the floor, including 0-of-8 from beyond the 3-point line, in Saturday's 95-57 loss at home to North Carolina, Childress scored 20 points in what Manning called his best performance of the season for the Demon Deacons (10-15, 3-10 Atlantic Coast Conference).  In a game that featured runs and droughts by both teams, as you might expect from a pair of teams tied for 11th in the ACC, the Demon Deacons used a 9-2 run in the final three minutes to pull away from the Fighting Irish (13-13, 3-10).  Olivier Sarr had 14 points on 6-of-8 shooting and Jaylen Hoard scored 10, including a layup with 2:41 left that broke a 66-66 tie and ended a 9-0 run by the Irish after Wake Forest had taken a 66-57 lead on two Torry Johnson free throws with 5:45 remaining. Manning said after his team ended a two-game losing streak and won for only the second time in its last nine games. T.J. Gibbs scored a game-high 23 points on 8-of-12 shooting but had only six after halftime for Notre Dame, which lost its second straight. John Mooney had 16 points and nine rebounds and Prentiss Hubb added 11 with nine assists for the Fighting Irish.
EMU 76, Toledo 69 – Minnie scores 23 to carry E. Michigan over Toledo 76-69
Arike Ogunbowale scored 22 Elijah Minnie had 23 points as Eastern Michigan beat Toledo 76-69 on Tuesday night.  Minnie made 4 of 6 3-pointers. He added nine rebounds.  Paul Jackson had 19 points and five steals for Eastern Michigan (12-14, 6-7 Mid-American Conference). James Thompson IV added 14 points and three blocks.
CMU 84, Kent State 74 – Roundtree leads Cent. Michigan over Kent St. 84-74
Shawn Roundtree had 20 points as Central Michigan beat Kent State 84-74 on Tuesday night. Rob Montgomery had 19 points and eight rebounds for Central Michigan (18-8, 7-6 Mid-American Conference), which earned its fourth straight home victory. Larry Austin Jr. added 17 points and 11 assists. Kevin McKay had 12 points, nine rebounds and four blocks for the home team.  Philip Whittington had 18 points for the Golden Flashes (19-7, 8-5). Jaylin Walker added 14 points and seven rebounds. Antonio Williams had 13 points.
Tonight
Rutgers at (10) Michigan State, 6:30 p.m.      Superhits 103.7 Cosy-FM 5:30
NHL – National Hockey League
Tonight
Chicago Blackhawks at Detroit Red Wings, 7:30 p.m.
MLB – Padres reported to land Machado
Manny Machado finally has a contract.  The All-Star infielder has agreed to a 10-year, $300 million deal with the San Diego Padres, the biggest contract for a free agent and the second-largest ever. Only Giancarlo Stanton's $325 contract is bigger.  That word comes from a person familiar with the negotiations, who told the Associated Press that the agreement was subject to a successful physical. The person also says Machado can opt out after five years and become a free agent again.  Machado is expected to fill the team's gaping need at third base. He began last year with Baltimore, was traded to the Los Angeles Dodgers after the All-Star break and struck out to end the World Series loss to Boston.
NCAAWBB – Women's College Basketball
Last Night
Kent State at Western Michigan, 7:00 p.m.
Central Michigan at Bowling Green, 7:00 p.m.
Akron at Eastern Michigan, 7:00 p.m.
NFL – Brown meets with Steelers president
Pittsburgh Steelers wide receiver Antonio Brown has ended his lengthy standoff with the team by meeting with the team's president, Art Rooney II.  Brown, who has asked to be traded, posted a picture on social media that showed him arm in arm with Rooney in Florida. Brown said he and Rooney "cleared the air" and that both sides agreed "it is time to move on." Brown still has three years remaining on the $72 million contract he signed in the spring of 2017, and remains one of the most dynamic performers in the league. Yet his relationship with the team has deteriorated over the past several months.
Gymnastics – USA Gymnastics hires NBA exec as new CEO
USA Gymnastics is turning to NBA executive Li Li Leung to help turn the embattled program around. The organization named Leung as its new president and chief executive officer as it fights to retain its status as the national governing body for the sport after the Larry Nassar sexual abuse scandal. Leung served as vice president of global partnerships for the NBA. She arrives as USA Gymnastics attempts to fend off decertification from the United States Olympic Committee.
IndyCar – IndyCar to debut cockpit protection in Indianapolis 500
IndyCar will require its cars to have titanium debris deflectors on the cockpit beginning with this year's Indianapolis 500. The device been dubbed "Advanced Frontal Protection" will be introduced during an April 24 test session at Indianapolis Motor Speedway. It will officially debut when practice begins the next month for the Indianapolis 500 and is expected to be used for the remainder of the season. The 3-inch tall, 0.750-inch wide titanium piece replaces the windscreen unit tested last year. The part is made by Dallara and is designed to deflect debris away from the driver. It will be positioned in front of the cockpit, along the chassis centerline. Justin Wilson was killed in 2015 when a piece of debris from another car struck him in the head. IndyCar has been seriously looking at cockpit protection since Dan Wheldon's fatal 2011 crash but advanced technology made AFP practical for use this season.
AHL – American Hockey League
Tonight
Rockford Ice Hogs at Grand Rapids Griffins, 7:00 p.m.
ECHL – ECHL Hockey
Tonight
Kalamazoo Wings at Cincinnati Cyclones, 7:35 p.m.
Toledo Walleye at Kansas City Mavericks, 8:05 p.m.
MCCAA – Junior College Sports
Tonight
Women's Basketball
Grand Rapids Community College at Lake Michigan College, 5:30 p.m.          106.1 & 1400 WSJM Sports
Men's Basketball
Grand Rapids Community College at Lake Michigan College, 7:30 p.m.          106.1 & 1400 WSJM Sports
MHSAA – High School Sports
Last Night
Boys Basketball
St. Joseph 43, Berrien Springs 29
Devon Frenchko scored 17 points in helping lead St. Joe to a 43-29 win at Berrien Springs.  The Bears scored the game's first eight points and never trailed.  The Shamrocks kept it close, pulling to within two in the third quarter, but couldn't manage to take control.  St. Joe ended the game outscoring the Shamrocks 11-4 in the fourth quarter.  The win lifts the Bears to 7-12 on the season.  With the loss, Berrien Springs' six game winning streak comes to an end as they fall to 10-9.
Lakeshore 57, Portage Central 45
Lakeshore got a game high 20 points from Micah Seats in a 57-45 win over Portage Central. Ben Brower added 10 points for the Lancers, who improve to 12-5 and 7-2 in the SMAC West Division. 
South Haven 66, Watervliet 53
South Haven had a strong first and third quarter, pacing them to a 66 to 53 non-conference win over Watervliet last night.  The Rams' junior guard Brenden Williamson led all scorers with 29 points and teammate Zander Russell knocked down 16 in the win.  The Panthers' freshman guard Andrew Chisek netted 21 in the losing cause. 
Bridgman 65, Lake Michigan Catholic 38
Battle Creek Lakeview 58, Niles 42
Buchanan 62, New Buffalo 50
Mattawan 58, Kalamazoo Loy Norrix 38
Portage Northern 63, Gull Lake 51
Allegan 66, Gobles 51
Vicksburg 55, Comstock 34
Howardsville Christian 94, Covert 12
Cassopolis 85, Centreville 62
Decatur 70, Eau Claire 45
Hartford 66, Bloomingdale 51
Marcellus 58, Mendon 29
White Pigeon 68, Bangor 59
Schoolcraft 45, Constantine 41
Kalamazoo Christian 68, Galesburg-Augusta 25
Kalamazoo Hackett 75, Lawton 42
Wyoming Potters House 49, Martin 33
North Muskegon 68, Saugatuck 33
Wyoming Tri-Unity 67, Fennville 36
Girls Basketball
Edwardsburg 51, St. Joseph 31
Edwardsburg jumped out to a 17-2 lead after the first quarter and went on to beat St. Joseph 51-31.  Kaitlyn Zarycki led the undefeated Eddies with 24 points, Abbbey Krugh added 11.  Alex Malone had 10 points to lead St. Joe, who had their 7 game winning streak snapped.
Michigan Lutheran 34, Parchment 28
Michigan Lutheran improved to 13-2 on the season after a 34-28 win over Parchment.   The Titans were led by a game high 13 points from Mara Rugen.  Abby Harris added 10 for the Titans.
Portage Central 55, Lakeshore 20
Benton Harbor 37, Buchanan 33
Mattawan 42, Kalamazoo Loy Norrix 19
Battle Creek Lakeview 52, Niles 40
South Haven 49, Coloma 35
Otsego 62, Comstock 50
Gobles 53, Allegan 32
White Pigeon 35, Bangor 33
Bloomingdale 36, Hartford 32
Centreville 69, Cassopolis 38
Decatur 47, Eau Claire 15
Mendon 51, Marcellus 12
Kalamazoo Hackett 59, Lawton 33
Saugatuck 61, North Muskegon 38
Schoolcraft 72, Constantine 35
Martin 52, Wyoming Potters House 29
Fennville 49, Wyoming Tri-Unity 47 – OT
Tonight
Boys Basketball
Edwardsburg at Niles, 6:30 p.m.
River Valley at Brandywine, 7:30 p.m.
White Pigeon at Cassopolis, 7:30 p.m.
Eau Claire at Hartford, 7:30 p.m.
Coloma at Schoolcraft, 7:00 p.m.
Mattawan at Battle Creek Lakeview, 7:15 p.m.
Girls Basketball
Wyoming Godwin Heights at Benton Harbor, 7:00 p.m.
Gobles at Berrien Springs, 7:15 p.m.
Harper Creek at Battle Creek Central, 7:15 p.m.
Battle Creek Lakeview at Mattawan, 7:15 p.m.
River Valley at Brandywine, 6:00 p.m.
Hartford at Eau Claire, 7:00 p.m.
Cassopolis at White Pigeon, 7:30 p.m.
Schoolcraft at Coloma, 7:00 p.m.
Delton-Kellogg at Martin, 6:30 p.m.