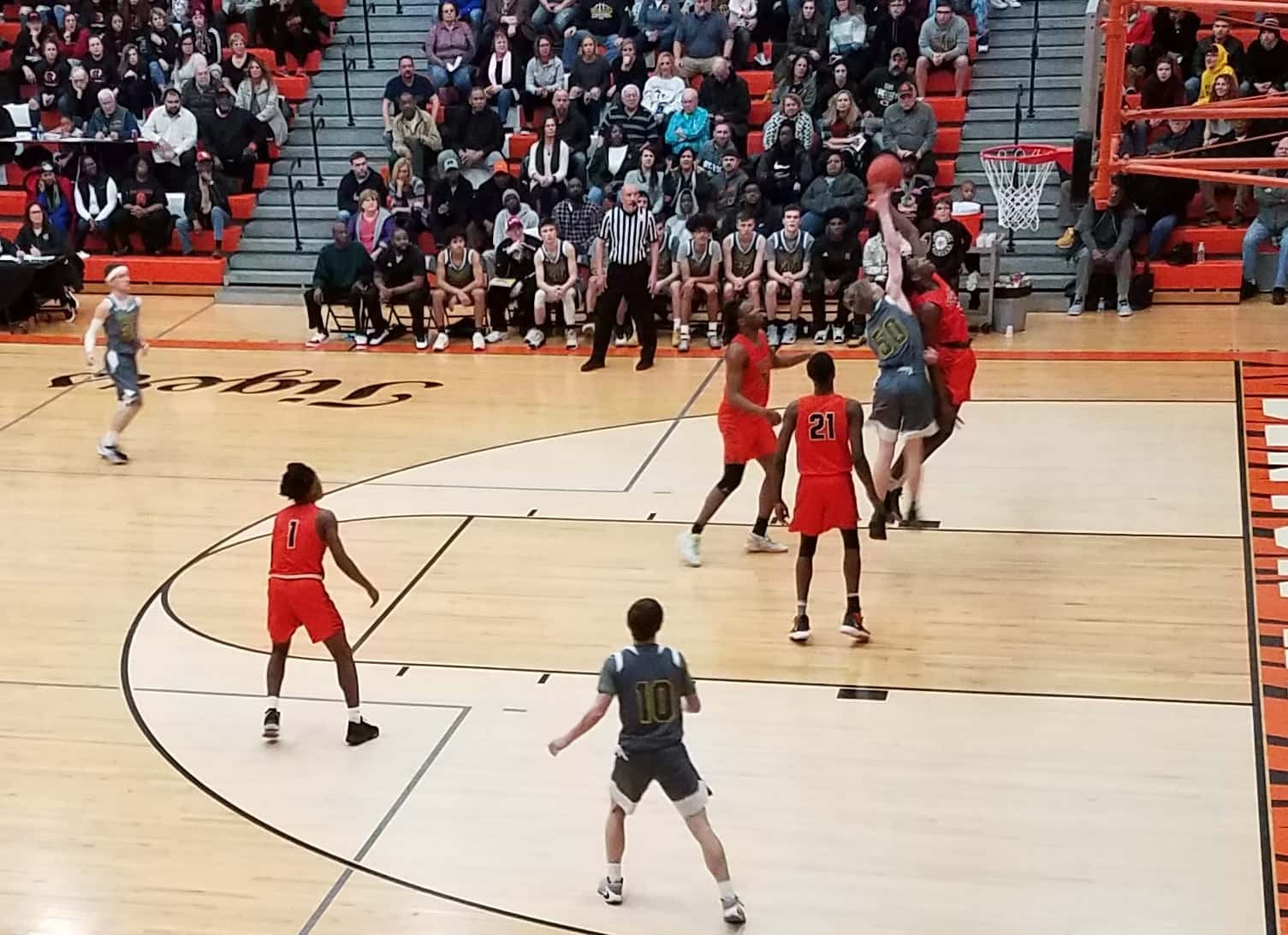 NCAAFB – Colorado's Tucker to take MSU job
Multiple media outlets are reporting overnight, Michigan State University has hired University of Colorado Head Coach Mel Tucker as the Spartans replacement to Mark Dantonio. The 48 year old Tucker and MSU reached a deal early this morning.  Tucker went 5-7 in his first year as a college head coach last year.  He was also the Interim Head Coach of the Jacksonville Jaguars in 2011, where he was 2-3.  Tucker was a member of the staff at Ohio State which included Mark Dantionio and Luke Fickell, who turned down the job earlier this week. No details on the Tucker's deal with Michigan State were released.  On Saturday, Tucker, on Twitter, announced his intention that he would stay at Colorado.
NCAAMBB – Men's College Basketball
Last Night
Michigan State 70, (22) Illinois 69
Virginia 50, Notre Dame 49 – OT
Eastern Michigan 73, Central Michigan 70
Ohio 73, Western Michigan 61
Michigan State 70, (22) Illinois 69 – Dosunmu hurt after Spartans' late dunk; No. 22 Illini fall
Star guard Ayo Dosunmu crumbled to the floor clutching his left knee after Michigan State's Xavier Tillman threw down a huge dunk late that lifted the Spartans over No. 22 Illinois 70-69. The severity of Dosunmu's injury wasn't immediately made available. The Illini's leading scorer had 17 points Tuesday and is averaging 15.8 per game. Rocket Watts led the Spartans with 21 points, and Tillman had 17. Aaron Henry and Cassius Winston added 13 and 12, respectively. Andres Feliz scored 15 points and Kofi Cockburn added 11 for Illinois (16-8, 8-5). 
UVA 50, ND 49 – OT – Key's FT lifts Virginia past Notre Dame, 50-49, in OT
Braxton Key made a free thow with 2:04 left in overtime and Virginia held off Notre Dame on a rough shooting night for both teams, 50-49. Mamadi Diakite scored 20 points for the Cavaliers. His basket with 2:51 left in regulation eventually forced the overtime. Jay Huff added eight points and nine rebounds. Prentiss Hubb scored 12 and John Mooney had 11 points and 14 rebounds for the Fighting Irish. Their four-game winnng streak ended. The Irish had a chance to win, but Rex Pflueger's 3-pointer from in front of the Notre Dame bench in the final seconds missed.
EMU 73, CMU 70 – Groce leads E. Michigan over Cent. Michigan 73-70
Ty Groce scored 22 points and grabbed 12 rebounds for his first career double-double and Eastern Michigan snapped its seven-game road losing streak by holding off Central Michigan 73-70. Boubacar Toure scored 20 points with 13 rebounds for the Eagles (13-11, 3-8 Mid-American Conference), who trailed 35-28 at halftime. Thomas Binelli had 15 points with three steals and Noah Morgan scored 14 points. David DiLeo scored 24 points and Broadway tied his career high with 17 points for the Chippewas (13-10, 6-4), who made 14 of 29 3-pointers (44%), led by DiLeo's 6 of 13. Winston scored 10 points with seven rebounds and four assists.
Ohio 73, WMU 61 – Preston scores 21 to lift Ohio over Western Michigan 73-61
Jason Preston had 21 points and 11 rebounds as Ohio defeated Western Michigan 73-61. Ben Vander Plas added 19 points and nine rebounds for Ohio. Jordan Dartis had 15 points and six steals. Michael Flowers had 21 points to lead Western Michigan. Rafael Cruz Jr. added 10 points for the Broncos.
Tonight
Michigan at Northwestern, 9:00 p.m.             106.1 & 1400 WSJM Sports 8:30
NCAAWBB – Women's College Basketball
Tonight
Eastern Michigan at Bowling Green, 7:00 p.m.
Buffalo at Western Michigan, 7:00 p.m.
NBA – National Basketball Association
Last Night
Washington Wizards 126, Chicago Bulls 114
Wizards 126, Bulls 114 – Beal scores 30, Wizards beat Bulls 126-114
Bradley Beal scored 30 points, and the Washington Wizards held off Zach LaVine and the Chicago Bulls for a 126-114 win. Rui Hachimura added 20 points for Washington, which won for the fourth time in six games. Shabazz Napier and Ian Mahinmi had 15 apiece. LaVine scored 19 of his 41 points in the fourth quarter as the Bulls whittled an 18-point deficit down to six points.
Tonight
Detroit Pistons at Orlando Magic, 7:00 p.m.
Milwaukee Bucks at Indiana Pacers, 7:30 p.m.
NHL – National Hockey League
Last Night
Buffalo Sabres 3, Detroit Red Wings 2
Edmonton Oilers 5, Chicago Blackhawks 3
Sabres 3, Red Wings 2 – Reinhart scores go-ahead goal in Sabres 3-2 win over Detroit
Sam Reinhart jammed in a loose puck for the go-ahead goal 57 seconds into the third period in the Buffalo Sabres 3-2 win over the Detroit Red Wings. The Red Wings avoided a major scare in the first period, when forward Brendan Perlini sustained a deep cut just below his right eye after being struck in the face by the skate of Henri Jokiharju. Coach Jeff Blashill said Perlini has been cleared to travel with the team after requiring stitches to close a deep gash across his cheek and nose. Marcus Johansson had a goal and assist and Conor Sheary also scored in a game the Sabres overcame two one-goal deficits. Detroit's Darren Helm scored twice and Anthony Mantha had two assists after missing 20 games with a rib injury and punctured lung. 
Oilers 5, Blackhawks 3 – Draisaitl, Yamamoto lead Oilers past slumping Blackhawks 5-3
Leon Draisaitl had a goal and three assists, Kailer Yamamoto scored twice and the Edmonton Oilers won without captain Connor McDavid in the lineup, defeating the Chicago Blackhawks 5-3. Riley Sheahan and Ryan Nugent-Hopkins also scored for the Oilers, who will be without McDavid for two to three weeks because of a left quadriceps injury. Brandon Saad, Jonathan Toews and Adam Boqvist had the goals for the Blackhawks, who have lost four in a row.
Tonight
Chicago Blackhawks at Vancouver Canucks, 10:30 p.m.
NHL – Red Wings Perlini cleared to travel after cut across face
Detroit Red Wings forward Brendan Perlini has been cleared to travel with the team after requiring stitches to close a deep gash that coach Jeff Blashill says just missed the player's right eye. Blashill provided the update following a 3-2 loss at Buffalo. Perlini was cut after being struck in the face by the skate of Sabres defenseman Henri Jokiharju. Blashill says the skate cut Perlini across his right cheek and nose. The collision occurred late in the opening period along the boards in the neutral zone. Jokiharju collided with Perlini, who was playing the puck. As the two fell, Jokiharju's skate flew back and knocked off Perlin's helmet before appearing to hit him across the right cheek.
NHL – Bouwmeester alert following collapse, Ducks-Blues postponed
The St. Louis Blues are monitoring the health of one of their veteran players. Defenseman Jay Bouwmeester had a cardiac episode during a play stoppage in the first period of the Blues' game against the Ducks in Anaheim. Bouwmeester appeared to be awake and alert as he was being transported out of the arena to a hospital. St. Louis' radio announcer Chris Kerber said during an interview with the team's flagship station that a defibrillator was used. The 36-year-old appeared to be grabbing a drink of water when he began to slowly fall. Emergency medical personnel rushed to the Blues bench before Bouwmeester was taken off the bench. Both teams then went back to their locker rooms and the game was postponed a few minutes later tied at 1. Bouwmeester is in his 17th NHL season and eighth with the Blues. He was a key member of their Stanley Cup-winning team last season.
MHSAA – High School Athletics
Last Night
Boys Basketball
SMAC
St. Joseph 58, Battle Creek Lakeview 56
Gull Lake 58, Niles 40
Kalamazoo Central 62, Mattawan 29
Portage Central 75, Loy Norrix 35
Battle Creek Central 50, Portage Northern 49
Non-Conference
Benton Harbor 80, Coloma 55
Buchanan 67, Watervliet 45
Brandywine 65, Constantine 59
Gobles 44, Comstock 26
Grand Rapids Covenant Christian 73, Fennville 56
Wolverine
South Haven 67, Vicksburg 49
Dowagiac 62, Allegan 42
Plainwell 39, Edwardsburg 37
Otsego 59, Sturgis 48
Three Rivers 74, Paw Paw 57
BCS
Countryside Academy 48, Michigan Lutheran 46
Howardsville Christian 69, Lake Michigan Catholic 34
New Buffalo 69, Covert 15
Southwest 10
Eau Claire 68, Mendon 49
Hartford 54, Bangor 47
Centreville 60, Bloomingdale 37
Cassopolis 67, Decatur 37
Marcellus 61, White Pigeon 49
SAC
Kalamazoo Christian 60, Delton Kellogg 47
Schoolcraft 52, Kalamazoo Hackett 30
Lawton 61, Galesburg-Augusta 31
Girls Basketball
SMAC
St. Joseph 39, Battle Creek Lakeview 36
Gull Lake 55, Niles 49
Kalamazoo Central 42, Mattawan 35
Portage Central 41, Loy Norrix 20
Battle Creek Central 90, Portage Northern 17
Non-Conference
Coloma 36, Benton Harbor 27
Lakeshore 40, Bridgman 20
Brandywine 57, Constantine 42
Gobles 26, Comstock 24
Martin 59, Zion Christian 33
Battle Creek Pennfield 67, Parchment 37
Wolverine
Vicksburg 49, South Haven 35
Allegan 56, Dowagiac 26
Edwardsburg 63, Plainwell 28
Otsego 47, Sturgis 37
Three Rivers 65, Paw Paw 21
BCS
Michigan Lutheran 57, Countryside Academy 7
Lake Michigan Catholic 59, Howardsville Christian 17
New Buffalo 52, Covert 11
River Valley 50, Lawrence 25
Southwest 10
Hartford 35, Bangor 32
Centreville 58, Bloomingdale 53
Decatur 50, Cassopolis 12
White Pigeon 40, Marcellus 39
Eau Claire at Mendon, Cancelled
SAC
Delton-Kellogg 48, Kalamazoo Christian 31
Schoolcraft 41, Kalamazoo Hackett 32
Galesburg-Augusta 33, Lawton 16
Tonight
Wrestling – Team Districts
Division 2 at Niles
Edwardsburg vs. Coldwater, 6:00 p.m.
Niles vs. Sturgis, 6:00 p.m.
Championship, 7:30 p.m.
Division 2 at Allegan
Mattawan vs. Allegan, 6:00 p.m.
Plainwell vs. Otsego, 6:00 p.m.
Championship, 7:30 p.m.
Division 3 at Brandywine
Buchanan vs. Brandywine, 6:00 p.m.
Berrien Springs vs. Dowagiac, 6:00 p.m.
Championship, 7:30 p.m.
Division 3 at Three Rivers
Paw Paw vs. Constantine 6:00 p.m.
Three Rivers (bye)
Championship, 7:30 p.m.
Division 4 at Decatur
Lawrence vs. Hartford, 6:00 p.m.
Decatur vs. Bangor, 6:00 p.m.
Championship, 7:30 p.m.