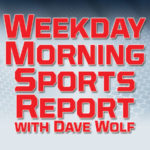 MLB – Major League Baseball
Yesterday
Chicago Cubs 7, Milwaukee Brewers 2 – 11 Innings
Cleveland Indians 4, Chicago White Sox 0
Tigers were off
Cubs 7, Brewers 2 – Cubs back in 1st, beat Brewers 7-2 in 11 innings
Anthony Rizzo homered down the right-field line on the first pitch of a five-run 11th inning to help the Chicago Cubs beat the Milwaukee Brewers 7-2 on Monday night and jump into first place in the NL Central.  Rizzo turned on a fastball down the middle from Matt Albers (3-2) for a towering shot that snapped a 2-all tie. The Cubs scored four more runs in the inning with two outs, including a two-run double by Jason Heyward.  Trailing 2-1 most of the night, the Cubs scored six times over the last four innings against the Brewers' normally lights-out bullpen. Chicago took a half-game lead in the division and won its seventh straight over Milwaukee. Randy Rosario (3-0) retired all six batters he faced for the win.
Indians 4, White Sox 0 – Carrasco strikes out 11, Indians beat White Sox 4-0
Carlos Carrasco struck out 11 while pitching two-hit ball over seven innings, and the Cleveland Indians beat the Chicago White Sox 4-0 on Monday night. Michael Brantley hit his 11th homer and the AL Central leaders took advantage of another wild outing by Lucas Giolito to win for the fifth time in six games. They improved to 4-0 against Chicago. Carrasco (8-4) gave up singles to Kevan Smith and Charlie Tilson in the second before striking out Adam Engel to end the threat. The right-hander issued just one walk, giving him a total of two to go with 21 strikeouts while winning his
past two starts. Three relievers combined to work the final two innings, with Neil Ramirez retiring all three batters in the ninth to complete the two-hitter.
Tonight
Minnesota (Odorizzi 3-3) at Detroit (Hardy 2-1), 7:10 p.m.     WSJM Sports/Cosy-FM 6:45
Cleveland (Plutko 3-0) at Chicago White Sox (Shields 1-7), 8:10 p.m.
Chicago Cubs (Chatwood 3-4) at Milwaukee (Anderson 4-5), 8:10 p.m.
MLB – White Sox OF Avisail Garcia set to start rehab assignment
White Sox outfielder Avisail Garcia is set to start a minor league rehab assignment as he works his way back from a strained right hamstring. General manager Rick Hahn says the 2017 All-Star will begin rehab with Triple-A Charlotte on Tuesday and will need at least seven to 10 days before he is activated. Garcia has not played since April 23. He is batting .233 with four RBIs in 18 games after hitting .330 and driving in 80 runs a year ago. Hahn also says outfielder Leury Garcia (sprained left knee) is just about ready to go on a rehab assignment, though the Sox don't have a start date.
MLB – Zimmerman goes 5 plus innings in rehab start at West Michigan.
Detroit Tigers starting pitcher Jordan Zimmerman pitched 5 1/3 innings, allowing 7 hits, and 1 earned run for the West Michigan Whitecaps in a rehab start as he looks to return from a shoulder injury.  The Whitecaps lost to the South Bend Cubs 6-3.  Zimmerman making his third minor league rehab start is expected to return to the Tigers rotation this weekend when Detroit travels to Chicago for a three game series at the White Sox.  Zimmerman allowed a single run in the first inning for the only score he gave up.  He struck out 6, and of his 89 pitches, 60 were for strikes. 
MLB – Supreme Court won't get involved in Wrigley Field dispute
The Supreme Court is leaving in place a court decision dismissing a lawsuit filed against the Chicago Cubs by the owners of rooftop clubs adjacent to Wrigley Field. Skybox on Sheffield and Lakeview Baseball Club sued the Cubs in 2015, arguing in part that a right-field video board the team was adding would block their views of the ballpark and violate terms of a 2004 revenue-sharing agreement. A federal judge dismissed the case. Judge Virginia Kendall said the board was allowed because the agreement allowed "any expansion of Wrigley Field approved by governmental authorities." A three-judge panel of the 7th Circuit U.S. Court of Appeals in September upheld the decision to dismiss the case. The Supreme Court declined Monday to hear the case, leaving the lower court decisions in place.
NBA – Pistons land ex-Raptors coach Dwane Casey with 5-year deal
The Detroit Pistons have hired Dwane Casey as their new coach.  Pistons owner Tom Gores announced the move Monday, calling Casey one of the most successful and respected coaches in the NBA. Casey was given a five-year deal to lead the Pistons, two people familiar with the situation told The Associated Press on condition of anonymity because the team didn't release the terms of the contract. Casey led Toronto to a team-record 59 wins this year and helped the franchise earn the top seed in the Eastern Conference for the first time. The NBA coach of the year finalist was fired by the Raptors shortly after they were swept by Cleveland. Michigan coach John Beilein and San Antonio assistant Ime Udoka were also candidates in Detroit.
NHL – Washington honors Stanley Cup-champion Capitals with parade
The Stanley Cup-champion Capitals will celebrate the city's first major four pro sports championship in 26 years with a parade down Constitution Avenue this morning. It's the first sports parade in Washington since the NFL's Redskins in 1992. Alex Ovechkin, Nicklas Backstrom and his teammates will travel from 17th to 7th on Constitution to a rally on the National Mall by the afternoon. They'll be joined by four F-16 Fighting Falcons from the D.C. Air National Guard who will perform a flyover about 25 minutes in. Season-ticket holders who have remained from the team's eight-win inaugural season in 1974-75, high school marching bands and the D.C. fire department pipes and drums will be among those participating in the parade.
WNBA – Women's National Basketball Association
Tonight
Las Vegas Aces at Indiana Fever, 7:00 p.m.
Chicago Sky at Seattle Storm, 10:00 p.m.
MWL – Midwest League Baseball
Yesterday
South Bend 6, West Michigan 3
Lansing 4, Fort Wayne 2
Great Lakes 7, Lake County 6
Tonight
Lansing at Lake County, 7:00 p.m.
Dayton at South Bend, 7:05 p.m.
West Michigan at Great Lakes, 7:05 p.m.
MHSAA – High School Sports
Yesterday
Baseball – Regionals
Division 4 at Decatur
Decatur 3, Kalamazoo Hackett 2 (semifinal)
Championship
Lake Michigan Catholic 3, Decatur 2
Lake Michigan Catholic captured the Division 4 Regional Baseball Championship Monday night with a 3-2 win over Decatur.  The Raiders opened the scoring with two runs in the top of the third inning.  Catholic got a run back in the bottom of the third to cut the lead to 2-1.  It remained 2-1 until the bottom of the sixth inning when Jack Howard scored the game tying run and Tommy Koenig scored the go ahead run to give the Lakers a 3-2 lead.  Decatur had no answer in the top of the seventh as Catholic went on to win its second straight Regional title and seventh in school history.  Sophomore Matt DeFay started for the Lakers and picked up the complete game win, allowing just two hits.  The Lakers advance to face Petersburg-Summerfield today at 4:30 at Battle Creek's Bailey Park in the State Quarterfinals.
Today
Baseball – Quarterfinals
Division 2 at Hope College
Lakeshore vs. Grand Rapids West Catholic, 5:00 p.m.
Division 4 at Bailey Park, Battle Creek
Lake Michigan Catholic vs. Petersburg-Summerfield, 4:30 p.m.
Softball – Quarterfinals
Division 2 at Hope College
South Haven vs. Spring Lake, 5:00 p.m.
Division 3 at Davenport University, Grand Rapids
Coloma vs. Stanton Central Montcalm, 3:30 p.m.