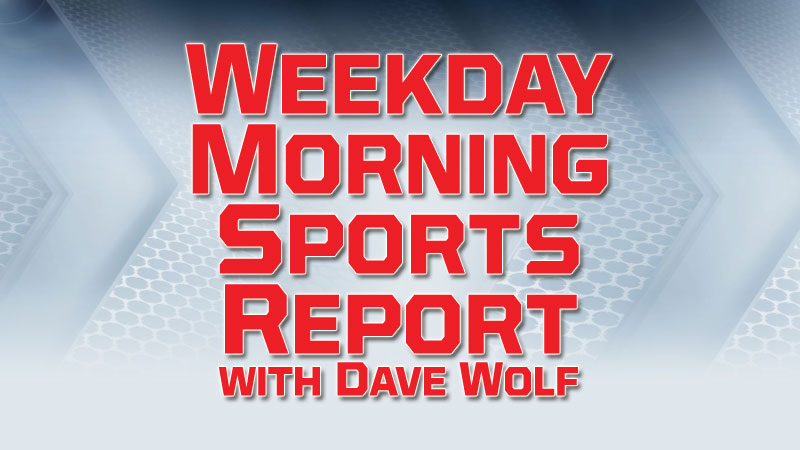 MLB – Major League Baseball
Yesterday
Chicago Cubs 7, Miami Marlins 2
Chicago White Sox 5, Kansas City Royals 4
Tigers are off
Cubs 7, Marlins 2 – Contreras homer, 3 RBIs help Cubs beat Marlins 7-2
Willson Contreras hit his sixth homer, drove in three and reached base four times, and the Chicago Cubs thawed out to beat the Miami Marlins 7-2 Monday night.  The temperature in Chicago was 33 when the Cubs' game Sunday against the Angels was snowed out, and it was 84 with the retractable roof open for the first pitch at Marlins Park.  Yu Darvish (1-2) struck out eight in a season-high 5 2/3 innings. He allowed two runs, lowering his ERA to 6.11. Three relievers completed the six-hitter.  Contreras walked to force in a run in the first, homered in the seventh and added an RBI single in the ninth. David Bote also drove in three.  The Cubs scored one run thanks to a replay reversal. Contreras was ruled out sliding into second on a two-out bases-loaded grounder to short in the fifth, but a review determined he beat the throw, allowing the runner on third to score and make it 5-2.  Chicago scored three times in the first, and Javier Baez drove in a run with a two-out bloop double in the fifth off Trevor Richards (0-2), who allowed five runs in 4 2/3 innings.
White Sox 5, Royals 4 – Castillo's homer lifts White Sox over Royals 5-4
Welington Castillo atoned for an error with a two-run homer in the eighth inning, and the Chicago White Sox rallied to beat the Kansas City Royals 5-4 on Monday night.  Castillo's poor throw on Billy Hamilton's steal in the seventh helped set up Whit Merrifield's tiebreaking sacrifice fly. But Castillo came up big after Tim Anderson led off the eighth with a double against Brad Boxberger (0-3), sending an opposite-field drive to right for his first homer of the season.  Manny Bañuelos (1-0) pitched three hitless innings for his first win since 2015, and Alex Colomé worked the ninth for his fourth save in four chances and No. 100 for his career.  Anderson had three hits and scored twice, lifting his average to a major league-leading .453.
Tonight
Pittsburgh (Musgrove 1-1) at Detroit (Boyd 1-1), 6:40 p.m.        WSJM Sports/Cosy-FM 6:15
Chicago Cubs (Quintana 1-1) at Miami (Lopez 1-2), 7:10 p.m.
Kansas City (Lopez 0-1) at Chicago White Sox (Lopez 0-2), 8:10 p.m.
NBA – National Basketball Association
Last Night
Philadelphia 76ers 145, Brooklyn Nets 123                                            (Series tied 1-1)
Los Angeles Clippers 135, Golden State Warriors 131                           (Series tied 1-1)
                                       
Tonight
Orlando Magic at Toronto Raptors, 8:00 p.m.                                        (ORL leads 1-0)
San Antonio Spurs at Denver Nuggets, 9:00 p.m.                                    (SAS leads 1-0)
Oklahoma City Thunder at Portland Trailblazers, 10:30 p.m.                 (POR leads 1-0)                   
NBA – Kings hire Luke Walton as coach
It didn't take Luke Walton very long to find another NBA head coaching job, and he's staying in his home state. Walton has been hired by the Sacramento Kings, just days after he and the Los Angeles Lakers parted ways following three losing seasons. He replaces Dave Joerger (YAY'-gur), who was let go after a 39-43 season that represents the team's best record in 13 years.  The 39-year-old Walton was dismissed by the Lakers on Friday after Los Angeles went 37-45. The former Golden State top assistant never led the Lakers to the playoffs, not even after the arrival of LeBron James last summer.
NHL – 2019 NHL Stanley Cup Playoffs – Round 1 (Best of 7)
Last Night
Toronto Maple Leafs 3, Boston Bruins 2                                                 (TOR leads 2-1)
Carolina Hurricanes 5, Washington Capitals 0                                       (WAS leads 2-1)
Nashville Predators 3, Dallas Stars 2                                                   (NSH leads 2-1)
Colorado Avalanche 6, Calgary Flames 2                                                (COL leads 2-1)
Tonight
Tampa Bay Lightning at Columbus Blue Jackets, 7:00 p.m.                       (CBJ leads 3-0)
New York Islanders at Pittsburgh Penguins, 7:30 p.m.                           (NYI leads 3-0)
Winnipeg Jets at St. Louis Blues, 9:30 p.m.                                             (STL leads 2-1)
San Jose Sharks at Vegas Golden Knights, 10:30 p.m.                            (VGK leads 2-1)
NCAAMBB – Zion going to NBA
The Duke Blue Devils have lost another freshman to the upcoming NBA draft. Zion Williamson has announced that he's leaving the Durham campus after one outstanding season in which he was named the AP national player of the year. The ACC player and rookie of the year tied teammate RJ Barrett for the conference lead in scoring at 22.6 points a game and also averaged 8.9 rebounds.
Williamson is widely projected as the first player taken in the draft. Barrett and Cam Reddish have also announced they are forgoing their final three years of college eligibility.
Cherono wears crown in Boston
Lawrence Cherono has won the Boston Marathon for the first time.  Cherono needed every bit of his speed to outkick two-time winner Lelisa Desisa in a sprint to the tape, passing him just steps away from the finish line to win the 123rd edition of the race in 2 hours, 7 minutes 57 seconds. Cherono had won marathons in Seville, Prague, Honolulu and twice in Amsterdam but never in a
major event before Monday. Worknesh Degefa broke away from defending champion Des Linden and the rest of the women's pack in the Framingham flats and ran alone for the last 20 miles to claim the women's race. Kenya's Edna Kiplagat was second, reducing a gap of more than two minutes to 42 seconds at the finish. Daniel Romanchuk, 20, became the youngest-ever men's wheelchair champion in Boston, finishing in 1:21:36 for the fastest time ever for an American. Manuela Schar won the women's wheelchair race for the second time.
Golf – Trump says Tiger Woods to get Presidential Medal of Freedom
President Donald Trump says he will present Tiger Woods with the Presidential Medal of Freedom. Woods won his fifth Masters title Sunday, overcoming personal and professional adversity to once more claim the green jacket.  Trump tweeted Monday that he spoke to Woods and congratulated him on "the great victory.'  Trump didn't say when a ceremony will be held. The medal is the nation's
highest honor for a civilian.
NFL – Giants kept Manning in dark about future and Beckham trade
Two-time Super Bowl MVP Eli Manning says the New York Giants kept him in the dark until recently about his future with the team. Manning also says the Giants didn't give him a warning about the trade of star receiver Odell Beckham Jr. to the Cleveland Browns.  Speaking as organized team activities started, the 38-year-old quarterback said the Giants informed him a month ago that he would be returning for a 16th season. In other areas, Manning expects the Giants to draft a quarterback as he enters the final year of his four-year, $84 million contract.
MWL – Midwest League Baseball
Yesterday
Lansing Lugnuts 6, West Michigan Whitecaps 2, 10 innings
South Bend Cubs 6, Great Lakes Loons 5
Tonight
Lansing Lugnuts at West Michigan Whitecaps, 6:35 p.m.
Great Lakes Loons at South Bend Cubs, 7:05 p.m.
MHSAA – High School Sports
Yesterday
Girls Soccer
St. Joseph 8, Battle Creek Lakeview 0
Lakeshore 8, Kalamazoo Central 0
Michigan Lutheran 8, Brandywine 0
Lake Michigan Catholic 4, Parchment 1
Berrien Springs 7, Buchanan 1
Bridgman 0, Dowagiac 0 – TIE
Sturgis 5, Niles 0
Portage Central 5, Mattawan 1
Hartford at South Haven, CCD
Coloma 3, Delton-Kellogg 3 – TIE
Otsego 8, Hastings 0
Portage Northern 8, Battle Creek Central 0
Baseball
Edwardsburg 13, St. Joseph 5 – Game 1
Edwardsburg 4, St. Joseph 3 – Game 2
Softball
Edwardsburg 3, St. Joseph 2 – Game 1
St. Joseph 6, Edwardsburg 3 – Game 2
Girls Tennis
Battle Creek Lakeview 8, Niles 0
Yesterday
Baseball
St. Joseph at Niles, 4:00 p.m. (DH)
Portage Northern at Lakeshore, 4:00 p.m. (DH)
Battle Creek Lakeview at Mattawan, 4:00 p.m. (DH)
New Buffalo at Michigan Lutheran, 4:30 p.m. (DH)
Lake Michigan Catholic at River Valley, 4:15 p.m. (DH)
Comstock at Buchanan, 4:15 p.m. (DH)
Bangor at Cassopolis, 4:30 p.m.
Softball
St. Joseph at Niles, 4:00 p.m. (DH)
Portage Northern at Lakeshore, 4:00 p.m. (DH)
Battle Creek Lakeview at Mattawan, 4:00 p.m. (DH)
New Buffalo at Michigan Lutheran, 4:30 p.m. (DH)
Lake Michigan Catholic at River Valley, 4:15 p.m. (DH)
Comstock at Buchanan, 4:15 p.m. (DH)
Bangor at Cassopolis, 4:30 p.m.
South Haven at Watervliet, 4:00 p.m.
Girls Tennis
Gull Lake at St. Joseph, 1:00 p.m.
Kalamazoo Loy Norrix at Lakeshore, 1:00 p.m.
Gull Lake at Lakeshore, 4:00 p.m.
Kalamazoo Loy Norrix at St. Joseph, 1:00 p.m.
Track and Field
St. Joseph at Portage Central, 4:00 p.m.
Portage Northern at Lakeshore, 4:00 p.m.
South Haven at Edwardsburg, 4:00 p.m.