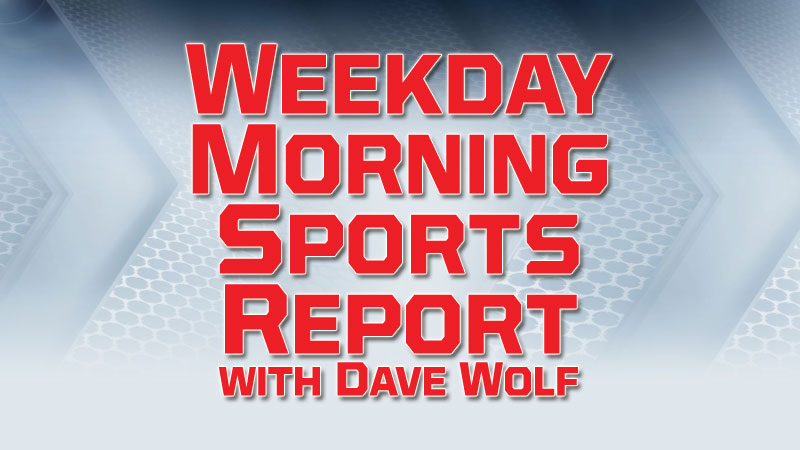 NBA – National Basketball Association
Last Night
Brooklyn Nets 103, Detroit Pistons 75
Nets 103, Pistons 75 – Nets rout Pistons 103-75 to move into No. 6 spot in East
Spencer Dinwiddie scored 19 points and Brooklyn held the Detroit Pistons to the lowest shooting percentage in an NBA game in 3 1/2 years, winning 103-75 to move into sixth place in the Eastern Conference.  The Nets (36-33) won their fourth straight and leapfrogged Detroit (34-32) into the No. 6 spot in their final game before leaving for a seven-game road trip.  The Pistons had their season-high, five-game winning streak snapped.  Andre Drummond led the Pistons with 13 points and 20 rebounds. Blake Griffin finished with 10 points, but only shot 1 of 10 from the field as Detroit was held to its lowest point total of the season.
Tonight
New York Knicks at Indiana Pacers, 7:00 p.m.
Los Angeles Lakers at Chicago Bulls, 8:00 p.m.
NHL – National Hockey League
Last Night
Chicago Blackhawks 7, Arizona Coyotes 1
Blackhawks 7, Coyotes 1 – Perlini gets hat trick as Blackhawks cool down Coyotes 7-1
Brendan Perlini's first career hat trick arrived at an opportune time for the desperate Chicago Blackhawks — and the 22-year-old forward.  Perlini scored three goals against his former team, and Chicago ripped the Arizona Coyotes 7-1 on Monday night for its third straight win.  Patrick Kane fired in his 41st goal as Chicago moved within five points of the second wild card in the Western Conference. Jonathan Toews, Brandon Saad and Chris Kunitz also scored, and Corey Crawford made 24 saves.  Perlini has six goals in his last five games and 11 for the season. He has clicked on a line with Dylan Strome, who joined him in a trade from Arizona on Nov. 25, 2018, for center Nick Schmaltz.  Perlini missed on a couple more prime chances before barely tapping in a sliding puck for his third goal with 3.6 seconds left.   Toews converted a penalty shot in the second period to reach 30 goals for the first time since the 2010-11 season and third time overall.
Tonight
Detroit Red Wings at Montreal Canadiens, 7:30 p.m.
NCAAMBB – Men's College Basketball
Last Night
Mid-American Conference Tournament – Round 1 – at Campus Sites
#5 Central Michigan 81, #12 Western Michigan 67
#11 Ball State 61, #6 Eastern Michigan 43
CMU 81, WMU 67 – Austin Jr. leads Cent. Michigan past W. Michigan 81-67
Larry Austin Jr. had 24 points and 13 rebounds as Central Michigan topped Western Michigan 81-67 in the first round of the Mid-American Conference Tourney on Monday night. Shawn Roundtree added 20 points for CMU. Roundtree also had six assistss.  David DiLeo had 14 points for Central Michigan (22-10). Seth Dugan had 29 points and 17 rebounds for the Broncos (8-24).
Ball State 61, EMU 43 – Defense shines as Ball St. beats E. Michigan 61-43
Tahjai Teague recorded 15 points as Ball St. topped Eastern Michigan 61-43 in the first round of the Mid-American Conference Tourney. Ishmael El-Amin added 12 points for the Cardinals, who held the Eagles to 29.4 percent shooting, the lowest mark of the season for a Ball St. opponent. Tayler Persons had 12 points and six rebounds for Ball St. (16-16).
Today
ACC Tournament – Round 1 – Spectrum Center, Charlotte, NC
#15 Notre Dame vs. #10 Georgia Tech, 2:00 p.m.
NCAAMBB – Ward expected back for MSU
No. 6 Michigan State expects standout forward Nick Ward to play in the Big Ten Tournament later this week. Coach Tom Izzo says he isn't sure how many minutes the 6-foot-9 junior will be able to play nearly a month after having surgery on his left hand. The top-seeded Spartans will face the winner of the Ohio State-Indiana in the conference quarterfinals. Ward is Michigan State's second-leading scorer and third-leading rebounder.
NCAAMBB – Gonzaga, Virginia, UNC remain 1-2-3 atop new AP poll
Gonzaga, Virginia and North Carolina remain 1-2-3 atop an otherwise reshuffled top 10 in the latest AP Top 25 men's college basketball poll.  The Zags sit on top for a third straight week, earning 41 of 64 first-place votes on Monday. The Cavaliers claimed the remaining 23 first-place votes.  Kentucky and Duke round out the top five and are followed by Michigan State, Texas Tech, Tennessee, LSU and Michigan.
NCAAWBB – Women's College Basketball
Last Night
Mid-American Conference Tournament – Round 1 – at Campus Sites
#9 Eastern Michigan 61, #8 Akron 58
#7 Northern Illinois 70, #10 Western Michigan 69
NCAAWBB – Baylor stays as unanimous No. 1 in AP women's hoops poll
Baylor maintained its spot as the unanimous No. 1 choice in The Associated Press women's basketball poll. The Lady Bears, who have been atop the rankings for seven weeks, received all 28 first-place votes from a national media panel. UConn, Notre Dame, Mississippi State and Louisville round out the first five. No. 8 Iowa has its highest ranking since 1996
MLB – MLB Spring Training
Yesterday
Detroit Tigers 3, Minnesota Twins 0
Milwaukee Brewers 8, Chicago White Sox 5
Today
Detroit Tigers vs. Boston Red Sox at Fort Myers, Fla., 1:05 p.m.
Seattle Mariners vs. Chicago White Sox (ss) at Glendale, Ariz., 4:05 p.m.
Chicago White Sox (ss) vs. Kansas City Royals at Surprise, Ariz., 4:05 p.m.
Cincinnati Reds (ss) vs. Chicago Cubs at Mesa, Ariz., 10:05 p.m.
NFL – Detroit Lions make splash in free agency
The Detroit Lions addressed needs on both sides of the ball while reuniting their coach and general manager with former New England Patriots  cornerback Justin Coleman and receiver Danny Amendola. A person familiar with the negotiations tells The Associated Press that Coleman agreed to a $36 million, four-year contract with the Lions. The Lions signed Amendola to a $5.75 million, one-year contract, taking advantage of his comfort level with men he knew from New England.
NFL – Chicago Bears re-sign TE Ben Braunecker to 2-year contract
The Chicago Bears have re-signed tight end Ben Braunecker to a two-year contract.  The 6-foot-4 Braunecker made three starts for the Bears last season, including the playoff loss to Philadelphia, and appeared in 16 games in all. In three seasons, he has seven catches for 83 yards. He has 11 tackles on special teams.  The undrafted free agent out of Harvard joined the Bears in 2016. Terms were not disclosed in Monday's announcement.
NCAAFB – Meyer heading to Fox TV
Urban Meyer is headed back to television. Fox announced that it has hired the former Ohio State coach as one of the analysts for the network's retooled college football pregame show. Fox also announced that it has hired Reggie Bush and will move Brady Quinn from the booth to the studio.
MCCAA – Junior College Sports
Today
Men's Baseball
Lake Michigan College at Glen Oaks Community College, 3:00 p.m.
MHSAA – Spring sports underway
Monday marked the opening of spring practice across the state of Michigan for the last season of the school year.   MHSAA allowed the first practice in Baseball, Softball, Boys Golf, Girls Soccer, Girls Tennis, and Track and Field.   The first events are scheduled for next Monday for Tennis and Golf, on March 20th for all other sports. 
MHSAA – High School Sports
Last Night
Girls Basketball – Regional Semifinals
Division 1 at Caledonia
Coldwater 71, East Lansing 68
DeWitt 54, Portage Central 29
Division 2 at Coloma
Plainwell 64, Benton Harbor 27
Johnae Poindexter had a game high 20 points but the season ended for Benton Harbor with a 64-27 loss to Plainwell in the Division 2 Regional Semifinal at Coloma High School.  Plainwell got 17 points from Vanessa Robinson, and had a 38-9 lead at halftime.
Hamilton 60, Edwardsburg 39
Division 3 at Bronson
Centreville 56, Delton-Kellogg 35
Brandywine 49, Kalamazoo Christian, 38
Division 4 at Mendon
Mendon 48, Martin 45 – OT
Fruitport Calvary Christian 45, Michigan Lutheran 22
Michigan Lutheran's season ended after a 45-22 loss to Fruitport Calvary Christian in the Division 4 regional semifinals at Mendon.  Titans leading scorer Mara Rugen was held to just 2 points, Belle Gallagher had 7 points to lead Michigan Lutheran, who wrap up the year at 18-3. Kelsey Richards scored a game high 13 points for Calvary Christian, who will face host Mendon for the regional final on Wednesday.
Tonight
Boys Basketball – Quarterfinals
Division 3 at Gull Lake
Cassopolis (23-1) vs. Pewamo-Westphalia (25-0), 7:00 p.m.