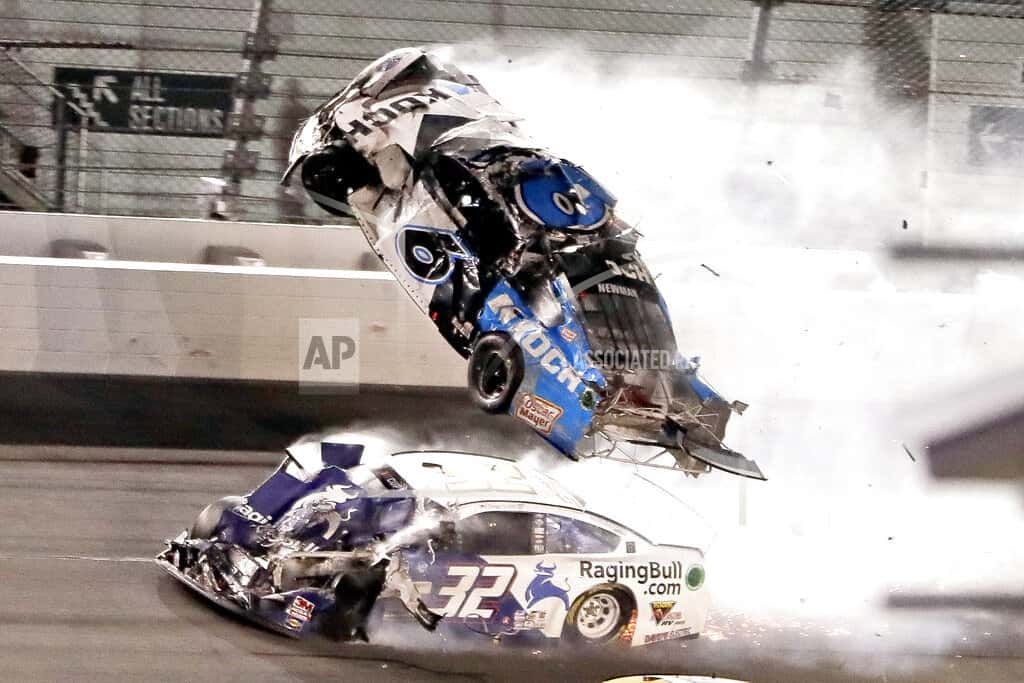 NASCAR – Hamlin wins; concern for Newman
There was celebration for Denny Hamlin and great concern for Ryan Newman at the end of the Daytona 500.  Hamlin is the first driver to win back-to-back Daytona 500s since Sterling Marlin in 1994 and '95. Hamlin joined six Hall of Fame drivers as winners of three or more Daytona 500s. This victory comes after just the second rain postponement in 62 years, a pair of red flag stoppages and two overtimes.  Hamlin's celebration quickly became muted as drivers awaited an update on Newman's condition following a crash at the end. Two hours after the race, NASCAR read a statement from Roush Fenway Racing that said Newman is in "serious condition, but doctors have indicated his injuries are not life threatening."  Newman had surged into the lead on the final lap when Ryan Blaney's bumper caught the back of his Ford and sent Newman hard right into the wall. His car flipped, rolled and was hit on the driver's side by Corey LaJoie's car before finally skidding across the finish line in flames.  It took several minutes for his car to be rolled back onto its wheels. The 2008 Daytona 500 winner was placed in a waiting ambulance and taken directly to a hospital, and the damage to his Mustang was extensive. It appeared the entire roll cage designed to protect his head had caved.  Newman's accident comes 19 years after Dale Earnhardt was killed on the last lap of the 2001 Daytona 500. Earnhardt was the last driver killed in a NASCAR Cup Series race.  The 0.014 margin of victory was the second closest in race history. Chris Buescher finished third, followed by David Ragan and Kevin Harvick.
NCAAMBB – Men's College Basketball
Last Night
Notre Dame 77, North Carolina 76
Notre Dame 77, North Carolina 76 – Notre Dame stages major comeback, beats North Carolina 77-76
Nate Laszewski swished a 3-pointer with 1.8 seconds to go as Notre Dame stormed back from a 15-point second-half deficit for a 77-76 victory over beleaguered North Carolina. Laszewski took a kick-out pass to the left wing off of Rex Pflueger's offensive rebound for the game-winner.
Tonight
Akron at Western Michigan, 7:00 p.m.
Central Michigan at Ohio, 7:00 p.m.
Kent State at Eastern Michigan, 7:00 p.m.
NCAAWBB – Women's College Basketball
Last Night
Michigan State 66, Minnesota 54
NHL – National Hockey League
Tonight
Montreal Canadiens at Detroit Red Wings, 7:30 p.m.
NBA – Beilein pondering future with Cavs
Cleveland Cavaliers head coach John Beilein has discussed with team officials the possibility of him stepping down before the end of the season.  ESPN.com first reported the possibility of Beilein leaving the team before the end of the season on Sunday night as the All-Star Game wrapped up in Chicago. The team is 14-40 amid reports that players have not been pleased with Beilein's coaching style, calling it simplistic with too much emphasis on fundamentals.  Beilein went 829-468 as a college coach. He won 428 games at Michigan, leading the Wolverines to nine NCAA tournament appearances and two Final Fours in his 12 seasons.  If Beilein does step down, associate head coach JB Bickerstaff would likely replace him.
NBA – All-Star Game ratings up
Ratings for the NBA All-Star Game were up 8% over last year, with an average of 7.3 million viewers watching Sunday night's broadcast on TNT. About 8 million viewers were tuned in for the end of the game, where LeBron James' team defeated Giannis Antetokounmpo's team 157-155 in the first target-score format in All-Star history. The fourth quarter was untimed and was broadcast commercial-free.
NCAAFB – Michigan State hires Kapilovic as offensive line coach
Michigan State is hiring Chris Kapilovic as its offensive line coach and running game coordinator. The school announced the move Monday night. Kapilovic filled those same roles last season at Colorado under new Michigan State coach Mel Tucker. The Spartans hired Tucker last week following Mark Dantonio's retirement. Tucker brings the 51-year-old Kapilovic with him to East Lansing. Tucker has also been an assistant at North Carolina, Southern Mississippi, Missouri State and Alabama State. He was the offensive coordinator at North Carolina before his brief stint at Colorado.
MLB – Cubs' Ricketts not convinced spending more would boost team
Cubs chairman Tom Ricketts isn't convinced bringing in more high-priced free agents during the offseason would have boosted Chicago. Star third baseman Kris Bryant said last weekend the Cubs have the financial ability to keep their All-Star core together. Ricketts insisted the $208 million luxury tax threshold isn't holding the Cubs back. Ricketts said that some of the flexibility the front office may have had coming into 2020 was used last season to added closer Craig Kimbrel for $43 million over three seasons.
AHL – American Hockey League
Tonight
Grand Rapids Griffins at Rockford IceHogs, 8:00 p.m.
ECHL – ECHL Hockey League
Last Night
Brampton Beast 4, Kalamazoo Wings 3
MHSAA – High School Athletics
Last Night
Boys Basketball
Brandywine 73, River Valley 41
Portage Central 64, Three Rivers 52
Girls Basketball
Buchanan 46, Benton Harbor 28
Brandywine 60, River Valley 17
Bridgman 36, Lake Michigan Catholic 26
Tonight
Boys Basketball
Lakeshore at Mishawaka-Marian (IN), 7:00 p.m. 106.1 & 1400 WSJM Sports    
Mishawaka at St. Joseph, 7:00 p.m.
Lake Michigan Catholic at Countryside, 7:00 p.m.
Michigan Lutheran at Kal. Heritage, 6:30 p.m.
Benton Harbor at Muskegon Heights, 7:00 p.m.
Niles at Edwardsburg, 7:15 p.m.
South Haven at Coloma, 7:00 p.m.
Berrien Springs at Dowagiac, 7:00 p.m.
Bridgman at Buchanan, 7:30 p.m.
Sturgis at Mattawan, 7:00 p.m.
Otsego at BC Lakeview, 7:15 p.m.
Kal. Loy Norrix at BC Central, 7:00 p.m.
Allegan at Gobles, 7:00 p.m.
Schoolcraft at Gull Lake, 7:00 p.m.
Portage Northern at Three Rivers, 7:00 p.m.
Kal. Christian at Plainwell, 7:15 p.m.
Parchment at Vicksburg, 7:15 p.m.
Comstock at Constantine, 6:30 p.m.
Bangor at Mendon, 7:30 p.m.
Cassopolis at Bloomingdale, 7:30 p.m.
Centreville at Decatur, 7:30 p.m.
White Pigeon at Eau Claire, 7:30 p.m.
Hartford at Marcellus, 7:30 p.m.
Watervliet at Lawton, 7:00 p.m.
Wyoming Tri-Unity at Fennville, 7:00 p.m.
Girls Basketball
Edwardsburg at Niles, 7:00 p.m.
BC Lakeview at Otsego, 7:15 p.m.
Three Rivers at Portage Central, 7:00 p.m.
Gull Lake at Sturgis, 6:30 p.m.
Kal. Loy Norrix at BC Central, 5:45 p.m.
Gobles at Allegan, 7;15 p.m.
Plainwell at Kal. Christian, 7:00 p.m.
Vicksburg at Parchment, 6:30 p.m.
Constantine at Comstock, 6:30 p.m.
Martin at Lawrence, 7:00 p.m.
Bloomingdale at Cassopolis, 7:30 p.m.
Decatur at Centreville, 6:00 p.m.
White Pigeon at Eau Claire, Cancelled
Marcellus at Hartford, 7:30 p.m.
Bangor at Mendon, 6:00 p.m.
Schoolcraft at Bronson, 7:00 p.m.
Wyoming Tri-Unity at Fennville, 5:30 p.m.
BC Calhoun Christian at Kal. Hackett, 6:00 p.m.
Watervliet at Lawton, 5:30 p.m.
Saugatuck at North Muskegon, 7:00 p.m.