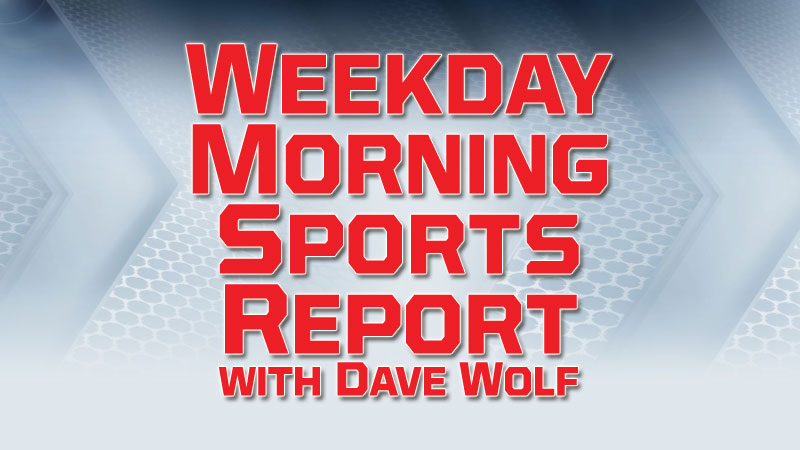 MLB – Major League Baseball
Yesterday
Detroit Tigers 3, Kansas City Royals 2
Chicago Cubs 10, Colorado Rockies 1
White Sox were off
Tigers 3, Royals 2 – Tigers edge Royals 3-2 before teams head to Omaha
Brandon Dixon broke an eighth-inning tie with a sacrifice fly that sent the Detroit Tigers past the Kansas City Royals 3-2 on Wednesday night.  Miguel Cabrera also had a sacrifice fly for the Tigers, and Ronny Rodriguez hit an RBI double.  Jorge Soler drove in both Royals runs but flied out with a runner on to end the game.  The teams now head to Omaha, Nebraska, to play the first Major League Baseball game in that state Thursday night as a prelude to the College World Series, which begins Saturday in the same ballpark — also home of Kansas City's Triple-A affiliate.  The Royals need a victory to win a series for the first time since April 12-14.  Nick Ramirez (3-0) pitched two scoreless innings to earn the win. Shane Greene worked the ninth for his 20th save in 21 chances.
Cubs 10, Rockies 1 – Hamels throws 7 scoreless, 4 batters hit as Cubs top Rockies
Cole Hamels struck out nine in seven scoreless innings, singled twice and drove in two runs to lead the Chicago Cubs past the Colorado Rockies 10-1 in a testy game on Wednesday.  Rockies All-Star third-baseman Nolan Arenado left in the fifth inning with a left forearm contusion after Hamels (6-2) hit him with a pitch in the third, and three more batters — including Hamels — were hit by pitches later in the game.  Chicago's Kris Bryant was hit by pitches three times in the first two games of the series. Javier Báez and Kyle Schwarber homered for Chicago, which snapped a five-game road losing streak. Colorado's 10-game home winning streak ended.  Chicago scored five times in the second off Antonio Sentenzela (5-5). Jason Heyward had a two-run single and Schwarber hit three-run homer to the second deck in right-center, his 14th.
Tonight
Detroit (Boyd 5-4) vs. Kansas City (Bailey 4-6), 8:05 p.m. (at Omaha, Neb) WSJM Sports/Cosy-FM 7:40
N.Y. Yankees (Happ 6-3) at Chicago White Sox (Nova 3-5), 8:10 p.m.
Chicago Cubs (Lester 5-4) at L.A. Dodgers (Kershaw 5-1), 10:10 p.m.
NHL – 2019 NHL Stanley Cup Final (best of 7)
Last Night
St. Louis Blues 4, Boston Bruins 1                                                         (STL wins 4-3)
Blues 4, Bruins 1 – Arch Madness: Blues win 1st Stanley Cup, beating Bruins 4-1
Ryan O'Reilly scored for the fourth straight game and rookie Jordan Binnington stopped 32 shots in Game 7 of the Stanley Cup Final on Wednesday night to lead the St. Louis Blues to a 4-1 victory over the Boston Bruins and their first NHL championship.  Alex Pietrangelo added a goal and an assist and Brayden Schenn and Zach Sanford also scored for St. Louis. The Blues woke up on New Year's morning with the worst record in the league but won 30 of their final 49 regular-season games and soared through the playoffs to reach the final for the first time since 1970.  Coach Craig Berube, who took over when Mike Yeo was fired in November, is the fourth coach in the past 11 years hired in midseason to lead his team to the NHL title.  Matt Grzelcyk scored the Bruins' only goal, and Tuukka Rask stopped 16 shots for Boston. O'Reilly also walked away with the Conn Smythe Trophy as the MVP of the playoffs.
NBA – 2019 NBA Finals (best of 7)
Tonight
Toronto Raptors at Golden State Warriors, 9:00 p.m.                           (TOR leads 3-2)
NBA – Durant confirms Achilles surgery
Kevin Durant has ended the suspense concerning the injury he suffered during Game 5 of the NBA Finals on Monday. The Golden State Warriors All-Star forward has confirmed that he has undergone surgery for a ruptured right Achilles tendon. Durant got hurt about two minutes into the second quarter after scoring 11 points in just 12 minutes. Durant posted on social media Wednesday the severity of his injury. He was in action for the first time since suffering a strained right calf during Game 5 of the Western Conference semifinals against the Rockets.
NFL – Chicago Bears waive kicker Chris Blewitt
The Chicago Bears have waived Chris Blewitt, leaving them with two kickers as they try to replace Cody Parkey.  Blewitt left Pittsburgh as the school's career scoring leader with 363 points after making 55 of 79 field goals and 198 of 204 extra points from 2013-16. But he has not played in the NFL.  The Bears announced the move on Wednesday. Elliott Fry and Eddy Pineiro remain on the roster. Neither has kicked in an NFL game. The Bears let Parkey go after one rough season that ended with a missed field goal off the left upright and crossbar in a wild-card loss to Philadelphia at Soldier Field. Chicago won the NFC North at 12-4 last year.
Nassar – Nassar's ex-boss at MSU not guilty of sexual misconduct
A former dean who had oversight of now-imprisoned sports doctor Larry Nassar at Michigan State University has been found guilty of neglect of duty but acquitted on a more serious criminal sexual conduct charge. William Strampel was also convicted Wednesday of misconduct in office. The 71-year-old Strampel was the dean of the College of Osteopathic Medicine and had been accused of abusing his power to sexually harass female students.
NCAA – More Ohio State alumni sue school over abuse by team doctor
More Ohio State alumni are suing the university over how school officials dealt with a team doctor who an investigation concluded had sexually abused at least 177 young men between 1979 and 1997. The federal case filed Wednesday by 16 alumni is the fifth pending lawsuit alleging university officials knew of concerns about Richard Strauss but didn't do enough to stop him. Strauss died in 2005. Ohio State has argued in earlier suits that such claims are time-barred by law but says it's not dismissing the accusers and their experiences. A judge directed the earlier lawsuits to mediation. Attorney Rocky Ratliff says the newest plaintiffs waited to sue until a law firm investigating for the university released its findings about Strauss. Ratliff says that report bolsters his clients' claims.
FIFA – 2019 Women's World Cup – France
Yesterday
Nigeria 2, South Korea 0
Germany 1, Spain 0
France 2, Norway 1
Today
Australia vs. Brazil, 12:00 p.m.
South Africa vs. China, 3:00 p.m.
MWL – Midwest League Baseball
Yesterday
Great Lakes 5, Lake County 0
Lansing 6, South Bend 4 – Game 1
South Bend 6, Lansing 2 – Game 2
Dayton 5, West Michigan 2
Tonight
Great Lakes at Lake County, 7:00 p.m.
West Michigan at Dayton, 7:00 p.m.
Lansing at South Bend, 7:05 p.m.
MHSAA – High School Sports
Yesterday
Girls Soccer – Semifinals
Division 4 at Comstock Park
Kalamazoo Christian 1, North Muskegon 0
Today
Baseball – Semifinals
Division 1 at Michigan State University
Portage Northern vs. Birmingham Brother Rice, 11:30 a.m.
Softball – Semifinals
Division 2 at Michigan State Universit