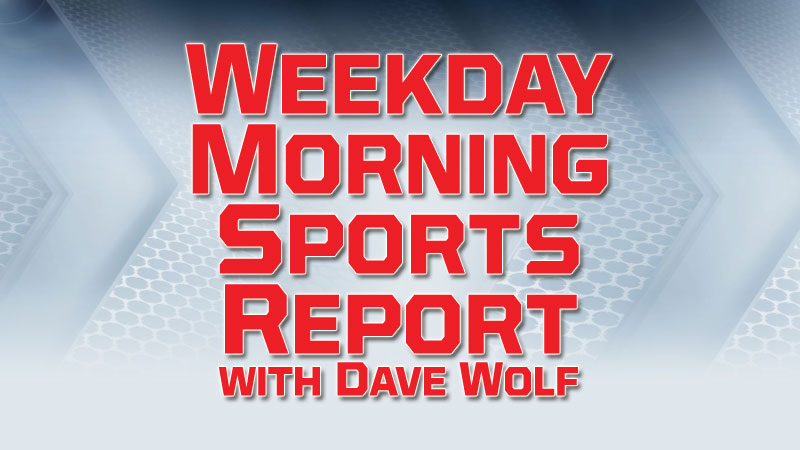 106.1 & 1400 WSJM Sports     @wsjmsports     wsjmsports.com     Thursday, May 09, 2019
MLB – Major League Baseball
Yesterday
Detroit Tigers 10, Los Angeles Angels 3
Cleveland Indians 5, Chicago White Sox 3
Chicago Cubs 3, Miami Marlins 2 – 11 Innings
Tigers 10, Angels 3 – Rodriguez and Boyd lead Tigers in 10-3 win over Angels
Ronny Rodriguez drove in a career-high four runs and Matthew Boyd pitched six strong innings, helping the Detroit Tigers beat the Los Angeles Angels 10-3 Wednesday night.  Rodriguez hit a go-ahead, two-run triple in the first inning. The second-year player had an RBI single in the two-run third and a run-scoring double in the four-run fifth to put Detroit up 7-1 and to match his career high with three hits.  That was plenty of support for Boyd, who had his seventh straight quality start.  Boyd (4-2) allowed only one run on David Fletcher's leadoff homer and just two more hits after the blast to left. He had six strikeouts, including two while facing superstar Mike Trout and one against AL Rookie of the Year Shohei Ohtani.
Indians 5, White Sox 3 – Ramirez's 2-run homer in 9th gives Indians walk-off win
José Ramirez hit a two-run homer with two outs in the ninth inning, giving Cleveland a 5-3 win over the Chicago White Sox and snapping the Indians' three-game losing streak Wednesday night.  Francisco Lindor singled with one out against Jace Fry (1-1) before Jason Kipnis struck out. Chicago manager Rick Renteria brought in right-hander Kelvin Herrera to face the switch-hitting Ramirez and Lindor stole second on a 2-1 pitch.  Ramirez crushed Herrera's next pitch — a 96 mph fastball — through a stiff wind and into the seats in right for his third homer, setting off a much-needed celebration by the Indians.  Brad Hand (2-1) pitched a perfect ninth for the win.
Cubs 3, Marlins 2 – 11 Innings – Heyward homer gives Cubs 3-2 win in 11th in Russell's return
Jason Heyward homered leading off the 11th inning to lift the surging Chicago Cubs over the Miami Marlins 3-2 Wednesday night in Addison Russell's return to the majors.  Heyward lined a 1-2 pitch from Jose Quijada into the basket in left field, helping Chicago hang on after blowing a 2-1 lead in the ninth. Carl Edwards Jr. (1-1), recalled from the minors Monday, pitched a perfect 11th with two strikeouts to get the win.  The Cubs won their second straight game on a walk-off shot. Kris Bryant hit a three-run drive in the ninth Tuesday in a 5-2 win.  Kyle Hendricks allowed an unearned run and five hits over eight innings. Javier Baez drove in a run, and Anthony Rizzo had two hits and sparkling fielding plays on two bunts as Chicago won for the ninth time in 10 games.  The Cubs recalled Russell from Triple-A Iowa after he completed a 40-game suspension for violating Major League Baseball's domestic violence policy and spent extra time in the minors to get ready.
Today
L.A. Angels (Bard 0-1) at Detroit (Carpenter 0-0), 1:10 p.m.   WSJM Sports/Cosy-FM 12:45
Chicago White Sox (Banuelos 2-1) at Cleveland (Carrasco 2-3), 1:10 p.m.
Miami (Richards 0-4) at Chicago Cubs (Darvish 2-3), 2:20 p.m.
NHL – 2019 NHL Stanley Cup Playoffs – Round 2 (Best of 7)
Last Night
San Jose Sharks 3, Colorado Avalanche 2                                              (SJS wins 4-3)
Blues 2, Stars 1 – 2OT – Blues advance in 2OT
Captain Joe Pavelski returned from a gruesome head injury to deliver a goal and an assist as the San Jose Sharks ousted the Colorado Avalanche, 3-2 in Game 7 of the NHL second-round series. Pavelski hadn't played since being leveled to the ice after taking a faceoff in Game 7 of the first-round series against Vegas. He opened the scoring and assisted on Tomas Hertl's goal as the Sharks advanced to their fourth Western Conference final this decade.
Tonight
Eastern Conference Finals – Best of 7
Carolina Hurricanes at Boston Bruins, 8:00 p.m.                                   (Game 1)

NBA – 2019 NBA Playoffs – Round 2 (Best of 7)
Last Night
Milwaukee Bucks 116, Boston Celtics 91                                                (MIL wins 4-1)
Golden State Warriors 105, Houston Rockets 99                                  (GSW leads 3-2)
Bucks 116, Celtics 91 – Bucks advance
Giannis Antetokounmpo delivered 20 points, eight rebounds and eight assists as the Milwaukee Bucks rolled to a 116-91 victory over the Boston Celtics to advance to the NBA's Eastern Conference finals for the first time since 2001. Antetokounmpo closed out the third quarter with consecutive baskets, including a finger-roll layup that gave the Bucks an 80-62 lead. Khris Middleton was among seven Bucks to score in double-figures, finishing with 19 while grabbing eight boards.
Warriors 105, Rockets 99 – Warriors win
Klay Thompson capped his 27-point performance by hitting a game-clinching layup with 4.1 seconds left as the Golden State Warriors beat Houston, 105-99 to take a 3-2 lead in the NBA's Western Conference semifinals. The Warriors finished the game without Kevin Durant who had 22 points before straining his right calf late in the third quarter. James Harden scored 31 points for the Rockets, who will try to stave off elimination back home in Houston on Friday night.
Tonight
Toronto Raptors at Philadelphia 76ers, 8:00 p.m.                                  (TOR leads 3-2)
Denver Nuggets at Portland Trailblazers, 10:30 p.m.                            (DEN leads 3-2)
NFL – Ansah heads to Seattle
The Seattle Seahawks are addressing one of their biggest offseason needs as veteran defensive end Ezekiel Ansah has agreed to a one-year deal with the team, according to a person with knowledge of the deal. The person spoke to The Associated Press on the condition of anonymity because the deal had not been announced by the team. Ansah will join the Seahawks after six seasons with Detroit
NFL – Pitched battle: Kraft attorneys fire back at prosecutors
Two attorneys for New England Patriots owner Robert Kraft are accusing prosecutors of misconduct in his misdemeanor solicitation of prostitution case.  Alex Spiro and William Burck made the allegations Wednesday, a day after prosecutors accused them of lying in court. In court documents, they accused the Palm Beach County State Attorney's Office of going "beyond trampling the rights of Mr. Kraft and into sullying" their reputations.  Prosecutors say Spiro falsely accused Jupiter police officer Scott Kimbark of telling other officers he would lie to justify the traffic stop of an Orchids of Asia Day Spa customer. Defense attorneys say officers stopped customers after alleged traffic violations to learn their identities so they could be charged later. Spiro says Kimbark told other officers he'd invent a reason to stop the customer.
Kraft has pleaded not guilty.
NCAAMBB – 2 convicted in college basketball corruption trial
An aspiring sports business manager and an amateur basketball coach have been convicted of bribery conspiracy at a trial that showed top college coaches were paid off to steer NBA-bound athletes to favored handlers. Wednesday's verdict capped a two-week trial of Christian Dawkins and youth basketball coach Merl Code in a case that forced the NCAA to confront corruption affecting basketball players at elite universities. The two were convicted on a single conspiracy count, but acquitted of some other charges. Four former assistant basketball coaches have pleaded guilty in connection with the scandal and await sentencing.
MWL – Midwest League Baseball
Yesterday
South Bend 2, Cedar Rapids 1
Peoria 6, West Michigan 4
Great Lakes 10, Kane County 6
Quad Cities 6, Lansing 0
Tonight
Peoria at South Bend, 7:05 p.m.
Cedar Rapids at West Michigan, 7:05 p.m.
Lansing at Kane County, 7:30 p.m.
Great Lakes at Quad Cities, cancelled
MHSAA – MHSAA announces playoff changes in football, basketball, and soccer
The Michigan High School Athletic Association (MHSAA) made the announcement of a change in how the playoffs will be handled in three sports.   In soccer and basketball, the district tournaments will be partially seeded starting with the 2019-20 school year.   The MHSAA will use a formula based on games against other MHSAA tournament eligible teams and the district will have the top two seeds determined prior to the start of that tournament, with the rest of the bracket determined by random draw.  Football is also changing how the playoff field is determined starting in the fall of 2020.  Presently teams can clinch a playoff spot with 6 wins (5 if you play an 8 game schedule).  The MHSAA will split all of the schools playing 11 man football into 8 equal divisions based on enrollment and then use an adjusted playoff point formula to determine the top 32 teams in each division, which would make the playoff field, which would also reward teams for playing against larger and schools with better records.  The 8 man playoffs also receiving a slight change, presently only Class D schools are eligible for the playoffs, but also starting with the 2020 season, schools with an enrollment of 215 or fewer are eligible for the 8-man playoffs.    The MHSAA also adjusted practice rules for football, now limiting teams to 30 minutes of collision type practice per week once the season starts instead of 90 minutes.
MHSAA – High School Sports
Yesterday
Girls Soccer
St. Joseph 3, Kalamazoo Loy Norrix 0
Lakeshore 8, Battle Creek Central 0
Lake Michigan Catholic 6, Brandywine 0
Battle Creek Lakeview 8, Niles 0
Gull Lake 1, Portage Central 1 – TIE
Portage Northern 4, Kalamazoo Central 0
Edwardsburg 5, South Haven 3
Paw Paw 3, Three Rivers 1
Vicksburg 1, Otsego 0
Plainwell 4, Dowagiac 0
Allegan 6, Sturgis 0
Kalamazoo Hackett 4, Coloma 1
Schoolcraft 6, Watervliet 2
Hartford 5, Bangor 0
Fennville 5, Saugatuck 1
Baseball
Watervliet 5, Constantine 1 – Game 1
Constantine 10, Watervliet 4 – Game 2
Hartford 8, Bangor  0 – Game 1
Bangor 11, Hartford 3 – Game 2
Softball
Lakeshore 5, Thornapple-Kellogg 0
Niles 11, Portage Northern 0 – Game 1
Niles 15, Portage Northern 1 – Game 2
Coloma 6, Three Rivers 2 – Game 1
Coloma 13, Three Rivers 2 – Game 2
Watervliet 8, Constantine 1 – Game 1
Watervliet 13, Constantine 1 – Game 2
Hartford 21, Bangor 6 – Game 1
Hartford 12, Bangor 0 – Game 2
Girls Tennis
South Haven 7, New Buffalo 1
Track and Field
St. Joseph, Niles, Portage Northern at Lakeshore
| | |
| --- | --- |
| Boys | Girls |
| Lakeshore 86, St. Joseph 77 | St. Joseph 114.5, Lakeshore 48.5 |
| Lakeshore 115, Niles 48 | Lakeshore 89, Niles 73 |
| St. Joseph 117, Niles 42 | St. Joseph 122, Niles 40 |
| Lakeshore 81.5, Portage Northern 76.5 | Portage Northern 89.16, Lakeshore 73.83 |
Tonight
Baseball
Paw Paw at St. Joseph, 4:00 p.m. (DH)
South Bend Adams at Lakeshore, 5:00 p.m.
New Buffalo at Benton Harbor, 4:00 p.m.
Lawrence at Lake Michigan Catholic, 4:15 p.m. (DH)
Brandywine at River Valley, 4:15 p.m. (DH)
Softball
St. Joseph at Lakeshore, 4:00 p.m. (DH)
New Buffalo at Benton Harbor, 4:00 p.m.
Lawrence at Lake Michigan Catholic, 4:15 p.m. (DH)
Dowagiac at Brandywine, 4:15 p.m.
Niles at Buchanan, 4:15 p.m.
Girls Soccer
Bridgman at Berrien Springs, 5:00 p.m.
Girls Tennis
Niles at Edwardsburg, 4:00 p.m.
Boys Golf
SMAC West at Point 'O Woods, 4:00 p.m. (St. Joseph host)