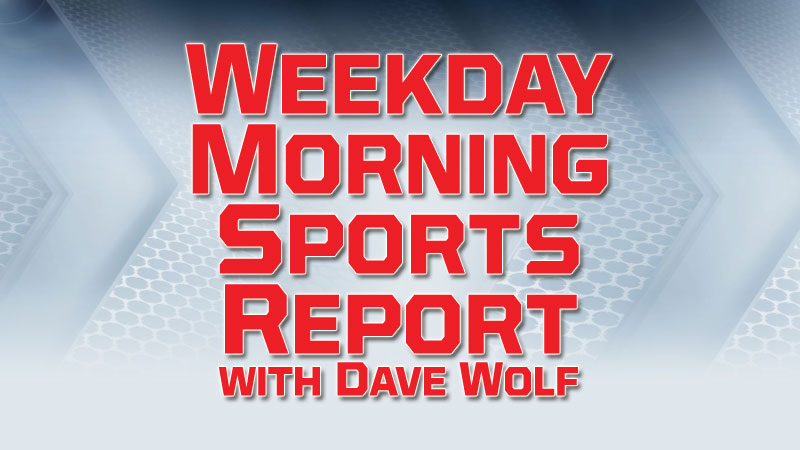 MLB – Major League Baseball
Yesterday
Houston Astros 5, Detroit Tigers 1
Cincinnati Reds 6, Chicago Cubs 5 – 10 Innings
White Sox were off
Astros 5, Tigers 1 – Verlander sharp against old team, Astros top Tigers 5-1
Justin Verlander allowed two hits in seven impressive innings against his former team, and the Houston Astros won their eighth straight game, 5-1 over the Detroit Tigers on Wednesday night. Verlander (7-1) struck out nine in his second start at Comerica Park since his 2017 trade from Detroit to Houston. JaCoby Jones homered off him in the third for the Tigers' only run, but with Miguel Cabrera out of the lineup, Detroit managed little offensively. The only significant jam Verlander faced was in the fifth, when Niko Goodrum lined out with the bases loaded.  Alex Bregman hit his 14th homer of the season, a solo shot off Gregory Soto (0-2) to open the scoring in the first. Bregman pulled within two home runs of teammate George Springer, the AL leader. Springer nearly hit one of his own, but Detroit left fielder Christin Stewart reached above the wall to make the catch in the fourth.  Verlander retired his first eight hitters before Jones connected for a 436-foot homer in the third. The right-hander rebounded by striking out the side in the fourth. With the bases loaded in the fifth and the Tigers down 3-1, Goodrum hit a line drive that second baseman Aledmys Diaz caught to end the inning.
Reds 6, Cubs 5 – 10 Innings – Yasiel Puig singles in 10th as Reds rally past Cubs 6-5
Eugenio Suarez hit a tying two-run homer in the eighth inning Wednesday night, and slumping Yasiel Puig singled with the bases loaded in the 10th, rallying the Cincinnati Reds to a 6-5 victory over the Chicago Cubs.  The Cubs' stingy bullpen let a solid start by Yu Darvish go to waste. Darvish fanned 11 batters, and Addison Russell hit a two-run homer — his first since returning from a 40-game suspension for domestic violence — to help the Cubs to a 5-3 lead.  Suarez's homer off Carl Edwards Jr. tied it in the eighth, only the fourth time the Cubs have blown such a late lead.  Joey Votto drew a one-out walk from Brad Brach (3-1) in the 10th and Suarez followed with a single for his third hit of the game. After an intentional walk loaded the bases, Puig singled to the base of the wall in center, flipping his bat away in celebration.  Amir Garrett (3-1) pitched out of a two-on threat in the 10th.  Darvish allowed five hits and a pair of runs in 5 1/3 innings at the ballpark where his 2018 season ended.
Today
Oakland (Bassitt 1-1) at Detroit (Turnbull 2-2), 1:10 p.m.          WSJM Sports/Cosy-FM 12:45
Chicago Cubs (Quintana 4-2) at Cincinnati (Castillo 4-1), 6:40 p.m.
Toronto (Stroman 1-6) at Chicago White Sox (Covey 0-2), 8:10 p.m.
NHL – 2019 NHL Stanley Cup Playoffs – Round 3 – Conference Finals (Best of 7)
Last Night
San Jose Sharks 5, St. Louis Blues 4 – OT                                              (SJS leads 2-1)
Sharks 5, Blues 4 – OT – Sharks get controversial win
Erik Karlsson scored 5:23 into overtime to complete the Sharks' 5-4 victory over the Blues in St. Louis. The goal occurred after officials missed a hand pass by Timo Meier moments earlier. The officials huddled following complaints by the Blues, but the play wasn't reviewable and the goal stood. Joe Thornton scored twice for the Sharks, who blew a 3-1 lead and trailed 4-3 until Logan Couture tied it with 61 seconds left in regulation.
Tonight
Boston Bruins at Carolina Hurricanes, 8:00 p.m.                                   (BOS leads 3-0)
NHL – Sabres hire coach
Ralph Krueger has officially been named the new coach of the Buffalo Sabres as the franchise seeks to end an eight-year playoff drought. The 59-year-old Krueger previously coached the Edmonton Oilers during the NHL's lockout-shortened season in 2012-13. Krueger also coached Switzerland's national team to Olympic appearances in 2002, 2006 and 2010. He's spent the past five years as chairman of soccer's Southampton FC of the English Premier League.


NBA – 2019 NBA Playoffs – Round 3 – Conference Finals (Best of 7)
Last Night
Milwaukee Bucks 108, Toronto Raptors 100                                           (MIL leads 1-0)
Bucks 108, Raptors 100 – Bucks rally past Raptors
Brook Lopez scored 13 of his 29 points in the fourth quarter and the Milwaukee Bucks rallied in the final minutes to beat the Toronto Raptors, 108-100 in Game 1 of the NBA's Eastern Conference finals. Giannis Antetokounmpo (YAH'-nihs an-teh-toh-KOON'-poh) added 24 points for the Bucks, who are trying to reach the Finals for the third time in team history, and the first without Kareem Abdul-Jabbar. Malcolm Brogdon scored 15 and Nikola Mirotic had 13 for Milwaukee, which closed the game on a 10-0 run.
Tonight
Portland Trailblazers at Golden State Warriors, 9:00 p.m.                   (GSW leads 1-0)
NBA – Magic, Bird to get Lifetime Achievement Award
Magic Johnson and Larry Bird will be honored with the Lifetime Achievement Award.  The league and Turner Sports have announced that the Hall of Famers and 1992 U.S. Olympic teammates will receive the award on June 24 at the NBA Awards. The honor comes on the 40th anniversary of their meeting in the 1979 NCAA championship game, when Johnson's Michigan State team beat Bird's Indiana State squad. That is still the highest-rated game on television in college basketball history.
Kentucky Derby – Maximum Security owners file suit for Derby disqualification
The owners of Maximum Security have sued the Kentucky Horse Racing Commission and race stewards, seeking to reverse the horse's disqualification for interference as Kentucky Derby winner and restoration of purse money. The lawsuit filed by Gary and Mary West on Tuesday in U.S. District Court says that stewards relied on insubstantial evidence and questioned a "bizarre and unconstitutional" process before and after the disqualification. Maximum Security crossed the finish line first on May 4 before being disqualified and dropping to 17th for impeding the paths of several horses. Runner-up Country House, a 65-1 shot, was elevated to first. The KHRC last week denied an appeal of the disqualification and said that the stewards' decision was not subject to appeal.
Preakness Stakes – Improbable the early favorite
Hall of Fame trainer Bob Baffert is seeking his record-setting eighth Preakness victory with 5-2 morning line favorite Improbable, who will start from the No. 4 post in a field of 13 horses. For the first time since 1951, the Preakness will not include the four horses that crossed the finish line first in the Kentucky Derby. Everfast was added to the Preakness field three days before the race. The Dale Romans-trained horse made it a 13-horse field, the largest since 2009.
MWL – Midwest League Baseball
Yesterday
Lansing 7, West Michigan 6
Great Lakes 8, Dayton 3
Bowling Green 17, South Bend 0
Tonight
Great Lakes at West Michigan, 6:05 p.m. (DH)
Dayton at South Bend, 7:05 p.m.
Lansing at Fort Wayne, 7:05 p.m.
MWL – Displaced by floods, Class-A team spending 2 months on road
For a minor league team that plays its home games in flood-ravaged Iowa on the swollen banks of the Mississippi River, the season so far has presented some unusual challenges. The Quad Cities River Bandits are dragging their equipment everywhere they go because there's no point in using their lockers. Worse than that, the players _ all of whom are 23 are younger _ sometimes don't even know where they'll be playing the next day. "One day we're playing at home, and the next day we get a text saying we're playing in Peoria or playing in Cedar Rapids," pitcher Austin Hansen said. The team named for its proximity to the Mississippi has been spending most of its time on a bus, baseball nomads on an unscheduled two-month road trip. The River Bandits will play 40 of their first 43 games away from their home in Davenport, a stretch capped with their most recent 12-day trip starting in nearby Cedar Rapids.
MHSAA – High School Sports
Yesterday
SMAC Conference Tournament – Round 1
Portage Central 7, Lakeshore 0
Gull Lake 3, St. Joseph 0 – Lakeshore will play at St. Joseph on Friday in the SMAC Conference 3rd place game
Kalamazoo Loy Norrix 5, Battle Creek Lakeview 1
Mattawan 5, Portage Northern 1
Other games
Plainwell 6, Sturgis 0
Otsego 8, Dowagiac 0
Allegan 4, Paw Paw 2
Three Rivers 6, Edwardsburg 2
Vicksburg 8, South Haven 0
Lake Michigan Catholic 8, Covert 0
Hartford 5, Saugatuck 1
Baseball
Portage Central 4, Lakeshore 2 – Game 1
Lakeshore 6, Portage Central 5 – Game 2
Buchanan 5, Brandywine 4 – Game 1
Brandywine 8, Buchanan 7 – Game 2
Coloma 9, Berrien Springs 8 – Game 1
Berrien Springs 10, Coloma 4 – Game 2
Mendon 17, Eau Claire 0 – Game 1
Mendon 16, Eau Claire 1 – Game 2
Softball
Buchanan 5, Brandywine 0 – Game 1
Buchanan 11, Brandywine 1 – Game 2
Decatur 12, Hartford 6 – Game 1
Hartford 14, Decatur 11 – Game 2
Mendon 17, Eau Claire 2 – Game 1
Mendon 17, Eau Claire 0 – Game 2
Today
Baseball
St. Joseph at Buchanan, 4:30 p.m.
Lakeshore at Kalamazoo Central, 4:00 p.m. (DH)
Battle Creek Central at Niles, 4:00 p.m. (DH)
Portage Central at Mattawan, 4:00 p.m. (DH)
Bangor at Brandywine, 4:30 p.m.
Coloma at Saugatuck, 4:30 p.m.
Fennville at Watervliet, 4:30 p.m.
Softball
Lakeshore at Kalamazoo Central, 4:00 p.m. (DH)
Battle Creek Central at Niles, 4:00 p.m. (DH)
Portage Central at Mattawan, 4:00 p.m. (DH)
Coloma at Saugatuck, 4:30 p.m.
Fennville at Watervliet, 4:30 p.m.
Girls Soccer
Parchment at Three Rivers, 5:00 p.m.
Watervliet at New Buffalo, 6:00 p.m.
Girls Tennis – Regionals
Division 3 at Three Rivers, 9:00 a.m.
Battle Creek Harper Creek, Edwardsburg, Jackson Northwest, Marshall, Niles, Parma Western, Lakeshore, Three Rivers, Vicksburg