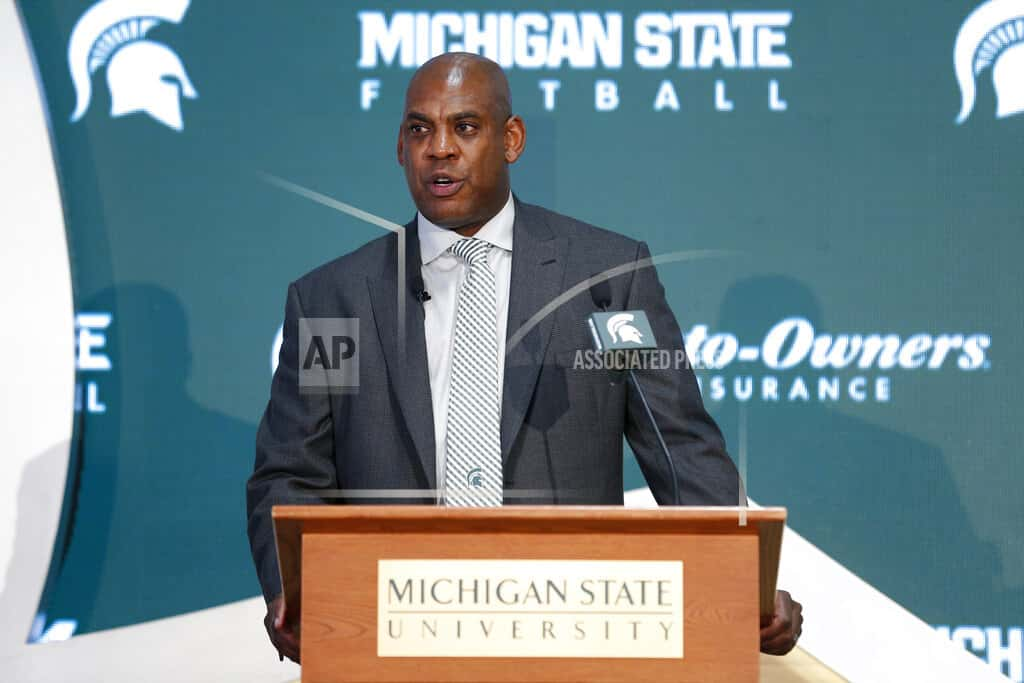 NCAAFB – Michigan State rallies to hire Tucker away from Colorado
Michigan State has hired coach Mel Tucker away from Colorado to lead its football program. The Buffaloes gave Tucker a shot to run a program a little more than a year ago after he was Georgia's defensive coordinator. They were 5-7 last season. Tucker succeeds Mark Dantonio, the school's all-time winningest coach. Dantonio retired less than two weeks ago. Tucker has ties to Michigan State, where he was on Nick Saban's staff two decades ago. He went on to work in the NFL and for major programs in college football.
NCAAMBB – Men's College Basketball
Last Night
Michigan 79, Northwestern 54
Michigan 79, Northwestern 54 – Michigan rolls past Northwestern in Howard's 'homecoming'
Eli Brooks scored 18 points, Isaiah Livers added 17 more, and Michigan gave coach Juwan Howard, a Chicago South Sider, the win in his homecoming-of-sorts, beating Northwestern 79-54. Howard watched as the Wolverines took control in the first half on the way to an easy win in his first game coaching them in the Chicago area. Last-place Northwestern dropped its eighth in a row and lost for the 13th time in 14 games. Jared Jones (12 points) and Miller Kopp (10) were the only players in double figures for the Wildcats, who shot 32 percent and made 5 of 21 3-pointers.
NCAAWBB – Women's College Basketball
Last Night
Eastern Michigan 70, Bowling Green 58
Western Michigan 74, Buffalo 62
Last Night
(19) Northwestern at Michigan, 7:00 p.m.
Rutgers at Michigan State, 7:00 p.m.
Notre Dame at Boston College, 7:00 p.m.
NBA – National Basketball Association
Last Night
Orlando Magic 116, Detroit Pistons 112 – OT
Indiana Pacers 118, Milwaukee Bucks 111
Magic 116, Pistons 112 – OT – Gordon, Fultz lead Magic to 116-112 OT win over Pistons
Aaron Gordon scored 25 points and Markelle Fultz added 22 as the Orlando Magic rallied to beat the Detroit Pistons 116-112 in overtime. Gordon, who also had nine rebounds and nine assists, hit consecutive 3-point shots late in the fourth quarter to help Orlando erase a seven-point deficit. Christian Wood had 26 points and 12 rebounds for the Pistons, who rallied from a 22-point deficit but lost for the 11th time in 13 games.
Pacers 118, Bucks 111 – Pacers pull away late to beat Bucks, snap 6-game skid
The Indiana Pacers took advantage of a 10-0 fourth-quarter run to snap a six-game losing streak with a 118-111 victory over the Milwaukee Bucks. T.J. Warren had 35 points and Malcolm Brogdon had 17 points and 13 assists to lead the Pacers. Bucks All-Star Giannis Antetokounmpo missed his second straight game since his girlfriend gave birth to the couple's first child. But Milwaukee still made it difficult after methodically trimming a 25-point deficit to four early in the fourth. The Pacers scored 10 straight and the Bucks couldn't get closer than seven as their five-game winning streak ended. Donte DiVincenzo scored 19 for Milwaukee.
NCAAFB – 2 Ohio State football players dismissed amid rape charges
Two Ohio State University football players have been kicked off the team after being charged with kidnapping and rape. Coach Ryan Day Amir Riep and Jahsen Wint "did not live up to our standards and my expectations." They were booked into jail early Wednesday and are scheduled to be arraigned Thursday morning. It was not clear whether they had attorneys. The woman told police she started having consensual sex with Riep before Wint came into the room and both raped her.
NHL – National Hockey League
Last Night
Vancouver Canucks 3, Chicago Blackhawks 0
Canucks 3, Blackhawks 0 – Markstrom stops 49 shots, Canucks blank Blackhawks 3-0
Jacob Markstrom had a career-high 49 saves as Vancouver Canucks beat the Chicago Blackhawks 3-0 after retiring the numbers of retired stars Daniel and Henrik Sedin. Brandon Sutter had a goal and two assists, and Bo Horvat and Adam Gaudette also scored to help the Canucks win their second straight after a four-game skid. Markstrom got his second shutout of the season and fifth of his career. Corey Crawford had 17 saves as Chicago lost its season-high fifth straight
Tonight
Detroit Red Wings at New Jersey Devils, 7:00 p.m.
NHL – Jeremy Roenick won't return to NBC Sports after suspension
Jeremy Roenick will not be returning to NBC Sports after his suspension for making inappropriate comments about coworkers during a podcast. A network spokesman confirmed to The Associated Press that Roenick will not be back on the air. Roenick played 20 NHL seasons with the Blackhawks, Coyotes, Flyers, Sharks and Kings before moving into television. He had been an analyst at NBC Sports since 2010.
MLB – MLB goes ahead with 3-batter minimum, roster changes
Major League Baseball went ahead with its planned rules changes for this season, including the requirement a pitcher must face at least three batters or end the half-inning, unless he is hurt. The changes were agreed to by MLB and the players' association last March 8. The three-batter minimum will start in spring training games on March 12. The active roster limit will increase by one to 26 from opening day through Aug. 31, will drop from 40 to 28 through the end of the regular season and return to 26 for the postseason.
MLB – Tigers reach $1.5M, 1-year deal with OF Cameron Maybin
Cameron Maybin is back with the Detroit Tigers. The Tigers and the 32-year-old outfielder agreed Wednesday on a $1.5 million, one-year contract. Maybin began his career with Detroit in 2007 before he was traded to the Marlins in the deal that sent Miguel Cabrera to the Tigers. Maybin returned to Detroit in a trade and played for the Tigers in 2016. Maybin spent last season with the New York Yankees, hitting .285 with 11 home runs and 32 RBIs in 82 games. His deal with the Tigers includes performance bonuses. To make room on the 40-man roster, Detroit put right-hander Michael Fulmer on the 60-day injured list.
MLB – Young pitchers form the core of Detroit's rebuild
The Detroit Tigers held their first workout for pitchers and catchers, and much of the spotlight during spring training may be on some prospects who probably won't be on the roster on opening day. Casey Mize was the No. 1 pick in the 2018 draft, and Matt Manning was a first-round selection two years earlier. Tarik Skubal has also shown potential. All three of those pitchers have had success at Double-A, and all three are in camp as non-roster invitees. Mize pitched a no-hitter in his Double-A debut last year. He says he's looking to build off his success from 2019.
MLB – Schwarber, Heyward, Rizzo among Cubs early arrivals
Kyle Schwarber was among the position players who reported early to spring training after the Chicago Cubs missed the playoffs for the first time since 2014. Chicago won its first World Series title in 108 years in 2016, lost to the Los Angeles Dodgers in the 2017 NL Championship Series and lost to Colorado in the 2018 NL wild-card game. he Cubs faded to an 84-78 record and third-place finish in the NL Central. Anthony Rizzo and Jason Heyward also were among the early arrivals ahead of Monday's first full-squad workout.
MLB – Rebuild nearly over, White Sox say they're ready to win
The rebuild may not be quite over yet but the Chicago White Sox hope the fun is already beginning. Three years of rebuilding and overhauling the roster have brought in young players who are developing into stars. The offseason was highlighted by the additions of All-Star catcher Yasmani Grandal and former Cy Young winner Dallas Keuchel, and the players couldn't seem to wait to get to spring training.
MCCAA – Junior College Athletics
Last Night
Women's Basketball
Kellogg Community College 77, Lake Michigan College 67
Men's Basketball
Kellogg Community College 94, Lake Michigan College 78
MHSAA – High School Athletics
Last Night
Boys Basketball
Berrien Springs 63, Lawrence 55
Girls Basketball
Battle Creek Central 73, Lansing Sexton 27
Wrestling – Team Districts
Division 2 at Niles
Edwardsburg 42, Coldwater 38
Niles 62, Sturgis 11
Championship – Niles 42, Edwardsburg 38
Division 2 at Allegan
Allegan 39, Mattawan 36
Plainwell 48, Otsego 30
Championship – Plainwell 49, Allegan 21
Division 3 at Brandywine
Brandywine 51, Buchanan 30
Dowagiac 84, Berrien Springs 0
Championship – Dowagiac 58, Brandywine 21
Division 3 at South Haven
South Haven 42, Watervliet 24
Coloma 58, Fennville 12
Championship – South Haven 52, Coloma 28
Division 3 at Three Rivers
Constantine 43, Paw Paw 28
Three Rivers (bye)
Championship – Constantine 63, Three Rivers 15
Division 4 at Decatur
Hartford 51, Lawrence 26
Decatur 42, Bangor 36
Championship – Decatur 42, Hartford 39
Tonight
Boys Basketball
Michigan Lutheran at Howardsville Christian, 7:30 p.m.
River Valley at Covert, 7:30 p.m.
Three Rivers at Sturgis, 7:15 p.m.
Delton-Kellogg at Constantine, 7:30 p.m.
Girls Basketball
Michigan Lutheran at Howardsville Christian, 6:00 p.m.
River Valley at Covert, 6:00 p.m.
Three Rivers at Sturgis, 5:45 p.m.
Delton-Kellogg at Constantine, 6:00 p.m.
Berrien Springs at Bridgman, 6:00 p.m.
Lawrence at New Buffalo, 7:30 p.m.
Wrestling – Team Districts
Division 2 at St. Joseph
Lakeshore (bye)
St. Joseph (bye)
Championship – St. Joseph vs. Lakeshore, 6:00 p.m.
Division 4 at Eau Claire
Eau Claire (bye)
Cassopolis vs. River Valley, 6:00 p.m.
Championship, 7:30 p.m.
Division 4 at Lawton
Kalamazoo Lakeside vs. Galesburg-Augusta, 6:00 p.m.
Lawton vs. Schoolcraft, 6:00 p.m.
Championship, 7:30 p.m.