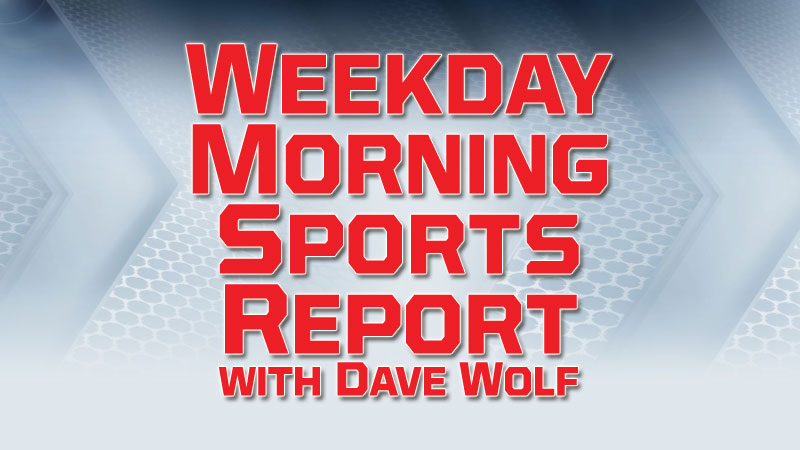 MLB – Major League Baseball
Yesterday
Detroit Tigers 5, Kansas City Royals 2 – 10 Innings
Boston Red Sox 9, Chicago White Sox 2
Chicago Cubs 13, St. Louis Cardinals 5
Tigers 5, Royals 2 – 10 Innings – Dixon hits 3-run HR in 10th, Tigers beat Royals 5-2
Brandon Dixon hit a three-run homer in the 10th inning to lift the Detroit Tigers over the Kansas City Royals 5-2 Sunday.  Nicholas Castellanos started the 10th with an infield single off Ian Kennedy (0-1), and after Miguel Cabrera popped out, Niko Goodrum reached on another infield hit. Ronny Rodriguez struck out, and then Dixon hit a 1-2 curveball over the fence in right-center field for his first career walkoff homer.  Buck Farmer (2-2) got the win after retiring the last batter in the top of the 10th.  The Tigers led 2-1 going into the eighth and Joe Jimenez struck out the first two Royals, but Hunter Dozier hit his eighth homer over the right field wall to tie it.  Neither starter got a decision. Detroit's Spencer Turnbull gave up one run in seven innings on six hits and a walk. He struck out seven.  Brad Keller allowed two runs, six hits and five walks in 5 1/3 innings.
Red Sox 9, White Sox 2 – Bogaerts hits slam in 7-run 8th, Red Sox beat White Sox 9-2
Xander Bogaerts hit a grand slam in Boston's seven-run eighth inning to give the Red Sox a 9-2 victory over the Chicago White Sox on Sunday.  Mitch Moreland went 2 for 3 with two RBIs, and J.D. Martinez and Eduardo Nunez each had an RBI single as Boston won for the sixth time in seven games to move within a game of .500 at 17-18.  The surging Red Sox had a nine-run third inning in Saturday night's 15-2 win.  Jose Abreu and Ryan Cordell each had a solo homer for Chicago, which has dropped three straight.
Cubs 13, Cardinals 5 – Cubs pound Cardinals 13-5 for 7th straight win
Kris Bryant hit his fourth career grand slam in Chicago's six-run eighth inning and the Cubs pounded the St. Louis Cardinals 13-5 on Sunday night for their season-high seventh consecutive victory.  Willson Contreras, Anthony Rizzo and David Bote each drove in two runs, helping the Cubs leapfrog the Cardinals for first place in the NL Central. Ben Zobrist had two hits and made two nice plays in left field as Chicago completed its first three-game sweep of St. Louis since September 2017.  Since opening the season with eight losses in 11 games, the Cubs have been on a roll. They have won 16 of 20 for the first time since they went 16-4 in August 2016.  The crowd of 36,499 chanted "Sweep! Sweep! Sweep!" after Bryant connected with two outs in the eighth, belting a drive to center off Dominic Leone for his fourth homer.  Paul DeJong and Marcell Ozuna homered in the ninth inning for St. Louis, which lost its season-high fourth straight game. Adam Wainwright (3-3) allowed five runs and five hits in five innings.
Tonight
Chicago White Sox (Nova 0-3) at Cleveland (Bauer 4-1), 6:10 p.m.
Miami (Alcantara 1-3) at Chicago Cubs (Hamels 3-0), 8:05 p.m.
Tigers are off
NHL – 2019 NHL Stanley Cup Playoffs – Round 2 (Best of 7)
Last Night
St. Louis Blues 4, Dallas Stars 1                                                           (Series tied 3-3)
Blues 4, Stars 1 – Blues force Game 7
The St. Louis Blues have forced a Game 7 in their NHL second-round series by scoring three unanswered goals in a 4-1 victory at Dallas. David Perron scored the game-winner in the second period, and the Blues broke it open when Jaden Schwartz and Sammy Blais tallied 33 seconds apart in the third period. Rookie Jordan Binnington stopped 22 shots for the Blues, who will host Game 7 on Tuesday.
Tonight
Boston Bruins at Columbus Blue Jackets, 7:00 p.m.                                (BOS leads 3-2)
San Jose Sharks at Colorado Avalanche, 10:00 p.m.                               (SJS leads 3-2)
NBA – National Basketball Association
Last Night
Toronto Raptors 101, Philadelphia 76ers 96                                          (Series tied 2-2)
Denver Nuggets 116, Portland Trailblazers 112                                    (Series tied 2-2)
Raptors 101, Sixers 96 – Raptors nip Sixers
Kawhi Leonard poured in 39 points and the Toronto Raptors evened the NBA's Eastern Conference semifinal series at two games apiece with a 101-96 victory at Philadelphia. Leonard shot 5-for-7 from beyond the arc and hit a 3-pointer that put the Raptors ahead with 61 seconds remaining. 76ers center Joel Embiid managed just 11 points and seven rebounds after torching Toronto for 33 points in Game 3.
Nuggets 116, Blazers 112 – Nuggets top Blazers
Nikola Jokic provided 21 points, 12 rebounds and 11 assists as the Denver Nuggets held off the Portland Trail Blazers, 116-112 to even the NBA's Western Conference semifinal series at two games apiece. Jamal Murray led all scorers with 34 points and made all 11 free throws for the Nuggets, who handed Portland its first home loss of the postseason. CJ McCollum had 29 points and Lillard added 28 for the Blazers.
Tonight
Milwaukee Bucks at Boston Celtics, 7:00 p.m.                                        (MIL leads 2-1)
Golden State Warriors at Houston Rockets, 9:30 p.m.                          (GSW leads 2-1)
Golf – PGA – Homas gets first PGA win
Max Homa has earned his first PGA victory in 68 starts with a strong back nine to secure the Wells Fargo Championship at Quail Hollow. Homa began the back nine with two birdies to build a four-shot lead and didn't make any mistakes until it only affected the final margin. He closed with a 4-under 67 for a 15-under total and a three-shot victory over runner-up Joel Dahmen. Homa played only one Sunday in the entire PGA Tour season two years ago. The victory gets him into the PGA Championship in two weeks at Bethpage Black and the Masters next April.
Golf – Champions – McCarron wins again
Scott McCarron has won the Insperity Invitational for his 10th PGA Tour Champions victory and second in three weeks.  The 53-year-old McCarron held off Scott Parel by two strokes, closing with a 5-under 67 to finish at 17-under 199. He matched Fred Couples for the best score since the event moved to The Woodlands Country Club in 2008.
NASCAR – NASCAR Cup Series race at Dover postponed to Monday
The NASCAR Cup race at Dover International Speedway has been postponed by rain and will be run on Monday.  Chase Elliott is the pole-sitter for the race after winning last week at Talladega, won the pole and will lead the field to green at 12:01 p.m. Dover hasn't held a Monday race since 2007.
Kentucky Derby – Costly DQ: Maximum Security bettors lost about $9M
Bettors who wagered on Maximum Security in the Kentucky Derby only to see the colt get disqualified for interference will receive refunds. Twinspires.com, Churchill Downs' online wagering service, tweeted that it will give back up to $10 to anyone who bet on Maximum Security to win in Saturday's Derby. The company said $6,212,046 was bet on the colt to win. Maximum Security was first to finish Saturday's muddy Derby before becoming the marquee race's first winner to be disqualified for interference.  The next stop in the chase for the Triple Crown is the Preakness, though both Maximum Security and Country House remain noncommittal for the May 18 race.  Owner Gary West says he is unsure whether to enter Maximum Security in the Preakness as he ponders appealing the historic decision.
MWL – Midwest League Baseball
Yesterday
Burlington 9, West Michigan 5
South Bend 3, Clinton 2
Lansing 7, Beloit 5
Great Lakes 4, Wisconsin 1
Tonight
Cedar Rapids at South Bend, 7:05 p.m.
Peoria at West Michigan, 7:05 p.m.
Great Lakes at Kane County, 7:30 p.m.
Lansing at Quad Cities, 7:35 p.m.
MHSAA – High School Sports
Today
Girls Soccer
Kalamazoo Central at St. Joseph, 6:30 p.m.
Lakeshore at Mattawan, 6:30 p.m.
Buchanan at Michigan Lutheran, 5:00 p.m.
Niles at Battle Creek Central, 6:30 p.m.
Portage Central at Battle Creek Lakeview, 6:30 p.m.
Gull Lake at Portage Northern, 6:30 p.m.
Edwardsburg at Dowagiac, 5:00 p.m.
South Haven at Paw Paw, 6:00 p.m.
Plainwell at Allegan, 6:30 p.m.
Three Rivers at Otsego, 6:30 p.m.
Vicksburg at Sturgis, 6:30 p.m.
Hartford at New Buffalo, 6:00 p.m.
Bangor at Cassopolis, 5:00 p.m.
Kalamazoo Christian at Watervliet, 6:00 p.m.
Lawton at Delton-Kellogg, 6:00 p.m.  
Baseball
Mishawaka Penn at Niles, 4:15 p.m.
River Valley at Michigan Lutheran, 5:00 p.m.
Lawton at Constantine, 4:30 p.m. (DH)
Coloma at Fennville, 4:30 p.m. (DH)
Watervliet at Kalamazoo Christian, 4:30 p.m. (DH)
Softball
River Valley at Michigan Lutheran, 5:00 p.m.
Brandywine at New Buffalo, 4:30 p.m.
White Pigeon at Bloomingdale, 4:30 p.m.
Bangor at Marcellus, 4:30 p.m.
Lawton at Constantine, 4:30 p.m. (DH)
Coloma at Fennville, 4:30 p.m. (DH)
Watervliet at Kalamazoo Christian, 4:30 p.m. (DH)
Girls Tennis
Portage Northern at St. Joseph, 4:00 p.m.
Portage Central at Lakeshore, 4:00 p.m.
Niles at Mattawan, 4:00 p.m.
South Haven at Buchanan, 4:30 p.m.
Vicksburg at Dowagiac, 4:00 p.m.
Edwardsburg at Three Rivers, 4:00 p.m.
Lake Michigan Catholic/Bridgman at Comstock, 4:00 p.m.
Track and Field
BCS Jamboree at River Valley, 4:15 p.m.