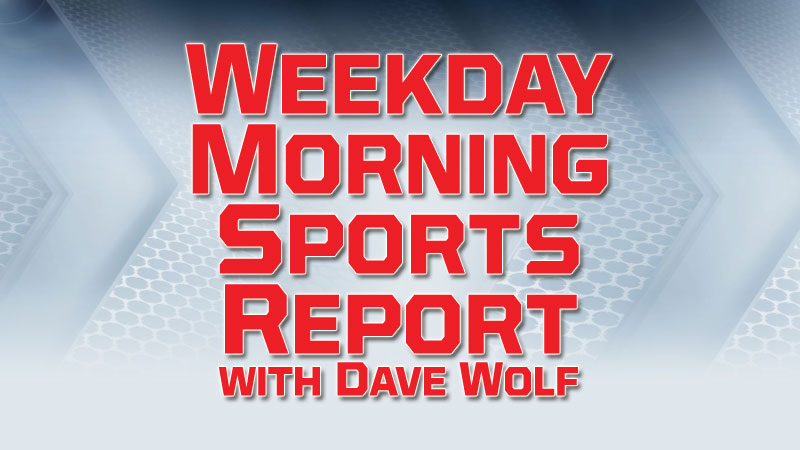 NFL – National Football League – Super Bowl
Last Night
Super Bowl LIII – Mercedes-Benz Stadium – Atlanta, GA
New England Patriots 13, Los Angeles Rams 3
Patriots 13, Rams 3 – Patriots beat Rams for sixth Super Bowl
It's a six-pack for Tom Brady, Bill Belichick and the New England Patriots. The Pats are Super Bowl champions for the sixth time following a 13-3 win over the Los Angeles Rams. It was the lowest-scoring Super Bowl in the 53-year history of the game, and the first in which neither team reached the end zone until the fourth quarter. The Patriots didn't go ahead to stay until a five-play, 69-yard drive that ended with Sony Michel's two-yard touchdown run with seven minutes remaining. Brady threw for 67 yards on the drive, including passes of 18 and 29 yards to Rob Gronkowski. Brady was intercepted on his first pass before finishing 21 of 35 for 262 yards. Super Bowl MVP Julian Edelman was his primary target, grabbing 10 passes for 141 yards. Michel had 94 yards on 18 carries for the Patriots, who join the Steelers as the only teams with six Super Bowl titles. The Rams had a chance to tie it shortly after Michel's go-ahead TD. They advanced to the New England 27 before Jared Goff was picked off at the 4 with about f 4 1/2 minutes to play. The Patriots turned the miscue into a game-clinching field goal by Stephen Gostkowski. The Rams managed just 260 net yards, most of it coming after the midway mark of the third quarter. Los Angeles didn't score until Todd Zuerlein (ZUR'-lyn) drilled a 53-yard field goal with 2:11 left in the third period. Goff was 19 of 38 for 229 yards for the Rams, who managed just 62 yards on the ground despite the presence of Todd Gurley.  The Patriots tied a Super Bowl record for fewest points allowed, matching the mark set by the Cowboys in a 24-3 win over the Dolphins in Super Bowl 6. New England is also the first team since the 1972 Dolphins to win a Super Bowl the year after losing one.
NFL – AP Source: Raiders in talks with Giants over sharing stadium
The Oakland Raiders are in talks with the Giants about playing their home games next season at Oracle Park in San Francisco. A person with knowledge of the negotiations said Sunday night the two sides are in discussions, but no deal has been reached. The person spoke to The Associated Press on condition of anonymity because nothing has been finalized. NBC Bay Area reported that an announcement of the Raiders' plans to play in San Francisco will be made this week.  The Raiders are looking for a home for 2019 after the city of Oakland sued the team and the NFL over the planned move to Las Vegas in 2020. The team has no lease for 2019 and owner Mark Davis dropped out of negotiations with Oakland after the suit was filed in December. The Raiders were still considering Oakland, as well as the possibility of sharing Levi's Stadium with the San Francisco 49ers. A final decision is needed soon so the NFL can start making its 2019 schedule.
NFL – Trump says he wouldn't steer son Barron toward football
President Donald Trump says he wouldn't steer son Barron toward football, saying it's "a dangerous sport," but also wouldn't stand in the way if the soccer-playing 12-year-old wanted to put on pads. The NFL fan tells CBS' "Face the Nation" in an interview taped before the Super Bowl that football is "really tough."  He says equipment, including helmets, has improved "but it hasn't solved the problem." Trump thinks the NFL "is a great product." But as for Barron playing, the president calls it a "very tough question." "If he wanted to? Yes. Would I steer him that way? No, I wouldn't." The president says many people, "including me, thought soccer would probably never make it in this country, but it really is moving forward rapidly."
NBA – National Basketball Association
Tonight
Denver Nuggets at Detroit Pistons, 7:00 p.m.
Indiana Pacers at New Orleans Pelicans, 8:00 p.m.


NCAAWBB – Women's College Basketball
Yesterday
(5) Notre Dame 90, Georgia Tech 50
(22) Michigan State 74, Purdue 66
Michigan 76, Wisconsin 70
(5) Notre Dame 90, Georgia Tech 50 – Mabrey's 3-pointers, big runs lead No. 5 Irish over Ga Tech
Marina Mabrey scored 20 points to lead four teammates in double figures as No. 5 Notre Dame had four big runs in a 90-50 rout of cold-shooting Georgia Tech on Sunday. Mabrey hit seven of 10 shots, including 6 of 7 from beyond the arc, and had a team-high five assists. Jackie Young had 18 points on 8-of-11 shooting, Jessica Shepard scored 13 points and Arike Ogunbowale added 12 for the Fighting Irish (21-2, 8-1 Atlantic Coast Conference).  Elizabeth Dixon had 12 points for Georgia Tech (13-9, 3-6), which shot 21.7 percent (18 of 83) for the game.
(22) Michigan State 74, Purdue 66 – Cooks, Colley net 20, No. 22 Michigan State women top Purdue
Sidney Cooks and Shay Colley scored 20 points apiece and No. 22 Michigan State scored the last eight points to defeat Purdue 74-66 on Sunday after blowing a 15-point, second-half lead.  Jenna Allen became the fifth player in double figures with two late free throws for the Spartans (16-5, 6-5 Big Ten Conference), who have won three straight and are 12-0 at home.  Ae'Rianna Harris had 20 points and 13 rebounds for Purdue (15-9, 6-5), which lost its fourth straight. Karissa McLaughlin added 16 points.
Michigan 76, Wisconsin 70 – Wolverines outlast Badgers
Michigan got 20 points from freshman Nas Hilmon, one of four Wolverines in double figures to lead Michigan over Wisconsin 76-70.   Hallie Thome added 12, Nicole Munger and Hailey Brown each had 10.  Marsha Howard had 30 to lead Wisconsin.
Golf – PGA – Fowler wins Phoenix Open
Rickie Fowler overcame a bizarre triple bogey with birdies on two of his last four holes to win the PGA's Phoenix Open at TPC Scottsdale. Fowler closed with a 3-over 74 for a 17 under total, two strokes ahead of Branden Grace. Fowler was up by five until he took a 7 on the par-4 11th. A chip shot skipped across the green and into the water before his second ball rolled into the water on its own. Grace took the lead with consecutive birdies, but hit his tee shot into the water on the drivable par-4 17th for a bogey.
MCCAA – Junior College Sports
Tonight
Women's Basketball
Lake Michigan College at Muskegon Community College, 5:30 p.m.
Men's Basketball
Lake Michigan College at Muskegon Community College, 7:30 p.m.
MHSAA – High School Sports
Tonight
Boys Basketball
Martin at Coloma, 7:00 p.m.
Saugatuck at Gobles, 7:00 p.m.
Allegan at Otsego, 7:15 p.m.
Gull Lake at Portage Central, 7:15 p.m.
White Pigeon at Centreville, 7:30 p.m.
Constantine at Galesburg-Augusta, 7:30 p.m.
Girls Basketball
Michigan Lutheran at Buchanan, 7:30 p.m.
River Valley at Bridgman, 7:30 p.m.
Martin at Coloma, 5:30 p.m.
Otsego at Allegan, 7:15 p.m.
Saugatuck at Gobles, 5:30 p.m.
Portage Central at Gull Lake, 7:15 p.m.
Centreville at White Pigeon, 7:15 p.m.
Constantine at Galesburg-Augusta, 6:00 p.m.
Competitive Cheerleading
SMAC Conference at Portage Northern, 6:00 p.m.