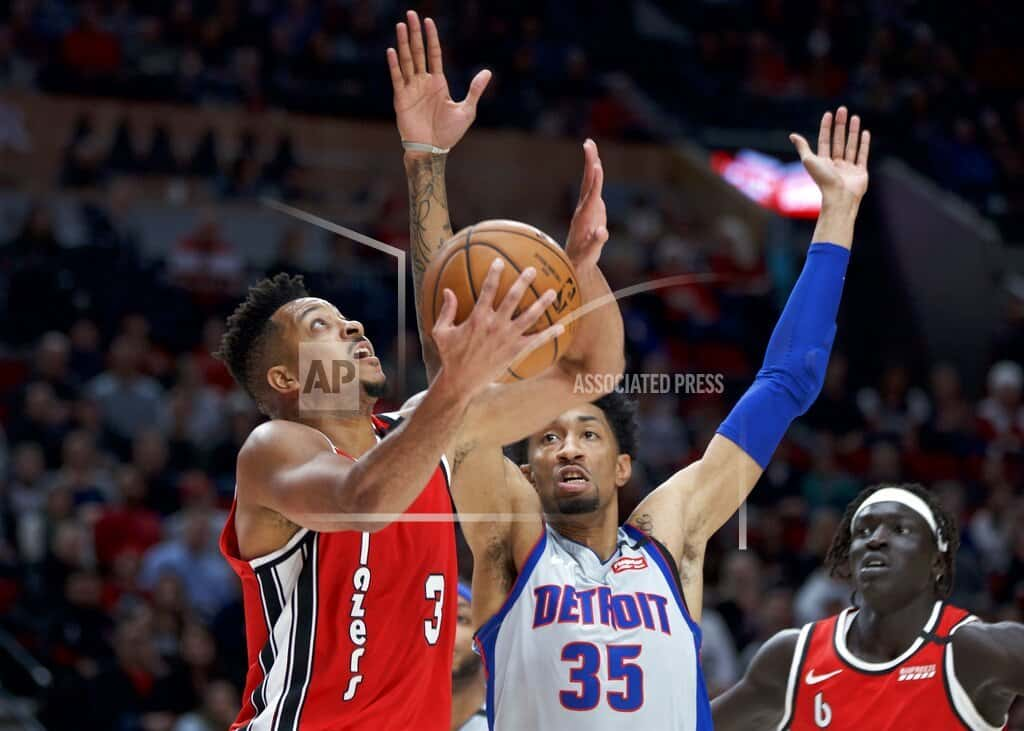 NBA – National Basketball Association
Last Night
Portland Trailblazers 107, Detroit Pistons 104
Chicago Bulls 126, Washington Wizards 117
Toronto Raptors 127, Indiana Pacers 81
Blazers 107, Pistons 104 – McCollum, Anthony carry Blazers past Pistons, 107-104
CJ McCollum had 41 points, a career-high 12 assists and nine rebounds, Carmelo Anthony scored a season-high 32 points and the Portland Trail Blazers rallied to beat the Detroit Pistons 107-104. It was the first time Anthony scored over 30 points since Feb. 25, 2017, when he was with the New York Knicks. He made a jumper with Portland protecting a two-point lead with 21 seconds left. Reserve big man Christian Wood had 26 points and nine rebounds for Detroit. The Pistons' bench accounted for 70 points.
Bulls 126, Wizards 117 – White has 33 again, Bulls beat Wizards despite Beal's 53
Coby White scored 33 points to join Michael Jordan as the only Bulls rookies with consecutive 30-point games, and Chicago overcame Bradley Beal's career-high 53 points to snap an eight-game losing streak with a 126-117 victory over the Washington Wizards. Zach LaVine added 32 and broke the franchise record for 3-pointers in a season. White matched the career high he set a night earlier. He also became one of three rookies since 1992 with 33 or more in consecutive games, joining Allen Iverson and Trae Young.
Raptors 127, Pacers 81 – Raptors roll to their biggest win ever, beat Pacers 127-81
Kyle Lowry had 16 points and 11 assists, extending his career-best streak of double-doubles to six, and the Toronto Raptors hammered Indiana 127-81, their 13th straight home win over the Pacers. It was the Raptors' biggest win ever. Pascal Siakam scored 21 points and Serge Ibaka had 15 points and a season-high 15 rebounds as the surging Raptors led from wire-to-wire, winning for the 17th time in 18 games and extending their home winning streak to nine. Domantas Sabonis had 14 points and 11 rebounds, Aaron Holiday scored 14 points and Justin Holiday had 12 but the Pacers never recovered from an abysmal first quarter.
NHL – National Hockey League
Last Night
Calgary Flames 4, Detroit Red Wings 2
Dallas Stars 2, Chicago Blackhawks 1
Flames 4, Red Wings 2 – Flames start road trip with 4-2 win over Red Wings
Johnny Gaudreau and Sean Monahan scored in the first period, and the Calgary Flames started their road trip with a win, beating the Detroit Red Wings 4-2. Andrew Mangiapane scored Calgary's last two goals, one of which came into an empty net at the end. Dylan Larkin had both goals for Detroit. The Flames are in a tight race for the final postseason spots in the Western Conference, and the five-game road trip they began Sunday could be crucial. Calgary pulled into a tie for the first wild card in the West with Arizona. Those two teams are one point ahead of Winnipeg.
Stars 2, Blackhawks 1 – Seguin scores winning goal in 2nd, Stars beat Blackhawks 2-1
Tyler Seguin scored the tiebreaking goal in the second period and the Dallas Stars beat the Chicago Blackhawks 2-1. The Stars' Joe Pavelski opened the scoring in the first period. Blackhawks rookie Dominik Kubalik tied the game in the second period on the power play. Seguin's goal came at 16:29 of the second. He outmaneuvered Chicago goalie Corey Crawford, whose 31 saves included stopping a second-period penalty shot by Mattias Janmark. Dallas goalie Anton Khudobin also stopped 31 shots, including one by the Blackhawks' Jonathan Toews from the right faceoff circle with an extra Chicago skater on the ice in the final minute.
NHL – Red Wings trade defenseman Mike Green to Edmonton
The Detroit Red Wings have traded defenseman Mike Green to the Edmonton Oilers in exchange for forward Kyle Brodziak and a conditional draft pick.  The pick is a 4th round pick in 2020, or a third round pick in 2021. Brodziak is on long term injured reserve.  The move is intended to clear cap space for Edmonton.  The NHL trade deadline is 3:00 p.m. today
NCAAMBB – Men's College Basketball
Last Night
Notre Dame 87, Miami (FL) 71
Notre Dame 87, Miami 71 – Mooney, Gibbs lead Notre Dame to 87-71 win over Miami
T.J. Gibbs scored 19 points and made 5-of-6 3-pointers, John Mooney notched his nation-leading 22nd double-double with 19 points and 12 rebounds, and hot-shooting Notre Dame rolled to an 87-71 victory over Miami. Prentiss Hubb added 15 points and 10 assists as the Fighting Irish won for the sixth time in eight games. DJ Vasiljevic, Isaiah Wong and Harlond Beverly each scored 12 points for the Hurricanes, who saw their three-game win streak snapped. Notre Dame converted 14 of 31 from 3-point range, including 10 of 18 in the first half while building a 48-29 lead.
NCAAWBB – Women's College Basketball
Yesterday
Notre Dame 72, Syracuse 70
Michigan 65, Michigan State 57
NASCAR – Logano wins at Vegas again
Joey Logano has won at Las Vegas Motor Speedway for the second straight year, pulling it out in a two-lap sprint to the finish that ended under caution.  Logano put his No. 22 Ford for Team Penske in the victory lane by holding off runner-up Matt DiBenedetto, Ricky Stenhouse Jr. and Austin Dillon.  A caution with six laps remaining complicated the race to the finish as all but seven cars on the lead lap headed to pit road for tires.  DiBenedetto finished 0.491 behind Logano in his second race for the Wood Brothers, a Penske partner. Stenhouse was third after taking the pole for the season-opening Daytona 500.
NASCAR – Newman confirms he suffered head injury in Daytona 500 crash
Ryan Newman has said through a statement that he suffered a head injury in his crash on the last lap of the Daytona 500 but did not disclose details.  Roush team president Steve Newmark opened a news conference before Sunday's race at Las Vegas Motor Speedway by reading a lengthy statement from Newman.  Newman wrote that he was fortunate to avoid any internal organ damage or broken bones, and that the doctors have been pleased with his progress over the last few days. He said he is looking forward to getting behind the wheel again. However, there's no timetable for his return to competitive racing.  Newmark said it is Newman's intent to race for the 2020 Cup championship this season, and the driver plans to ask NASCAR for an exemption to qualify for the playoffs once he's medically cleared to return.
MLB – Spring Training Baseball
Yesterday
Detroit Tigers (ss) 5, Atlanta Braves 1
Detroit Tigers (ss) 8, Pittsburgh Pirates 4
Los Angeles Dodgers 4, Chicago Cubs 2
Chicago White Sox 7, Cincinnati Reds 2
Today
Houston Astros vs. Detroit Tigers, 1:05 p.m.                    Lakeland, FL
Chicago White Sox vs. Los Angeles Dodgers, 3:05 p.m.      Glendale, AZ
Chicago Cubs vs. Seattle Mariners, 3:10 p.m.                     Peoria, AZ
MCCAA – Junior College Athletics
Tonight
Women's Basketball
Lake Michigan College at Lansing Community College, 5:30 p.m. 106.1 & 1400 WSJM Sports
Men's Basketball
Lake Michigan College at Lansing Community College, 7:30 p.m. 106.1 & 1400 WSJM Sports
MHSAA – High School Athletics
Tonight
Boys Basketball
Lake Michigan Catholic at Bridgman, 7:30 p.m.
Bloomingdale at Decatur, 6:00 p.m.
Charlotte at Kalamazoo Loy Norrix, 7:00 p.m.
Girls Basketball
River Valley at Holland Black River, 7:30 p.m.
Centreville at Athens, 7:00 p.m.