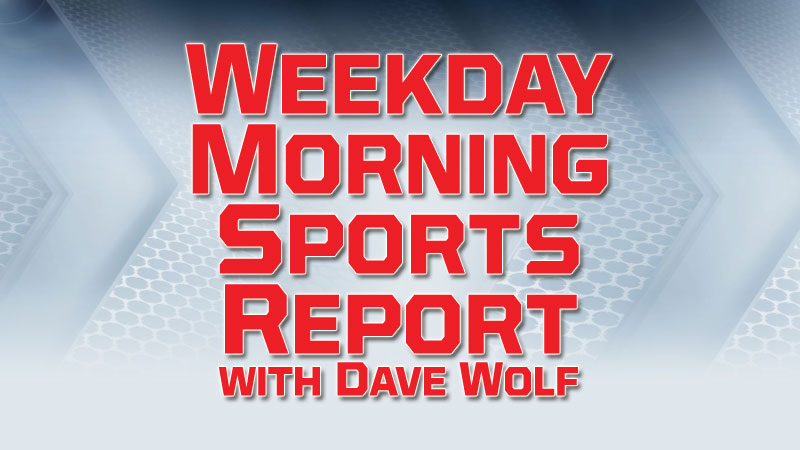 NHL – National Hockey League
Last Night
Chicago Blackhawks 5, Detroit Red Wings 2
Blackhawks 5, Red Wings 2 – Blackhawks beat Red Wings 5-2 for 7th straight win
Dominik Kahun had two goals and an assist, Cam Ward made 43 saves and the Blackhawks beat the Detroit Red Wings 5-2 on Sunday for their seventh straight win.  Chicago's second line of Kahun, Strome and DeBrincat delivered once again as the Blackhawks continued their surprising push after a lackluster first half of the season. Strome had a goal and two assists, and DeBrincat extended his career-best point streak to eight games with three assists.    After Detroit pulled within one in the third period, Patrick Kane responded with his 33rd goal for Chicago. Kane made it 4-2 when he beat Jonathan Bernier low on the stick side with 3:33 left, extending the NHL's longest active point streak to 14 games.  Kane tacked on an assist when Jonathan Toews added an empty-netter with 2:01 remaining. It was Toews' 25th of the season.  Gustav Nyquist and Christoffer Ehn scored for Detroit (21-28-7), which dropped its third consecutive game. Bernier made 31 stops.
NHL – Ducks fire Carlyle
The Anaheim Ducks have made a coaching change after dropping seven straight games and 19 of their last 21.  General manager Bob Murray has dismissed Randy Carlyle and will take over as interim coach the remaining of the season. The rough stretch has dropped the Ducks into a last-place tie with Los Angeles in the Western Conference at 51 points. Carlyle is the winningest coach in Ducks history and led the franchise to the 2007 Stanley Cup and three appearances in the conference finals. He went 384-256-96 in 736 games for Anaheim, reaching the playoffs in seven of his eight full seasons with the franchise.
NBA – National Basketball Association
Tonight
Washington Wizards at Detroit Pistons, 7:00 p.m.
Charlotte Hornets at Indiana Pacers, 7:00 p.m.
Milwaukee Bucks at Chicago Bulls, 8:00 p.m.
NBA – Department: Possible rabies exposure from bat at Pacers game
Indiana health officials say people who had contact with a bat last week during an Indiana Pacers game have possibly been exposed to rabies.  The Indiana State Department of Health says anyone who may have touched the bat with bare skin when it flew around at the Pacers game Thursday in Indianapolis is urged to contact the department or a health care provider about receiving rabies vaccinations. The game was against the Los Angeles Clippers. The department says the rabies status of the bat, which is no longer inside Bankers Life Fieldhouse, is unknown.  Health officials say a person is considered potentially exposed to rabies only if direct contact occurs between a bat and the person's bare skin. So far there have been no reports of anyone having direct contact with the bat.
NBA – Pacers add Matthews
Free agent guard Wesley Matthews has officially signed with the Indiana Pacers to help fill the void left when All-Star guard Victor Oladipo suffered a season-ending knee injury late last month. Matthews averaged 12.8 points and 2.3 assists in 45 games for the Mavericks this season before going to the Knicks in a trade that sent Kristaps Porzingis to Dallas last week. He was dropped by the Knicks before clearing waivers on Saturday.


NCAAMBB – Men's College Basketball
Yesterday
Notre Dame 69, Georgia Tech 59
Notre Dame 69, Georgia Tech 59 – Gibbs and Harvey key 69-59 Irish victory over Georgia Tech
Notre Dame overcame a 32.8-percent shooting night thanks to T.J. Gibbs' 20 points, 18 from D.J. Harvey and John Mooney's 15th double-double of the season in a 69-59 victory over Georgia Tech. Coming off a 62-47 loss at Miami last Wednesday, the Irish (13-11, 3-8 ACC) won for only the second time in their last seven behind Gibbs and Harvey, who each hit 5-of-13 shots from the field but contributed elsewhere. Gibbs had five assists and four steals, while Harvey pulled down eight rebounds, five on the offensive boards.  Mooney, whose streak of eight consecutive games with a double-doubles was snapped at Miami, finished with 11 points and 14 rebounds. Prentiss Hubb added 13 points for Notre Dame, had five rebounds and three assists.  Michael Devoe scored 18 points and Abdoulaye Gueye added 12 for the Yellow Jackets (11-13, 3-8) who lost for the fifth straight time since that 63-61 victory over Notre Dame on Jan. 22. Georgia Tech shot 40.7 percent (22 of 54) but turned the ball over 14 times, six more than the Irish, and was outrebounded 45-39, surrendering 20 offensive boards.
NCAAWBB – Men's College Basketball
Last Night
(4) Notre Dame 97, (24) Florida State 70
Michigan 66, Penn State 62
(4) Notre Dame 97, (24) Florida State 70 – Ogunbowale, Shepard lead No. 4 Irish to rout of No. 24 FSU
Muffet McGraw got the effort she wanted from No. 4 Notre Dame right from the start Sunday, especially from Arike Ogunbowale, in a 97-70 rout of No. 24 Florida State.  Ogunbowale, who has been struggling of late, scored 27 points. Jessica Shepard added 26 as the Fighting Irish, who had two rare Atlantic Coast Conference losses in their last four games, rebounded from Thursday's 72-65 defeat at No. 25 Miami.
Michigan 66, Penn State 62 – Wolverines outlast Penn State 66-62.
Michigan sophomore Hailey Brown had a game high 20 points to lead the Wolverines over Penn State 66-62.  Freshman Naz Hillmon added 19 for Michigan, who improved to 16-9 and 7-6 in the Big Ten.  Penn State falls to 8-8 and 3-9 in conference play.
Tonight
Indiana at (23) Michigan State, 7:00 p.m.
NASCAR – Byron wins Daytona 500 pole
A familiar number will start from the pole for the season-opening Daytona 500, but not a familiar name. William Byron was the fastest in Sunday's qualifying at Daytona International Speedway, driving the Chevrolet with the No. 24 made famous by four-time Cup champion Jeff Gordon. Byron reached a top speed of 194.304 mph in the final round of qualifying, nearly two-tenths of a second faster than teammate Alex Bowman. The 21-year-old Byron started all 36 races for Hendrick Motorsports last year, producing four top-10 finishes but nothing higher than a sixth-place performance at Pocono Raceway. He was 23rd at last year's Daytona 500. Former Hendrick driver Casey Mears and Tyler Reddick secured two of the remaining spots in the Daytona 500. They posted the top speeds of the six drivers vying for four open spots in NASCAR's season opener. The rest of the 40-car lineup will be set by two qualifying races Thursday. Thirty-six of those spots are already filled because of NASCAR's charter system.
Golf – PGA – Langer completes Oasis win
Bernhard Langer closed with a 7-under 65 at The Old Course at Broken Sound for a five-stroke victory in the PGA Tour Champions' Oasis Championship. The 61-year-old German star birdied five of the first seven holes in a bogey-free round. Langer finished at 19-under 197 for his 39th victory on the 50-and-over tour. He also won the 2010 event and finished second last year.  Marco Dawson was second after a 69.
Skiing – Vonn closes career with bronze medal
Five days after crashing in super-G, Lindsey Vonn bounced back to win the bronze medal in the final race of her career, the world championship downhill. Vonn becomes the first female skier to win medals at six different world championships. It's also her fifth downhill medal at worlds, matching the record established by Annemarie Moser-Proell and Christel Cranz.
AAF – Alliance of American Football
Saturday
Orlando Apollos 40, Atlanta Legends 6
San Antonio Commanders 15, San Diego Fleet 6
Yesterday
Birmingham Iron 26, Memphis Express 0
Arizona Hotshots 38, Salt Lake Stallions 22
AHL – American Hockey League
Last Night
Chicago Wolves 4, Grand Rapids Griffins 1
ECHL – ECHL Hockey
Last Night
Toledo Walleye 4, Indy Fuel 1
MHSAA – High School Sports
Tonight
Boys Basketball
Plainwell at South Haven, 7:00 p.m.     Superhits 103.7 Cosy-FM
Niles at Mattawan, 7:15 p.m.
Watervliet at Buchanan, 7:30 p.m.
Kalamazoo Christian at Berrien Springs, 7:00 p.m.
Kalamazoo Hackett at Fennville, 7:00 p.m.
Delton-Kellogg at Martin, 7:00 p.m.
Sturgis at Edwardsburg, 7:00 p.m.
Centreville at Marcellus, 7:30 p.m.
Portage Northern at Kalamazoo Loy Norrix, 7:15 p.m.
Girls Basketball
Lakeshore at Paw Paw, 7:00 p.m.
Niles at Mattawan, 5:45 p.m.
South Haven at Plainwell, 7:15 p.m.
Buchanan at Dowagiac, 7:15 p.m.
River Valley at Lawrence, 7:00 p.m.
Centreville at Marcellus, 6:00 p.m.
Kalamazoo Loy Norrix at Portage Northern, 7:15 p.m.
Martin at Delton-Keloogg, 7:00 p.m.
Galesburg-Augusta at Climax-Scotts, 7:00 p.m.
Fennville at Kalamazoo Hackett, 7:00 p.m.
Byron Center Zion Christian at Saugatuck, 7:00 p.m.
Battle Creek Lakeview at Sturgis, 7:00 p.m.
Gull Lake at Three Rivers, 5:30 p.m.
Lansing Sexton at Battle Creek Central, 7:00 p.m.