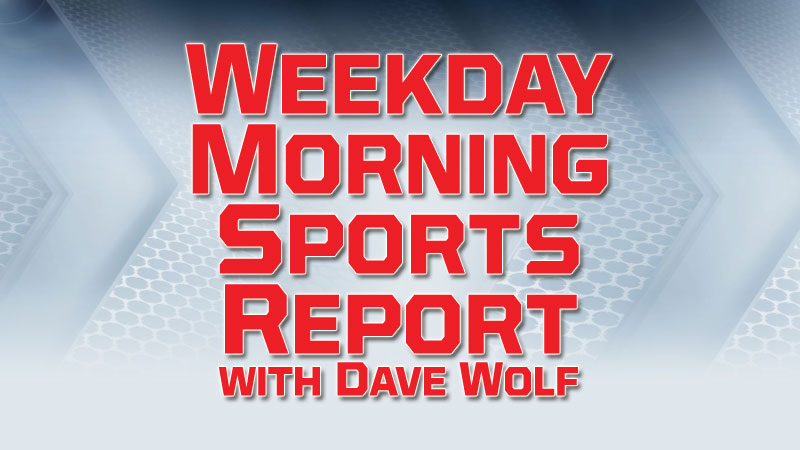 MLB – Major League Baseball
Yesterday
Oakland A's 17, Detroit Tigers 3
Chicago White Sox 4, Toronto Blue Jays 2
Cincinnati Reds 4, Chicago Cubs 2
A's 17, Tigers 3 – Profar slam, A's romp 17-3 for 13th straight win over Tigers
Jurickson Profar hit his first career grand slam and the Oakland Athletics routed Detroit 17-3 Thursday for their 13th straight victory over the Tigers. Josh Phegley had four hits, including one of Oakland's five home runs, as the A's won their ninth in a row at Comerica Park. The A's had lost three straight and were 1-10 in their last 11 road games before romping. Detroit has been outscored 41-9 while losing the first four games of a 10-game homestand. Tigers manager Ron Gardenhire was forced to use outfielder Brandon Dixon to pitch the ninth inning — the infielder/outfielder, who had two scoreless appearances on the mound for Cincinnati last year, gave up a two-run homer to Mark Canha. Matt Olson and Marcus Semien also homered for Oakland.  Dawel Lugo hit a three-run homer with two outs in the Tigers ninth off Aaron Brooks.
White Sox 4, Blue Jays 2 – Cordell's suicide squeeze lifts White Sox over Blue Jays 4-2
Yolmer Sanchez raced home from third base with the tiebreaking run on Ryan Cordell's suicide squeeze in the eighth inning, and the Chicago White Sox topped the Toronto Blue Jays 4-2 Thursday night for their fourth win in five games.  With runners at the corners and the infield in, Cordell bunted to the first base side. Toronto reliever Derek Law (0-1) threw to catcher Danny Jansen, but Sanchez slid under the tag to give Cordell his second RBI of the game.  Charlie Tilson then scored from third on Leury Garcia's sacrifice fly. Tilson was originally ruled out on Billy McKinney's throw, but the call was overturned following a replay review.  Kelvin Herrera (1-2) pitched around two walks in a scoreless eighth to get the win. Alex Colomé tossed a perfect ninth for his ninth save in nine chances, completing a two-hitter.  Welington Castillo also drove in a run for Chicago.
Reds 4, Cubs 2 – Suarez singles in rain, Reds slow Cubs' surge with 4-2 win
Eugenio Suarez singled home the go-ahead run during a fifth-inning downpour and added another RBI single Thursday night as the Cincinnati Reds pulled away to a 4-2 victory that slowed the Chicago Cubs' momentum.  Chicago came into the series on the best surge in the majors, having won or split 10 straight series. The NL Central leaders let a late lead get away Wednesday night for a 6-5, 10-inning loss. Jose Quintana (4-3) gave up Jose Peraza's solo homer with one out, his first since April 26. Luis Castillo (5-1) gave up two runs on two hits and a walk, all in the first inning. The Cubs got a break when Wilson Contreras' grounder down the line hit the front edge of third base and caromed away from Suarez for a two-run double. Raisel Iglesias retired the side in the ninth for his ninth save in 11 chances.  The umpires called for the tarp after Kyle Schwarber lined out to start the sixth inning. Neither starter returned after a one-hour, 51-minute delay.
Tonight
Chicago Cubs (Hamels 3-0) at Washington (Scherzer 2-4), 7:05 p.m.
Oakland (Montas 4-2) at Detroit (Norris 2-1), 7:10 p.m.   WSJM Sports/Cosy-FM 6:45
Toronto (Sanchez 3-4) at Chicago White Sox (Nova 2-3), 8:10 p.m.
NHL – 2019 NHL Stanley Cup Playoffs – Round 3 – Conference Finals (Best of 7)
Last Night
Boston Bruins 4, Carolina Hurricanes 0                                                (BOS wins 4-0)
Bruins 4, Hurricanes 0 – Bruins complete Carolina sweep
The Boston Bruins are going to the Stanley Cup final for the third time in nine seasons after completing a four-game sweep of the Carolina Hurricanes, 4-0. Tuukka Rask allowed just five goals in the series and picked up his seventh career postseason shutout by making 24 saves. Patrice Bergeron scored twice, David Pastrnak had a goal and two assists and Brad Marchand added an empty-netter.
Tonight
San Jose Sharks at St. Louis Blues, 8:00 p.m.                                         (SJS leads 2-1)
NBA – 2019 NBA Playoffs – Round 3 – Conference Finals (Best of 7)
Last Night

Golden State Warriors 114, Portland Trailblazers 111                         (GSW leads 2-0)
Warriors 114, Blazers 111 – Warriors rally past Blazers
The Golden State Warriors have taken a two-games-to-none lead in the NBA's Western Conference finals by turning a 15-point, halftime deficit into a 114-111 victory over the Portland Trail Blazers. Klay Thompson provided 13 of his 24 points while Golden State outscored Portland, 39-24 in the third quarter. Stephen Curry reached the 30-point plateau for the fourth straight game, finishing with 37 to go with eight rebounds and eight assists.
Tonight
Toronto Raptors at Milwaukee Bucks, 8:30 p.m.                                     (MIL leads 1-0)
Golf – PGA – Koepka has PGA Championship lead with record-breaking round
Brooks Koepka managed to grab the spotlight from playing partner Tiger Woods while conquering notorious Bethpage Black yesterday afternoon. Koepka has a one-stroke lead over Danny Lee through one round of the PGA Championship. Koepka delivered a 7-under 63, making him the first player in 101 years of the PGA Championship to shoot that score twice. He broke the course record at Bethpage Black and became the first player to post 63 at a major in consecutive years. Koepka is the defending champion and is seeking his fourth major championship. Woods opened with a pair of double bogeys on the back nine and ruined a torrid start to the front nine with a pair of three-putt bogeys. He signed off on a 72 after carding even par or better in his previous 12 rounds in majors. Lee birdied his last two holes for a 64. He made eight birdies in his round despite failing to get any on the par 5s. Tommy Fleetwood is three shots back and one ahead of five others. Pat Perez, Chez Reavie and Luke List are at minus-2, as are Sung Kang and Mike Lorenzo-Vera.
Kentucky Derby – Maximum Security jockey Luis Saez appeals suspension
Maximum Security jockey Luis Saez has appealed his 15-day suspension by the Kentucky Horse Racing Commission. He says the stewards' penalty for failing to control the horse in the Kentucky Derby is "unduly harsh and not supportable by facts and law."  The rider also seeks to stay his suspension pending appeal to fulfill riding commitments. Maximum Security was first across the line at the Derby at Churchill Downs on May 4 before stewards disqualified the colt to 17th for impeding the paths of several horses.
Indy 500 – O'Ward crashes in practice for 500
Patricio O'Ward is the third driver to crash in Indianapolis 500 practice and the rookie narrowly avoided flipping his car. O'Ward spun into the outside wall and his car briefly turned to its side and nearly went airborne. O'Ward teetered on one wall before the car settled back onto the pavement. Fernando Alonso and Felix Rosenqvist both crashed earlier this week.
Nassar – MSU emails alums on Nassar
Michigan State University wants to know how alumni think it's doing after a scandal involving the imprisoned former sports doctor Larry Nassar. The Detroit Free Press reports Wednesday that alumni were emailed a survey asking about communications from the East Lansing school and if the university has made enough changes. Hundreds of girls and women have said Nassar molested them when he was a physician, including at Michigan State.
ECHL – 2019 ECHL Kelly Cup Playoffs – Conference Finals (best of 7)
Tonight
Toledo Walleye at Tulsa Oilers, 8:00 p.m.                                              (TOL leads 2-1)
MWL – Midwest League Baseball
Yesterday
West Michigan 11, Great Lakes 3 – Game 1
Great Lakes at West Michigan – Game 2, PPD
South Bend 7, Dayton 2
Fort Wayne 9, Lansing 0
Tonight
Lansing at Fort Wayne, 7:05 p.m.
Great Lakes at West Michigan, 7:05 p.m.
Dayton at South Bend, 7:35 p.m.
MHSAA – High School Sports
Yesterday
Baseball
Buchanan 15, St. Joseph 5
Sturgis 6, Dowagiac 2 – Game 1
Dowagiac 2 Sturgis 1 – Game 2
Girls Soccer
Michigan Lutheran 9, Cassopolis 1
Watervliet 3, New Buffalo 0
Three Rivers 6, Parchment 1
Today
Girls Soccer
SMAC Tournament – Final Round
Gull Lake at Portage Central, 6:30 p.m.                (SMAC Championship Game)
Lakeshore at St. Joseph, 6:30 p.m.                       (3rd Place Game)
Mattawan at Kalamazoo Loy Norrix, 6:30 p.m.        (5th Place Game)
Portage Northern at BC Lakeview, 6:30 p.m.          (7th Place Game)
Kalamazoo Central at Niles, 5:30 p.m.                  (9th Place Game)
Battle Creek Central (bye)                                  (11th Place)
Other games
Bridgman at Hartford, 5:00 p.m.
Bangor at Covert, 5:00 p.m.
Baseball
St. Joseph at Kalamazoo Loy Norrix, 4:00 p.m. (DH)
Michigan Lutheran at New Buffalo, 4:30 p.m.
South Haven at Plainwell, 4:00 p.m. (DH)
Edwardsburg at Paw Paw, 4:00 p.m. (DH)
Allegan at Otsego, 4:00 p.m. (DH)
Vicksburg at Three Rivers, 4:00 p.m. (DH)
Softball
St. Joseph at Kalamazoo Loy Norrix, 4:00 p.m. (DH)
Michigan Lutheran at New Buffalo, 4:30 p.m.
South Haven at Plainwell, 4:00 p.m. (DH)
Edwardsburg at Paw Paw, 4:00 p.m. (DH)
Allegan at Otsego, 4:00 p.m. (DH)
Vicksburg at Three Rivers, 4:00 p.m. (DH)
Coloma at Niles, 4:30 p.m. (DH)
Girls Tennis – Regionals
Division 2 at Mattawan, 8:30 a.m.
Battle Creek Central, Battle Creek Lakeview, Holland, Mattawan, Portage Central, Portage Northern, Gull Lake, St Joseph, Sturgis,
Zeeland East, Zeeland West
Division 3 at Allegan, 8:30 a.m.
Allegan, Battle Creek Pennfield, Hamilton, Holland Christian, Otsego, Paw Paw, Plainwell, South Haven, Wayland
Track and Field – Regionals
Division 1 at Grand Haven, 8:30 a.m.
St. Joseph, Byron Center, East Kentwood, Grand Haven, Grand Rapids Forest Hills Northern, Grand Rapids Northview, Grand Rapids Ottawa Hills, Grand Rapids Union, Grandville, Holland, Holland West Ottawa, Hudsonville, Jenison, Muskegon, Muskegon Mona Shores
Muskegon Reeths-Puffer, Rockford, Wyoming
Division 2 at Sturgis, 8:30 a.m.
Lakeshore, Benton Harbor, South Haven, Allegan, Dowagiac, Edwardsburg, Hopkins, Niles, Otsego, Paw Paw, Plainwell, Sturgis, Three Rivers, Vicksburg
Division 4 at Gobles, 3:00 p.m.
Lake Michigan Catholic, Countryside Academy, Bridgman, Cassopolis, Covert, Decatur, Eau Claire, Gobles, Kalamazoo Christian, Kalamazoo Hackett, Kalamazoo Lakeside, Lawrence, Marcellus, New Buffalo, River Valley, Watervliet Grace Christian