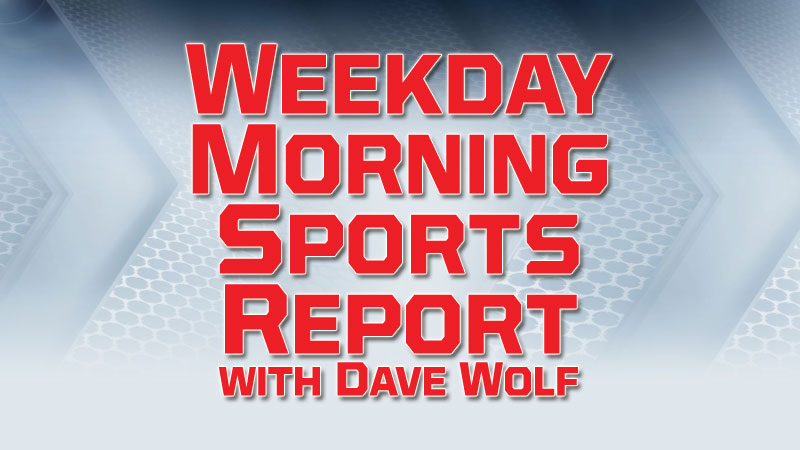 NCAAMBB – Men's College Basketball – Big Ten Conference
Yesterday
Big Ten Conference Tournament – Round 2 – United Center, Chicago, IL
#8 Ohio State 79, #9 Indiana 75
#13 Nebraska 69, #5 Maryland 61
#7 Minnesota 77, #10 Penn State 72 – OT
#6 Iowa 83, #11 Illinois 62
#8 Ohio State 79, #9 Indiana 75
Keyshawn Woods scored 18, Kaleb Wesson added 17 points and a career-high 13 rebounds, and Ohio State hung on to beat Indiana 79-75 in the second round of the Big Ten Tournament. Woods scored a key basket in the closing minute.
#13 Nebraska 69, #5 Maryland 61
James Palmer Jr. scored 24 points and Nebraska shut down No. 21 Maryland for the first big surprise of the Big Ten Tournament, holding off the Terrapins for a 69-61 victory. Using a seven-man rotation because of injuries and backup guard Nana Akenten's suspension, the Cornhuskers harassed the Terrapins into 36 percent (18 for 50) shooting and 11 turnovers. Glynn Watson Jr. added 19 points and Isaiah Roby finished with 15.
#7 Minnesota 77, #10 Penn State 72 – OT
Amir Coffey scored 10 of his 22 points in the final minute, and Minnesota rallied for a 77-72 overtime victory over Penn State in the second round of the Big Ten Tournament. Coffey put the Golden Gophers on top for good 69-66 when he drove for a 3-point play, burying the free throw after he got knocked to the floor by a rotating Josh Reaves.
#6 Iowa 83, #11 Illinois 62
Nicholas Baer made five of Iowa's 12 3-pointers and scored 17 points, helping the Hawkeyes pull away from Illinois for an 83-62 victory in the second round of the Big Ten Tournament. Iowa turned up its play in the second half to stop a four-game losing streak and hand coach Fran McCaffery his first win since he returned Sunday after a two-game suspension for berating an
official. The Hawkeyes went 12 for 23 from beyond the arc and turned 15 Illini turnovers into 24 points.
Today
Big Ten Conference Tournament – Quarterfinals – United Center, Chicago, IL
#1 Michigan State vs. #8 Ohio State, 12:30 p.m.     Superhits 103.7 Cosy-FM 11:30
#4 Wisconsin vs. #13 Nebraska, 2:25 p.m.
#2 Purdue vs. #7 Minnesota, 7:00 p.m.
#3 Michigan vs. #6 Iowa, 9:30 p.m.                          106.1 & 1400 WSJM Sports 9:00
NCAAWBB – Men's College Basketball – Mid-American Conference
Yesterday
Mid-American Conference Tournament – Quarterfinals – Quicken Loans Arena – Cleveland, OH
#1 Buffalo 82, #8 Akron 46
#5 Central Michigan 89, #4 Kent State 81
#7 Northern Illinois 80, #2 Toledo 76
#3 Bowling Green 99, #11 Ball State 86
CMU 89, Kent State 81 – Central Michigan advances past Kent in MAC quarters
No. 5 seed Central Michigan opened up an early first half lead and held off a second half run by Kent State for a 89-81 win on Thursday afternoon during the MAC Men's Basketball Tournament, presented by Visit Myrtle Beach, Quarterfinals action at Quicken Loans Arena. Central Michigan guard Dallas Morgan's three-pointer with 7:48 left opened a 69-54 Chippewas lead and cruised to the 89-81 final.  Central Michigan was led guard Larry Austin with 23 points, while guard Shawn Roundtree added 20 points and Morgan posted 16 points. 
Tonight
Mid-American Conference Tournament – Semifinals – Quicken Loans Arena – Cleveland, OH
#1 Buffalo vs. #5 Central Michigan, 6:30 p.m.
#3 Bowling Green vs. #7 Northern Illinois, 9:00 p.m.
NCAAWBB – Women's College Basketball – Mid-American Conference
Today
Mid-American Conference Tournament – Semifinals – Quicken Loans Arena – Cleveland, OH
#1 Central Michigan vs. #4 Buffalo, 11:00 a.m.
#2 Ohio vs. #3 Miami-OH, 1:30 p.m.
NHL – National Hockey League
Last Night
Tampa Bay Lightning 5, Detroit Red Wings 4
Lightning 5, Red Wings 4 – Stamkos ties Lecavalier as Lightning rally past Detroit 5-4
Steven Stamkos and the Tampa Bay Lightning turned a three-goal deficit into a milestone night.  Stamkos tied Vincent Lecavalier for Tampa Bay's career lead in goals, Nikita Kucherov scored twice in the third period and the Lightning rallied to beat the Detroit Red Wings 5-4 on Thursday. Tampa Bay equaled its franchise record of 54 wins, set last season.  The Red Wings led 3-0 in the second when Stamkos scored on the power play to start Tampa Bay's comeback. His 383rd goal pulled him even with Lecavalier.  Brayden Point also scored for the Lightning, early in the third. Madison Bowey, Darren Helm, Justin Abdelkader and Michael Rasmussen scored for the Red Wings, who lost for the 12th time in 13 games.
NHL – In city centers, a determined effort to diversify hockey
Minority players in the National Hockey League remain a relative rarity.  But the effort to increase diversity in the sport at the youth level has never been more robust than it is now. The results can be seen in neighborhoods in places like Philadelphia and Detroit where basketball, baseball and football are still the top choices for many.  While just 5 percent of the 778 NHL players are minorities, that number is 70 percent within Snider Hockey, a program that provides free equipment, ice time and academic support for more than 3,000 youths in the Philadelphia area. Ice Hockey in Harlem, Detroit Ice Dreams and other organizations are also trying to bring the sport to people who never thought it was for them. The NHL says it has spent $100 million along with the players' union since 2015 to grow diversity in the sport.
NBA – National Basketball Association
Last Night
Indiana Pacers 108, Oklahoma City Thunder 106
Pacers 108, Thunder 106 – Pacers rally from 19-point deficit to beat Thunder 108-106
The Indiana Pacers are right on the verge of clinching an NBA playoff berth following a comeback win over the Oklahoma City Thunder.  The magic number is one after the Pacers erased an 18-point deficit over the final 15 minutes of a 108-106 triumph against the Thunder. Wesley Matthews capped the rally by tipping in a basket with 1.8 seconds left.  Domantas Sabonis scored 26 points against his former team to help Indiana move into third in the Eastern Conference by a half-game over Philadelphia.  Former Pacer Paul George had a team-high 36 points for Oklahoma City.
Tonight
Los Angeles Lakers at Detroit Pistons, 7:00 p.m.
Chicago Bulls at Los Angeles Clippers, 10:30 p.m.
NFL – Lions announce free agent signings
The Dettroit Lions have signed offensive lineman Oday Aboushi and safety Andrew Adams.  Aboushi spent the 2018 season with the Arizona Cardinals, playing in eight games and making six starts. He's entering his sixth NFL season. Adams spent the 2018 season with the Tampa Bay Buccaneers, playing in 13 games and making four starts. He played in two seasons for the New York Giants prior to that.  The Lions earlier in the week signed a trio of free agents to address pressing needs: defensive end Trey Flowers, cornerback Justin Coleman and tight end Jesse James. 
NFL – Bears sign Clinton-Dix
The Chicago Bears have signed former Green Bay Packers safety Ha Ha Clinton-Dix to a one-year contract.  Dix has 14 interceptions over five seasons with Green Bay (2014-18) and Washington (2018). He made the Pro Bowl in 2016 after picking off five passes and breaking up seven. The Packers dealt him to Washington at the trade deadline last season.
MLB – MLB Spring Training
Yesterday
Boston Red Sox 4, Detroit Tigers 4 – TIE
Chicago Cubs 2, Texas Rangers (ss) 1
Today
Detroit vs. Tampa Bay (ss) at Port Charlotte, Fla., 1:05 p.m.
Chicago Cubs vs. Chicago White Sox at Glendale, Ariz., 4:05 p.m.
MLB – Fulmer won't pitch in near future, to work on mechanics
Detroit Tigers right-hander Michael Fulmer will not pitch in games in the near future, focusing on lower-body mechanics.  "He took a step back to refine his lower-body mechanics," Detroit manager Ron Gardenhire said after Thursday's 4-4 tie with Boston. "We have no timetable when he's going to get back on the mound."  Gardenhire declined to provide additional details about the decision.  Fulmer won AL Rookie of the Year honors in 2016 but has struggled to return to that form. He was 3-12 with a 4.69 ERA last year, his season cut short in mid-September because of knee problems.
MHSAA – High School Sports
Yesterday
Boys Basketball – Semifinals
Division 3 at Michigan State University
Iron Mountain 60, Detroit Edison PSA 57
Pewamo-Westphalia 60, Erie-Mason 45
Division 4 at Michigan State University
Southfield Christian 55, Dollar Bay 28
Frankfort 44, Wyoming Tri-unity 43
Today
Boys Basketball – Semifinals
Division 1 at Michigan State University
Howell (20-6) vs Ypsilanti Lincoln (21-4), 12:00 p.m.
Detroit U-D Jesuit (24-2) vs Okemos (23-2), 2:00 p.m.
Division 2 at Michigan State University
Ludington (14-10) vs Hudsonville Unity Christian (24-2), 5:30 p.m.
River Rouge (22-2) vs Harper Woods Chandler Park (21-0), 7:30 p.m.
Saturday
State Finals at MSU
Division 1 – 12:15 p.m.
Division 2 – 6:45 p.m.
Division 3 – 4:30 p.m.
Division 4 – 10 a.m.