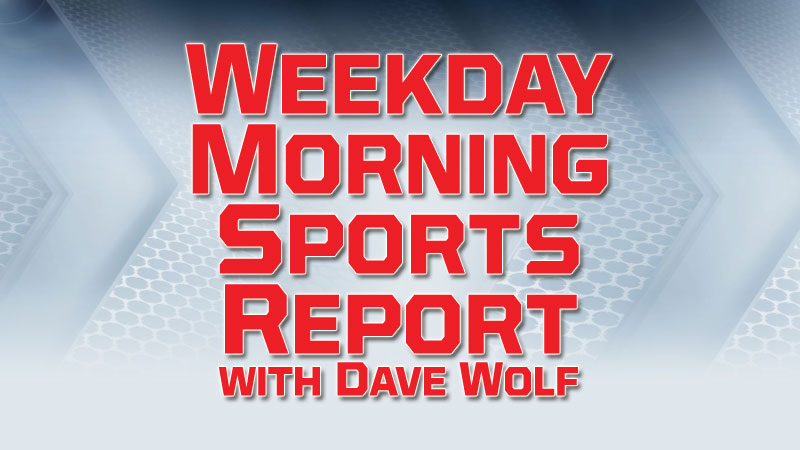 NFL – National Football League – Week 14
Last Night
Chicago Bears 31, Dallas Cowboys 24
Bears 31, Cowboys 24 – Micthell Trubisky helps Bears beat Cowboys 31-24
Mitchell Trubisky threw three touchdown passes and ran for a score in the Chicago Bears' 31-24 victory over Dak Prescott and the slumping Dallas Cowboys. In a matchup between disappointing teams that made the playoffs last season, the Bears came away with their fourth win in five games. The Cowboys have lost seven of 10 since a 3-0 start. Trubisky shook off an early interception near the goal line to complete 23 of 31 passes for 244 yards.
Sunday
Detroit Lions at Minnesota Vikings, 1:00 p.m.                    WSJM Sports/Cosy-FM 11:00
Indianapolis Colts at Tampa Bay Buccaneers, 1:00 p.m.
Seattle Seahawks at Los Angeles Rams, 8:20 p.m.               106.1 & 1400 WSJM Sports 7:30
NHL – National Hockey League
Last Night
Chicago Blackhawks 4, Boston Bruins 3 – OT
Blackhawks 4, Bruins 3 – OT – Blackhawks, recover, beat Bruins 4-3 in OT
Jonathan Toews scored 54 seconds into overtime and the Chicago Blackhawks recovered after blowing a three-goal, third-period lead to beat Boston 4-3 and end the Bruins' eight-game winning streak. Robin Lehner made 37 saves for the Blackhawks, who had lost six of their previous seven games. Ryan Carpenter, Dylan Strome and Alex DeBrincat scored for Chicago for the first three-goal deficit Boston had faced all season.
Tonight
Chicago Blackhawks at New Jersey Devils, 7:00 p.m.
NHL – Flames sign arena deal
The Calgary Flames have a deal for a new downtown arena, a 35-year agreement that keeps the NHL club in the city for that time.  The team, the city and the Calgary Stampede rodeo signed the agreement to replace the 36-year-old Scotiabank Saddledome. Construction for the 19,000-seat arena is expected to begin in 2021 and cost more than $417 million. The facility will be built just north of the Saddledome, which will be demolished between 2024 and 2025.
NCAAMBB – Men's College Basketball
Tonight
Iowa at (4) Michigan, 6:30 p.m.                                          106.1 & 1400 WSJM Sports 6:00
Tennessee-Martin at Central Michigan, 7:00 p.m.
NCAAWBB – Women's College Basketball
Last Night
(8) Florida State 78, (19) Michigan State 68
(24) Michigan 84, Syracuse 76
Central Michigan 70, Iona 50
(8) FSU 78, (19) MSU 68 – Gillespie scores 24 points, No. 8 Florida State women win
Kiah Gillespie scored 18 of her season-high 24 points in the second half and No. 8 Florida State remained undefeated by rallying for a 78-68 victory over No. 19 Michigan State. Valencia Myers scored 10 of her 12 points in the second half as the Seminoles rallied to outscore Michigan State 29-16 in the final period. Florida State approved to 11-2 in the ACC/Big Ten Challenge.
(24) Michigan 84, Syracuse 76 – Wolverines rally to beat Syracuse
Kayla Robbins scored 23 points and No. 24 Michigan rallied from a 10-point, fourth-quarter deficit to force overtime and beat Syracuse 84-76 in a Big Ten/ACC Challenge game. Naz Hillmon added 16 points for the Wolverines, who closed out the final three minutes of overtime with a 9-2 run.
NBA – National Basketball Association
Tonight
Indiana Pacers at Detroit Pistons, 7:00 p.m.
Golden State Warriors at Chicago Bulls, 8:00 p.m.
NCAAFB – College Football – Conference Championships
Tonight
PAC-12 at Levi's Stadium, Santa Clara, CA
(5) Utah vs. (13) Oregon, 8:00 p.m.
Saturday
MAC at Ford Field, Detroit, MI
Miami-Ohio vs. Central Michigan, 12:00 p.m.
CMU, Miami to meet in unexpected matchup for MAC title
Central Michigan takes on Miami of Ohio in a rather unexpected MAC championship game this weekend. CMU went 1-11 last season and was understandably picked to finish last in the MAC West in the 2019 preseason media poll. Miami was second in the East in that survey, but well behind division favorite Ohio. This is the first appearance in the title game for CMU since 2009, when the Chippewas beat Ohio 20-10. Miami's most recent appearance was in 2010 — a 26-21 win over Northern Illinois. New coach Jim McElwain has led CMU to a remarkable turnaround after the team's 2018 struggles.
Big-12 at AT&T Stadium, Arlington, TX
(7) Baylor vs. (6) Oklahoma, 12:00 p.m.                   106.1 & 1400 WSJM Sports
SEC at Mercedes-Benz Stadium, Atlanta, GA
(4) Georgia vs. (2) LSU, 4:00 p.m.                            106.1 & 1400 WSJM Sports
Big 10 at Lucas Oil Stadium, Indianapolis, IN
(8) Wisconsin vs. (1) Ohio State, 8:00 p.m.              106.1 & 1400 WSJM Sports
MLB – Reds, Moustakas finalize pact
The Cincinnati Reds and All-Star infielder Mike Moustakas have finalized a four-year, $64 million contract that's the richest free agent deal in franchise history.  Moustakas hit .254 with 35 home runs and 87 RBIs for the Brewers last season, recording an .845 OPS and making the All-Star team for a third time. The nine-year major league veteran has belted 182 home runs and driven in 561 runs in 1,131 games for the Royals and Brewers.
AHL – American Hockey League
Tonight
Rockford IceHogs at Grand Rapids Griffins, 7:00 p.m.
Chicago Wolves at Manitoba Moose, 7:00 p.m.
ECHL – ECHL Hockey League
Tonight
Kalamazoo Wings at Wheeling Nailers, 7:05 p.m.
Brampton Beast at Toledo Walleye, 7:15 p.m.
MCCAA – Junior College Athletics
Last Night
Women's Basketball
Glen Oaks Community College 68, Andrews University 45
Men's Basketball
Glen Oaks Community College 70, Andrews University 69
Last Night
Women's Basketball
Lake Michigan College at Milwaukee Area Technical College, 6:00 p.m.
Men's Basketball
Lake Michigan College at Milwaukee Area Technical College, 8:00 p.m.
MHSAA – High School Athletics
Last Night
Girls Basketball
Paw Paw 43, Dowagiac 17
Watervliet 54, Eau Claire 0
Mendon 33, Union City 32
Tonight
Girls Basketball
St. Joseph at Portage Northern, 7:15 p.m.
Portage Central at Lakeshore, 7:00 p.m.
Niles at Mattawan, 7:15 p.m.
Michigan Lutheran at Lawrence, 7:00 p.m.
River Valley at New Buffalo, 7:30 p.m.
Brandywine at Berrien Springs,7:30 p.m.
Bridgman at Buchanan, 6:00 p.m.
Coloma at Kalamazoo Hackett, 7:00 p.m.
Otsego at Allegan, 7:15 p.m.
Sturgis at Edwardsburg, 7:15 p.m.
South Haven at Plainwell, 7:15 p.m.
Three Rivers at Vicksburg, 7:15 p.m.
Centreville at Bronson, 7:00 p.m.
Bloomingdale at Martin, 7:30 p.m.
Gobles at Constantine, 7:00 p.m.
Saugatuck at Lawton, 7:30 p.m.
Fennville at Delton-Kellogg, 7:00 p.m.
Galesburg-Augusta at Olivet, 7:00 p.m.
Battle Creek Lakeview at Marshall, 7:00 p.m.
Hastings at Kalamazoo Loy Norrix, 7:00 p.m.
Kalamazoo Central at Coldwater, 7:00 p.m.
Caledonia at Gull Lake, 7:00 p.m.
Comstock at Parchment, 7:30 p.m.
Saturday
Girls Basketball
Benton Harbor at Kalamazoo Loy Norrix, 1:00 p.m.
Battle Creek Academy at Andrews Academy, 6:00 p.m.
East Grand Rapids at Kalamazoo Central, 7:00 p.m.