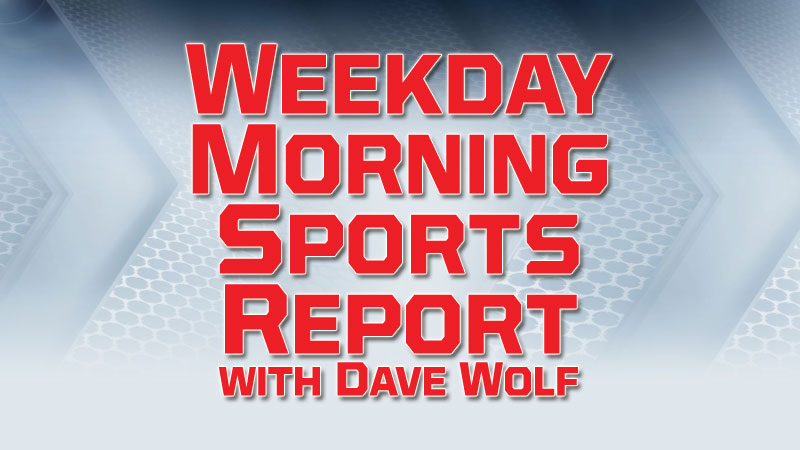 NFL – National Football League – Week 11
Last Night
Cleveland Browns 21, Pittsburgh Steelers 7
Browns 21, Steelers 7 – Browns beat Steelers
Baker Mayfield threw for two touchdowns and ran for another as the Browns ended the Pittsburgh Steelers' four-game winning streak, 21-7. Mayfield was 17 of 32 passing for 193 yards and no interceptions to help Cleveland win their second straight and improve to 4-6. Nick Chubb had 92 yards rushing for the Browns, who intercepted Mason Rudolph four times and limited Pittsburgh to 236 total yards.
Sunday
Dallas Cowboys at Detroit Lions, 1:00 p.m.                       WSJM Sports/Cosy-FM 11:00
Jacksonville Jaguars at Indianapolis Colts, 1:00 p.m.
Chicago Bears at Los Angeles Rams, 8:20 p.m.                    106.1 & 1400 WSJM Sports 7:30 p.m.
NFL – Browns, Steelers brawl at end of Cleveland's 21-7 win
Cleveland defense end Myles Garrett ripped off Pittsburgh quarterback Mason Rudolph's helmet and hit him with it in the head in the final seconds as the Browns' 21-7 win over the Steelers on Thursday night ended with a wild brawl between the rivals.  Garrett faces a likely suspension for his actions, and Steelers center Maurkice Pouncey will likely be disciplined for kicking Garrett in the head.  Players from both sidelines spilled on the field during the wild melee, which began after Garrett wrestled Rudolph to the ground after he threw the ball on a meaningless play. Garrett, Pouncey and Browns defensive tackle Larry Ogunjobi were ejected. Before the ugly ending, Baker Mayfield threw two touchdown passes and scored on a 1-yard plunge as Cleveland held on to defeat the banged-up Steelers for just the fourth time in 10 years and improved to 2-0 in the AFC North for the first time. The Browns (4-6) have won two in a row after dropping four straight, a skid that put first-year coach Freddie Kitchens' job in jeopardy.
NCAAMBB – Men's College Basketball
Last Night
(3) Michigan State 76, (12) Seton Hall 73
Eastern Michigan 72, U of M-Dearborn 59
 (3) MSU 76, (12) Seton Hall 73 – Hall layup leads No. 3 Michigan State over No. 12 Seton Hall
Freshman Malik Hall hit a layup with 26 seconds to play and scored all 17 of his points in the second half as No. 3 Michigan State overcame a late five-point deficit and beat No. 12 Seton Hall 76-73 Thursday night in a wildly exciting contest worthy of March Madness.  Cassius Winston added two free throws with 3.4 seconds to play to push the lead to three points, and the Spartans (2-1) played tough defense on drives in the lane by Sandro Mamukelashvili and Myles Powell in the waning seconds. The Pirates eventually saw a desperation half-court heave by Powell bounce off the top of the rim as the final buzzer sounded.  Winston scored 17 of his 21 points in the second half, playing his second game in less than a week after the death of his brother, Zachary.
EMU 72, UMDB 59 – James carries E. Michigan over NAIA Michigan-Dearborn 72-59
Chris James had 15 points off the bench, and Eastern Michigan beat Michigan-Dearborn 72-59 on Thursday night.  Boubacar Toure finished with 15 points and 14 rebounds. Noah Morgan added 12 points and Yeikson Montero scored 10 points for Eastern Michigan (3-0).
Tonight
Elon at Michigan, 7:00 p.m.                            106.1 & 1400 WSJM Sports 6:30
Marshall at Notre Dame, 7:00 p.m.
Western Michigan at Ole Miss, 7:00 p.m.
Saturday
Sam Houston State at Central Michigan, 2:00 p.m.
Eastern Michigan at North Texas, 4:00 p.m.
NCAAFB – College Football – Week 12
Saturday
Michigan State at (15) Michigan, 12:00          News/Talk 94.9 WSJM 11:00/Superhits 103.7 Cosy-FM 10:30
Navy at (16) Notre Dame, 2:30
Central Michigan at Ball State, 3:30 p.m.
NCAAWBB – Women's College Basketball
Last Night
(16) Michigan State 72, (15) Notre Dame 69
(9) Louisville 76, Central Michigan 63
Western Michigan 80, Kentucky State 41
 (16) MSU 72, (15) ND 69 – No. 16 Michigan State women hold off No. 15 Notre Dame 72-69
Nia Clouden scored a career-high 28 points and No. 16 Michigan State held off No. 15 Notre Dame's late rally for a 72-69 victory on Thursday night.  Clouden made four 3-pointers and was 9 of 21 from the field. Taryn McCutheon added 12 points for Michigan State (3-0). Sam Brunelle and Katlyn Gilbert scored 19 points apiece to lead Notre Dame (2-2), which has lost two straight games. The Irish rallied from a 13-point deficit late in the third quarter, using a 15-5 run to pull to 58-57 with 5:30 to play. Victoria Gaines made a layup and Tory Ozment added a 3 and to stretch the Spartans' lead to 63-57 with about three minutes remaining in the game. Brunelle's 3-pointer got the Irish within 70-69 with 10 seconds left, but McCutcheon made a pair of free throws to seal it for the Spartans.
 (9) Louisville 76, CMU 63 – Jones, Evans lead No. 9 Louisville past Central Michigan
Jazmine Jones scored 25 points and Dana Evans had 24 — both career highs — to lead No. 9 Louisville to a 76-63 victory over Central Michigan on Thursday.  Central Michigan did not make a field goal over the last 5:36.  Micaela Kelly led the Chippewas with 23 points, making 11 of 15 free throws.
Today
Kent State at (24) Michigan, 2:00 p.m.
Saturday
Eastern Michigan at Youngstown State, 11:00 a.m.
(24) Michigan at Akron, 2:30 p.m.
Sunday
Central Michigan at Western Kentucky, 2:00 p.m.
NHL – National Hockey League
Last Night
Los Angeles Kings 3, Detroit Red Wings 2 – OT
Kings 3, Red Wings 2 – OT – Iafallo scores in OT, Kings rally for 3-2 win over Red Wings
Alex Iafallo scored 23 seconds into overtime and the Los Angeles Kings beat the Detroit Red Wings 3-2 on Thursday night.  Kings forward Adrian Kempe scored with 1:48 remaining in the third period to tie the game at 2-all, and Iafallo got a shot into an open net after Drew Doughty's pass caromed off the boards. The Kings won consecutive games for the second time this season.  Anze Kopitar had a goal and three assists for Los Angeles, and Jonathan Quick made 19 saves.  Tyler Bertuzzi scored twice for Detroit. The Wings had their 3 game win streak snapped. Jonathan Bernier made 28 saves.
NBA – National Basketball Association
Last Night
Milwaukee Bucks 124, Chicago Bulls 115
Bucks 124, Bulls 115 – Bucks get past Bulls
Giannis Antetokounmpo had 38 points and 15 rebounds as the Milwaukee Bucks downed the Chicago Bulls, 124-115 in Chicago. Eric Bledsoe added a season-high 31 points and eight assists in Milwaukee's first game since losing starter Khris Middleton to a thigh bruise. Bulls rookie Coby White finished with a team-high 26 points, including six 3s.
Last Night
Detroit Pistons at Charlotte Hornets, 7:00 p.m.
Indiana Pacers at Houston Rockets, 8:00 p.m.
MCCAA – Junior College Athletics
Saturday
Women's Basketball
(20) Lake Michigan College at St. Clair Community College, 6:00 p.m.
Men's Basketball
Lake Michigan College at (19) St. Clair Community College, 8:00 p.m.
AHL – American Hockey League
Tonight
Rockford IceHogs at Grand Rapids Griffins, 7:00 p.m.
ECHL – ECHL Hockey
Tonight
Toledo Walleye at Newfoundland Growlers, 5:30 p.m.
Kalamazoo Wings at Fort Wayne Komets, 8:00 p.m.
MHSAA – High School Athletics
Last Night
Girls Volleyball – Regional Championships
Division 1 at Battle Creek Lakeview
Mattawan 3, Jackson Northwest 0        (25-11, 25-16, 25-14)
Division 2 at Otsego
Hamilton 3, Edwardsburg 2                  (25-15, 22-25, 19-25, 25-21, 15-6)
Division 3 at Schoolcraft
Schoolcraft 3, Brandywine 0               (25-15, 25-9, 25-19)
Division 4 at Martin
Mendon 3, Battle Creek St. Philip 0      (25-23, 25-22, 25-22)
Tonight
Football (11-Player) – Regional Championships
Division 2
Muskegon Mona Shores (9-2) at Portage Northern (10-1), 7:00 p.m.
Division 4
Hudsonville Unity Christian (8-3) at Paw Paw (10-1), 7:00 p.m.             Superhits 103.7 Cosy-FM 6:45
Division 5
Kalamazoo United (7-4) at Lansing Catholic (10-1), 7:00 p.m.
Division 7
Schoolcraft (10-1) at Jackson Lumen Christi (10-0), 7:00 p.m.
Saturday
Football (8-Player) – State Semifinals
8-Player Division 1
Morrice (10-1) at Colon (11-0), 1:00 p.m.
8-Player Division 2
Climax-Scotts (9-2) at Portland St. Patrick (11-0), 1:00 p.m.