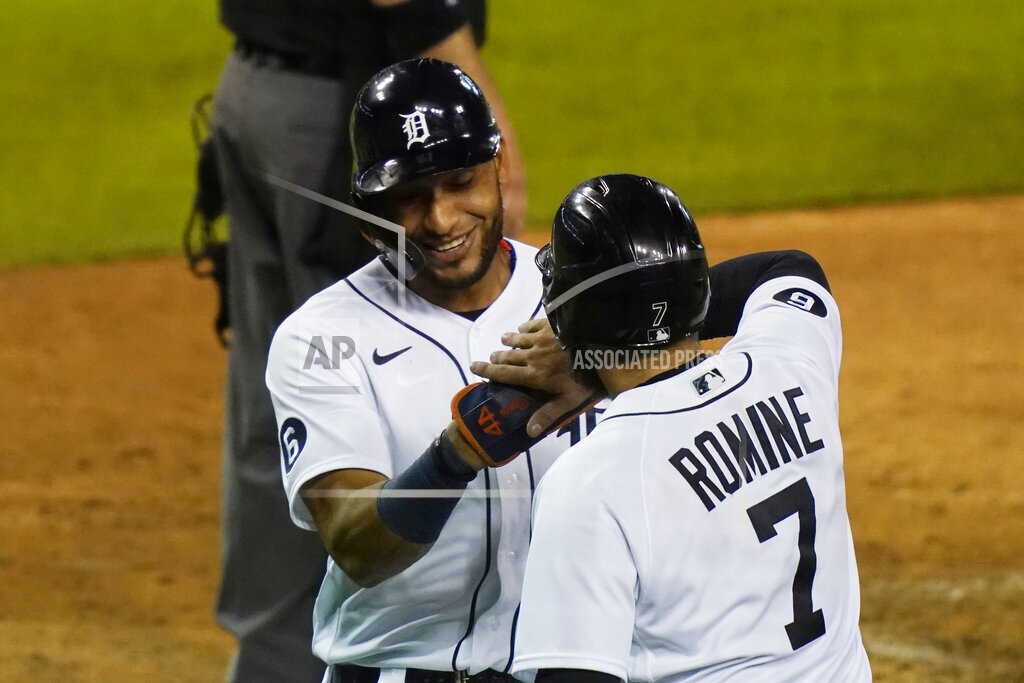 MLB – Major League Baseball
Yesterday
Detroit Tigers 8, Milwaukee Brewers 3
Pittsburgh Pirates 5, Chicago White Sox 4
Chicago Cubs 3, Cincinnati Reds 0
Tigers 8, Brewers 3 – Turnbull impressive in 6 innings, Tigers rout Brewers 8-3
Spencer Turnbull allowed three hits in six scoreless innings, and the Detroit Tigers broke the game open with five runs in the fifth on their way to an 8-3 victory over the Milwaukee Brewers. It wasn't all good news for the Tigers, however. Second baseman Jonathan Schoop, who leads Detroit with eight home runs, left with a right wrist contusion after being hit by a pitch in the fourth. Turnbull struck out three and walked three as the Tigers pulled within one game of the New York Yankees for the final postseason spot in the American League. Jeimer Candelario homered and drove in four runs.
Pirates 5, White Sox 4 – Error in ninth inning gives Pirates 5-4 win over White Sox
Pinch-runner Jason Martin scored the winning run on catcher Yasmani Grandal's error in the bottom of the ninth inning as the Pittsburgh Pirates rallied for a 5-4 victory over the Chicago White Sox. With the score tied at 4, the Pirates loaded the bases with none out. Gregory Polanco and Josh Bell singled and, after both runners advanced on a wild pitch, Ke'Bryan Hayes was intentionally walked to load the bases. Kevin Newman then hit a nubber in front of home plate. Pitcher Jimmy Cordero fielded the ball and shoveled it to Grandal in attempt to get a force out at home plate, but Grandal dropped the toss and Martin, who ran for Polanco, scored.
Cubs 3, Reds 0 – Mills sharp, Bote has 2 RBIs as Cubs beat Reds 3-0
Alec Mills pitched six sharp innings and David Bote drove in two runs, leading the Chicago Cubs to a 3-0 victory over the Cincinnati Reds. Taking the mound on a wet, windy and cool night at Wrigley Field, Mills permitted four hits, struck out six and walked three in his first win since Aug. 24. Duane Underwood Jr. and Ryan Tepera each got three outs before Jeremy Jeffress finished the five-hitter for his sixth save.
Today
Milwaukee (Burnes 2-0) at Detroit (Boyd 1-5), 1:10 p.m.              WSJM 94.9/WCSY 103.7 12:45
Chicago White Sox (Dunning 0-0) at Pittsburgh (Brubaker 1-0), 7:05 p.m.
Cincinnati (Bauer 3-3) at Chicago Cubs (Darvish 7-1), 8:15 p.m.
MLB – Cubs add Billy Hamilton to roster, send down Martínez
The Chicago Cubs have added speedy outfielder Billy Hamilton to their active roster and optioned slumping slugger José Martínez to their alternate training site. Hamilton was claimed off waivers from the New York Mets on Monday. Hamilton, who turns 30 on Wednesday, went 1 for 22 in 17 games with New York before he was designated for assignment on Friday. Martínez, an infielder/outfielder, is 0 for 14 since he coming over in a trade with Tampa Bay on Aug. 30.
NHL – National Hockey League – Stanley Cup Playoffs – 3rd round (Best of 7)
Yesterday
Vegas Golden Knights 3, Dallas Stars –                                                 (Series tied 1-1)
Tonight
New York Islanders vs. Tampa Bay Lightning, 8:00 p.m.                          (TBL leads 1-0)
NBA – National Basketball Association – 2nd round (Best of 7)
Last Night
Miami Heat 103, Milwaukee Bucks 94                                                      (MIA wins 4-1)
Los Angeles Lakers 112, Houston Rockets 102                                       (LAL leads 2-1)
Tonight
Toronto Raptors vs. Boston Celtics, 6:30 p.m.                                      (BOS leads 3-2)
Los Angeles Clippers vs. Denver Nuggets, 9:00 p.m.                               (LAC leads 2-1)
WNBA – Women's National Basketball Association
Last Night
Las Vegas Aces 92, Indiana Fever 86
Aces 92, Fever 86 – Aces beat Fever 92-86 for sole possession of 2nd place
A'ja Wilson had 22 points, 16 rebounds and three blocks, Jackie Young added 17 points and seven assists and the Las Vegas Aces beat the Indiana Fever 92-86. Second-place Las Vegas (15-4) is a game behind Seattle for the top seed in the playoffs. The two teams play on Sunday in the season finale. The Aces are also a half-game in front of Los Angeles for the second spot. The Aces play the Sparks on Saturday. Indiana was eliminated from playoff contention. Kelsey Mitchell led Indiana with 24 points and Julie Allemand added 19.
NCAA Football – Notre Dame looking for more on the ground
No. 10 Notre Dame is counting on a better running game this season. Last season, injuries to running backs Tony Jones Jr., Jafar Armstrong and others cropped up. Notre Dame averaged just 179.2 rushing yards. This season, speedy sophomore Kyren Williams and freshman Chris Tyree are atop the depth chart ahead of Armstrong and Jahmir Smith and C'Bo Flemister. Coach Brian Kelly says he's never had that kind of depth at the position. The Fighting Irish open the season Saturday at home against Duke.
NFL – Winning division year after no playoffs commonplace in NFL
The idea a year ago that the San Francisco 49ers would win the NFC West following a three-year stretch of winning just 12 games combined seemed far-fetched.  Maybe it shouldn't have considering how often teams go from also-rans to division champs in the span of a year in the modern NFL. Last year marked the 16th time in the past 17 seasons that two teams won the division a year after missing the playoffs entirely, with Green Bay also doing it.
Tennis – Osaka, Brady reach semis
Two-time Grand Slam champion Naomi Osaka set up a U.S. Open semifinal against 28th-seeded Jennifer Brady, who's never been this far at a major tournament. Osaka played far cleaner tennis than her opponent in a 6-3, 6-4 win over 93rd-ranked Shelby Rogers. Rogers finished with 27 unforced errors, Osaka with eight. The former No. 1-ranked played won the U.S. Open two years ago. Earlier, Brady defeated No. 23 seed Yulia Putintseva, 6-3, 6-2. It's been quite a surge for Brady, whose big serve and forehand have carried her to an 11-1 record since tennis returned from its pandemic hiatus.
MHSAA – High School Sports
Yesterday
Boys Soccer
St. Joseph 5, Kalamazoo Loy Norrix 3
Portage Central 1, Lakeshore 0
Gull Lake 8, Battle Creek Central 0
Mattawan 5, Portage Northern 0
Dowagiac 7, Berrien Springs 0

Sturgis 2, Marshall 0
Hartford 5, Comstock 1
Coldwater 2, Kalamazoo Hackett 0
Today
Boys Soccer
Three Rivers at Plainwell, 6:00 p.m.
Allegan at Edwardsburg, 5:30 p.m.
Paw Paw at Otsego, 6:30 p.m.
Lawrence at Berrien Springs, 5:00 p.m.
Bridgman at Buchanan, 5:00 p.m.
Comstock at Brandywine, 5:00 p.m.
Schoolcraft at Coloma, 6:00 p.m.
Saugatuck at Constantine, 5:00 p.m.
Parchment at Watervliet 5:30 p.m.
Kal. Christian at Delton-Kellogg, 6:00 p.m.
Girls Volleyball
Brandywine at Comstock, 6:00 p.m.
Berrien Springs at Niles, 6:00 p.m.
Coloma at South Haven, 5:00 p.m.
Boys Tennis
St. Joseph at Mattawan, 4:00 p.m.
Allegan at Three Rivers, 4:00 p.m.
Cross Country
Lakeshore at Portage Northern, 5:00 p.m.