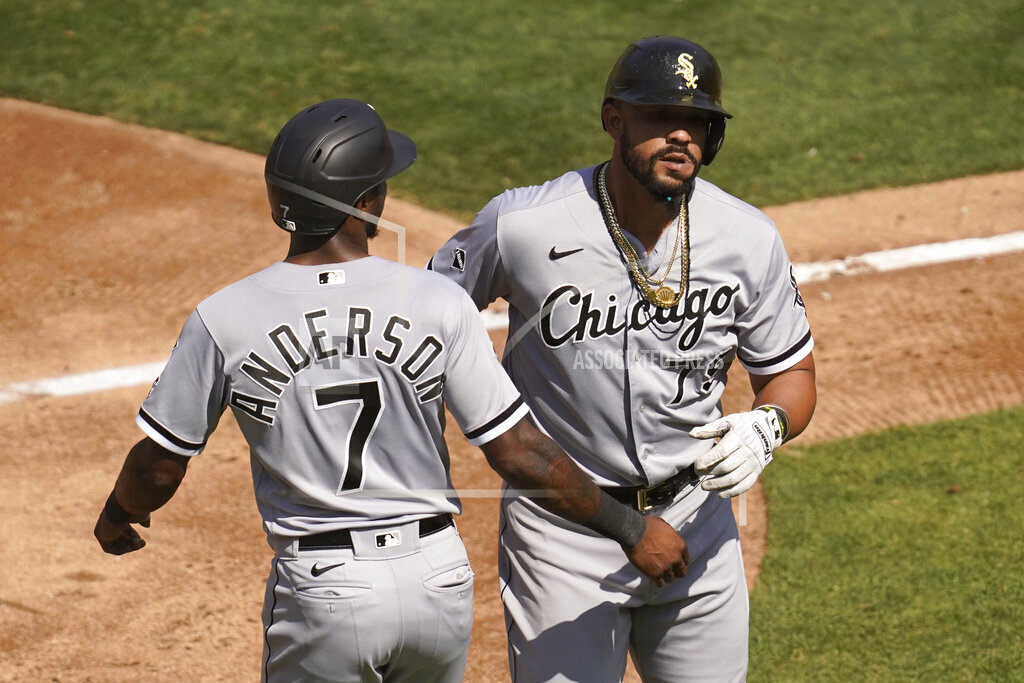 MLB – Major League Baseball – Playoffs – Wild Card Series (Best of 3)
Yesterday
Chicago White Sox 4, Oakland Athletics 1                                           (CHW leads 1-0)
Houston Astros 4, Minnesota Twins 1                                                  (HOU leads 1-0)
Tampa Bay Rays 3, Toronto Blue Jays 1                                                  (TBR leads 1-0)
New York Yankees 12, Cleveland Indians 1                                            (NYY leads 1-0)
White Sox 4, A's 1 – Giolito dazzles, Abreu slugs White Sox past A's in opener
Lucas Giolito dazzled in his postseason debut, stymieing the Oakland Athletics through six perfect innings and sending the Chicago White Sox to a 4-1 victory in the opener of their best-of-three wild-card series. Giolito yelled in delight after striking out the side in the sixth, quickly walking back to the dugout with his arms to his side. The right-hander, who pitched a no-hitter against Pittsburgh on Aug. 25, didn't allow a baserunner to the AL West champions until Tommy La Stella's clean single up the middle to start the seventh. José Abreu hit a two-run homer and Adam Engel also connected for Chicago.
Today
American League
Houston at Minnesota (Berríos 5-4), 1:08 p.m.                                     (HOU leads 1-0)
Chicago White Sox (Keuchel 6-2) at Oakland (Bassitt 5-2), 3:10 p.m.    (CHW leads 1-0)
Toronto (Ryu 5-2) at Tampa Bay (Glasnow 5-1), 4:07 p.m.                     (TBR leads 1-0)
New York Yankees (Tanaka 3-3) at Cleveland (Carrasco 3-4), 7:08 p.m. (NYY leads 1-0)
National League
Cincinnati (Bauer 5-4) at Atlanta (Fried 7-0), 12:08 p.m.                               (Game 1)
Miami (Alcantara 3-2) at Chicago Cubs (Hendricks 6-5), 2:08 p.m.                  (Game 1)
St. Louis (Kim 3-0) at San Diego (Paddock 4-5), 5:08 p.m.                               (Game 1)
Milwaukee (Suter 2-0) at Los Angeles Dodgers (Buehler 1-0), 10:08 p.m.        (Game 1)
MLB – Cubs, Marlins set to meet after bumpy paths to postseason
The Chicago Cubs are set to host the Miami Marlins in a best-of-three wild-card series starting Wednesday at Wrigley Field. The Cubs won the NL Central at 34-26 in manager Davis Ross' first season, reaching the playoffs for the fifth time in six years. It wasn't exactly an easy ride, though. Yu Darvish put himself in contention for the NL Cy Young Award, but Kris Bryant, Javier Báez, Anthony Rizzo and Willson Contreras each struggled as the offense sputtered. The Marlins are in the playoffs for the first time since winning the 2003 World Series. They knocked off the Cubs in a memorable NLCS that year before taking out the New York Yankees.
MLB – Video reviews overturn 42% rate; Boston most successful, Sox 2nd
Video reviews overturned 42.4% of calls checked during Major League Baseball's shortened regular season, down slightly from 44% in 2019. Boston was the most successful team, gaining overturned calls on 10 of 13 challenges for 76.9%. The Chicago White Sox were second, successful on eight of 11 challenges for 72.7%, followed by Kansas City at seven of 10 (70%). Pittsburgh was the least successful at 2 of 11 (18.2%), and Toronto was 7 of 25 (28%).
NBA – 2020 NBA Finals (best of 7)
Tonight
Miami Heat vs. Los Angeles Lakers, 9:00 p.m.                                         (Game 1)
NBA – Rondo, Howard back for another NBA Finals shot with Lakers
Last time the Los Angeles Lakers ruled the NBA, Rajon Rondo and Dwight Howard were trying to beat them. Howard fell short with Orlando in the 2009 NBA Finals. Rondo lost with Boston in Game 7 in 2010. They finally have another chance, this time trying to support rather than stop the Lakers. They are key veterans on the team that will be trying to beat the Miami Heat in a series that starts Wednesday. Both players have seen their roles grow during the playoffs. Howard moved into the starting lineup in the Western Conference finals.
NHL – Lightning lift Stanley Cup in capping NHL's marathon season
The Tampa Bay Lightning overcame past playoff setbacks and persevered through a long, disrupted season to finally raise the Stanley Cup. The 2-0 win in Game 6 over the Dallas Stars on Monday came nearly a calendar year since the first puck was dropped on the 2019-20 season. It also came 6 ½ months after hockey was put on pause. The Lightning will have a fan rally and boat parade on Wednesday. The NHL turns its attention to next week's draft and the start of free agency.
NFL – Titans have NFL's 1st COVID-19 outbreak; next game still on
The Titans won't be back inside their building until Saturday at the earliest because of eight positive tests for the coronavirus. They're scheduled to play Pittsburgh in a matchup of two of the NFL's seven remaining undefeated teams on Sunday. Steelers coach Mike Tomlin says his team has been "given a mandate" to prepare as if the game will be played on time. This is the first COVID-19 outbreak of the NFL season and the first significant in-season test to the league's coronavirus protocols. The Vikings last played the Titans and also are staying away from their building through Wednesday.
NFL – Lions focused on Saints after long awaited win
Detroit Lions coach Matt Patricia had to wait 11 months to experience the thrill of victory. Patricia insists he wasn't relieved by the result. The embattled coach says he has to stay consistent emotionally to lead the team. Matthew Stafford led the Lions to victory for the 35th time in his career when they tied or behind in the fourth quarter or overtime. Matt Prater's field goal as time expired gave Detroit a 26-23 win against Arizona. Detroit hosts the New Orleans Saints on Sunday in a matchup of 1-2 teams.
NFL – Woman denies attempted kidnapping of Joe Montana grandchild
A 39-year-old woman has been charged in what authorities say was an attempted kidnapping of the 9-month-old granddaughter of Hall of Fame quarterback Joe Montana from his Southern California home. Sodsai Dalzell pleaded not guilty Tuesday to felony counts of attempted kidnapping and burglary. Montana told sheriff's deputies the baby was asleep in his Malibu home when a woman he didn't know entered and grabbed the child. Authorities say Montana's wife, Jennifer, pried the child out of the arms of Dalzell. Dalzell's lawyer Ayinde Jones says she is "extremely apologetic and concerned about the well-being of the family."
Tennis – Djokovic an easy first-round winner
Top seed Novak Djokovic  won his opening-round match at the French Open, dropping just five games in a straight-sets victory. No. 13 seed Andrey Rublev lost two tiebreakers before taking the next three sets to beat American Sam Querrey. Other winners include fifth seed Stefanos Tsitsipas, ninth seed Denis Shapovalov, women's second seed Karolina Pliskova, No. 4 Sofia Kenin and No. 8 Aryna Sabalenka.
NASCAR – Kentucky loses NASCAR
Kentucky Speedway officials say the track has lost its spot on NASCAR's schedule. The Speedway made the announcement ahead of NASCAR's release of venues and dates for next year. Kentucky held its first Cup Series race in 2011 and has hosted a tripleheader in recent years with races in NASCAR's Cup, Xfinity and Truck Series. Its last NASCAR race was this past July.  Chicagoland speedway is also not on the NASCAR schedule for 2021
Olympics – Tokyo Olympics name Mikako Kotani as new sports director
The organizing committee of the Tokyo 2020 Olympics has named Mikako Kotani as its new sports director. Kotani won two bronze medals in synchronized swimming at the 1988 Olympics. She replaces Koji Murofushi who is becoming Japan's Sports Agency commissioner, a position in the Japanese government. Kotani is also a member of the executive board of the Japanese Olympic Committee and one of the few women in a sports leadership position in Japan. The cabinet of new Prime Minister Yoshihide Suga has only two women among its 20 members. The Tokyo Olympics have been postponed by the COVID-19 pandemic until next year.
MHSAA – High School Sports
Yesterday
Boys Soccer
St. Joseph 2, Lakeshore 0
Mattawan 8, Battle Creek Central 0
Portage Northern 4, Kalamazoo Loy Norrix 2
Gull Lake 5, Kalamazoo Central 1
Portage Central 4, Battle Creek Lakeview 0
South Haven 7, Buchanan 0
Boys Tennis
St. Joseph 7, Vicksburg 1
Lakeshore 5, Vicksburg 3
Brandywine 8, Bronson 0
Buchanan 5, Niles 3
Girls Swimming
Battle Creek Lakeview 126.5, Mattawan 59.5
Girls Volleyball
Buchanan 3, Michigan Lutheran 0                                     (25-22, 25-17, 27-25)
Watervliet 3, Parchment 1                                               (23-25, 25-14, 25-16, 25,21)
Cassopolis 3, Decatur 1                                                   (25-13, 25-21, 19-25, 25-16)
Martin 3, Coloma 0
Saugatuck 3, Gobles 0
Lawton 3, Fennville 0
Schoolcraft 3, Kalamazoo Christian 0
Constantine 3, Delton Kellogg 0
Today
Girls Volleyball
St. Joseph at Portage Northern, 6:30 p.m.
Lakeshore at Portage Central, 6:30 p.m.
Gull Lake at Mattawan, 6:30 p.m.
Battle Creek Central at Kalamazoo Central, 6:30 p.m.
Battle Creek Lakeview at Kalamazoo Loy Norrix, 6:30 p.m.
South Haven at Berrien Springs, 6:30 p.m.
Niles at Brandywine, 6:00 p.m.
Comstock at Bridgman, 6:00 p.m.
Countryside at Covert, 6:00 p.m.
New Buffalo at Lawrence, 6:00 p.m.
Bloomingdale at River Valley, 7:00 p.m.
Boys Soccer
New Buffalo at Michigan Lutheran, 5:00 p.m.
Comstock at South Haven, 6:00 p.m.
Bridgman at Berrien Springs, 6:30 p.m.
Niles at Brandywine, 5:00 p.m.
Paw Paw at Allegan, 6:30 p.m.
Otsego at Dowagiac, 5:00 p.m.
Three Rivers at Edwardsburg, 5:30 p.m.
Sturgis at Plainwell, 6:30 p.m.
Bronson at Vicksburg, 6:00 p.m.
Cassopolis at Bloomingdale, 5:00 p.m.
Constantine at Delton-Kellogg, 6:00 p.m.
Coloma at Fennville, 6:00 p.m.
Schoolcraft at Kalamazoo Christian, 5:00 p.m.
Watervliet at Kalamazoo Hackett, 5:00 p.m.
Parchment at Lawton, 6:00 p.m.
Boys Tennis
Lakeshore at Kalamazoo Loy Norrix, 4:00 p.m.
Allegan at Hudsonville Unity Christian, 4:00 p.m.
Girls Golf
SMAC at Gull Lake (Bedford Valley), 10:00 a.m.
Cross Country
Portage Northern at St. Joseph, 5:00 p.m.
Lakeshore at Mattawan, 5:00 p.m.