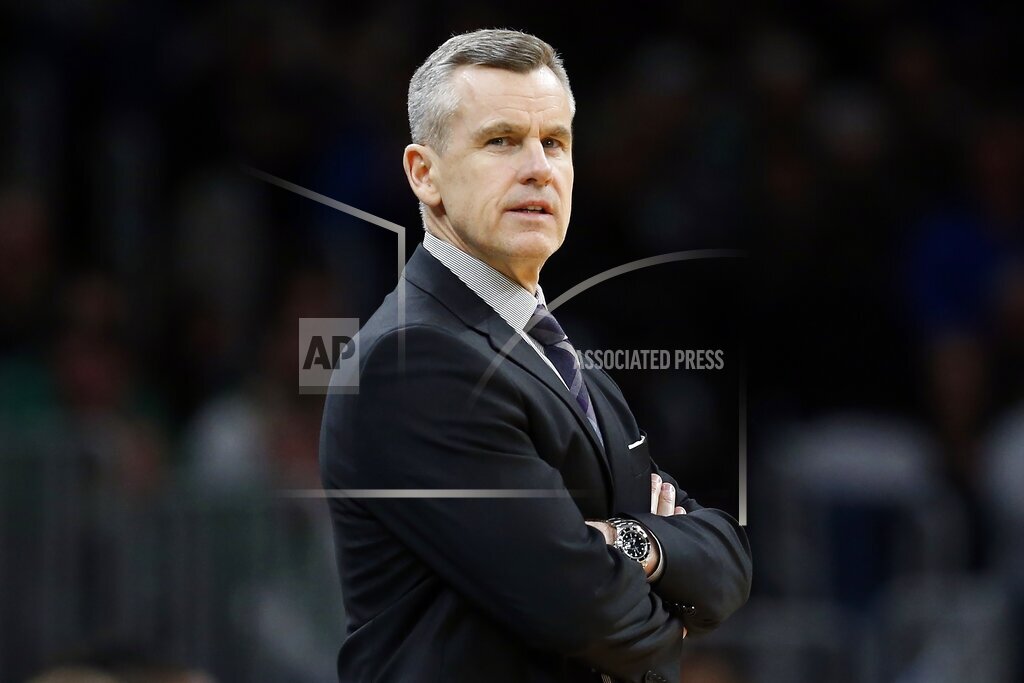 NBA – Bulls snag big name in coaching search, hire Billy Donovan
The Chicago Bulls have hired Billy Donovan as their coach. The 55-year-old Donovan spent the last five seasons with the Oklahoma City Thunder. He replaces Jim Boylen, who was fired after the Bulls finished 22-43 and were one of the eight teams that didn't qualify for the NBA's restart at Walt Disney World. Donovan went 243-157 as coach of the Thunder and reached the playoffs each season. Now he joins a rebuilding franchise with new leadership in the front office. Donovan was one of the top candidates on the NBA coaching market.
NBA – National Basketball Association Playoffs – Conference Finals (Best of 7)
Last Night
Denver Nuggets 114, Los Angeles Lakers 106                             (LAL leads 2-1)
Nuggets 114, Lakers 106 – Denver holds on for game 3 win
The Denver Nuggets lost almost all of a 20-point lead in the fourth quarter but held on to win Game 3 of the Western Conference finals. Jamal Murray had 28 points, 12 assists and eight rebounds in a 114-106 victory that cut the Lakers' lead in the series to 2-1. Jerami Grant added a playoff career-high 26 points and Nikola Jokic had 22 points and 10 rebounds for the Nuggets.
Tonight
Boston Celtics vs. Miami Heat, 8:30 p.m.                                     (MIA leads 2-1)
NBA – Silver to CNN: A later NBA season may disrupt Olympic plans
NBA Commissioner Adam Silver said Tuesday that his "best guess" is that next season will not start until at least January. And he acknowledged that the later-than-usual schedule could mean top U.S. men's players miss next summer's Tokyo Olympics. Silver, a guest in a series of panel discussions on CNN, did not indicate that any decisions are finalized.
MLB – Major League Baseball
Last Night
Minnesota 5, Detroit 4, 10 innings
Cleveland 5, Chicago White Sox 3, 10 innings
Pittsburgh 3, Chicago Cubs 2
Twins 5, Tigers 4 – 10 Innings – Twins top Tigers 5-4 in 10th, sit half-game behind White Sox
Max Kepler hit the tying home run in the eighth inning and the game-winning single with two outs in the 10th, giving the Minnesota Twins a 5-4 victory over the Detroit Tigers. That tightened the AL Central race for the Twins, who are a half-game behind the Chicago White Sox. Byron Buxton and Mitch Garver also homered for the Twins, who have all four of their remaining games at home where their 22-5 record is the best in baseball. Jeimer Candelario's RBI single in the top of the 10th gave the Tigers a 4-3 lead.
Indians 5, White Sox 3 – 10 Innings – Ramírez, Indians clinch playoff spot with 5-3 win over WSox
José Ramírez hit a three-run homer in the 10th inning, giving Cleveland a wild 5-3 win over the Chicago White Sox that clinched a playoff berth for the Indians. Ramírez's drive to right off José Ruiz scored César Hernández and Francisco Lindor, setting off a wild celebration at home plate as the Indians reached the postseason for the fourth time in five years.
Pirates 3, Cubs 2 – Cubs clinch playoff spot, Pirates win on Stallings HR in 9th
The Chicago Cubs clinched a playoff spot under rookie manager David Ross, returning to the postseason after a one-year absence despite losing to the Pittsburgh Pirates 3-2 on a walk-off home run by Jacob Stallings. The NL Central-leading Cubs were assured a spot in the expanded playoff field when Philadelphia was swept in a doubleheader at Washington. The Cubs began the day with a 4 ½-game lead over St. Louis and Cincinnati in the division standings and a magic number of four to clinch the title. Chicago missed the playoffs last year for the first time since 2014.
Tonight
Chicago White Sox (Giolito 4-3) at Cleveland (Bieber 8-1), 6:10 p.m.
Chicago Cubs (Hendricks 6-4) at Pittsburgh (Williams 1-8), 7:05 p.m.
Detroit (Mize 0-2) at Minnesota (Maeda 5-1), 7:40 p.m.     WSJM 94.9/WCSY 103.7 7:15
NHL – National Hockey League – Stanley Cup Finals – (Best of 7)
Tonight
at Rogers Arena, Edmonton
Tampa Bay Lightning vs. Dallas Stars, 8:00 p.m.                          (Series tied 1-1)
NCAA Football – Notre Dame-Wake Forest postponed
Notre Dame's game at Wake Forest on Saturday has been postponed after positive COVID-19 tests landed 13 Fighting Irish players in isolation and another 10 in quarantine. Notre Dame says the process of rescheduling the game is underway. Both teams are off Oct. 3. Notre Dame said 94 football players were tested for COVID-19 on Monday and of those seven were positive. Those players were in isolation along with others who tested positive last week.
NCAA – CMU hires Texas associate AD to lead athletic department
Central Michigan has hired Amy Folan to be its athletic director. Folan comes to CMU after serving as an executive senior associate AD at Texas since 2012. She takes over an athletic department that recently cut men's track and field, citing university-wide budget cuts. That left the school with only five men's teams. A couple of months later, the school announced that AD Michael Alford was leaving to become a lead fundraiser for Florida State athletics. In her most recent role, Folan oversaw the Longhorn Foundation, Texas' athletic fundraising arm. Folan has also held roles with the NCAA and at Georgia.
Michigan House votes to repeal ban on ticket scalping
The Michigan House has voted to lift the state's rarely enforced ban on ticket scalping, bringing the long-proposed bill closer to the governor's desk. The legislation would end a prohibition on the resale of tickets for more than face value. Currently, the law only allows scalping if a venue permits the excess charge in writing. Violators face a misdemeanor. The House voted Tuesday. The Senate approved a version of the measure in January and would need to OK House changes. The bill also would prohibit the use of "bot" software to interfere with online ticket-purchasing limits.
Tennis – Andreescu will sit out the rest of 2020
Bianca Andreescu, last year's U.S. Open champion, will sit out the French Open and the rest of 2020. The 20-year-old Canadian announced her decision to remain sidelined this season via a post on social media. She says she wants to focus on her health and training. Andreescu became the first tennis player from Canada to win a Grand Slam singles title in New York in 2019 and reached a career-high ranking of No. 4. But she hasn't competed since last October because of an injured knee, including missing the chance to try to defend her title at the U.S. Open.
Horse Racing – Belmont winner to skip Preakness
Belmont Stakes winner Tiz the Law won't run in next month's Preakness, spoiling what would have been a highly anticipated rematch with Kentucky Derby winner Authentic. The Preakness on Oct. 3 at Pimlico concludes this year's reconfigured Triple Crown series, which was run out of order because of the coronavirus pandemic. Jack Knowlton, managing partner of the Sackatoga Stable, which owns Tiz the Law, tweeted that it's "disappointing Tiz the Law will not be able to run in the Preakness." Knowlton says the colt will be pointed toward the Breeders' Cup at Keeneland in November.
Kobe – Vanessa Bryant sues LA sheriff over helicopter crash photos
Vanessa Bryant, the widow of basketball star Kobe Bryant, has filed a lawsuit against the Los Angeles County sheriff claiming deputies shared unauthorized photos of the crash that killed her husband, their 13-year-old daughter and seven others. After the Jan. 26 crash, reports surfaced that graphic photos of the victims were being shared. Sheriff Alex Villanueva told news media that eight deputies took or shared graphic photos of the scene and he ordered the images deleted. The sheriff's department did not immediately have a comment Tuesday. The suit seeks damages for negligence, invasion of privacy and intentional infliction of emotional distress.
MHSAA – High School Sports
Yesterday
Boys Soccer
St. Joseph 4, Gull Lake 3
Kalamazoo Loy Norrix 1, Lakeshore 1 – TIE
Mattawan 7, Battle Creek Lakeview 1
Kalamazoo Central 6, Battle Creek Central 1
Girls Volleyball
Edwardsburg 3, Dowagiac 1                          (25-20, 18-25, 25-18, 25-13)
Plainwell 3, Allegan 0
Buchanan 3, Comstock 0                               (25-13, 25-22, 25-12)
Bangor 3, White Pigeon 0                               (25-20, 25-15, 25-15)
Centreville 3, Cassopolis 1                           (14-25, 25-15, 25-17, 25-20)
Mendon 3, Marcellus 0                                  (25-13, 25-13, 25-20)
Constantine 3, Lawton 0                               (25-17, 25-13, 25-17)
Parchment 3, Galesburg-Augusta 1
Watervliet 3, Martin 1                                  (25-23, 13-25, 25-23, 25-23)
Kalamazoo Christian 3, Delton-Kellogg 0
Schoolcraft 3, Kalamazoo Hackett 0
Girls Swimming and Diving
Bridgman/Lakeshore 109, Battle Creek Lakeview 79
Tonight
Girls Volleyball
Lakeshore at St. Joseph, 6:30 p.m.
Covert at Michigan Lutheran, 6:00 p.m.
Lawrence at River Valley, 6:00 p.m.
Portage Northern at Mattawan, 6:30 p.m.
Kal. Loy Norrix at Kalamazoo Central, 6:30 p.m.
B.C. Central at Portage Central, 6:30 p.m.
Battle Creek Lakeview at Gull Lake, 6:30 p.m.
Brandywine at South Haven, 6:00 p.m.
Bridgman at Niles, 6:00 p.m.
Howardsville Chr. at New Buffalo, 6:00 p.m.
Cross Country
Lakeshore at St. Joseph, 5:00 p.m.
Boys Tennis
Niles at Bridgman, 4:00 p.m.
Plainwell at Allegan, 4:00 p.m.


Boys Soccer
Berrien Springs at South Haven, 6:30 p.m.
Sturgis at Allegan, 6:30 p.m.
Plainwell at Dowagiac, 5:00 p.m.
Paw Paw at Three Rivers, 6:00 p.m.
Otsego at Vicksburg, 6:00 p.m.
Brandywine at Bridgman, 5:00 p.m.
Buchanan at Comstock, 5:00 p.m.
Lawrence at New Buffalo, 6:00 p.m.
Hartford at Bloomingdale, 7:00 p.m.
Bangor at Cassopolis, 5:00 p.m.
Coloma at Constantine, 5:00 p.m.
Watervliet at Delton-Kellogg, 6:00 p.m.
Parchment at Fennville, 6:00 p.m.
Schoolcraft at Kalamazoo Hackett, 5:00 p.m.
Saugatuck at Lawton, 6:00 p.m.
Girls Swimming and Diving
St. Joseph at Portage Northern, 6:00 p.m.