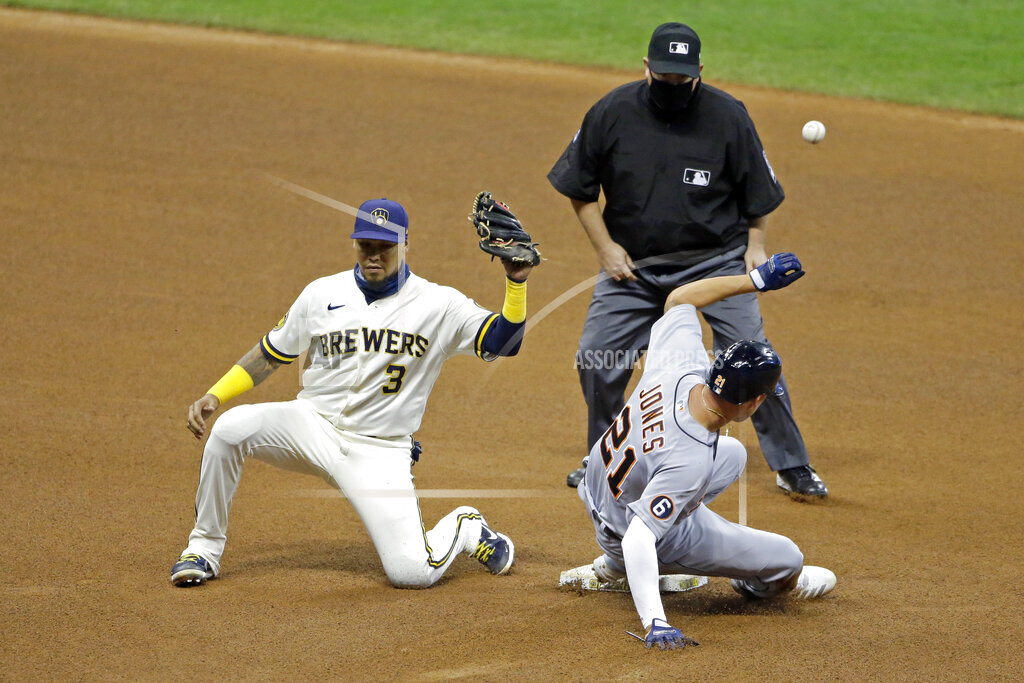 Major League Baseball
Yesterday
Tigers 12, Milwaukee 1
Minnesota 3, White Sox 2
Cubs 8, Pittsburgh 7 – 11 Innings
Tigers 12, Brewers 1
Victor Reyes had four hits and five RBIs, and the Detroit Tigers pounded the Milwaukee Brewers 12-1 for their sixth straight victory. Surprising Detroit moved back above .500 at 17-16, but it lost starting outfielder JaCoby Jones to a fractured left hand. Jones was hit by a pitch from Phil Bickford in the eighth inning in the reliever's big league debut. Reyes hit an RBI single in the fourth, a two-run homer in the sixth and a two-run double in the eighth. He also singled in the third. Christian Yelich homered for Milwaukee.
Twins 3, White Sox 2  
Byron Buxton returned with a bang and so did Michael Pineda, rallying the Minnesota Twins past the Chicago White Sox 3-2 on Tuesday night to snap a six-game losing streak. Buxton came off the injured list and had two hits, including the go-ahead single in the seventh inning. The Gold Glove center fielder also robbed Edwin Encarnación of a home run in the sixth. Pineda pitched six strong innings, giving up two runs and six hits in his first outing after being suspended 60 games last year for using a banned diuretic. He served the final 36 games of the penalty this season, returning to provide a big boost to Minnesota's rotation. Matt Wisler got his second career save.
Cubs 8, Pirates 7 – 11 innings 
Ian Happ singled home Nico Hoerner in the top of the 11th to lead the Chicago Cubs to an 8-7 win over the Pittsburgh Pirates. Happ, who led off the game with a home run, went 3 for 6 with two RBIs as Chicago spoiled the major league debut of Pirates third baseman Ke'Bryan Hayes. Hayes, the son of longtime major league infielder Charlie Hayes, hit a game-tying home run in the eighth and added an RBI double. Kris Bryant added two hits for the Cubs in his return from the injured list.
Tonight
Cubs (Hendricks 3-4) at Pittsburgh (Holland 1-2), 7:05
Tigers (Turnbull 3-2) at Milwaukee (Houser 1-3), 7:40 – on 94.9 WSJM
White Sox (López 0-1) at Minnesota (Berríos 2-3), 8:10
NCAA Football 
The economic blow of the coronavirus pandemic is hitting the biggest schools of college sports whether they're planning to play football this fall or not. Michigan announced financial cuts and dozens of layoffs in their respective athletic departments on Tuesday. Michigan is in the Big Ten which has postponed football this fall. Michigan said its facing a shortfall of up to $100 million and laid off 21 employees.
The Big Ten Conference, already in court and under pressure from players and parents over its decision to cancel fall football, is now hearing from President Donald Trump. Trump tweeted he has spoken with Big Ten Commissioner Kevin Warren about reinstating the fall season. The Big Ten had no immediate comment. The league announced Aug. 11 it would move its football season to the spring semester because of health risks associated with the pandemic. Trump has framed the debate over player and fan safety as a political one.
Tenth-ranked Notre Dame's arrival in the Atlantic Coast Conference football race this year adds a new contender to unseat top-ranked Clemson for the league title. The Fighting Irish are giving up their football independence for this season to compete in the ACC. That came as the coronavirus pandemic led to the cancellation of some of Notre Dame's previously scheduled games. The Tigers are going for a sixth straight league championship. The Fighting Irish and No. 18 North Carolina appear to be Clemson's biggest challengers. The ACC also add new coaches in Boston College's Jeff Hafley and Florida State's Mike Norvell.
NHL Stanley Cup Playoffs – 2nd round (Best of 7)
Yesterday
Philadelphia 4, NY Islanders 3 – OT  (NYI leads 3-2)
Vancouver 2, Vegas 1  (VEG leads 3-2)
Tonight
Colorado vs. Dallas, 8:00  (DAL leads 3-2)
NBA Playoffs – 1st round (Best of 7)
Last Night
Denver 80, Utah 78  (DEN wins 4-3)
Tonight
Oklahoma City vs. Houston  (Series tied 3-3)
2nd Round (Best of 7)
Last Night
Boston 102, Toronto 99  (BOS leads 2-0)
Tonight
Miami vs. Milwaukee, 6:30  (MIA leads 1-0)
NFL 
Most NFL teams won't have fans at home games for the start of the season. That's crushing news for hotel operators, restaurant owners and store managers whose budgets depend on those home football weekends. Restaurants and sports bars already facing budget issues as they follow protocols brought about by COVID-19. Hotels in NFL markets often depend on those home football weekends to make up for slower periods. Green Bay has been particularly hard hit as the smallest NFL market.
Tennis – U.S. Open
Andy Murray needed over 4 1/2 hours to win his first Grand Slam match in nearly 20 months, dropping the first two sets before earning a 4-6, 4-6, 7-6, 7-6, 6-4 triumph over Yoshihito Nishioka at the U.S. Open.  The 33-year-old Murray is coming off two hiop surgeries and was treated for blisters on his two big toes by a trainer during a medical timeout during the match. Serena Williams began her latest attempt to win a 24th Grand Slam singles trophy by beating Kristie Ahn. The two Americans split the first 10 games before Williams pulled away to win 7-5, 6-3. The victory was her 102nd at the tournament, breaking the tie she held with Chris Evert for the most by a woman in the Open era. Venus Williams lost in the opening round at the U.S. Open for the first time in her long career. Williams had been 21-0 in first rounders before her 6-3, 7-5 loss to No. 20-seeded Karolina Muchova. Kim Clijsters couldn't win her first Grand Slam match in eight years. The four-time major champion was beaten by Ekaterina Alexandrova, 3-6, 7-5, 6-1.
Kentucky Derby 
Tiz the Law is the 3-5 morning-line favorite for Saturday's Kentucky Derby and will attempt to become the first winner from the No. 17 post position drawn. The best finish in 41 starts from that spot was a second place by Forty Niner in 1988 and two thirds. All the race favorites will break from the outside at Churchill Downs, including second choice Honor A.P. from the No. 16 post and third choice Authentic at No. 18. Tiz the Law won the Belmont Stakes earlier this summer. The Preakness in Baltimore will take place next month. The Derby is being run without any fans in attendance.
High School Sports
Today
Cross Country
Watervliet, Buchanan at St. Joe, 5:00
Lakeshore at Bridgman, 5:00
Boys Tennis
Kalamazoo Central at Lakeshore, 4:00