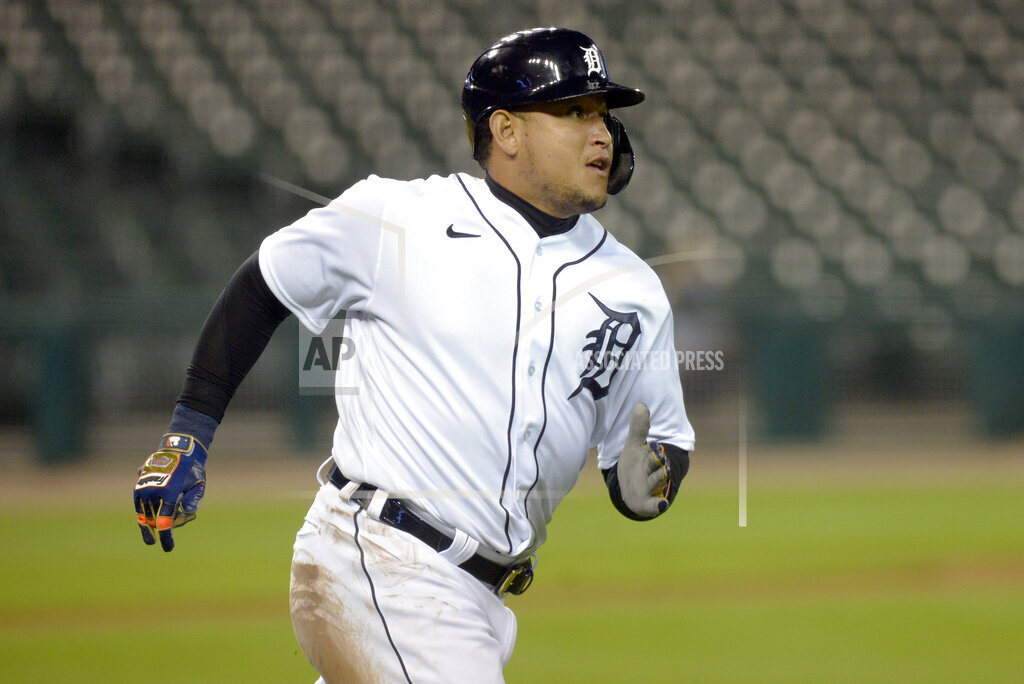 MLB – Major League Baseball
Yesterday
Detroit Tigers 6, Kansas City Royals 0
Chicago White Sox 6, Minnesota Twins 2
Chicago Cubs 6, Cleveland Indians 5
Tigers 6, Royals 0 – Miguel Cabrera homers to help Tigers beat Royals 6-0
Miguel Cabrera hit a homer and a double to help the Detroit Tigers beat the Kansas City Royals 6-0. Matthew Boyd bounced back with a strong performance, throwing five-plus scoreless innings and giving up just two hits. Boyd allowed seven runs over three-plus innings in his previous start as Milwaukee beat Detroit 19-0 last week. Jakob Junis started in place of Danny Duffy, who missed the team's flight to Detroit. Junis gave up five runs and seven hits. Detroit had lost three straight and 10 of 13 games. Kansas City had won six straight.
White Sox 6, Twins 2 – Dunning pitches White Sox past Twins for 6th straight win
Dane Dunning pitched seven effective innings, Luis Robert had a key two-run single and the Chicago White Sox strengthened their hold on the AL Central with a 6-2 victory over the Minnesota Twins. Dunning permitted one earned run and three hits in by far the biggest of his five major league starts. Tim Anderson and James McCann homered as Chicago posted its sixth straight win and moved three games ahead of second-place Minnesota, which won the AL Central last year. The AL-best White Sox also moved 16 games over .500 for the first time since they were 71-55 on Aug. 26, 2012.
Cubs 6, Indians 5 – Cubs walk off over Indians on consecutive HBPs
Willson Contreras and Cameron Maybin were plunked by consecutive pitches from Cleveland reliever Nick Wittgren in the ninth inning, forcing home the winning run as the Chicago Cubs beat the Indians 6-5. After Cleveland tied the game at 5 with two runs in the top of the ninth, left-hander Oliver Pérez allowed a one-out walk to Kris Bryant in the bottom of the inning. Anthony Rizzo followed with a single that advanced Bryant to third. Wittgren drilled Contreras with a 1-1 fastball, then hit Maybin with a bases-loaded changeup.
Tonight
Kansas City (Singer 2-4) at Detroit (Skubal 1-2), 7:10 p.m.         WSJM 94.9/WCSY 103.7 6:45
Minnesota (Odorizzi 0-1) at Chicago White Sox (Giolito 4-2), 8:10 p.m.
Cleveland (Civale 3-5) at Chicago Cubs (Lester 2-2), 8:15 p.m.
MLB – World Series at Arlington, first time at one site since 1944
The World Series will be played entirely at the Texas Rangers' new ballpark in Arlington, Texas, as part of a bubble agreement between Major League Baseball and the players' association. The Division Series, League Championship Series and World Series will be part of a bubble designed to minimize exposure to the coronavirus. The first round of the postseason — expanded from 10 to 16 teams this year — will be at the top-seeded teams. The AL Division Series will be at San Diego's Petco Park and Los Angeles' Dodger Stadium, and the NL Division Series at Arlington's Globe Life and Houston's Minute Maid Park.
MLB – Wrigleyville struggles to stay open during pandemic
Ballpark-area businesses in Chicago are struggling, hurt by the lack of crowds at Wrigley Field and Guaranteed Rate Field due to the coronavirus pandemic, and occupancy rules that limit how many people they can have inside their doors at one time. Looking for a bridge to a vaccine, some ballpark businesses are leaning on revenue streams or avenues that were previously lower on their priority list. They also are tapping into government help when possible. Zach Strauss, who helps run Sluggers in Wrigleyville, says they "are suffering pretty bad."
NHL – National Hockey League – Stanley Cup Playoffs – 3rd round (Best of 7)
Yesterday
New York Islanders 2, Tampa Bay Lightning 1 – 2OT                                (TBA leads 3-2)
Islanders 2, Lightning 1 – OT – Isles stay alive in double OT
Jordan Eberle scored on a 2-on-1 break 12 ½ minutes into double-overtime to give the New York Islanders a 2-1 win over the Tampa Bay Lightning. Anders Lee lugged the puck deep into the Tampa Bay zone before sliding a pass to Eberle in the slot, allowing the Isles to force a Game 6 in the NHL's Eastern Conference final. Semyon Varlamov was superb at times while stopping 36 shots, with some of his best stops coming in OT.
Tonight
No games tonight
NBA – National Basketball Association – 2nd round (Best of 7)
Last Night – Round 2 (Best of 7)
Denver Nuggets 104, Los Angeles Clippers 89                                        (DEN wins 4-3)
Nuggets 104, Clippers 89 – Nuggets advance
The Denver Nuggets have advanced to the NBA's Western Conference finals by storming back from a three-games-to-one deficit for the second straight series. The Nuggets trailed by two before allowing just 33 points in the second half of a 104-89 victory over the Los Angeles Clippers. Jamal Murray poured in 40 points and Nikola Jokic had a triple-double of 22 rebounds, 16 points and 13 assists for Denver.
Tonight – Round 3 – Conference Finals (Best of 7)
Miami Heat 117, Boston Celtics 114 – OT                                               (MIA leads 1-0)
Heat 117, Celtics 114 – OT – Heat take opener
Jimmy Butler converted a three-point play with 12 seconds left in overtime to put Miami ahead for good in a 117-114 triumph over Boston in Game 1 of the NBA's Eastern Conference finals. Bam Adebayo blocked Jayson Tatum's dunk attempt in the final seconds to seal the win. Goran Dragic had 29 points, Jae Crowder scored 22 and Butler finished with 20 for Miami.
Tonight – Round 3 – Conference Finals (Best of 7)
No games tonight
NCAA Football – B1G football on hold until questions answered
The University of Wisconsin chancellor says Big Ten football will remain on hold until there are answers to questions about COVID-19 testing and tracing, along with possible long-term heart issues related to the coronavirus. Big Ten leaders are reconsidering a fall season after a weekend of meetings about a plan to begin play as soon as mid-October. Wisconsin chancellor Rebecca Blank would not predict which way a vote to return to play would go. She says once Big Ten university leaders have their questions and concerns addressed, "we will try to plan a delayed season."
NFL – Lions put cornerback Justin Coleman on injured reserve
The Detroit Lions' banged-up secondary will be without cornerback Justin Coleman against the Green Bay Packers. Detroit put Coleman on injured reserve on Tuesday, two days after injuring his hamstring during a loss to Chicago. The Lions also signed defensive end Kareem Martin to the practice squad and released defensive end Jonathan Wynn from the practice squad. The Lions hope rookie cornerback Jeff Okudah will make his NFL debut at Green Bay on Sunday after he missed the opener with a hamstring injury. Veteran cornerback Desmond Trufant also left the game against the Bears because of a hamstring injury.
WNBA – WNBA Playoffs – Round 1 (Single elimination)
Last Night
Connecticut Sun 94, Chicago Sky 81
MHSAA – High School Sports
Yesterday
Boys Soccer
Mattawan 3, St. Joseph 0
Lakeshore 3, Battle Creek Central 1
Kalamazoo Central 2, Portage Central 1
Gull Lake 5, Kalamazoo Loy Norrix 0
Portage Northern 1, Battle Creek Lakeview 0
Girls Volleyball
Dowagiac 3, Allegan 0                (25-23, 25-17, 26-24)
Watervliet 3, River Valley 0       (25-13, 25-11, 25-  9)
Plainwell 3, Paw Paw 0
Constantine 3, Centreville 2
Bangor 3, Marcellus 0
Boys Tennis
Kalamazoo Hackett 4, Portage Central 4 – TIE
Today
Girls Volleyball
Mattawan at St. Joseph, 6:30 p.m.
Kalamazoo Central at Lakeshore, 6:30 p.m.
Battle Creek Central at Battle Creek Lakeview, 6:30 p.m.
Portage Central at Portage Northern, 6:30 p.m.
Gull Lake at Kalamazoo Loy Norrix, 6:30 p.m.
Michigan Lutheran at Countryside Academy, 6:00 p.m.
Comstock at Berrien Springs, 6:00 p.m.
River Valley at Covert, 6:00 p.m.
Eau Claire at Lawrence, 5:00 p.m.
Buchanan at Brandywine, 6:00 p.m.
Niles at South Haven, 6:00 p.m.
Howardsville Christian at Watervliet Grace Christian, 6:00 p.m.
Boys Soccer
Bridgman at Michigan Lutheran, 5:00 p.m.
Berrien Springs at Buchanan, 5:00 p.m.
Watervliet at Coloma, 6:00 p.m.
Cassopolis at New Buffalo, 6:00 p.m.
Comstock at Niles, 5:00 p.m.
South Haven at Brandywine, 5:00 p.m.
Dowagiac at Allegan, 6:30 p.m.
Paw Paw at Edwardsburg, 5:30 p.m.
Vicksburg at Plainwell, 6:00 p.m.
Sturgis at Three Rivers, 6:00 p.m.
Bangor at Bloomingdale, 7:00 p.m.
Schoolcraft at Delton-Kellogg, 6:00 p.m.
Saugatuck at Fennville, 4:30 p.m.
Kalamazoo Christian at Kalamazoo Hackett, 5:00 p.m.
Constantine at Parchment, 5:00 p.m.
Boys Tennis
St. Joseph at Gull Lake, 4:00 p.m.
Mattawan at Lakeshore, 4:00 p.m.
Otsego at Allegan, 4:00 p.m.
Cross Country
Lakeshore at Portage Central, 5:00 p.m.