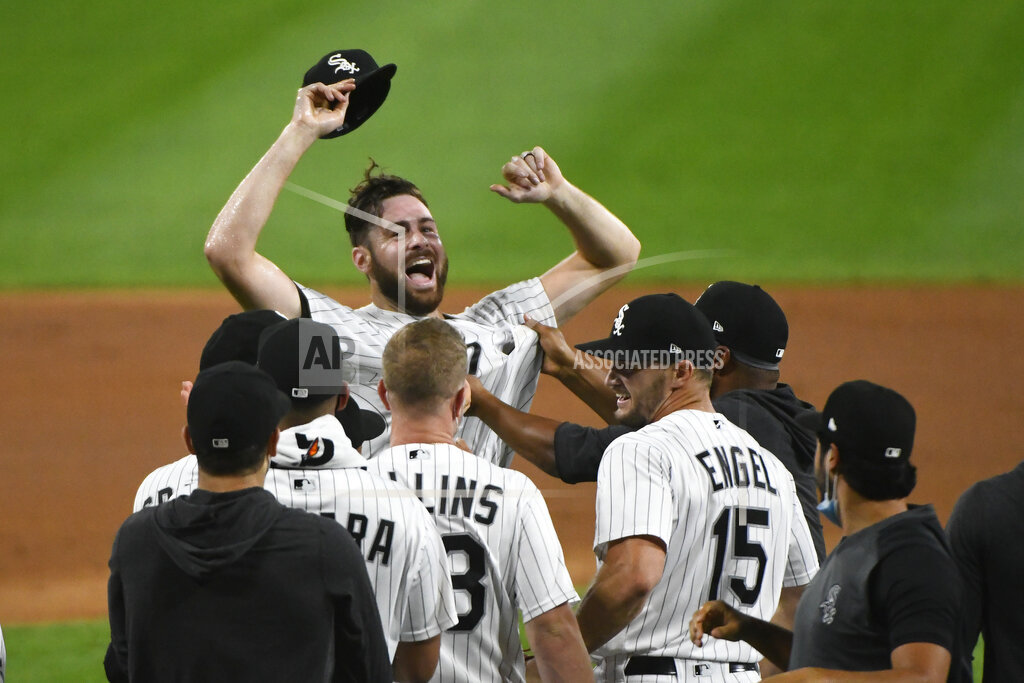 Major League Baseball
Last Night
White Sox 4, Pirates 0
Tigers 7, Cubs 1
White Sox 4, Pirates 0  
Lucas Giolito pitched the first no-hitter of the pandemic-delayed major league season, striking out 13 and permitting just one runner in leading the Chicago White Sox over the Pittsburgh Pirates 4-0. With the seats at Guaranteed Rate Field empty, the hollers of his teammates echoed around the ballpark after right fielder Adam Engel caught Erik Gonzalez's slicing drive toward the line for the final out. An All-Star last year, the 26-year-old Giolito matched his career high for strikeouts set in his previous start against Detroit. Only a four-pitch walk to Gonzalez leading off the fourth inning got in Giolito's way of perfection.
Tigers 7, Cubs 1 
Jonathan Schoop hit a grand slam in a five-run sixth inning as the Detroit Tigers beat the Chicago Cubs 7-1. The Tigers have won three of five since a nine-game losing streak dropped them out of serious postseason contention. Chicago still leads the NL Central despite going 5-8 in its last 13 games.Spencer Turnbull (3-2) picked up the win with 5 2/3 scoreless innings. He allowed three hits and walked three while striking out five. Cubs starter Tyler Chatwood (2-2) struggled in his return from the injured list, allowing eight baserunners while getting just four outs
Today
Cubs (Lester 2-1) at Tigers (Fulmer 0-0), 7:10 – on 94.9 WSJM
Pittsburgh (Williams 1-4) at White Sox (Keuchel 4-2), 2:10
NHL Stanley Cup Playoffs – Round 2 (Best of 7)
Last Night
Tampa Bay 4, Boston 3 – OT  (Series tied 1-1)
Vancouver 5, Vegas 2  (Series tied 1-1)
Today
NY Islanders vs. Philadelphia, 3:00  (NYI leads 1-0)
Tampa Bay vs. Boston, 8:00  (Series tied 1-1)
Dallas vs. Colorado, 10:30  (DAL leads 2-0)
NHL 
The NHL has fined Columbus Blue Jackets coach John Tortorella $25,000 for his conduct during a media session after his team was eliminated from the playoffs. Following the Tampa Bay Lightning's Game 5 victory over the Blue Jackets, Tortorella ended his video news conference after two questions and walked away.
NCAA Football
A lawsuit filed in federal court alleges the University of New Mexico, former football coach Bob Davie and the NCAA didn't protect 21-year-old Nahje Flowers, who died from a self-inflicted gunshot wound in November. The suit alleges that Davie ignored a player's plea for help in his fight against depression and instead made the lineman play a game before he took his own life. Court documents said the defensive standout had sought counseling to fight depression, but Davie overruled a therapist's recommendation that Flowers take some time off.
NBA Playoffs – Round 1 (Best of 7)
Yesterday
LA Clippers 151, Dallas 111  (LAC leads 3-2)
Denver 117, Utah 107  (UTA leads 3-2)
Today
Orlando vs. Milwaukee, 4:00  (MIL leads 3-1)
Oklahoma City vs. Houston, 6:30  (Series tied 2-2)
Portland vs. LA Lakers, 9:00  (LAL leads 3-1)
NBA 
Bucks forward Giannis Antetokounmpo has been voted NBA Defensive Player of the Year, finishing ahead of Los Angeles Lakers forward Anthony Davis in the balloting. Antetokounmpo is the fifth player to win Defensive Player of the Year and MVP honors in a career, joining Michael Jordan, Hakeem Olajuwon, David Robinson and Kevin Garnett. The "Greek Freak" also ended the two-year reign of Utah center Rudy Gobert as Defensive Player of the Year.
WNBA 
Yesterday
New York 101, Chicago 99
Seattle 87, Indiana 74
NFL 
The Lions decided not to practice on Tuesday, protesting after a Black man was shot by police in Wisconsin. Lions coach Matt Patricia opened the team's morning meeting by allowing players to share their thoughts on the shooting of Jacob Blake, who is paralyzed from the waist down. Blake was shot Sunday, three months after the death of George Floyd at the hands of Minneapolis police.
Golf – Champions 
Phil Mickelson continues to lead the PGA Tour Champions' Charles Schwab Series event in Missouri. Mickelson followed his opening-round 61 with a 7-under 64 that leaves him 17 under for the tournament. He's four strokes ahead of Rod Pampling and Tim Petrovic, who shot 65s on Tuesday.
Track and Field 
Jamaica's Minister of Health says legendary sprinter Usain Bolt has tested positive for the novel coronavirus. Bolt said he's trying to be responsible and will stay indoors and self-quarantine. He said he has no symptoms. The world record holder in the 100 and 200 meters retired in 2017.
High School Sports
Yesterday
Cross Country (low score wins)
Boys
St. Joseph 28, Lakeshore 29
Top 10 Finishers
1.         Race Bettich       16:40.9              Lakeshore
2.         Andrew Moyer     18:30.9              St. Joseph
3.         Grant Rose         18:40.8              Lakeshore
4.         Will Fiesbeck      19:04.4              St. Joseph
5.         Lucas Balkema     19:18.1              Lakeshore
6.         Jacob Haunhorst 19:37.6              St. Joseph
7.         Michael Melvoin  19:43.3              St. Joseph
8.         Charlie Ogata     19:44.7              Lakeshore
9.         Sam Adkins         20:03.1              St. Joseph
10.        David Scharich   20:23.7              St. Joseph
Girls
St. Joseph 25, Lakeshore 30
Top 10 Finishers
1.         Emily Peters       20:49.9              Lakeshore
2.         Ceci Ruchti         21:31.5              St. Joseph
3.         Grace Kelley       21:55.0              St. Joseph
4.         Riley Mullen       22:27.8              St. Joseph
5.         Olivia Smith       22:29.4              Lakeshore
6.         Lauren Koch       24:00.9              St. Joseph
7.         Abigail Winsman  24:22.8              Lakeshore
8.         Rachel Vroegop   24:25.5              Lakeshore
9.         Lanie Brant        24:27.1              Lakeshore
10.        Eleah Hedstrom   25:10.5              St. Joseph
Girls Golf
St. Joseph at GR Forest Hills Central (no team scores available)
St. Joseph's Maya Hunter, was third with a score of +1 (74)
Boys Tennis
Kalamazoo Christian 6, Buchanan 2
Grand Rapids Forest Hills Northern 6, Mattawan 2
Mattawan 4, Rockford 4 – TIE