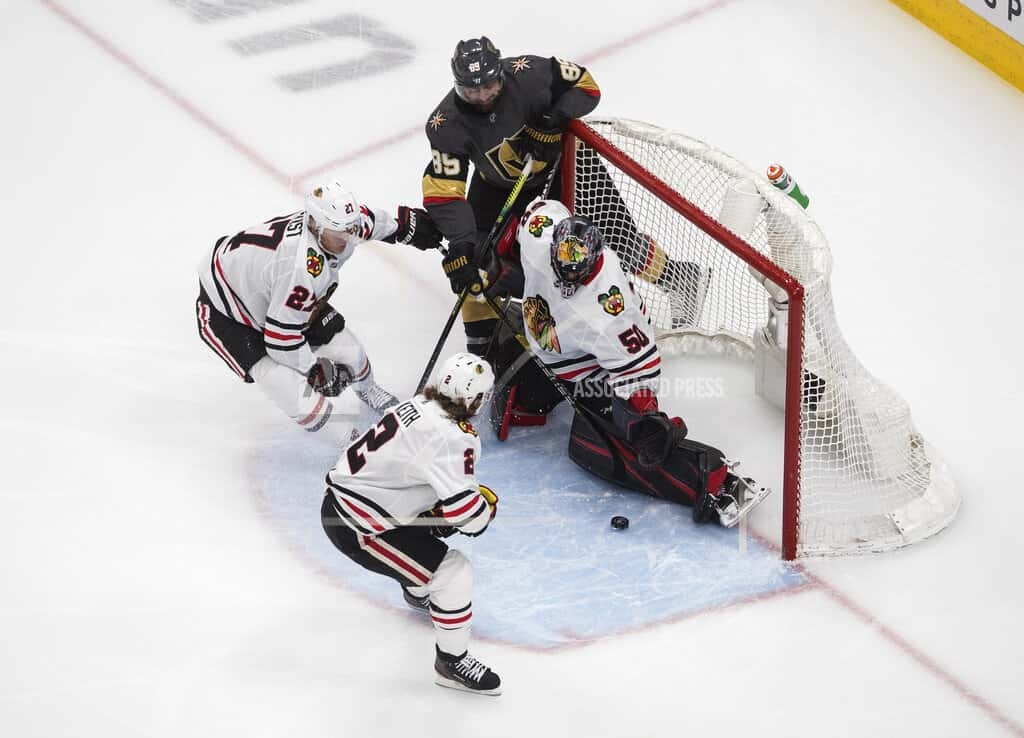 NHL Playoffs – Round 1 (Best of 7)
Last Night
Vegas 3, Blackhawks 2  (VEG wins 4-1)
Washington 3, NY Islanders 2  (NY leads 3-1)
Philadelphia 2, Montreal 0  (PHI leads 3-2)
Dallas 2, Calgary 1  (DAL leads 3-2)
Golden Knights 3, Blackhawks 2
Alex Tuch scored the tiebreaking goal 1:34 into the third period, and the Vegas Golden Knights rallied from an early two-goal deficit to eliminate the Chicago Blackhawks with a 4-3 win in Game 5 of their first-round playoff series. Vegas, the top-seed in the Western Conference, became the first team in the Stanley Cup playoffs to advance to the conference semifinals. The Golden Knights will face the lowest remaining seed in the next round.  Max Pacioretty, Mark Stone and Alec Martinez also scored for Vegas.
Today
Columbus vs. Tampa Bay, 12:00 p.m  (TB leads 3-1)
Carolina vs. Boston, 4:00 p.m.  (BOS leads 3-1)
Arizona vs. Colorado, 5:30 p.m.  (COL leads 3-1)
Montreal vs. Philadelphia, 8:00 p.m.  (PHI leads 3-2)
Vancouver  vs. St. Louis, 10:30 p.m.  (Series tied 2-2)
NBA Playoffs – Round 1 (Best of 7)
Last Night
Miami 113, Indiana 101  (MIA leads 1-0)
Orlando 122, Milwaukee 110  (ORL leads 1-0)
Portland 100, LA Lakers 93  (POR leads 1-0)
Houston 123, Oklahoma City 108  (HOU leads 1-0)
Heat 113, Pacers 101 
Jimmy Butler scored 28 points and Goran Dragic had 24 to lead the Heat to a 113-101 victory over the Pacers. Bam Adebayo had 17 points, 10 rebounds and six assists for the Heat, who used an 11-2 surge that made it 107-95 with just over 2 minutes remaining. T,J. Warren and Malcolm Brogdon scored 22 points apiece for the Pacers, who played the last three quarters without Victor Oladipo because of an eye injury.
Today
Toronto vs. Brooklyn, 1:30 p.m.  (TOR leads 1-0)
Boston vs. Philadelphia, 1:35 p.m.  (BOS leads 1-0)
Denver vs. Utah, 4:00 p.m.  (DEN leads 1-0)
LA Clippers vs. Dallas, 9:00 p.m.  (LAC leads 1-0)
NBA – NBA's non-Disney teams can train in individual team bubbles
The teams that didn't get invited to Walt Disney World now have instructions on how they can get back to basketball. The NBA and National Basketball Players Association have finalized an agreement that allows those eight teams to have voluntary group workouts in their facilities beginning next month. Teams will need to have all players and staff remaining in a campus environment in which everyone will be tested daily for the virus. The campus will include the team's facilities and living quarters for players and staff, who won't be permitted to leave the bubble.
MLB – Major League Baseball
Last Night
White Sox 10, Tigers 4
Cubs 6, St. Louis 3
White Sox 10, Tigers 4 – Anderson, White Sox rough up Skubal, Tigers 10-4
Tim Anderson welcomed Tigers pitching prospect Tarik Skubal to the majors with a leadoff homer, and the Chicago White Sox beat Detroit 10-4 for their third straight win. Anderson homered leading off the first for the second straight night and finished with four hits and three RBIs. The reigning AL batting champion raised his average to .379 with his second four-hit game this season — the other was against Detroit last week. José Abreu had three hits and three RBIs, and Dylan Cease pitched into the seventh inning to win his fourth straight start as Chicago handed Detroit its seventh loss in a row.
Cubs 6, Cardinals 3 – Darvish wins again as Cubs beat Cardinals 6-3
Yu Darvish pitched six effective innings in his fourth straight win, leading the banged-up Chicago Cubs to a 6-3 victory over the St. Louis Cardinals. Darvish allowed one run and eight hits while improving to 4-0 with a 1.04 ERA since he struggled in his first start of the season July 25 against Milwaukee. St. Louis pushed across two runs in the eighth and had runners on the corners when pinch hitter Andrew Knizner looked at a called third strike from Rowan Wick, ending the inning. Wick then worked the ninth for his fourth save.
Tonight
St. Louis at Cubs, 2:20 p.m. – Game 1
St. Louis at Cubs, 5:20 p.m. – Game 2
Tigers at White Sox, 8:10 p.m. – on 94.9 WSJM
MLB – Cubs 3B Kris Bryant gets injection for ailing left wrist
Chicago Cubs third baseman Kris Bryant got an injection for his ailing left wrist, sidelining the slugger for at least two days. Manager David Ross said Bryant also saw a specialist for the injury. The earliest the 2016 NL MVP could return to the lineup is Friday against the crosstown White Sox. Bryant tweaked his wrist on a diving attempt on César Hernández's flare to left field in the fifth inning of a 7-2 victory at Cleveland last week.