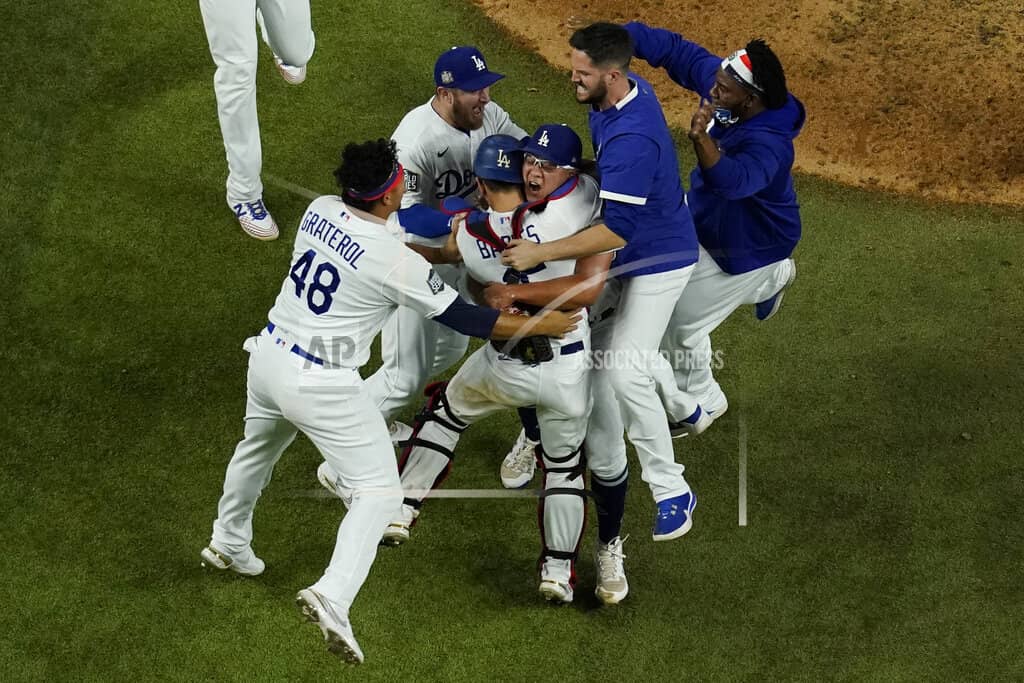 MLB – MLB Postseason – World Series (Best of 7)
Tonight
2020 World Series – Globe Life Park, Arlington, Texas
Los Angeles Dodgers 3, Tampa Bay Rays 1                                            (LAD wins 4-2)
Dodgers 3, Rays 1 – Dodgers win Series for first time since 1988
Mookie Betts scored the go-ahead run in the sixth inning and added a solo homer as the Los Angeles Dodgers beat Tampa Bay, 3-1 to win the World Series for the first time since 1988. The Dodgers scored twice in the sixth after Rays manager Kevin Cash lifted starting pitcher Blake Snell, who allowed just two hits while throwing 73 pitches over 5 1/3 innings. L.A. tied the game on a wild pitch and went ahead when Betts beat a throw to the plate on a fielder's choice.  Dodgers shortstop Corey Seager was named the MVP of the World Series. Seager batted .400 with a .556 on-base percentage, two home runs and five RBIs in 26 plate appearances. He's the first Dodger to win the award since pitcher Orel Hershiser in 1988.
MLB – Turner removed from Game 6 after positive COVID test
Justin Turner was removed from Los Angeles' 3-1 victory over the Tampa Bay Rays following the seventh inning in Game 6 after registering Major League Baseball's first positive test for the coronavirus in 59 days. And he wasn't on the field as the Dodgers began enjoying the spoils of a title earned during a most unusual season. Commissioner Rob Manfred confirmed Turner's positive test moments after presenting the World Series trophy to Los Angeles. Turner returned to the diamond about an hour after the game, hugging longtime teammate Clayton Kershaw and sitting front-and-center for a team photo next to manager Dave Roberts with his mask pulled down under his bushy beard. The 35-year-old Turner has been a staple in the Dodgers' lineup for seven of their eight consecutive NL West titles.
NASCAR – NASCAR playoffs rained out for 3rd consecutive day at Texas
NASCAR will make a fourth attempt to complete its playoff race at Texas Motor Speedway on Wednesday after persistent mist and cold temperatures continued the long delay. The race began Sunday and drivers completed 52 laps before mist and drizzle halted the action. The weather did not relent on Monday or Tuesday as NASCAR spent about two dozen futile hours trying to dry the track. The Cup Series is scheduled to finalize the championship field next Sunday at Martinsville Speedway in Virginia. It is not clear how NASCAR may have to adjust scheduling based on the postponements in Texas.
NCAA Football – Loss to Rutgers shows how far Michigan State has to go
If anyone doubted the challenge facing new Michigan State coach Mel Tucker, it should be obvious now. The Spartans began the season at home against Rutgers last weekend. That was perhaps the easiest game on their schedule, in theory, but they lost 38-27. It was the first Big Ten win for the Scarlet Knights since 2017, and it left Michigan State with basically no silver linings heading into its big rivalry game at Michigan this week. Michigan State's news conferences Tuesday focused largely on the upcoming game against Michigan. The Wolverines are favored by over three touchdowns.
NCAA Football – Clemson QB Lawrence: 'I have the option' to leave or stay
Clemson quarterback Trevor Lawrence says he still has options about next season despite previously saying he expected this to be his final college season. Lawrence is a 6-foot-6 junior widely considered to be the likely No. 1 pick in next spring's NFL draft. The question has come up whether Lawrence should consider staying depending on which team has the top pick in the upcoming draft. The New York Jets are currently the NFL's only winless team. Lawrence said Tuesday he was focused on this season and "we'll have to see how things unfold."
NCAA – Bethune-Cookman cancels all sports for 2020-21
Bethune-Cookman will not be participating in intercollegiate sports this coming winter or spring because of ongoing concerns about the coronavirus pandemic. The NCAA said Bethune-Cookman was the first Division I institution to publicly announce that it was not going to compete in any sport for the entire academic year.
NFL – Lions acquire DE Griffen from Cowboys for conditional pick
The Detroit Lions have acquired veteran defensive end Everson Griffen from the Dallas Cowboys for a conditional draft pick. The Cowboys announced the deal Tuesday night. The Lions are in win-now mode under general manager Bob Quinn and coach Matt Patricia after they were told by ownership their jobs were in jeopardy if the team didn't at least contend for a spot in the playoffs this season. Detroit has just eight sacks this season, ranking among the worst in the league. The 32-year-old Griffen has 77 career sacks. He gives the team a pass-rushing option with Trey Flowers and Romeo Okwara.
NFL – Bears' offense seeks answers after poor showing against Rams
Coach Matt Nagy usually has answers for what's happening with the Chicago Bears' offense, whether it's good or bad. After a 24-10 loss to the Los Angeles Rams in which the defense scored the Bears' only touchdown, Nagy was left without an explanation for Chicago's latest dismal performance with the ball. The Bears believed they had addressed their underperforming offense by trading for quarterback Nick Foles in March. And it looked like a fix when he replaced Mitchell Trubisky to lead their rally from a 16-point deficit to beat the Atlanta Falcons in Week 3. But the offense has averaged 16 points per game in Foles' four starts since and he's getting little help from the players around him.
NFL – Browns, Bills, Bears pile up wins despite being outscored
Cleveland, Buffalo and Chicago have piled up wins early this season, even if they haven't come in dominating fashion. Those three teams are all 5-2 after seven games despite being outscored by the opposition. The Browns have been outscored by 21 points thanks to blowout losses to Pittsburgh and Baltimore, while the Bills have been outscored by four points and the Bears by two. Before this trio, the last team to begin the season by winning at least five of the first seven games despite being outscored was the 2010 Tampa Bay Buccaneers.
NHL – Red Wings' Bertuzzi awarded $3.5M, 1-year deal by arbitrator
An arbitrator has awarded Detroit Red Wings forward Tyler Bertuzzi a $3.5 million, one-year contract. The ruling was issued Tuesday, two days after the case was heard. The 25-year-old Bertuzzi has scored 21 goals in consecutive seasons. He was an All-Star during the pandemic-shortened 2019-20 season and finished leading the team in goals along with having career highs in assists and points for the NHL's worst team. Detroit drafted Bertuzzi in the second round of the 2013 draft and he has 49 goals and 119 points in 199 career games. He is a nephew of former NHL player Todd Bertuzzi.
MHSAA – MHSAA playoff tickets are virtual
Because of the COVID-19 pandemic, the MHSAA is making tickets for playoff games available online.  Tickets for the events can be purchase at gofan.co/.  Tickets still are $6 and they will be emailed to you.  There is also an app for Apple iOS devices only.   These tickets are for the general public and will be made available after parents of the participants get their allotted tickets.  The number of tickets made available to the public are determined after the participant tickets are selected and there is still a limit on how large the crowd can be.  An outdoor venue can have 30% of their maximum crowd up to 1,000 spectators.   Masks are required while inside the stadiums and social distancing is encouraged.
MHSAA – High School Sports
Yesterday
Girls Volleyball
St. Joseph 3, Buchanan 0                                        (25-20, 25-11, 25-19)
Howardsville Christian 3, Calhoun Christian 0       (25-14, 25-6, 25-19)
Girls Swimming and Diving
Kalamazoo Loy Norrix 120, St. Joseph 66
Boys Soccer – Regional Semifinals
Division 1 at Dearborn
Mattawan 1, Salem 0 – Shootout (MAT 6-5)
Saline 3, Dearborn Edsel Ford 1
– Regional championship Thursday 5:00 at Dearborn
Division 3 at Grand Rapids South Christian
Dowagiac 3, Hillsdale 0
Grand Rapids South Christian 3, Grand Rapids Catholic Central 1
– Regional championship Christian Thursday 6:00 at South Christian
Division 4 at Portage Central
Grandville Calvin Christian 6, Michigan Lutheran 0
Howardsville Christian 4, Bangor 0
-Regional championship Thursday 6:00 at Portage Central
Division 4 at Lansing Christian
Adrian Lenawee Christian 4, Kalamazoo Christian 1
Hillsdale Academy 8, Brighton Charyl Stockwell Prep 0
-Regional championship Friday 6:00 at Lansing Christian
Today
Boys Soccer – Regional Semifinals
Division 2 at Vicksburg
St. Joseph vs. Marshall, 5:00 p.m.
Gull Lake vs. Holland, 7:00 p.m.
Girls Volleyball
Portage Northern at Battle Creek Pennfield, 6:30 p.m.
Coloma, Bridgman, Marcellus at Dowagiac, 5:00 p.m.
Countryside Academy at Eau Claire, 6:00 p.m.
Lawrence at Watervliet Grace Christian, 6:00 p.m.
Watervliet at Bangor, 5:00 p.m.
Bloomingdale at Fennville, 6:30 p.m.
River Valley at White Pigeon, 7:00 p.m.