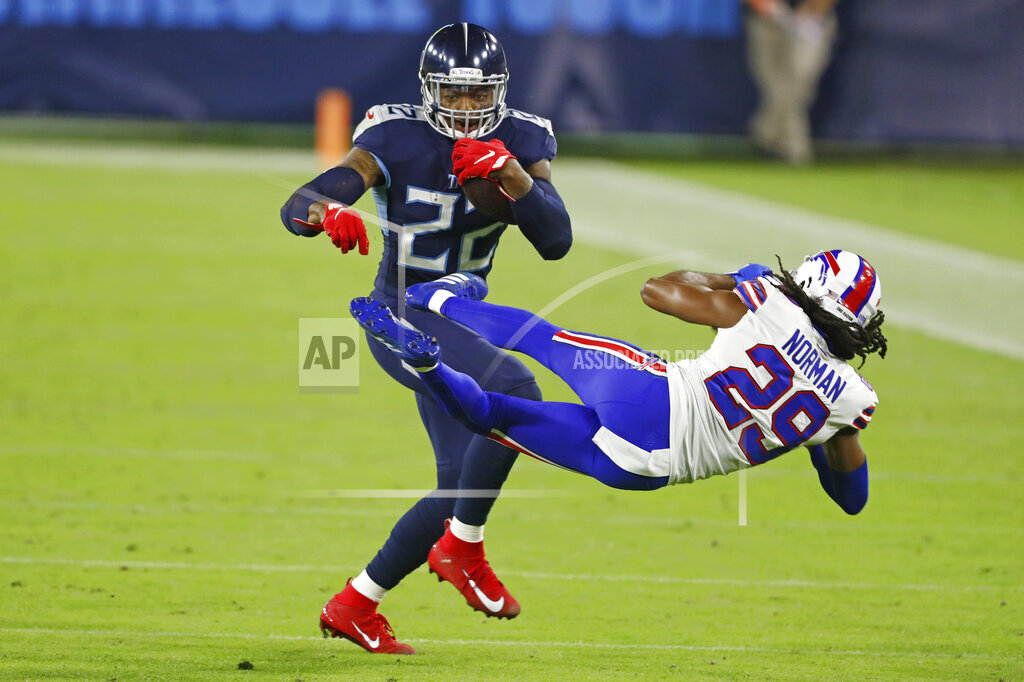 NFL – National Football League – Week 5
Last Night
Tennessee Titans 42, Buffalo Bills 16
Titans 42, Bills 16 – Titans hammer Bills to move to 4-0
The Tennessee Titans are 4-0 after Derrick Henry and Ryan Tannehill led their offense in a 42-16 pounding of the Buffalo Bills. Henry ran for two touchdowns and grabbed a scoring pass from Tannehill, who was 21 of 28 for 195 yards and three TDs. Josh Allen threw for 263 yards and two scores but was picked off twice as the Bills fell to 4-1.
NFL – NFL will start testing for COVID-19 on game days
The NFL has no plans to move into a bubble as it takes several new steps to combat the spread of the coronavirus. The league will begin PCR testing for COVID-19 on game days starting this week, use of masks in walkthroughs are now mandatory and only play-callers will be permitted to wear face shields in lieu of masks or gaiters on the sideline. The updated protocols sent to teams Monday night also require anyone identified as a "high risk" close contact to be isolated and not permitted to return to the team's facility for at least five days.
NFL – Saints ponder LSU offer to play in front of fans
The New Orleans Saints are mulling over an offer to play their home games at LSU's Tiger Stadium in Baton Rouge, where they would be able to have fans in attendance. Saints' senior vice president for communications Greg Bensel confirmed the school's offer to host the team's home games, saying the NFL is aware of the exploration of such an option. The offer comes after New Orleans Mayor Latoya Cantrell declined to allow ticketed fans to occupy about 25% percent of the Superdome's 73,000 seats for Monday's game against the Los Angeles Chargers.
NFL – MSU's Bell release by Jets
The Jets have released disgruntled running back Le'Veon Bell, who has clashed with head coach Adam Gase during their two years together. Bell's latest frustrations were evident when he liked a few Twitter posts in which some suggested he should be used more in the passing game.
MLB – MLB Postseason – League Championship Series (Best of 7)
Yesterday
American League
Tampa Bay Rays 5, Houston Astros 2                                                    (TBR leads 3-0)
Rays 4, Astros 2 – Rays take 3-0 lead
Joey Wendle hit a two-run single and pinch-hitter Hunter Renfroe added a two-run double while the Tampa Bay Rays scored five times in the sixth inning of a 5-2 win over the Houston Astros. Ryan Yarbrough worked five-plus innings to help the Rays take a three-games-to-none lead in the American League Championship Series. Michael Brantley and Jose Altuve hit solo homers for the Astros.
National League
Atlanta Braves 8, Los Angeles Dodgers 7                                             (ATL leads 2-0)
Braves 8, Dodgers 7 – Braves go up 2-0
Freddie Freeman and Ozzie Albies homered while the Atlanta Braves were building an 8-3 lead in an 8-7 win over the Los Angeles Dodgers in Game 2 of the National League Championship Series. Freeman opened the scoring with a two-run blast and added an RBI single to help the Braves take a 2-0 series lead. Albies was 3-for-4 with two RBIs for the Braves, who survived the Dodgers' four-run ninth to pull out the victory.
Today
National League
Los Angeles Dodgers (Urias 3-0) vs. Atlanta (Wright 2-4), 6:05 p.m.    (ATL leads 2-0)
American League
Tampa Bay (Glasnow 5-1) vs. Houston (Greinke 3-3), 8:40 p.m.              (TBR leads 3-0)
COVID – Florida-LSU game in jeopardy following Gator outbreak
Florida football coach Dan Mullen wanted a full house in The Swamp for Saturday's game against LSU. Now there's the possibility that the Gators won't be able to show up. The Gators have paused all team activities following "an increase in positive COVID tests among players." That puts Saturday's home game against defending national champion LSU in jeopardy. A person familiar with the situation told the Associated Press the Gators had 19 positives following Tuesday morning testing. Athletic director Scott Stricklin said the situation will be re-evaluated by UF Health and the athletic department's sports medicine staff Wednesday. The shutdown came three days after Mullen's eyebrow-raising comments about wanting 90,000 fans at Florida Field to create a better home-field advantage against the Tigers.
COVID – Bowden says he's improving after contracting COVID-19
Former Florida State football coach Bobby Bowden says he's recovering from COVID-19. The 90-year-old Bowden told the Tallahassee Democrat he's "doing good." Bowden has been hospitalized for a week in Tallahassee. He told the paper he's walking around his room. He said the virus hit him hard, giving him a fever, but that is now behind him. Bowden coached Florida State for 34 years, retiring after the 2009 season. He's second on the career victories list in major college football with 357, behind only the late Joe Paterno of Penn State. He won national championships in 1993 and 1999.
COVID – Dustin Johnson out of CJ Cup after positive coronavirus test
Dustin Johnson has withdrawn from the CJ Cup at Shadow Creek because of a positive test for the coronavirus. The world's top-ranked golfer is the 11th player and the biggest name to receive a positive test since the PGA Tour resumed its schedule in June. Johnson is the reigning PGA Tour player of the year after winning the FedEx Cup in early September. He has not played since a tie for sixth in the U.S. Open a month ago.
COVID – Cristiano Ronaldo tests positive for COVID-19
Cristiano Ronaldo has become the latest international soccer soccer star to test positive for the coronavirus. The Portuguese soccer federation says Ronaldo tested positive while with his country's national team. Portugal's coach says Ronaldo is "doing great" and has no symptoms. He has been dropped from the country's Nations League match against Sweden on Wednesday.
NHL – Pastrnak, Marchand undergo surgery
The Boston Bruins could be without two-thirds of their top line when the next NHL season starts.  The team says David Pastrnak isn't expected to play until mid-March following an operation to repair a torn labrum in his right hip Sept. 16. Brad Marchand won't be good to go until roughly mid-February after having a sports hernia repaired Sept. 14. Pastrnak led the Bruins with 48 goals and 95 points last season. Marchand paced the club with 59 assists and was second with 87 points.
MHSAA – Allegan football cancels final two games and opt out of playoffs
Because of low numbers, Allegan high school has cancelled the final two games of their season against Wolverine Conference opponents Edwardsburg, and Three Rivers.  Allegan has decided that they would like to instead play against other schools that are facing the same fate, low numbers of players on the varsity squad.  Allegan has also made the announcement that they are withdrawing from the football playoffs for this season.  Allegan's has explored the possibility of playing 8 man contests for the final two weeks of the season or play as a JV team.   Allegan had players decide against playing football this season because of concerns over coronavirus, some decided to play other sports when football was postponed until spring, some did not come back when the MHSAA moved football back to fall.
MHSAA – High School Sports
Yesterday
Girls Volleyball
South Haven 3, Watervliet 0
Decatur 3, Bloomingdale 0
Mendon 3, Centreville 0
Coloma 3, Fennville 0
Vicksburg 3, Sturgis 0
Kalamazoo Hackett 3, Delton-Kelllog 0
Constantine 3, Kalamazoo Christian 2


Boys Soccer
South Haven 5, Bangor 0
Battle Creek Central 8, BC Calhoun Christian 0
Girls Golf
St. Joseph 196, Kalamazoo Hackett 209
Maya Hunter                  39
Madison Jackson            51
Izzy Ugalde                   53
Morgan Guzzo               53
Maddy Cleveland            53
Gracie Thomas               54
Cross Country
BCS Conference Jamboree at Bridgman
Boys Team Results

Boys Individual

Girls Team Results

Girls Individual

1. Berrien Springs 18
2. Bridgman          52
3. South Haven     86
4. Brandywine      97
5. Comstock       127
6. Niles              129

1 Ashton Sheline BS        16:59.3
2 James Burke     BS        17:12.1
3 Luke Blesy       BRID     17:36.8
4 Luke Morrison  BS        17:54.7
5 Nathaniel Bittner BS     18:08.8
6 Sam Markle      BS        18:15.3
7 John Sanderson BRID     18:21.1
8 Carson Rooker SH        18:28.1
9 Walker Barz     BUCH    18:44.1
10 AJ Hackett     BRID     19:18.2

1.Bridgman          34
2.Berrien Springs   60
3.Buchanan          74
4.Niles                77
5.Brandywine     106

1 Karsyn Stewart BRID     20:42.0
2 Arie Hackett    BRID     21:08.3
3 Lydia Kruis       COM      21:30.7
4 Kierstyn Thompson NIL   21:45.1
5 Summer Fast    BRID     21:58.7
6 Cassandra Shortman NIL 22:05.6
7 Jezra Reyes      BS        22:09.0
8 Allison Lauri    BRAN    22:15.9
9 McKenzie Geralds BS     22:18.0
10 Summer Corke SH        22:27.7
Today
Boys Soccer – Districts round 1
Sturgis at St. Joseph, 6:00 p.m.
Lakeshore at Three Rivers, 6:00 p.m.
Portage Central at Jackson, 6:30 p.m.
Battle Creek Central at Charlotte, 6:00 p.m.
Dowagiac at Berrien Springs, 5:00 p.m.
Watervliet at Buchanan, 5:00 p.m.
Howardsville Christian at Lawton, 6:00 p.m.
Coloma at Brandywine, 5:00 p.m.
Delton-Kellogg at Jonesville, 5:00 p.m.
Fennville at Kentwood Grand River, 5:00 p.m.
Constantine at South Haven, 5:30 p.m.


Girls Volleyball
Gull Lake at St. Joseph, 6:30 p.m.
Lakeshore at Battle Creek Lakeview, 6:30 p.m.
Mattawan at Battle Creek Central, 6:30 p.m.
Portage Northern at Kalamazoo Central, 6:30 p.m.
Portage Central at Kal. Loy Norrix, 6:30 p.m.
South Haven at Bridgman, 6:00 p.m.
Niles at Buchanan, 6:00 p.m.
Eau Claire at New Buffalo, 6:00 p.m.
Berrien Springs at Brandywine, 6:00 p.m.