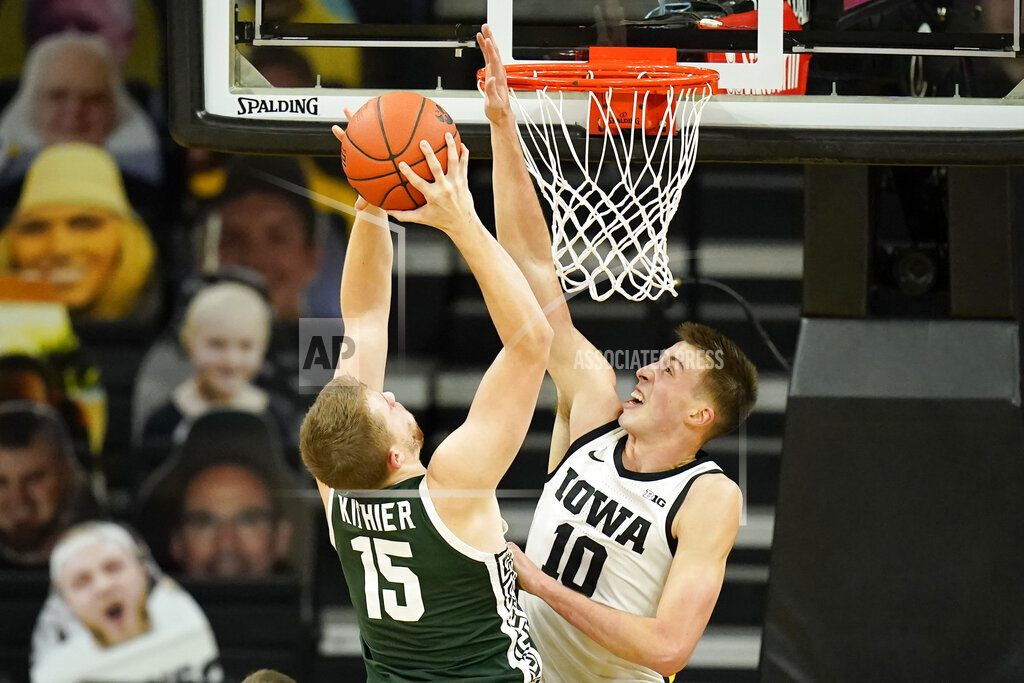 NCAAMBB – Men's College Basketball
Last Night
(8) Iowa 84, Michigan State 74
Notre Dame 79, Wake Forest 58
Ohio 83, Central Michigan 69
Bowling Green at Eastern Michigan, PPD
Northern Illinois at Western Michigan, PPD
(8) Iowa 84, Michigan State 74 – Garza reaches 2,000 points as Iowa tops Michigan State 84-78
Luka Garza scored 27 points to reach another milestone and No. 8 Iowa beat Michigan State 84-78. Garza, who came into the game as the nation's leading scorer at 26.4 points per game, became the second 2,000-point scorer in program history. Garza, who has 2,009 points, is 107 points behind all-time leading scorer Roy Marble. The Hawkeyes (13-4, 7-3 Big Ten) led 79-70 before the Spartans (8-7, 2-7) went on an 8-1 run. Michigan State had a chance to tie the game after forcing a shot-clock violation, but Joshua Langford missed a jumper with 24 seconds left. Iowa's Jordan Bohannon closed the game with four consecutive free throws.
Notre Dame 79, Wake Forest 58 – Notre Dame opens 2nd half on 16-0 run, beats Wake Forest
Juwan Durham had 18 points, nine rebounds and four blocks, Cormac Ryan scored 13 points and Notre Dame used a big second-half run to beat Wake Forest 79-58. After leading 35-32 at the break, Notre Dame started the second half on a 16-0 run for a 51-32 advantage. Notre Dame shot 58.1% from the field in the second half, including 6 of 10 from 3-point range, while holding Wake Forest to 10-of-34 shooting. Dane Goodwin and Hubb each scored 10 points for Notre Dame. Isaiah Mucius had 14 points and Ody Oguama scored 11 of his 13 points in the second half for Wake Forest.
Ohio 83, Central Michigan 69 – Preston, Wilson carry Ohio over Central Michigan 83-69
Jason Preston had 17 points and 11 rebounds to lead six Ohio players in double figures as the Bobcats topped Central Michigan 83-69. Dwight Wilson III added 14 points, Ben Vander Plas chipped in 13, Lunden McDay scored 12 and Ben Roderick had 12 for the Bobcats. Wilson also had 10 rebounds. Travon Broadway Jr. had 26 points and six rebounds for the Chippewas, who have lost four games in a row. Caleb Huffman added 17 points and Meikkel Murray had 10.
Tonight
Western Michigan at Bowling Green, 7:00 p.m.
(4) Michigan at Northwestern, PPD
NHL – National Hockey League
Last Night
Carolina Hurricanes 4, Chicago Blackhawks 3 – Shootout
Hurricanes 4, Blackhawks 3 – SO – Svechnikov, Hurricanes beat Blackhawks 4-3 in shootout
Andrei Svechnikov scored in regulation and again in the shootout, and the Carolina Hurricanes beat the Chicago Blackhawks 4-3. Warren Foegele had a goal and an assist in his return to the lineup, helping Carolina win for the sixth time in its first seven games. Vincent Trocheck also scored, and captain Jordan Staal had two assists. Svechnikov had the only successful attempt in the shootout, closing out the victory after James Reimer turned away Alex DeBrincat, Patrick Kane and Dylan Strome for Chicago.
Tonight
Detroit Red Wings at Tampa Bay Lightning, 5:30 p.m.
NCAAWBB – Women's College Basketball
Last Night
Ball State at Central Michigan, 5:00 p.m.
Western Michigan at Miami (OH), 5:30 p.m.
Toledo at Eastern Michigan, 7:00 p.m.
NBA – National Basketball Association
Last Night
Utah Jazz 117, Detroit Pistons 105
Indiana Pacers 134, Memphis Grizzlies 116
Jazz 117, Pistons 105 – Jazz survive late rally, edge Pistons 117-105
Donovan Mitchell scored 32 points to lead the Utah Jazz to a 117-105 victory over the Detroit Pistons. Mike Conley added 20 points and Bojan Bogdanovic chipped in 18 for Utah, which reclaimed the NBA's best record with the Los Angeles Clippers loss to the Brooklyn Nets earlier on Tuesday. Royce O'Neale tallied 12 points and 13 rebounds. The Jazz (16-5) won their ninth straight home game. Royce O'Neale tallied 12 points and 13 rebounds.  The Jazz (16-5) won their ninth straight home game.  Jerami Grant scored 27 points to lead Detroit and Josh Jackson added 22. Mason Plumlee totaled 17 points and 14 rebounds for the Pistons. Detroit (5-16) lost its second straight game.
Pacers 134, Grizzlies 116 – Pacers top Memphis 134-116, snap Grizzlies' 7-game streak
Domantas Sabonis scored a season-high 32 points as the Indiana Pacers beat Memphis 134-116, snapping the Grizzlies' seven-game winning streak. The Pacers scored a season high in points, building a double-digit lead early. Sabonis made 11 of his first 12 shots and had a double-double (24 points, 11 rebounds) by halftime. He finished with 13 rebounds for his 14th double-double in 16 starts. Malcolm Brogdon added 23 points and Myles Turner 22 for the Pacers. The Grizzlies entered with the NBA's longest active win streak and ended up a victory shy of tying the franchise record of eight straight wins, set four times, most recently in 2015.
Tonight
Indiana Pacers at Milwaukee Bucks, 7:00 p.m.
New York Knicks at Chicago Bulls, 8:00 p.m.
MLB – MLB work stoppage in 2022 increasingly likely
A work stoppage at the start of spring training 2022 seems increasingly likely after baseball players refused to negotiate with owners over a one-month delay for this spring training and regular season. The breakdown Monday came after the sides were unable to reach a deal last June over the start of the pandemic-shortened 2021 season. With the collective bargaining agreement set to expire Dec. 1, it is not hard to envision management instituting a lockout for baseball's first work stoppage since the strike that wiped out the 1994 World Series.
Olympics – Rights groups call for boycott of Beijing 2022 Winter Games
A coalition of 180 rights group is calling for boycott of next year's Beijing Winter Olympics tied to reported human rights abuses in China. The games are to open on February 4, 2022. The coalition is made up of groups representing Tibetans, Uighurs, Inner Mongolians and others. The group has issued an open letter to governments calling for a boycott of the Olympics to "to ensure they are not used to embolden the Chinese government's appalling rights abuses and crackdowns on dissent." Rights groups have previously asked the International Olympic Committee to move the games from China.
MHSAA – Lawsuit seeks reversal of Michigan's ban on contact sports
An athletic advocacy group, hockey league and parents of athletes have sued Michigan's health director, seeking a reversal of 2 1/2-month state ban on contact sports that was issued to curb the coronavirus. Let Them Play Michigan, a group of student-athletes, parents, coaches and school administrators, is among plaintiffs that sued in the Court of Claims Tuesday. The complaint contends that the order, which was recently extended through Feb. 21, arbitrarily and irrationally singles out and deprives athletes of their constitutional rights and freedoms. Gov. Gretchen Whitmer has said she's optimistic that the state can move toward reengagement in sports.