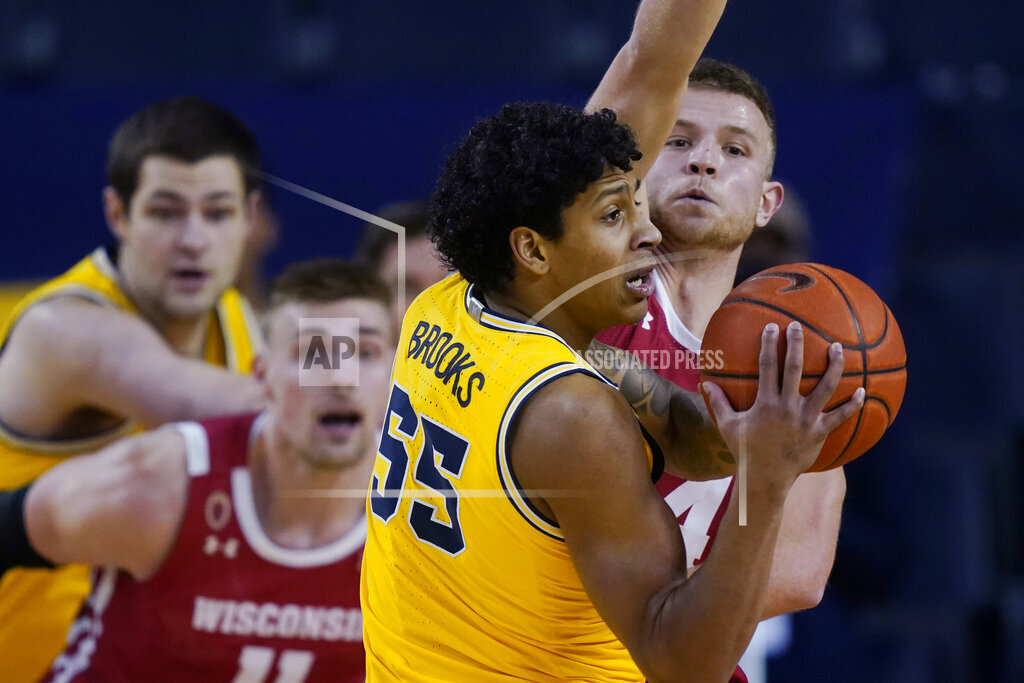 NCAAMBB – Men's College Basketball
Last Night
(7) Michigan 77, (9) Wisconsin 54
Buffalo 85, Western Michigan 69
Kent State 94, Central Michigan 85
Toledo 96, Eastern Michigan 63
Wolverines 77, Badgers 54 – No. 7 Michigan routs No. 9 Wisconsin 77-54
Mike Smith had 16 points and six assists, and No. 7 Michigan remained unbeaten with another dominant performance, routing No. 9 Wisconsin 77-54. The Wolverines turned this Big Ten showdown into a blowout with a 43-6 run that spanned parts of both halves. It was another masterpiece for coach Juwan Howard's team, which has beaten three ranked teams in a row by an average of 22.3 points. Franz Wagner had 15 points and 10 rebounds for Michigan. D'Mitrik Trice led Wisconsin with 20 points.
Bulls 85, Broncos 69 – Williams scores 25 to carry Buffalo over Western Michigan
Jeenathan Williams had 25 points and 14 rebounds as Buffalo defeated Western Michigan 85-69. Ronaldo Segu, Josh Mballa and Jayvon Graves each had 14 points for Buffalo. Mballa added nine rebounds and Graves had seven rebounds. Patrick Emilien had 18 points for the Broncos, who have now lost four straight games. B. Artis White added 12 points. Rafael Cruz Jr. had six rebounds.
Golden Flashes 94, Chippewas 85 – Pippen leads Kent State past Central Michigan 94-85
Danny Pippen had 28 points and 11 rebounds as Kent State defeated Central Michigan 94-85. Mike Nuga had 18 points and seven rebounds for Kent State. Malique Jacobs added 14 points and Giovanni Santiago had 11 points. Travon Broadway Jr. had 20 points and five steals for the Chippewas. Malik Muhammad added 17 points and 11 rebounds, and Meikkel Murray had 14 points.
Rockets 96, Eagles 63 – Saunders scores 20 to lead Toledo past E. Michigan 96-63
Keshaun Saunders had a career-high 20 points as Toledo extended its winning streak to eight games, rolling past Eastern Michigan 96-63. Bryce McBride led the Eagles with 12 points.
Tonight
Notre Dame at (18) Virginia, 4:30 p.m.
NCAAWBB – Women's College Basketball
Tonight
Western Michigan at Toledo, 5:30 p.m.
Eastern Michigan at Miami (OH), 5:30 p.m.
Central Michigan at Northern Illinois, 7:00 p.m.
NHL – National Hockey League
Tonight
Chicago Blackhawks at Tampa Bay Lightning, 8:00 p.m.
NHL – Colliton agrees to 2-year extension as Blackhawks coach
Chicago Blackhawks coach Jeremy Colliton has agreed to a two-year contract extension on the eve of his third season with the team. Colliton is 62-58-17 since he replaced Joel Quenneville in November 2018, becoming the 38th coach in franchise history. He guided Chicago into the postseason last year, winning a four-game series against Edmonton before being eliminated by Vegas. Colliton's extension runs through the 2022-23 season. The Blackhawks open this season on Wednesday — Colliton's 36th birthday — at Stanley Cup champion Tampa Bay.
NHL – 17 of 27 positive COVID tests from Dallas
The National Hockey League says 17 of the 27 players that have tested positive for the coronavirus are on the Stars. The NHL says most of the 17 Stars players are asymptomatic and all are recovering without complication. Commissioner Gary Bettman on Monday said the testing numbers so far were very good.  The league administered nearly 12,000 tests as teams prepared for the upcoming 56 game season.
NBA – National Basketball Association
Last Night
Boston Celtics at Chicago Bulls, PPD (COVID)
Tonight
Milwaukee Bucks at Detroit Pistons, 7:00 p.m.
NBA – NBA, union stiffen virus protocols; more games postponed
With five games called off this week already and more teams dealing with virus-related issues, the NBA and the National Basketball Players Association have enacted additional rules in the hope of keeping the season going safely. Among the new policies: for "at least the next two weeks," players and team staff will have to remain at their residence when in their home markets and prohibited from leaving their hotels or having outside guests when on the road. Two games scheduled for Wednesday have been postponed: Orlando at Boston and Utah at Washington.
NBA – Nets, NBA reviewing Irving's actions after video of party
The Nets and the NBA are looking into Kyrie Irving's actions after a video showed the point guard at an indoor gathering while not wearing a mask. Irving missed Tuesday's game against Denver, his fourth straight for what the Nets are calling personal reasons. He will likely face a quarantine period upon his return and could be fined if the NBA determines he violated the rules in place during the coronavirus pandemic.
NFL – Extra wild-card games lead to diluted ratings for NFL
Two additional games on wild-card weekend resulted in somewhat diluted ratings for the NFL. The six games averaged 25.1 million viewers on television and online. According to the league and Nielsen, that's a 20% drop from last season's per-game viewership on the first playoff weekend. Last year's four wild-card games, two of which went to overtime, averaged 30.5 million viewers. Only two of the six games this season had drama late in the fourth quarter. The NFL expanded the postseason field from six to seven teams in each conference, with only one team in each getting a first-round bye.
NFL – Lions acquire Washington LB Shaun Dion Hamilton off waivers
The Detroit Lions have acquired linebacker Shaun Dion Hamilton off waivers from Washington. Detroit made the move Tuesday, taking a brief break from its search for a new general manager and coach. Hamilton started in seven of 46 games over three seasons with Washington. He has 89 career tackles tackles. Washington put him on injured reserve last month with an elbow injury after he started three of 14 games during the regular season. Hamilton was drafted in the sixth round by Washington out of Alabama in 2018.
NFL – Packers QB Rodgers says he will guest-host on 'Jeopardy!'
Green Bay Packers quarterback Aaron Rodgers says he will be a guest host on a future episode of "Jeopardy!" The show is currently using a series of interim hosts following the Nov. 8 death of longtime host Alex Trebek. That process began when record-holding contestant Ken Jennings made his debut on an episode that aired Monday. Rodgers was a winning "Celebrity Jeopardy!" contestant in 2015.
NCAAFB – Alabama fans ignore precautions for celebration
Thousands of excited football fans ignored pandemic precautions and partied in streets around the University of Alabama after the Crimson Tide defeated Ohio State for the national championship. City officials had urged people to watch the game at home and celebrate privately to prevent the spread of the virus that causes COVID-19. But students and others poured out of jam-packed bars near campus as time expired in Miami. The massive crowd that resulted was recorded by traffic cameras and images posted on social media. Many of the fans screaming and cheering in the middle of the street didn't take basic precautions like wearing face masks.
MLB – Tigers avoid arbitration with Fulmer, reach 1-year deal
Right-hander Michael Fulmer and the Detroit Tigers agreed to a $3.1 million, one-year contract that avoided arbitration. The 2016 AL Rookie of the Year went 0-2 with an 8.78 ERA in 10 starts last season after missing all of 2019 because of Tommy John surgery. He earned $1,037,037 in prorated pay from a $2.8 million salary. Detroit also announced that Steve Chase has been promoted to major league strength and conditioning coach after 16 seasons working in the organization's player development system. He spent the last six seasons as minor league strength and conditioning coordinator.
Olympics – To cancel or not?: IOC, Japan press ahead with Tokyo Games
Opposition to the Tokyo Olympics is growing with calls for a cancellation as virus cases rise in Japan. The International Olympic Committee and local organizers have already said another postponement is impossible, leaving cancellation — or going ahead — as the only options. Two polls published in the last few days by the Japanese news agency Kyodo, and Japanese broadcaster TBS, show that just over 80 percent want the Olympics canceled or postponed, or believe they will not take place. The negative responses are up 15 to 20 percentage points from polls published just last month.
Golf – Masters plans for a limited number of spectators in April
Augusta National Club chairman Fred Ridley says the Masters intends to have a limited number of spectators when it is played April 8-11. He says the club still plans to operate the tournament the way it did in November with healthy and safety standards set because of the coronavirus pandemic. Those standards included mandatory COVID-19 testing for everyone on site, along with CDC guidelines such as social distancing and wearing masks.
NCAA – Emmert: NCAA still expecting to get pay issue done in '21
NCAA President Mark Emmert says he is disappointed with the delay in moving ahead with proposals surrounding athletes' ability to make money and to transfer to another school without having to sit out a year of competition. He says he remains committed to getting those things done in 2021. Votes on the two issues were postponed this week. The Justice Department has rasied concerns about potential anti-trust violations. Emmert also says diversity, health and safety and rules enforcement remain key issues.
MHSAA – High School Sports
Last Night
Girls Volleyball – Regional Finals
Division 1
Lowell 3, Portage Central 0                                   (Portage Central Forfiets)
Division 2
Grand Rapids Christian 3, Edwardsburg 0                (25-8, 25-17, 25-9)
Division 4
Battle Creek St. Philip 3, Lansing Christian 2           (25-21, 21-25, 18-25, 25-7, 16-14)
Division 3
Schoolcraft 3, Grandville Calvin Christian 0          (25-16, 25-17, 25-13)