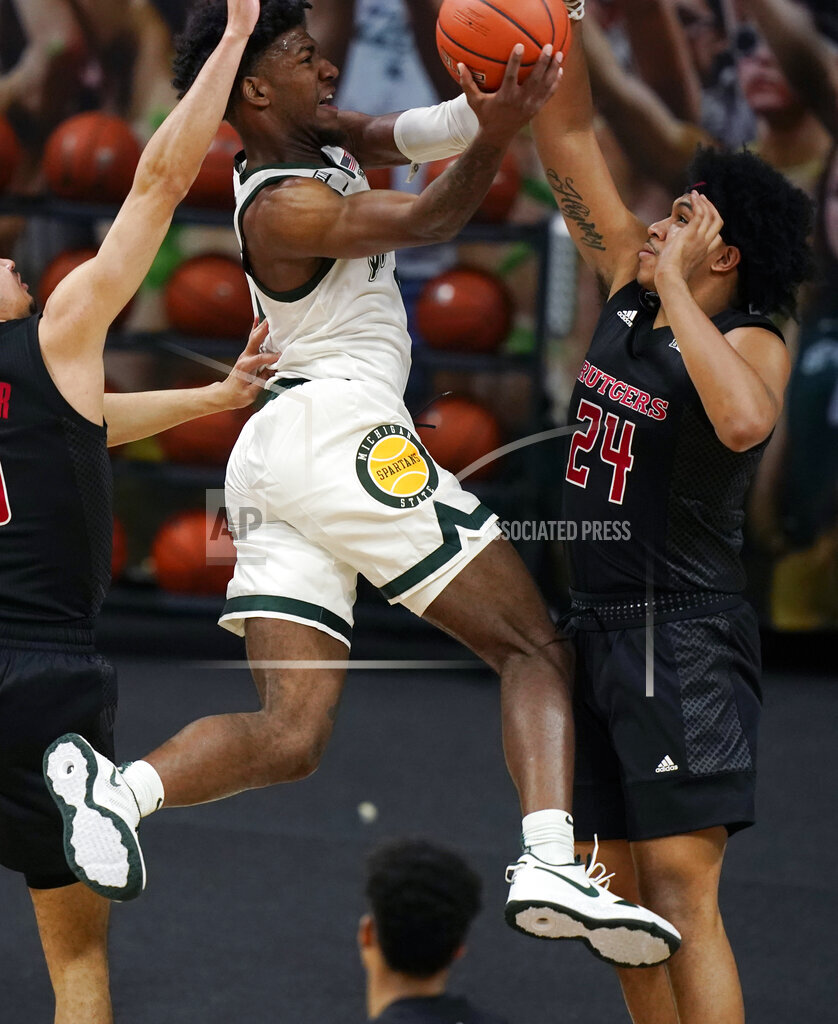 NCAAMBB – Men's College Basketball
Tonight
(23) Michigan State 68, (15) Rutgers 45
Bowling Green 90, Central Michigan 69
Akron at Eastern Michigan, PPD
Western Michigan at Ball State, PPD
Spartans 68, Scarlet Knights 45 – Henry scores 20, No. 23 Michigan State beats No. 15 Rutgers
Aaron Henry had 20 points, eight rebounds and four blocks, helping No. 23 Michigan State pull away to beat No. 15 Rutgers 68-45. The Spartans had a 17-point scoring edge in the second half to win a second straight game after opening Big Ten play with three straight losses. The Scarlet Knights made fewer than one-third of their shots. They started 0 of 7 at the line and finished making just 3 of 12 free throws. Ron Harper Jr. had 13 and Jacob Young scored 11 for Rutgers.
Falcons 90, Chippewas 69 – Turner leads Bowling Green past Central Michigan 90-69
Justin Turner had 17 points to lead six Bowling Green players in double figures as the Falcons rolled past Central Michigan 90-69. Caleb Fields added 13 points, Cam Young chipped in 12, Josiah Fulcher scored 11 and Kaden Metheny had 10 for Bowling Green. Both teams set season records for scoring during the game. Bowling Green scored 46 first-half points, a season best for the home team, while the 33 second-half points for Central Michigan were the lowest of the season for the visitors. Meikkel Murray had 16 points for the Chippewas. Travon Broadway Jr. and Caleb Huffman each had 13 points.
Tonight
(16) Minnesota at (10) Michigan, 8:30 p.m.              News/Talk/Sports 94.9 WSJM 8:00
Western Michigan at Notre Dame, PPD
NBA – National Basketball Association
Last Night
Chicago Bulls 111, Portland Trailblazers 108
Bulls 111, Blazers 108 – White scores 21 and Bulls rally to beat Blazers 111-108
Coby White had 21 points and 10 rebounds and the short-handed Chicago Bulls downed the Portland Trail Blazers 111-108. Otto Porter Jr. added 19 points and 13 rebounds for the Bulls, who have won four of their last five games. CJ McCollum led the Blazers with 26 points, including six 3-pointers. Damian Lillard had 24 points and nine assists. The Blazers led by as many as 20 points early in the game but the Bulls chipped away at the lead before pulling ahead in the 4th.
Tonight
Houston Rockets at Indiana Pacers, 7:00 p.m.
Detroit Pistons at Milwaukee Bucks, 8:00 p.m.
Chicago Bulls at Sacramento Kings, 10:00 p.m.
NCAA – Alabama's Smith becomes 1st WR to win Heisman in 29 years
Move over running backs, Alabama wide receiver DeVonta Smith has emerged as the best player in college football. Smith became the first wide receiver to win the Heisman Trophy in 29 seasons Tuesday night, breaking the monopoly quarterbacks have had on college football's most prestigious award by beating out three of them. The Crimson Tide senior is the first receiver to win the Heisman, since Michigan's Desmond Howard in 1991.  The other finalists were Smith's Alabama teammate Mac Jones, Clemson's Trevor Lawrence and Florida's Kyle Trask.  Quarterbacks had won 17 of the previous 20 Heisman trophies, including the last four.
NCAAFB – Reported virus issues at Ohio St raise specter of CFP delay
Despite some virus concerns, the national championship game between Alabama and Ohio State is still on schedule for Monday night. So says College Football Playoff executive director Bill Hancock. AL.com is reporting that Ohio State has been in contact with CFP officials about possible player availability problems related to COVID-19 that could force the game to be delayed. Ohio State athletic director Gene Smith says the Buckeyes continue to follow the same protocols they have all season and plan to play Monday in suburban Miami.
NFL – Browns Coach to miss game
Cleveland Browns coach Kevin Stefanski has tested positive for COVID-19 and will miss Cleveland's first playoff game since 2002. Special teams coordinator Mike Priefer will be the acting head coach Sunday. Pro Bowl guard Joel Bitonio and wide receiver KhaDarel Hodge also tested positive along with two more assistant coaches. NFL rules state that anyone testing positive must sit out at least 10 days. It's a major blow to the Browns, who qualified for the playoffs for the first time in 17 seasons on Sunday with a win over Pittsburgh. The league says the status for the game in Pittsburgh has not changed.
NFL – No surprise: Peyton Manning a Hall of Fame finalist
Peyton Manning, no surprise, is among 15 finalists for the Pro Football Hall of Fame's class of 2021. The star quarterback and owner of a record five NFL Most Valuable Player awards and two Super Bowl titles was one of the most prolific passers in NFL history. In 18 pro seasons and 265 starts out of 266 games played since being the top overall draft choice by Indianapolis in 1998, he had 14 seasons with 4,000-plus yards passing. When he retired following leading Denver to the 2015 league title, Manning held NFL records for career passing yards (71,940), career passing touchdowns (539) and consecutive seasons with at least 25 passing touchdowns (13).
MLB – Tigers sign Robbie Grossman to 2-year, $10 million contract
The Detroit Tigers have signed outfielder Robbie Grossman to a two-year, $10 million contract that includes performance bonuses. The 31-year-old Grossman spent the past two seasons with the Oakland Athletics. He hit .241 with eight home runs and 23 RBIs in 51 games in the shortened 2020 season. Prior to his stint with the A's, Grossman played for Minnesota and Houston. His .826 OPS last season was just two points shy of his career high in 2016. In a corresponding move, the Tigers designated outfielder Troy Stokes Jr. for assignment.
MILB – Spring training could be delayed for Double-A, Class A
Spring training could be delayed for Double-A and Class A players if major leaguers are not vaccinated for the novel coronavirus by the time big league practice is scheduled to start in mid-February. Major League Baseball, which has taken over operation of the minors, gave notice to minor league teams in a letter sent Monday. Big league spring training remains on track to start on time in mid-February, but a final decision for an on-time start has not yet been made. As of now, no timetable has been set to vaccinate big leaguers, the official said.
NHL – Detroit Red Wings entering 5th season of rebuilding project
The Detroit Red Wings have spent half a decade rebuilding. This still might not be the year a once-proud franchise with 11 Stanley Cups breaks through and makes the playoffs. Detroit finished last in the NHL last season with 23 fewer points than any other team in its pandemic-altered season that mercifully lasted just 71 games. The Red Wings will most likely extend their postseason drought to five years to match the longest since they were known as the Dead Wings from 1979-83. Red Wings general manager Steve Yzerman is making no promises about progress.
IIHF – International Ice Hockey Federation – World Juniors
Last Night
United States 2, Canada 0          (Gold Medal Game)
Finland 4, Russia 1           (Bronze Medal Game)
USA 2, CAN 0 – US upsets Canada 2-0 to win world junior hockey championship
Spencer Knight made 34 saves and the United States upset Canada 2-0 to win the world junior hockey championship. Trevor Zegras had a goal and an assist, and Alex Turcotte also scored for the U.S. The Canadians were undefeated at the tournament and hadn't trailed in a game. They were aiming to repeat as gold-medal winners, but had to settle for silver on home ice. The U.S., which finished sixth in 2020, won six straight games to capture its fifth under-20 title following a round-robin loss to Russia on opening day. The Americans improved to 4-1 against Canada when going head-to-head for gold at the tournament. In the earlier game, Finland beat Russia 4-1 to take the bronze medal.