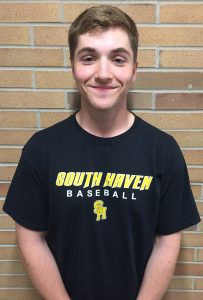 Steve Hochstedler of South Haven High School Baseball is our WSJM Sports Van Buren/Cass Student Athlete of the Week for the week of May 12, 2019.
In the Rams' doubleheader sweep of Allegan and doubleheader split with Plainwell, Steve went a combined 9-13 at the plate for a .692 batting average. He collected a double, three RBIs, two runs scored, and an on base percentage of .733 in the four games.
Steve has played three years of varsity baseball at South Haven. In the classroom, he carries a 3.85 grade point average.
Steve is the son of Walter and Wendy Hochstedler of South Haven.
Another finalist for the week was Mallory Dorow of South Haven Softball.
Congratulations to Steve Hochstedler from 106.1 & 1400 WSJM Sports.