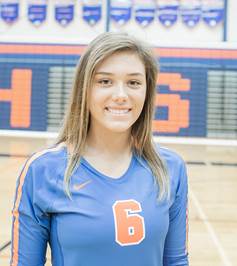 Skye Leach of Edwardsburg High School Volleyball is our WSJM Sports Van Buren/Cass Student Athlete of the Week for the week of October 28, 2018.
Edwardsburg won the District Championship with victories over Paw Paw and Vicksburg. In the match against Paw Paw, Skye turned in 13 digs, eight kills, two assists, two blocks, and three aces. In the win over Vicksburg, she finished with 18 digs, six kills, three blocks, and three aces.
Skye is also involved with SADD and volunteers at the Children's Center in Niles. In the classroom, she carries a 3.31 grade point average.
Skye is the daughter of Josh and Chloe Leach of Niles.
Other finalists for the week were Chase Sager of Edwardsburg Football and Emma Pachay of Marcellus Cross Country.
Congratulations to Skye Leach from 95.7 & 1400 WSJM Sports.