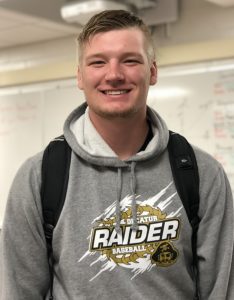 Jakob Southworth of Decatur High School Football is our WSJM Sports Van Buren/Cass Student Athlete of the Week for the week of October 14, 2018.
Jakob only played a half in the Raiders' win over South County. In those two quarters, he rushed for 126 yards and three touchdowns on just 11 carries. His play throughout the season helped lead Decatur to another appearance in the playoffs.
Jakob is also a member of the Decatur Basketball and Baseball teams, and National Honor Society. In the classroom, he carries a 4.2 grade point average.
Jakob is the son of Brian and Laurie Southworth of Decatur.
Congratulations to Jakob Southworth from 95.7 & 1400 WSJM Sports.