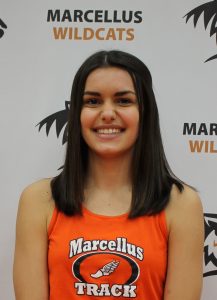 Emma Pachay of Marcellus High School Track is our WSJM Sports Van Buren/Cass Student Athlete of the Week for the week of March 24, 2019.
At the Bridgman Invitational, Emma finished with three first place finishes and one second place finish. She won the 1600 Meter Run with a time of 5:53.47 and won the 800 Meter Run with a time of 2:47.7. She place second in the 3200 Meter Run with a time of 14:04. She also ran a leg for the winning 3200 Meter Relay team with a split of 2:38.
Emma is also a member of the Cross Country team, National Honor Society, and Band, and plays club soccer. In the classroom, she carries a 3.89 grade point average.
Emma is the daughter of Andy and Amy Pachay of Marcellus.
Congratulations to Emma Pachay from 106.1 & 1400 WSJM Sports.