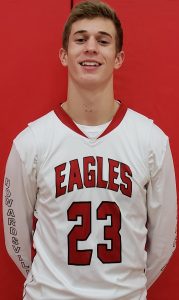 Dylan Jergens of Howardsville Christian High School Basketball is our WSJM Sports Van Buren/Cass Student Athlete of the Week for the week of February 24, 2019.
In the Eagles' three District Tournament wins over Kalamazoo Lakeside, Mendon, and Kalamazoo Phoenix, Dylan scored a combined 127 points to go along with 25 rebounds, 18 assists, and 18 steals. Through the end of Districts, he had scored 944 points this season and 2,755 points in his career. He currently is on the All-Time MHSAA record list in 13 categories.
Dylan is also an All-State Honorable Mention member of the soccer team along with the baseball and golf teams. In the classroom, he carries a 3.7 grade point average.
Dylan is the son of Tim and Tonya Jergens of Mendon.
Congratulations to Dylan from 106.1 & 1400 WSJM Sports.