Dylan Jergens of Howardsville Christian High School Basketball is our WSJM Sports Van Buren/Cass Student Athlete of the Week for the week of February 17, 2019.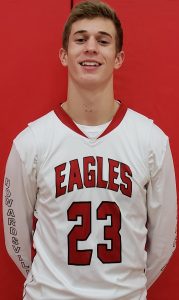 In the Eagles' win over Covert, Dylan scored 47 points to go along with 13 rebounds, 12 assists, and five steals. The in a win over New Buffalo, he turned in 45 points, six rebounds, ten assists, and four steals. He ended the week with 41 points, eight rebounds, nine assists, and seven steals in a win over Lawrence.
Dylan is also an All-State Honorable Mention member of the soccer team along with the baseball and golf teams. In the classroom, he carries a 3.7 grade point average.
Dylan is the son of Tim and Tonya Jergens of Mendon.
Another finalist for the week was Regan Rose of Decatur Basketball.
Congratulations to Dylan from 106.1 & 1400 WSJM Sports.