Dylan Jergens of Howardsville Christian High School Basketball is our WSJM Sports Van Buren/Cass Student Athlete of the Week for the week of December 2, 2018.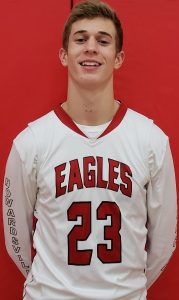 Dylan scored 38 points in helping lead the Eagles to a win over Countryside Academy. Then in a win over River Valley, he turned in 41 points, nine rebounds, and five assists. For both games, he shot over 50% from the floor.
Dylan has also been a member of the Howardsville Christian Soccer and Baseball teams. In the classroom, he carries a 3.7 grade point average.  He has committed to continue his academic and basketball careers at Central Michigan University.
Dylan is the son of Tim and Tonya Jergens.
Another finalist for the week was Constance Phillips of South Haven Basketball.
Congratulations to Dylan Jergens from 95.7 & 1400 WSJM Sports.