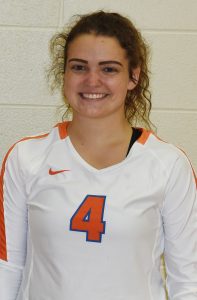 Claire Alby of Edwardsburg High School Volleyball is our WSJM Sports Van Buren/Cass Student Athlete of the Week for the week of September 30, 2018.
In the Eddies' 3-0 win over previously undefeated Three Rivers, Claire turned in 31 assists, five digs, one kill, one block, and three aces.
Claire is also a member of the National Honor Society and Students Against Destructive Drivers. In the classroom, she carries a 4.0 grade point average.
Claire is the daughter of Mike and Tammy Alby of Edwardsburg.
Another finalist for the week was Carson Rooker of South Haven Cross Country.
Congratulations to Claire Alby from 95.7 & 1400 WSJM Sports.