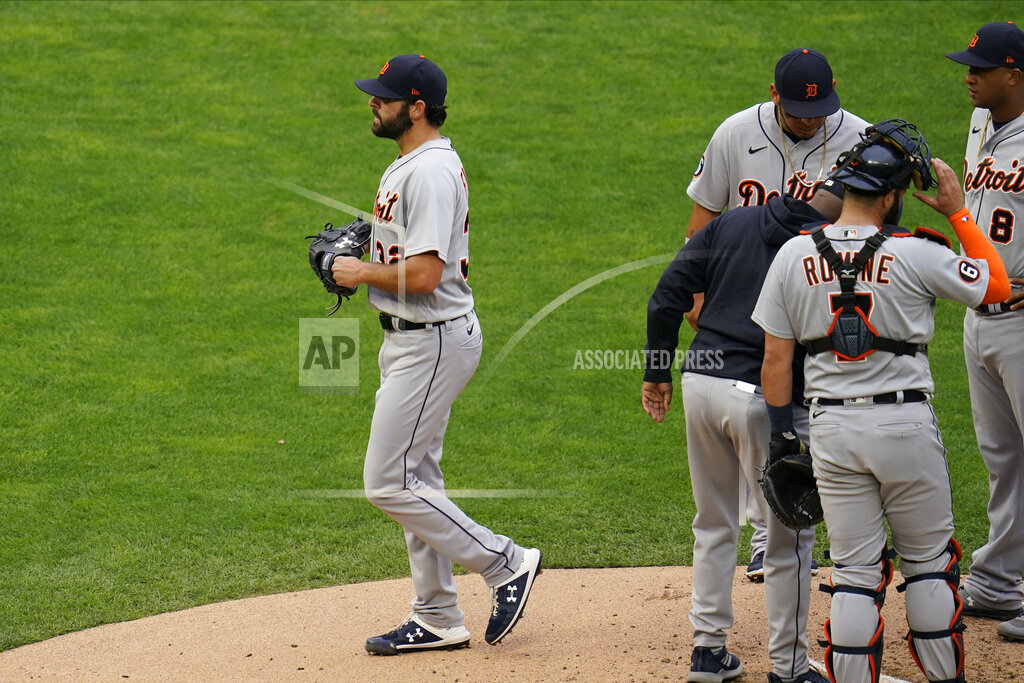 MLB – Major League Baseball
Yesterday
Minnesota Twins 6, Detroit Tigers 2
Chicago Cubs 5, St. Louis Cardinals 1
White Sox were off
Twins 6, Tigers 2 – Pineda stays sharp with 7 innings as Twins beat Tigers 6-2
Ryan Jeffers hit his first major league homer to spark a four-run third inning for Minnesota, Michael Pineda stayed sharp in his return from suspension with seven innings, and the Twins beat the Detroit Tigers 6-2. Pineda allowed three hits, two walks and two runs with eight strikeouts for his first victory since Sept. 1, 2019. After serving a 60-game penalty for taking a banned weight-loss drug, Pineda debuted last week with six innings as the Twins beat Chicago. Jeffers crushed a full-count fastball from Tigers starter Michael Fulmer an estimated 437 feet into the juniper wall behind center field.
Cubs 5, Cardinals 1 – Hendricks goes 8 innings, Cubs beat Cardinals 5-1
Kyle Hendricks went eight innings, and the NL Central-leading Chicago Cubs beat the second-place St. Louis Cardinals 5-1. The Cubs got just the sort of start they needed from Hendricks and closed out the five-game series on a winning note after losing three straight. They lead their longtime rivals by 2 1/2 games. Hendricks gave up a run and seven hits in his second straight win. Willson Contreras made it 5-0 with a two-run single against Johan Oviedo in the fifth.
Tonight
Chicago White Sox (Cease 5-2) at Pittsburgh (Musgrove 0-4), 7:05 p.m.
Milwaukee (Houser 1-3) at Detroit (Turnbull 3-2), 7:10 p.m.                      WSJM 94.9/WCSY 103.7 6:45
Cincinnati (Mahle 1-1) at Chicago Cubs (Mills 3-3), 8:15 p.m.
NHL – National Hockey League – Stanley Cup Playoffs – 3rd round (Best of 7)
Yesterday
Tampa Bay Lightning 8, New York Islanders 2                                         (TBL leads 1-0)
Tonight
Dallas Stars vs. Vegas Golden Knights, 8:00 p.m.                                  (DAL leads 1-0)
NHL – Senators' Ryan wins Masterton Trophy after alcohol problem
Ottawa Senators forward Bobby Ryan has been named the Bill Masterton Trophy winner for publicly sharing his battle with alcohol issues. The 33-year-old Ryan missed more than two months after entering the NHL/NHLPA players assistance program on Nov. 20. Upon his return to practice in February, he pledged to share his story publicly in hopes of inspiring others facing similar challenges. Ryan earned the honor announced Monday ahead of finalists Philadelphia forward Oskar Linblom and Dallas Stars defenseman Stephen Johns.
NBA – National Basketball Association – 2nd round (Best of 7)
Last Night
Boston Celtics 111, Toronto Raptors 89                                               (BOS leads 3-2)
Los Angeles Clippers 113, Denver Nuggets 107                                      (LAC leads 2-1)
Tonight
Milwaukee Bucks vs. Miami Heat, 6:30 p.m.                                             (MIA leads 3-1)
Houston Rockets vs. Los Angeles Lakers, 9:00 p.m.                                (Series tied 1-1)
NBA – NBA fines Clippers' Beverley $25,000 for verbal abuse of ref
The NBA has fined Los Angeles Clippers guard Patrick Beverley $25,000 for verbally abusing a game official in Game 2 of his team's Western Conference semifinal series against the Denver Nuggets. Beverley was demonstrably upset with a foul call against him four seconds earlier, then unsuccessfully tried to take a charge when play resumed and got called for a blocking foul. He then got two technical fouls as he argued to no avail.
NFL – Lions make it official with signing of Adrian Peterson
The Detroit Lions have announced the signing of Adrian Peterson. The 35-year-old running back comes to Detroit after being released by Washington. He has rushed for 14,216 yards in 13 seasons, mostly with the Minnesota Vikings. Peterson is 1,053 yards behind Lions great Barry Sanders for fourth on the career rushing list. He rushed for 1,940 yards and 12 touchdowns over two seasons with Washington. Peterson's 898 yards in 2019 would have led the Lions in rushing in any of the past six seasons. Detroit opens the season this weekend at home against Chicago.
Golf – PGA – Dustin Johnson cashes in and finally wins the FedEx Cup
Dustin Johnson finally has his name on the FedEx Cup trophy and the whopping $15 million that comes with it. Johnson saw his five-shot lead dwindle to two shots down the stretch in the Tour Championship. But he came up with just enough shots and a few key putts for a 2-under 68 for a three-shot victory at East Lake. He becomes the first No. 1 seed at the Tour Championship to win the FedEx Cup since Tiger Woods in 2009. Justin Thomas and Xander Schauffele finished three shots behind and each picked up $4.5 million.
Tennis – US Open – Williams advances, Kenin ousted
Serena Williams is into the quarterfinals at the U.S. Open for a 12th consecutive appearance, but her stiffest challenger for the title has been ousted. Williams needed to come from behind in the third set before taking another step closer to Grand Slam title No. 24, edging Maria Sakkari, 6-3, 6-7, 6-3.  This was a rematch from less than two weeks ago at the Western & Southern Open. That one was won in three sets by Sakkari as Williams dealt with leg cramps and faded down the stretch. This time, Williams was two points from victory at 6-all in the tiebreaker but dropped the next two points and the set. Then she trailed 2-0 in the third before turning things around.  No. 16 Elise Mertens has knocked off Kenin, 6-3, 6-3 to earn a berth in the quarterfinals of the U.S. Open for the second year in a row. Kenin won the Australian Open and was trying to become the first back-to-back Grand Slam winner since Naomi Osaka won the U.S. Open and the Australian in 2018-19. But the American had 26 unforced errors to only seven for Mertens.
Tennis – US Open – Djokovic fined $7,500 for no news conference
The total financial penalty for Novak Djokovic's U.S. Open disqualification is $267,500. Djokovic has been docked an additional $7,500 for skipping the mandatory post-match news conference after being defaulted in the fourth round at Flushing Meadows for accidentally hitting a line judge in the throat with a ball after dropping a game. Djokovic earlier was told to pay $10,000 for that violation. He also lost $250,000 in U.S. Open prize money.
MHSAA – High School Sports
Today
Boys Soccer
Kalamazoo Loy Norrix at St. Joseph, 6:30 p.m.
Lakeshore at Portage Central, 6:30 p.m.
Gull Lake at Battle Creek Central, 6:30 p.m.
Portage Northern at Mattawan, 6:30 p.m.
Battle Creek Lakeview at Kalamazoo Central, 6:30 p.m.
Berrien Springs at Dowagiac, 5:00 p.m.
Marshall at Sturgis, 6:30 p.m.
Comstock at Hartford, 6:00 p.m.
Bangor at Lawrence, 5:00 p.m.
South Haven at Niles, 5:30 p.m.


Girls Volleyball
Allegan at South Haven, 6:00 p.m.
Lawrence at Covert, 6:00 p.m.
Boys Tennis
Portage Central at St. Joseph, 4:00 p.m.
Lakeshore at Gull Lake, 4:00 p.m.
Girls Swimming and Diving
Battle Creek Lakeview at St. Joseph, 6:00 p.m.
Girls Golf
Lakeshore at Edwardsburg, 4:30 p.m.