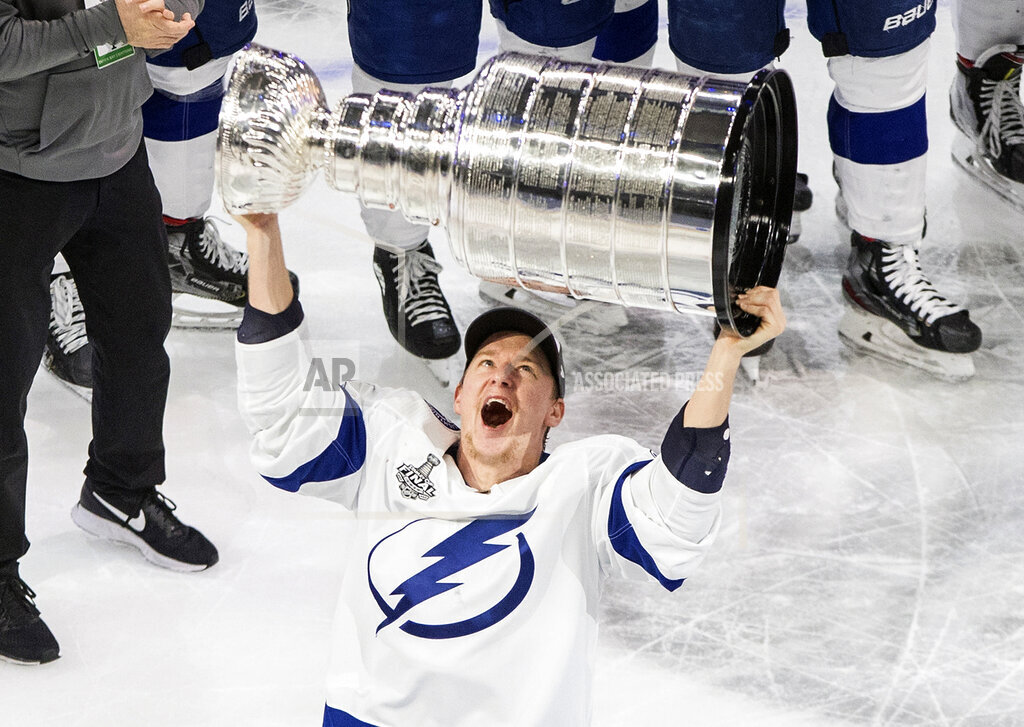 NHL – National Hockey League – Stanley Cup Finals – (Best of 7)
Last Night
Tampa Bay Lightning 2, Dallas Stars 0                                        (TBL wins 4-2)
Lightning 2, Stars 0 – Bubble hockey champions: Tampa Bay Lightning win Stanley Cup
The Tampa Bay Lightning are the champions of bubble hockey. Brayden Point scored his playoff-best 14th goal, and the Lightning beat the Dallas Stars 2-0 to win the Stanley Cup and finish off the NHL playoffs staged in quarantine during the pandemic. The clock hitting zeros in an empty arena set off a wild celebration for a team that endured years of playoff heartbreak and two months in isolation. Goals from Point and Blake Coleman and a 22-save shutout by Andrei Vasilevskiy were enough to power the Lightning to their second championship in franchise history after winning it in 2004.  Lightning defenseman Victor Hedman won the Conn Smythe Trophy as playoff MVP. The playoffs became a showcase of the big Swede's skills on both ends of the ice. He also showed key leadership in the absence of injured captain Steven Stamkos.
NHL – Blackhawks acquire Pirri in trade with Golden Knights
The Chicago Blackhawks have acquired Brandon Pirri in a trade with the Vegas Golden Knights, reuniting the forward with his first NHL team. The Blackhawks sent Dylan Sikura to Vegas for the 29-year-old Pirri, who split last season between the Golden Knights and Chicago of the American Hockey League. The forward had two assists in 16 games with Vegas and 15 goals and 20 assists in 38 games with Chicago.  Pirri was selected by the Blackhawks in the second round of the 2009 draft and made his NHL debut with the club in 2010.
NHL – After 13 seasons, Rangers trade Staal to Red Wings
The Detroit Red Wings acquired defenseman Marc Staal and a second-round draft pick from the New York Rangers for future considerations. The draft pick is in 2021. The 33-year-old Staal had two goals and nine assists in 52 games this past season. He's played his whole 13-season NHL career so far with the Rangers. Staal ranks sixth on the Rangers' career list in games played with 892. Earlier Saturday, the Red Wings announced that they had signed forward Sam Gagner to a one-year contract extension. The Red Wings acquired Gagner on Feb. 24 in a trade with Edmonton. He played six games for Detroit.
NFL – National Football League – Week 3
Last Night
Kansas City Chiefs 34, Baltimore Ravens 20
Chiefs 34, Ravens 20 – Mahomes outplays Jackson to lead Chiefs past Ravens 34-20
Patrick Mahomes put on a scintillating show while outperforming Lamar Jackson, and the Kansas City Chiefs deftly played the role of defending Super Bowl champions in a 34-20 thumping of the Baltimore Ravens.  Just about everything Mahomes did worked against an overmatched Baltimore defense that had allowed only two touchdowns in its first two games. Mahomes threw four touchdown passes to help the Chiefs emphatically end the Ravens' 14-game regular season winning streak while extending their own run to 12 games, including playoffs.  Jackson is 21-4 as the Ravens' starting quarterback, with three of those losses to Mahomes and the Chiefs.
NFL – Nick Foles is Bears starting QB for game against Colts
Chicago Bears coach Matt Nagy has confirmed Nick Foles will start at quarterback Sunday against the Indianapolis Colts. Nagy on Monday made the announcement after hedging Sunday following the Bears' 30-26 victory over the Atlanta Falcons. Foles had come on in relief of an ineffective Mitchell Trubisky following Blidi Wreh-Wilson's interception in the third quarter. "He's our starter moving forward," Nagy said of Foles.


MLB – Major League Baseball – Playoffs – Wild Card Series (Best of 3)
Today
Houston (Greinke 3-3) at Minnesota (Maeda 6-1), 2:08 p.m.
Chicago White Sox (Giolito 4-3) at Oakland (Luzardo 3-2), 3:08 p.m.
Toronto (Shoemaker 0-1) at Tampa Bay (Snell 4-2), 5:07 p.m.
MLB – Young pitchers arrive for Detroit, but growing pains follow
The arrival of pitching prospects Casey Mize and Tarik Skubal was a big deal for the Detroit Tigers, but if fans expected an immediate impact, they may have been disappointed. Mize went 0-3 with a 6.99 ERA, and Skubal was 1-4 with a 5.63 ERA. After 114 losses in 2019, the Tigers improved enough to move into contention for a spot in this year's expanded postseason, but then a late collapse left them at 23-35. Only two major league teams finished behind Detroit. The Tigers' offense improved a bit after a dreadful 2019, but they finished last in the majors in ERA.
NBA – Doc Rivers out as Clippers' coach, after seven seasons
Doc Rivers says he's out as coach of the Los Angeles Clippers, though did not specify if he chose to leave on his own or if he was fired.  The Clippers say it was a mutual decision. Rivers announced in a statement posted to Twitter that he is not returning as coach. The move comes about two weeks after the Clippers wasted a 3-1 series lead and lost to the Denver Nuggets in the Western Conference semifinals. Rivers spent seven seasons with the Clippers, making the playoffs in six of them — major success for a once-woebegone franchise. This season's team, with the summer 2019 additions of Kawhi Leonard and Paul George, was expected to compete for an NBA championship.
NBA – New California law prompted by crash that killed Kobe Bryant
Gov. Gavin Newsom has approved legislation prompted by the helicopter crash that killed Kobe Bryant and eight others. The bill signed Monday makes it a crime for first responders to take unauthorized photos of deceased people at the scene of an accident or crime. Reports surfaced after the January crash that graphic photos of the victims were being shared by eight deputies. Los Angeles County Sheriff Alex Villanueva said the department has a policy against taking and sharing crime scene photos, but it does not apply to accident scenes.
NCAA Football – Notre Dame COVID-19 outbreak affects 39 players
Notre Dame said it had 39 football players in isolation or quarantine on Monday as it deals with the COVID-19 outbreak that forced the Fighting Irish to postpone last week's game at Wake Forest. The Fighting Irish already had an open date scheduled for this week and are not slated to play again until Oct. 10 when Florida State travels to South Bend, Indiana. In a news release, Notre Dame said 18 football players tested positive last week, seven of which had already been quarantined after contact tracing had determined they had been exposed to people who had already been infected. A total of 25 players were in isolation after testing positive and another 14 were being quarantined after contact tracing, the school said. Notre Dame said the teams was able to resume conditioning activities for the players who were permitted to participate.
Tennis – Nadal, Williams advance
Defending champion Rafael Nadal has reached the second round of the French Open after beating Egor Gerasimov 6-4, 6-4, 6-2. Nadal is looking for a record-extending 13th title at Roland Garros and a 20th major overall to equal Roger Federer's men's record. Also today, U.S. Open champion Dominic Thiem advanced to the second round by beating former U.S. Open champion Marin Cilic. In women's action, Serena Williams advanced to the second round of the French Open by beating Kristie Ahn. The 39-year-old Williams is a three-time French Open champion and is looking to equal Margaret Court's record of 24 major titles.
Horse Racing – Preakness – Authentic favored against ten rivals
Kentucky Derby winner Authentic is the morning line favorite for Saturday's Preakness in Baltimore. Authentic is 9-5 on the morning line and drew the No. 9 post in a field of 11 horses. The race will be run without spectators.  Art Collector, who was scratched from the Derby, appears to be the biggest threat to Authentic and is the 5-2 second choice.


MHSAA – High School Sports
Yesterday
Girls Volleyball
Battle Creek Lakeview 3, St. Joseph 0                  (25-19, 25-9, 25-23)
Lakeshore 3, Battle Creek Central 2                    (25-20, 20-25, 21-25, 25-18, 15-13)
Mattawan 3, Kalamazoo Loy Norrix 0                  (25-10, 25-15, 25-8)
Portage Central 3, Kalamazoo Central 0
Plainwell 3, Vicksburg 0                                  (25-16, 25-23, 25-23)
Three Rivers 3, Dowagiac 1                               (25-21, 24-26, 25-17, 25-23)
Howardsville Christian 3, Eau Claire 1                (21-25, 25-7, 25-13, 25-20)
Mendon 3, Constantine 1                                  (21-25, 25-22, 25-23, 25-23)
New Buffalo 3, Brandywine 2                             (18-25, 25-15, 25-19, 14-25, 15-12)
Holland Black River 3, Fennville 0                      (25-17, 25-13, 25-16)
Boys Soccer
Howardsville Christian 5, Michigan Lutheran 1
Bridgman 1, New Buffalo 0 – TIE
Plainwell 2, Edwardsburg 0
Dowagiac 3, Sturgis 1
Paw Paw 3, Vicksburg 2
Allegan 3, Otsego 0
Kalamazoo Central 3, Battle Creek Lakeview 1
Delton-Kellogg 1, Comstock 1 – TIE
Bloomingdale 7, Kalamazoo Home School 0
Hartford 8, Cassopolis 2
Kalamazoo Hackett 5, Coloma 0
Fennville 11, Constantine 0
Watervliet 8, Lawton 0
Kalamazoo Christian 6, Parchment 1
Schoolcraft 7, Saugatuck 3
Girls Golf
St. Joseph at East Lansing Invitational
Team Scores
1.         Okemos                          332
2.         Haslett                         352
2.         Montague                      352
4.         St. Joseph                      366
5.         Grosse Ile                     369
6.         East Lansing                  371
7.         Lansing Catholic            386
8.         Charlotte                      387
9.         Grand Ledge                  418
9.         Holt                             418
11.       Mason                           449

St. Joseph scores
Maya Hunter                      86
Gracie Thomas                    91
Morgan Guzzo                    93
Maddy Cleveland                96
Izzy Ugalde                       97
Madison Jackson                100
Played at Forest Akers West – Par 72
Conditions: Rain
Today
Boys Soccer
St. Joseph at Lakeshore, 6:30 p.m.
Battle Creek Central at Mattawan, 6:30 p.m.
Portage Northern at Kalamazoo Loy Norrix, 6:30 p.m.
Gull Lake at Kalamazoo Central, 6:30 p.m.
Portage Central at Battle Creek Lakeview, 6:30 p.m.
Buchanan at South Haven, 6:30 p.m.
Girls Volleyball
Michigan Lutheran at Buchanan, 6:00 p.m.
Countryside Academy at Covert, 6:00 p.m.
Bloomingdale at Centreville, 7:00 p.m.
Cassopolis at Decatur, 7:00 p.m.
Bangor at Hartford, 7:00 p.m.
White Pigeon at Marcellus, 7:00 p.m.
Constantine at Delton-Kellogg, 6:30 p.m.
Saugatuck at Gobles, 6:30 p.m.
Schoolcraft at Kalamazoo Christian, 6:30 p.m.
Fennville at Lawton, 6:30 p.m.
Coloma at Martin, 6:30 p.m.
Parchment at Watervliet, 6:30 p.m.
Boys Tennis
Vicksburg at St. Joseph, 3:00 p.m.
South Haven at New Buffalo/Bridgman/LMC, 5:00 p.m.                (at New Buffalo)
Girls Swimming
Bridgman/Lakeshore at Kalamazoo Loy Norrix, 6:00 p.m.
Girls Golf
BCS Championship at Niles (Hampshire GC), 9:30 a.m.