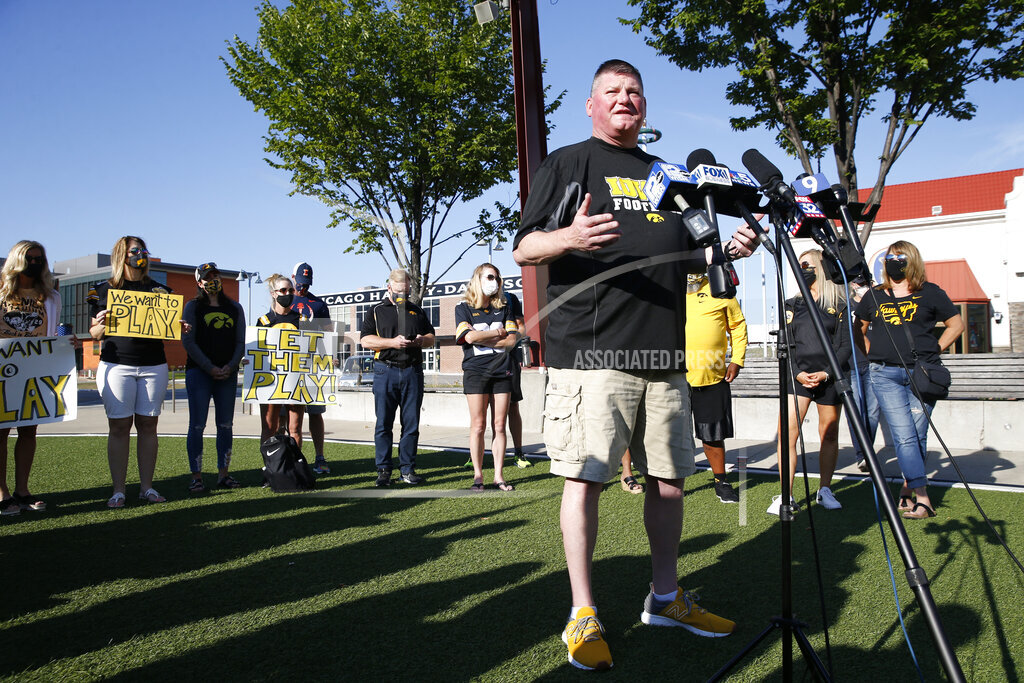 NCAA Football
A new court filing shows that Big Ten presidents voted 11-3 to postpone the football season until spring. The court filing is the Big Ten's response to a lawsuit brought by a group of Nebraska football players who want the fall season reinstated. The Big Ten announced Aug. 11 it would move its football season from fall  to spring because of health risks associated with the coronavirus pandemic. The filing did not identify how each school specifically voted, but a person familiar with the outcome told The Associated Press Iowa, Nebraska and Ohio State voted against postponing the fall football season.
Ohio State defensive tackle Haskell Garrett has been released from the hospital after being shot in the face over the weekend. A spokesman for the football program confirms Garrett was released Monday. According to a Columbus police report, Garrett told officers he was shot when he intervened in a dispute between a male and a female who were "arguing and being aggressive." Garrett said the male then pulled out a gun and fired a shot that police said passed through both of Garrett's cheeks. Garrett told officers that he ran to a friend's apartment, where police found him early Sunday after following a trail of blood. Police say the shooting is still being investigated.
Major League Baseball
Yesterday
White Sox 8, Minnesota 5
Cubs and Tigers were off
White Sox 8, Twins 5 
Luis Robert hit a tying homer in the seventh inning and the go-ahead double in the ninth, and the Chicago White Sox rallied to beat the skidding Minnesota Twins 8-5. The afterglow from Lucas Giolito's no-hitter faded fast, as the right-hander fell behind 4-0 in his follow-up start. The White Sox surged back to win for the 12th time in 14 games. They're in sole possession of first place in the AL Central for the first time this season, ahead of Cleveland and Minnesota. Miguel Sanó homered and scored three runs for the Twins, who have lost six straight games.
Tonight
Tigers (Fulmer 0-0) at Milwaukee (Lindblom 1-2), 7:40 – on 94.9 WSJM
Cubs (Lester 2-1) at Pittsburgh (Kuhl 1-1), 7:05
White Sox (Keuchel 5-2) at Minnesota (Pineda 0-0), 8:10
The Cubs acquired outfielder Cameron Maybin and two left-handed relievers in three trades, adding help for their pursuit of their first division title since 2017. The NL Central leaders sent minor league infielder Zack Short to Detroit for Maybin, who is batting .244 with a homer and two RBIs in 14 games The Cubs got Andrew Chafin from Arizona for a player to be named or cash and will get $370,373 from the Diamondbacks on Oct. 16 to offset part of Chafin's salary. Josh Osich was acquired in a deal with Boston for a player to be named or cash.
NHL Stanley Cup Playoffs – 2nd round (Best of 7)
Yesterday
Tampa Bay 3, Boston 2 – 2OT  (TB wins 4-1)
Colorado 6, Dallas 3  (DAL leads 3-2)
Tonight
NY Islanders vs. Philadelphia, 7:00  (NYI leads 3-1)
Vegas vs. Vancouver, 9:45  (VEG leads 3-1)
NBA Playoffs – 1st round (Best of 7)
Last Night
Oklahoma City 104, Houston 100  (Series tied 3-3)
Tonight
Utah vs. Denver, 8:30  (Series tied 3-3)
2nd Round (Best of 7)
Last Night
Miami 115, Milwaukee 104  (MIA leads 1-0)
Tonight
Boston vs. Toronto, 5:30  (BOS leads 1-0)
NBA 
Less than a week ago, Kevin Pritchard fired Indiana Pacers coach and longtime friend Nate McMillan. Now the president of basketball operations is looking for a replacement. He says he wants to find someone who can communicate better with today's players. He also wants the new coach to implement a more up-to-date playing style. Above all, Pritchard wants someone who can win in the playoffs. In four seasons under McMillan, the Pacers went 3-16 in the playoffs and never reached the second round.
NFL 
The NFL has taken over the independent investigation into workplace conduct within the Washington Football Team. Owner Dan Snyder said he and his wife, Tanya, suggested to Commissioner Roger Goodell the NFL assume full oversight of the review. The Washington Post reported last month about 15 female former employees saying they were sexually harassed during their time with the team. Snyder then hired law firm Wilkinson Walsh LLP to review the team's culture, policies and allegations of workplace misconduct. Attorney Beth Wilkinson now reports directly to the league office. Lawyers for more than 15 former team employees had asked the NFL to launch its own investigation.
WNBA 
Yesterday
Chicago 100, Indiana 77
Sky 100, Fever 77 
Courtney Vandersloot set a WNBA single-game record with 18 assists, helping the Chicago Sky beat the Indiana Fever 100-77. Vandersloot tied the record at 16 on a drive to the basket, drawing two defenders and finding Ruthy Hebard under the basket for a 89-74 lead. After a brief rest on the bench, Vandersloot found her spouse Allie Quigley in the corner for a 3-pointer to break the record. And two possessions later, Vandersloot connected with Quigley again. Vandersloot finished with 13 points and 18 assists, and Quigley added 19 points for Chicago. Teaira McCowan had 15 points and 11 rebounds for Indiana.
Tonight
Indiana vs. Atlanta, 8:00
NCAA Basketball 
Butler University has announced that Benton Harbor's Carlos Johnson has torn the ACL in his left knee and will require surgery. The injury, suffered earlier this month during a workout, will force Carlos to miss the upcoming season.  Carlos was expected to contend for a starting position with the Bulldogs in this, his freshman season.  Carlos is our WSJM Sports Student Athlete of the Year winner for the 2019-2020 school year and was named Michigan's Mr. Basketball after the conclusion of the season.
The college basketball coaching great John Thompson of Georgetown has died. His death was announced in a family statement Monday. No details were disclosed. Thompson was an imposing Hall of Famer who turned Georgetown into a "Hoya Paranoia" powerhouse and became the first Black coach to lead a team to the NCAA men's basketball championship. One of the most celebrated and polarizing figures in his sport, Thompson took over a moribund Georgetown program in the 1970s and molded it into a perennial contender, culminating with a national title team anchored by Patrick Ewing in 1984. At 6-foot-10, with an ever-present white towel slung over his shoulder, Thompson literally and figuratively towered over the Hoyas for decades. He quit coaching in 1999. John Thompson was 78.
Tennis – US Open 
Top-seeded Novak Djokovic (NOH'-vak JOH'-kuh-vich) breezed past Damir Dzumhur 6-1, 6-4, 6-1 at the U.S. Open.  Djokovic is the overwhelming favorite to win his fourth men's championship and he cruised in his first-round matchup at Arthur Ashe Stadium. Djokovic pounded his chest and raised his racket in the air, keeping his celebratory routine intact even without fans in the stadium. Djokovic is 24-0 in 2020 and has won 18 of his last 19 matches overall in Grand Slam tournaments.
In other first day Open action: Coco Gauff is out of the U.S. Open on Day 1.Anastasija Sevastova knocked off the 16-year-old Gauff in three sets, 6-3, 5-7, 6-4. It was Gauff's earliest exit from a Grand Slam tournament in four appearances. Top-seeded Karolina Pliskova has advanced in straight sets. liskova surged ahead of Anhelina Kalinina 4-1 in the opening set, lost three games in a row, then took the last eight for a 6-4, 6-0 victory.
Horse Racing 
Gamine is the even-money morning-line favorite for the Kentucky Oaks after drawing the No. 5 post in the marquee race for 3-year-old fillies. Swiss Skydiver will start from the No. 1 post as the 8-5 second choice at Churchill Downs, with Speech at 5-1 from the No. 4 post. Nine fillies are officially entered in Friday's $1.25 million race to be run over 1 1/8 miles. Jockey John Velazquez will ride the Bob Baffert-trained Gamine, who enters the Oaks with consecutive Grade 1 victories by nearly 26 lengths combined.
The fastest two minutes in sports will also be the quietest in Kentucky Derby history. Churchill Downs scrapped plans to have 23,000 physically distanced, masked fans at Saturday's rescheduled Triple Crown race due to the rise in coronavirus cases. It will be the first time spectators will not be allowed to attend the race. That means no iconic scene of thoroughbreds rounding the first turn before packed grandstands beneath the Twin Spires. No sea of women in big, colorful hats or men in bright suits, many sipping mint juleps with Kentucky's famous bourbon while cheering the Run For The Roses.
Golf – PGA 
The PGA Tour now has quite the West Coast Swing in the fall. The Zozo Championship is moving from Japan to Thousand Oaks, California, this year because of the COVID-19 pandemic. This follows an announcement last week that the CJ Cup in South Korea is moving this year to Las Vegas under the same circumstances. The Zozo Championship will be played Oct. 22-25 at Sherwood Country Club with Tiger Woods as the defending champion on a course where he has won five times. The swing starts with the regular Las Vegas stop, followed by the CJ Cup and then the Zozo.
MHSAA 
The leader of the Michigan High School Athletic Association says the decision rests with Gov. Gretchen Whitmer on whether there are soccer games, volleyball matches, and swimming and diving meets this fall. Mark Uyl said Monday that while the governor's school reopening road map allows for competition during the coronavirus pandemic, her broader "safe start" order does not unless participants stay 6 feet apart. The group later received guidance from Whitmer's office that golf, tennis and cross country are OK to proceed. Football has been postponed until the spring. Uyl hopes the governor issues further guidance this week.
High School Sports
Yesterday
Boys Tennis
St. Joseph 7, Lakeshore 1
Otsego 7, Three Rivers 1
Battle Creek Lakeview 8, Kalamazoo Loy Norrix 0
Allegan 8, Vicksburg 0
Berrien Springs 8, Buchanan 2
Kalamazoo Christian 8, Niles 0
Today
Girls Golf
Lakeshore at Edwardsburg, 4:30 p.m.             (Four Lakes CC)
Boys Tennis
Edwardsburg at Allegan, 4:00 p.m.