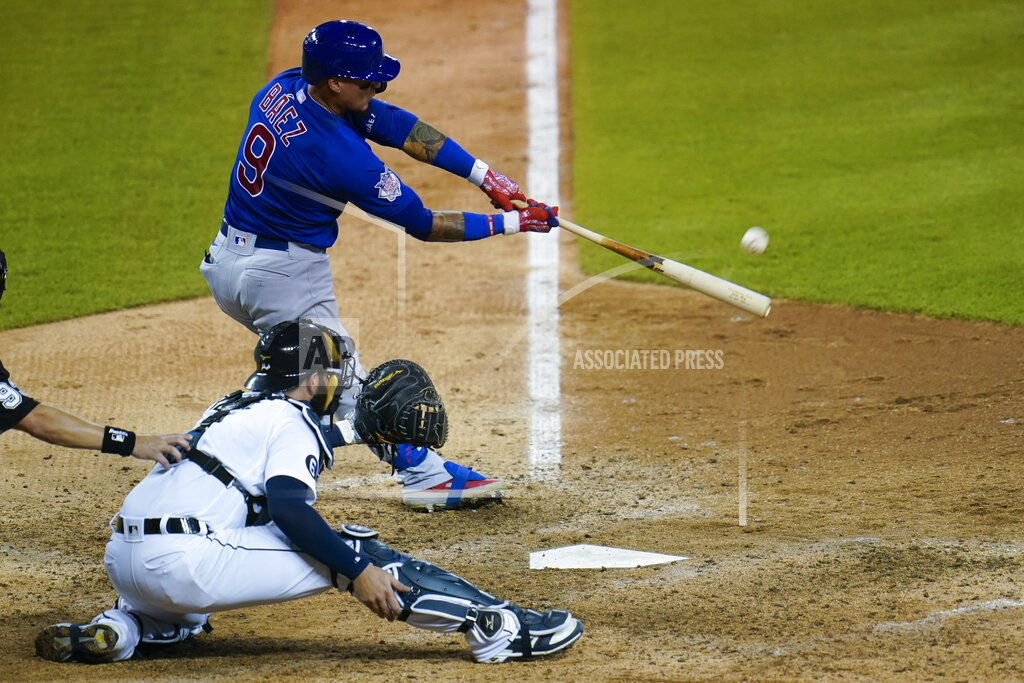 Major League Baseball
Last Night
Cubs 9, Tigers 3
White Sox were off
Cubs 9, Tigers 3
Javier Báez hit two home runs and the Chicago Cubs became the second franchise in major league history to post 11,000 wins, beating the Detroit Tigers 9-3. Only the Giants have won more, with 11,179 victories after starting in New York in 1883 and later moving to San Francisco. The Cubs, who earned their first victory in 1876, improved to 11,000-10,414. The Brooklyn/Los Angeles Dodgers are close behind with 10,996 wins. David Bote homered and drove in four runs for the NL Central-leading Cubs. Báez had three RBIs.
Tonight
Cubs (Chatwood 2-1) at Tigers (Turnbull 2-2), 7:10 – on 94.9 WSJM
Pittsburgh (Brault 0-0) at White Sox (Giolito 2-2), 8:10
NHL Stanley Cup Playoffs – Round 2 (Best of 7)
Last Night
NY Islanders 4, Philadelphia 0  (NYI leads 1-0)
Dallas 5, Colorado 2  (DAL leads 2-0)
Tonight
Boston vs. Tampa Bay, 7:00  (BOS leads 1-0)
Vegas vs. Vancouver, 9:45  (Vegas leads 1-0)
NHL 
The Detroit Red Wings have signed forward Robby Fabbri to a $5.9 million, two-year contract. Detroit announced Monday it retained the restricted free agent. The Red Wings acquired Fabbri early in the 2019-20 season from the St. Louis Blues and he scored twice in his debut with the team. Fabbri had 32 points in 61 games last season for the league-worst Red Wings. The Blues drafted him No. 21 overall in 2014 and he has has 46 career goals and 104 points.
NBA Playoffs – Round 1 (Best of 7)
Yesterday
Miami 99, Indiana 87  (MIA wins 4-0)
Milwaukee 121, Orlando 106  (MIL leads 3-1)
Oklahoma City 117, Houston 107 – OT  (Series tied 2-2)
LA Lakers 135, Portland 115  (LAL leads 3-1)
Heat 99, Pacers 87 
Goran Dragic scored 23 points as the fifth-seeded Heat completed a first-round sweep of the Pacers, 99-87. Tyler Herro had 16 points and Bam Adebayo (ad-ah-BY'-oh) added 14 with 19 rebounds for Miami.  Victor Oladipo had 25 points and Myles Turner added 22 points and 14 rebounds for the Pacers, who have dropped four straight postseason series to the Heat since 2012. Miami's bench outscored Indiana's depleted reserves 38-3.
Today
Utah vs. Denver, 6:30  (UTA leads 3-1)
Dallas vs. LA Clippers, 9:00  (Series tied 2-2)
NBA 
The Philadelphia 76ers have fired coach Brett Brown just a day after his seventh season ended in a postseason sweep. The 76ers were 43-30 this season and had woefully underachieved in a year when they were expected to be serious contenders in the Eastern Conference. Injuries played a key role in their struggles.  The move was expected after the sixth-seeded Sixers were swept by the Boston Celtics.  Brown had guided the 76ers back from the bottom of the NBA. The Sixers failed to win more than 19 games in his first three seasons while management stripped the roster and prepared for a rebuild. But the 76ers made the playoffs the last three years, going 146-91.
NFL 
The lab used by the NFL for COVID-19 tests says an isolated contamination caused 77 "most likely  false positive results."  In a statement, BioReference Laboratories says the test results on Saturday were contaminated during preparation at its lab in New Jersey. Eleven teams were affected, and the tests were reexamined and found to be false positives. The lab says all "individuals impacted have been confirmed negative and informed."
The Miami Dolphins will allow up to 13,000 socially distancing fans to attend their home opener against Buffalo on Sept. 20. The decision divided political leaders and upset the Bills' coach. The Baltimore Ravens won't have any fans at home games for the first part of the upcoming season because of the coronavirus pandemic. The team had outlined a plan to accommodate a crowd of 7,500, but decided against it "based on the recommendations of public health experts."
NCAAFB 
Clemson is No. 1 in The Associated Press preseason Top 25. Ohio State was a close No. 2 to Clemson, which starts atop the rankings for the second straight season. Alabama is No. 3, Georgia is fourth and defending Big 12 champion Oklahoma is fifth. Defending national champion LSU is No. 6.  When the season starts, 53 teams will no longer be eligible for inclusion in the Top 25 because they have postponed their seasons.
Golf 
Phil Mickelson sizzled in his first round on the PGA Tour Champions. Mickelson had five straight birdies on the back nine and finished with 11 overall in a 10-over 61 that gives him a one-stroke lead over David McKenzie. Lefty decided to make his over-50 debut this week after missing the cut at The Northern Trust and getting eliminated from the PGA Tour's FedEx Cup playoffs. K.J. Choi was joined in a group at 7 under by Rocco Mediate, Rod Pampling and Tim Petrovic. Choi is playing his second Tour Champions event.
High School Sports
Yesterday
Boys Tennis
Battle Creek Lakeview 7, Lakeshore 1
Battle Creek Lakeview 6, St. Joseph 2
Brandywine 6, Niles 2
Girls Golf
BCS Jamboree at Hawkshead
Kalamazoo Hackett           189
South Haven                     199
Kalamazoo Christian        215
Schoolcraft                     238
Niles                                244
Michigan Lutheran           No Team score
Josey Vandermarkt (46) – 3rd place medalist
Dorian Schlutt (67)
Evie Clare (67)
Comstock                         No team score
Today
Cross Country
Lakeshore at St. Joseph, 5:00 p.m. (at Riverview)
Girls Golf
St. Joseph at GR Forest Hills Central, 8:30 a.m.