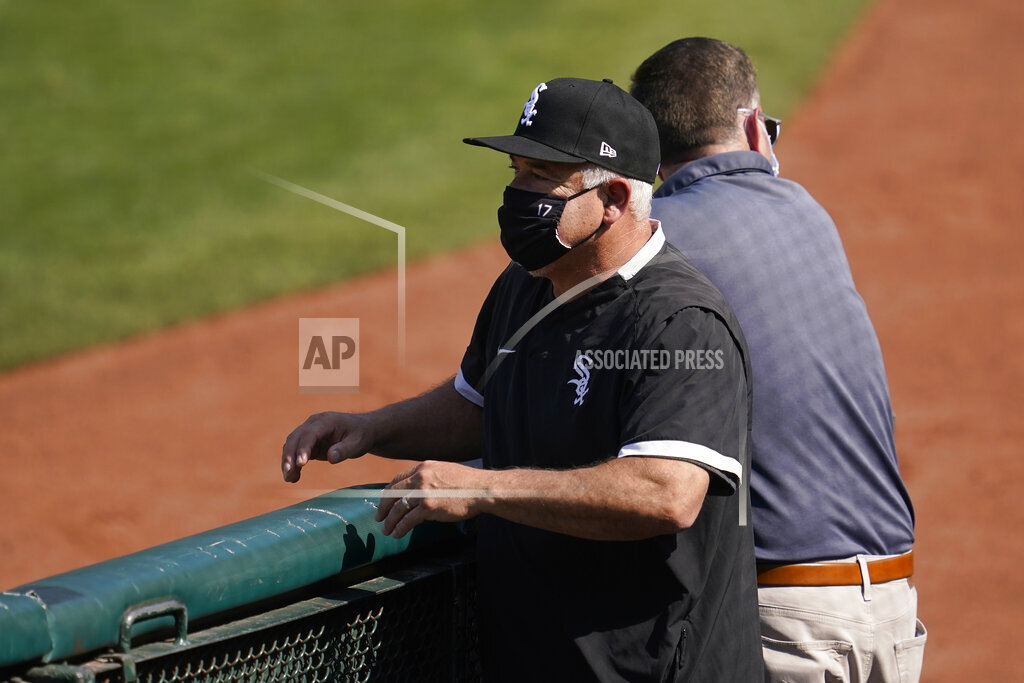 MLB – White Sox, Renteria agree to split after breakout season
The Chicago White Sox and manager Rick Renteria have agreed to split following a disappointing finish to a breakout season in which the team made the playoffs for the first time in 12 years.  The White Sox went 35-25 in his pandemic-shortened fourth year. They held a three-game lead in the AL Central before losing seven of their final eight to finish tied for second with Cleveland, one game behind Minnesota. Chicago then got knocked out by Oakland in three games in their wild-card series.  Renteria drew criticism for some questionable decisions down the stretch.
MLB – MLB Postseason – League Championship Series (Best of 7)
Yesterday
American League
Tampa Bay Rays 4, Houston Astros 2                                                    (TBR leads 2-0)
Rays 4, Astros 2 – Rays up 2-0 in ALCS
Manuel Margot launched a three-run homer and Mike Zunino added a solo shot as the Tampa Bay Rays downed the Houston Astros, 4-2 to take a two-games-to-none lead in the ALCS. Margot's first-inning blast came two pitches after second baseman Jose Altuve threw away a potential inning-ending grounder. Charlie Morton tossed five shutout innings to get the win as Houston continued to turn hard contact into loud outs.
National League
Atlanta Braves 5, Los Angeles Dodgers 1                                             (ATL leads 1-0)
Braves 5, Dodgers 1 – Braves take NLCS opener
Austin Riley led off the ninth with a homer off Blake Treinen to spark a four-run ninth as the Atlanta Braves downed the Los Angeles Dodgers, 5-1 in Game 1 of the NLCS. Ronald Acuna Jr. followed with a double and scored on Marcell Ozuna's single to right before Ozzie Albies unloaded a two-run blast to cap the rally. Freddie Freeman belted a solo shot in the first inning, and the lead held up until Kike Hernandez went deep off Braves starter Max Fried.
Today
National League
Atlanta (Anderson 3-2) vs. L.A. Dodgers (Kershaw 6-2), 6:05 p.m.        (ATL leads 1-0)
American League
Tampa Bay (Yarbrough 1-4) vs. Houston (Urquidy 1-1), 8:40 p.m.           (TBR leads 2-0)
MLB – Former Reds star Joe Morgan dies
Hall of Fame second baseman Joe Morgan has died. A family spokesman says he died at his home Sunday in Danville, California. Morgan was suffering from a nerve condition, a form of polyneuropathy.  He became the sparkplug of the Big Red Machine and the prototype for baseball's artificial turf era. Morgan was a two-time NL Most Valuable Player, a 10-time All-Star and won five Gold Gloves. He could hit a home run, steal a base and disrupt any game with his daring. Most of all, the 5-foot-7 dynamo known for flapping his left elbow drove a Cincinnati team featuring the likes of Pete Rose, Johnny Bench and Tony Perez to World Series titles in 1975 and '76.  Joe Morgan was 77 years old.
NFL – National Football League – Week 5
Last Night
New Orleans Saints 30, Los Angeles Chargers 27 – OT
Saints 30, Chargers 27 – OT – Saints rally to beat Chargers in overtime
Will Lutz nailed a 36-yard field goal with 5:08 left in overtime before New Orleans stopped Los Angeles Chargers receiver Mike Williams just short of a first down to preserve a 30-27 victory. Rookie Justin Herbert's fourth touchdown pass of the game was a 64-yarder to Michael Williams that gave the Chargers a 27-20 lead late in the fourth quarter. But the 3-2 Saints tied it on Taysom Hill's 9-yard run with 52 seconds left in regulation.
Tonight
Buffalo Bills at Tennessee Titans, 7:00 p.m.
NFL – Blocking is only one problem of many for Bears' line
From injuries, to a positive practice squad COVID-19 test to struggles in the running game, the Chicago Bears' offensive line is running into plenty of problems considering the team has a 4-1 record. The run blocking has bogged down and left guard James Daniels suffered what has been reported as a season-ending pectoral injury. Even practice squad linemen have it tough, as Bears reserve tackle Badara Traore went on the Reserve/COVID-19 list Saturday after a positive test for the coronavirus.
NBA – Donovan shakes up Bulls' staff, lets 4 assistants go
New Chicago Bulls coach Billy Donovan shook up his staff, letting assistants Karen Stack Umlauf, Dean Cooper, Nate Loenser and Roy Rogers go on. A standout player for Northwestern in the early 1980s, Umlauf joined the Bulls as an entry-level ticket representative in 1985. Hall of Fame general manager Jerry Krause shifted her to the basketball operations department soon afterward. And she became Chicago's first female assistant, when she served as associate coach at the 2018 summer league. Loenser was in his third season with the Bulls. Cooper was in his second and Rogers was in his first. The moves come on the same day chairman Jerry Reinsdorf's other team, the Chicago White Sox, split with manager Rick Renteria and longtime pitching coach Don Cooper.
NHL – Blackhawks agree to 1-year deals with Forwards Janmark, Ullmark
The Chicago Blackhawks have agreed to one-year contracts with Mattias Janmark and Lucas Wallmark, adding a pair of forwards to help make up for the loss of Brandon Saad. Janmark's contract carries a salary-cap hit of $2.25 million. Wallmark's cap number is $950,000. Saad was traded to Colorado on Saturday, and the 27-year-old Janmark could step into his role on Chicago's penalty-killing unit. The 25-year-old Wallmark played for Carolina and Florida last season, finishing with 12 goals and 13 assists in 67 games.
NHL – Pietrangelo leaves Blues for Knights
The Vegas Golden Knights have acquired a recent Stanley Cup-winning captain.  A person with direct knowledge of the situation says the Knights and Alex Pietrangelo have worked out a seven-year, $61.6 million contract.  Pietrangelo will count $8.8 million against the salary cap through 2027. The deal also means Vegas will need to shed salary to fit him under the $81.5 million salary cap.  The 30-year-old defenseman leaves the St. Louis Blues after serving as captain of their 2019 Stanley Cup championship team. Pietrangelo scored a career-high 16 goals last season despite a pandemic that cut the Blues' schedule by 10 games.
NCAAWBB – UConn-Notre Dame women's basketball game postponed a year
For the first time in seven years, the UConn and Notre Dame women's basketball teams won't play in the regular season. The Huskies announced that the game against their rival was postponed because the Irish need to restructure their schedule due to the COVID-19 pandemic. The two schools extended their series last year through the 2023-24 season. That has been pushed back a year with UConn hosting games next season and in 2023-24. The Irish will host the games in the other two years.
Michigan DNR sees increase in hunting amid pandemic
According to statistics from the Michigan Department of Natural Resources, a renewed interest in hunting has dramatically increased since March when the coronavirus pandemic hit across the U.S., forcing businesses to shut down and people to stay home. The Daily Tribune reported the DNR has so far issued 751,310 deer hunting licenses, compared to 584,802 licenses issued in 2019. The chief of marketing and outreach for the Michigan DNR said she was very excited about the increase in hunters given that DNR relies on hunters to manage and cull the state's estimated 1.7 million deer population.
MHSAA – High School Sports
Yesterday
Boys Soccer
Lakeshore 5, Niles 1
St. Joseph 8, Vicksburg 2
Three Rivers 4, Bronson 2
Comstock 4, Battle Creek Academy 2
Michigan Lutheran 2, Berrien Springs 1
Hartford 3, Brandywine 1
Kalamazoo Christian 5, Constantine 1
Kalamazoo Hackett 2, Fennville 0
Delton-Kellogg 0, Lawton 0 – TIE
Girls Volleyball
St. Joseph 3, Kalamazoo Loy Norrix 0
Portage Northern 3, Lakeshore 0
Mattawan 3, Portage Central 0
Paw Paw 3, Allegan 1
Edwardsburg 3, Otsego 0
New Buffalo 3, Bridgman 0
Lawton 3, Comstock 0
Today
Girls Volleyball
Watervliet at South Haven, 6:30 p.m.
Decatur at Bloomingdale, 7:00 p.m.
Marcellus at Cassopolis, 7:00 p.m.
Mendon at Centreville, 7:00 p.m.
Hartford at White Pigeon, 7:00 p.m.
Coloma at Fennville, 6:30 p.m.
Schoolcraft at Parchment, 6:30 p.m.
Vicksburg at Sturgis, 6:00 p.m.
Hopkins at Plainwell, 6:00 p.m.
Kalamazoo Christian at Constantine, 6:30 p.m.
Cross Country
BCS Conference Jamboree at Bridgman, 5:00 p.m.
Girls Swimming and Diving
South Haven at Allegan, 6:00 p.m.