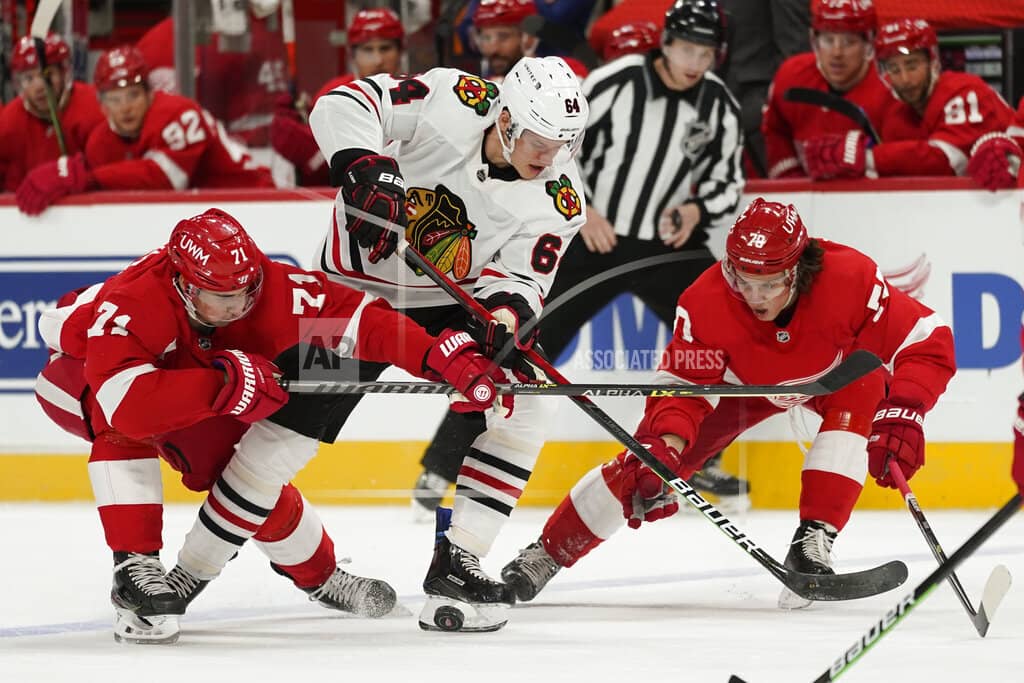 NHL – National Hockey League
Last Night
Chicago Blackhawks 3, Detroit Red Wings 2 – OT
Blackhawks 3, Red Wings 2 – OT – Kubalik scores 2, lifts Blackhawks to 3-2 win over Red Wings
Dominik Kubalik scored his second goal of the game 4:43 into overtime, and the Chicago Blackhawks beat the Detroit Red Wings 3-2. Kubalik and Mattias Janmark staked the Blackhawks to a two-goal lead in the first period that they slowly lost before stepping up in the extra session. Kubalik slipped a shot between Thomas Greiss' pads, finishing a 2-on-1 rush with Pius Suter late in overtime. The surprising Blackhawks won for the fifth time in six games in the opener of a six-game trip. Malcolm Subban finished with 27 stops in his fourth start of the season.
NBA – National Basketball Association
Last Night
Chicago Bulls 120, Indiana Pacers 112 – OT
Bulls 120, Pacers 112 – OT – Bulls run past Pacers with late flurry for 120-112 OT win
Zach LaVine scored 12 of his 30 points in the fourth quarter to help Chicago force overtime, and the Bulls then pulled away from the Indiana Pacers for a 120-112 victory. Chicago had lost 10 straight against Indiana and eight straight on the road in the series. Domantas Sabonis scored 25 points and Malcolm Brogdon had 23 for the Pacers, who had won two in a row.
Tonight
Detroit Pistons at San Antonio Spurs, PPD
NBA – Spurs-Pistons game postponed by coronavirus-related issues
Tuesday's game between the San Antonio Spurs and Detroit Pistons has been postponed, marking the second time this month that the NBA has called off a game because of coronavirus-related issues.
The NBA announced Monday that the Spurs have someone who tested positive. That, combined with contact tracing, meant they would not have the league minimum of eight players available to begin a game.  The Spurs were without guard Quinndary Weatherspoon for Sunday's game against Charlotte because of the league's COVID-19 protocols. Weatherspoon had played 10 minutes on Friday in Atlanta, then was flagged by the protocols over the weekend.
NBA – Pistons holding out Griffin amid trade, buyout consideration
The Detroit Pistons say Blake Griffin will be out of the lineup while he and the organization work out a resolution on his future, a sign that the star forward's days with the team could be numbered. Griffin, who turns 32 next month, came to Detroit in a trade during the 2017-18 season. The Pistons have made just one postseason appearance with him and have spent much of the last year overhauling their roster in earnest. Detroit is 8-19 this season, and Griffin has already missed seven games.
NBA – Cavaliers sitting Drummond while pursuing trade for center
The Cavaliers will sit center Andre Drummond while they try to trade the two-time All-Star center. Cavs coach J.B. Bickerstaff said the team came to the decision after meeting with Drummond and his representatives. The Cavs want to give 22-year-old center Jarrett Allen more playing time. Drummond is in the final year of his contract and not part of the team's future because he'll be too expensive to re-sign as a free agent. The Cavs have lost seven straight games and 11 of 13. Drummond was acquired by the Cavs in a trade with Detroit last year.
NBA – NBA says strict protocols will be in place for All-Stars
Parties may be part of NBA All-Star weekend next month. They just won't include NBA All-Stars. Players taking part in All-Star weekend in Atlanta will largely have to remain in their hotels when not at the arena, the league told teams on Monday, and all players and coaches — whether part of All-Star events or not — will have to continue getting tested daily for COVID-19. The NBA and the National Basketball Players Association agreed on those rules.
NCAAMBB – Men's College Basketball
Tonight
Michigan State at Purdue, 7:00 p.m.               Superhits 103.7 Cosy-FM 6:00
Kent State at Western Michigan, 7:00 p.m.
Buffalo at Eastern Michigan, PPD
Central Michigan at Ohio, PPD
NCAAMBB – Gonzaga, Baylor sit atop AP Top 25; Kansas returns at No. 23
Gonzaga and Baylor lead an unchanged quartet atop The Associated Press men's college basketball poll, while Kansas has returned to the rankings at No. 23.  Coach Mark Few's Bulldogs received 59 of 64 first-place votes in the latest Top 25. Scott Drew's Bears claimed the other five. Those two teams have been 1-2 in all 13 polls this season. Michigan, Ohio State and Illinois rounded out the top 5. Kansas fell out of last week's poll for the first time in 12 years but joined No. 24 Arkansas and No. 25 San Diego State as the week's new additions. Oklahoma State, Purdue and Rutgers fell out of the rankings.
NCAAWBB – Women's College Basketball
Today
Michigan State at (11) Michigan, 4:30 p.m.
NCAAWBB – UConn in line for top seed in NCAA women's tournament
UConn, South Carolina, Stanford and Louisville are in line for the top seeds of the women's NCAA Tournament. The women's basketball selection committee revealed the top 16 teams at this point. The Huskies, who moved up to No. 1 in The Associated Press women's basketball poll earlier in the day, would be the overall top seed. UConn's region would include Arizona, Baylor and Tennessee as the other three top seeds. South Carolina's group has Maryland, UCLA and West Virginia. Stanford has N.C. State, Georgia and Indiana. Louisville would be joined by Texas A&M, Oregon and Kentucky.
NFL – Former NFL receiver Vincent Jackson found dead in hotel room
Former NFL wide receiver Vincent Jackson has been found dead at a Florida hotel room, days after authorities spoke with him as part of a welfare check. There were no signs of trauma and the medical examiner's office was looking into a cause of death. Sheriff's officials said his family initially reported Jackson missing on Wednesday. Deputies tracked him down to a hotel in Brandon two days later, spoke with him and canceled the missing persons case. Jackson was then found dead Monday morning in his hotel room by a housekeeper. Jackson played for the San Diego Chargers and the Tampa Bay Buccaneers. He was selected to the Pro Bowl three times.
NFL – New coordinator Sean Desai trying to tune up Bears defense
The Chicago Bears defense had slipped each of the past two years and they've turned to Sean Desai as the new defensive coordinator in an attempt to get back to the successful approach they had during 2018 when they led the NFL in takeaways and in points allowed.
Tennis – Williams against Halep in quarterfinal
Serena Williams goes up against Simona Halep in the Australian Open quarterfinals. It is their 12th meeting on tour in a matchup that dates to a decade ago. Williams leads the series 9-2 but Halep won their most recent showdown, 6-2, 6-2 in the 2019 Wimbledon final. The 39-year-old Williams is chasing her record-tying 24th major singles trophy. Naomi Osaka goes up against Hsieh Su-wei. The 35-year-old Hsieh is the oldest woman to make her Grand Slam quarterfinal debut. Eight-time Australian Open champion Novak Djokovic carries an abdominal muscle injury into his quarterfinal against 2020 U.S. Open runner-up Alexander Zverev. The other men's match is 18th-seeded Grigor Dimitrov against 114th-ranked Russian qualifier Aslan Karatsev.  Rafael Nadal advanced to the Australian Open quarterfinals for the 13th time. The No. 2-ranked Nadal closed his 6-3, 6-4, 6-2 win over 16th-seeded Fabio Fognini with an ace. Top-ranked Ash Barty moved into the quarterfinals for the third straight year by beating Shelby Rogers 6-3, 6-4.
MCCAA – Junior College Athletics
Last Night
Women's Volleyball
Mott Community College at Lake Michigan College, CCD 
MHSAA – High School Sports
Last Night
Boys Basketball
Benton Harbor at Kalamazoo Central, PPD
South Haven at Comstock, PPD.
Howardsville Christian 59, Eau Claire 51
Fennville at Coloma, PPD
Watervliet at Galesburg-Augusta, PPD
Edwardsburg at Otsego, PPD
Allegan 59, Paw Paw 43
Three Rivers 75, Dowagiac 58
Plainwell 48, Vicksburg 40
Lawton 56, Gobles 17
Kalamazoo Christian 52, Parchment 49
Martin 64, Saugatuck 57
Schoolcraft 70, Kalamazoo Hackett 54
Gull Lake 56, Battle Creek Lakeview 48
Centreville 72, Bronson 55
Battle Creek Academy 61, Calhoun Christian 36
Girls Basketball
Kalamazoo Central at Benton Harbor, PPD
Brandywine 66, Berrien Springs 31
South Haven at Comstock, PPD
Coloma at Fennville, PPD
Galesburg-Augusta at Watervliet, PPD
Paw Paw 35, Allegan 32
Three Rivers 53, Dowagiac 12
Otsego at Edwardsburg, PPD
Plainwell 36, Vicksburg 21
Gobles 58, Lawton 21
Saugatuck 50, Martin 49
Kalamazoo Christian 64, Parchment 11
Kalamazoo Hackett 49, Schoolcraft 46
Kal. Loy Norrix at Battle Creek Central, PPD
Calhoun Christian 68, Battle Creek Academy 20

Tonight                        WEATHER PERMITTING
Boys Basketball
Gull Lake at St. Joseph, 7:00 p.m.
Battle Creek Central at Lakeshore, 7:00 p.m.
Battle Creek Lakeview at Mattawan, 7:00 p.m.
South Haven at Comstock, 6:00 p.m.
Bridgman at Buchanan, 7:30 p.m.
Michigan Lutheran at Lake Michigan Catholic, PPD
River Valley at New Buffalo, 7:30 p.m.
Marcellus at Bangor, 7:30 p.m.
Cassopolis at Bloomingdale, 7:30 p.m.
Decatur at Hartford, 7:30 p.m.
White Pigeon at Mendon, 7:30 p.m.
Lawton at Coloma, 7:00 p.m.
Saugatuck at Gobles, 7:00 p.m.
Girls Basketball
St. Joseph at Gull Lake, 7:00 p.m.
Lakeshore at Battle Creek Central, 7:00 p.m.
Mattawan at Battle Creek Lakeview, 7:00 p.m.
Michigan Lutheran at Lake Michigan Catholic, PPD
South Haven at Comstock, 7:30 p.m.
River Valley at New Buffalo, 6:00 p.m.
Cassopolis at Bloomingdale, 6:00 p.m.
Decatur at Hartford, 6:00 p.m.
Mendon at White Pigeon, 7:30 p.m.
Bangor at Marcellus, 7:30 p.m.
Coloma at Lawton, 7:00 p.m.
Gobles at Saugatuck, 7:00 p.m.
Boys Swimming and Diving
Kalamazoo Central at Bridgman, PPD
St. Joseph at Portage Central, 6:00 p.m.
Mattawan at Kalamazoo Loy Norrix, 6:00