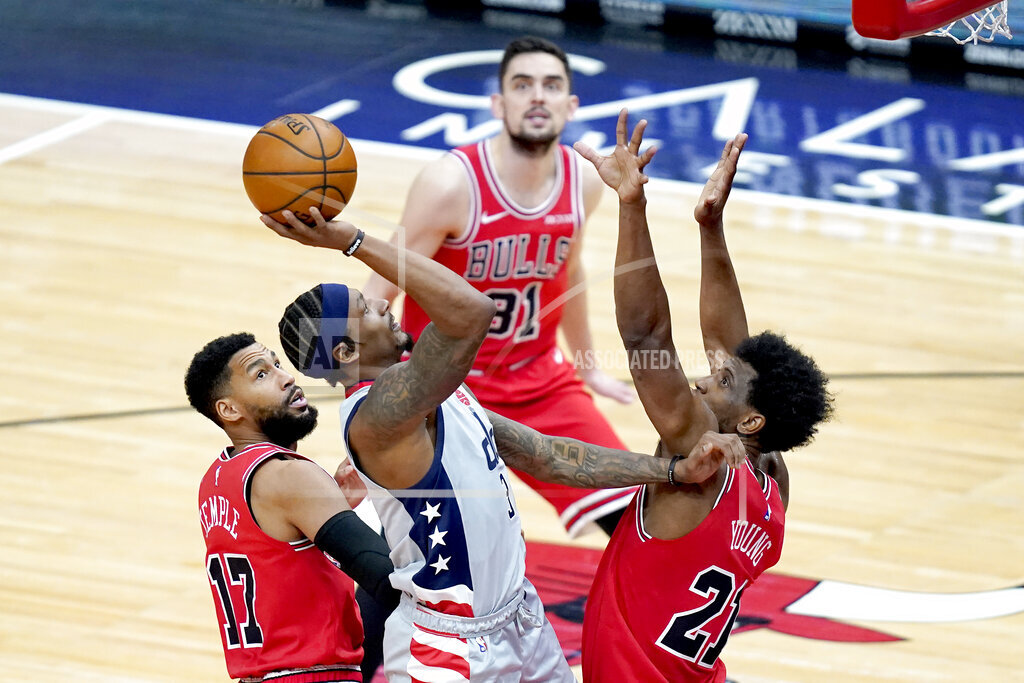 NBA – National Basketball Association
Last Night
Washington Wizards 105, Chicago Bulls 101
Wizards 105, Bulls 101 – Beal scores 35, Wizards hold off Bulls 105-101 for rare win
Bradley Beal scored 35 points and the Washington Wizards held on for a rare win, beating the Chicago Bulls 105-101. Beal, the NBA's leading scorer, hit three free throws in the final 9.8 seconds. Rui Hachimura added 19 points and a season-high 10 rebounds on his 23rd birthday. The Wizards won for just the sixth time in 21 games this season even though they rested Russell Westbrook. Zach LaVine led Chicago with 35 points and Thaddeus Young scored 14, but the Bulls lost for the sixth time in eight games.
Tonight
Brooklyn Nets at Detroit Pistons, 7:00 p.m.
NBA – Bulls' Markkanen out 2-4 weeks with sprained right shoulder
The Chicago Bulls expect forward Lauri Markkanen to miss two to four weeks because of a sprained right shoulder. The Bulls say an MRI confirmed he has a sprained acromioclavicular joint. Markkanen was hurt Friday at Orlando when he was fouled by Magic forward Gary Clark early in the third quarter. Markkanen is averaging a career-high 19.1 points and 6.1 rebounds coming off a disappointing season. He missed 7 straight games early in the season because of COVID protocols.
NBA – Feds to name likely cause of Kobe Bryant helicopter crash
U.S. safety officials are poised to announce the long-awaited conclusion of what likely caused the helicopter crash that killed Kobe Bryant, his 13-year-old daughter and seven others. The National Transportation Safety Board is scheduled to vote Tuesday on the probable cause and any recommendations to prevent future disasters. Bryant and the others were flying from Orange County to a youth basketball tournament at his Mamba Sports Academy in Ventura County on Jan. 26, 2020. The helicopter crashed in thick fog north of Los Angeles. Officials say there was no sign of mechanical failure and they believe the crash was accidental.
NHL – National Hockey League
Tonight
Detroit Red Wings at Florida Panthers, 7:00 p.m.
Chicago Blackhawks at Dallas Stars, 8:00 p.m.
NFL – Tampa mayor addresses maskless fans after Super Bowl
So much for the mayor's order requiring masks at Super Bowl parties. Videos went viral on social media, showing throngs of mostly maskless fans and packed sports bars as the clock inside Raymond James Stadium ticked down on a hometown Super Bowl win for the Tampa Bay Buccaneers. Inside the stadium, the NFL had capped Sunday night's crowd at less than a third of capacity. But outside, few fans seemed to care about the coronavirus pandemic. Social distancing was abandoned in the streets and sports bars as fans celebrated their team's 31-9 win over the Kansas City Chiefs. Many ignored the executive order signed by Tampa Mayor Jane Castor requiring face coverings at Super Bowl festivities.
NFL – Bucs, Lightning, Rays transform Tampa Bay into Titletown
Fans poured into downtown streets and packed bars and nightclubs to celebrate another professional sports title for Tampa Bay, which is building a reputation as the home of champions. Los Angeles has reigning world champs in the Dodgers and Lakers, however, it's difficult to top the collective success of Tampa Bay's Super Bowl-winning Buccaneers, Stanley Cup champion Lightning and World Series runner-up Rays while playing through challenges posed by the coronavirus pandemic. The Bucs won their first NFL title in 18 years on Sunday. The Lightning won its second NHL championship in September. In October, the Rays lost the World Series to the Los Angeles Dodgers in six games.

NCAAMBB – Men's College Basketball
Today
Notre Dame at Duke, 4:30 p.m.
Ball State at Central Michigan, 5:00 p.m.
Penn State at Michigan State, 7:00 p.m.         Superhits 103.7 Cosy-FM 6:00
Western Michigan at Buffalo, PPD
Eastern Michigan at Miami (OH), PPD
NCAAMBB – Kansas' record Top 25 run over; Michigan jumps to No. 3
Kansas has dropped out of The Associated Press men's college basketball poll for the first time in 12 years. The Jayhawks' record streak of 231 consecutive weeks ranked is over. Gonzaga and Baylor kept the top two spots, as they have all season, with the Bulldogs getting 55 of 63 first-place votes and the Bears getting the other eight. Michigan took advantage of Villanova's loss at St. John's to jump into the top three, Ohio State climbed three spots to No. 4 and the Wildcats rounded out the top 5. With Kansas and UCLA falling out, that leaves the AP Top 25 without the Jayhawks, Bruins and fellow bluebloods Duke, Kentucky and North Carolina for the first time since December 1961. It also means none of the 13 winningest Division I programs is ranked.
MLB – Jonathan Schoop, Tigers agree to $4.5M, 1-year contract
Second baseman Jonathan Schoop is staying with the Detroit Tigers, agreeing to a $4.5 million, one-year contract. The 29-year-old Schoop returns to the Tigers after hitting .278 with eight home runs in the abbreviated 2020 season. He hit at least 21 home runs each of the previous four years. Schoop played exclusively at second base for the Tigers last year, and in 2019 for the Minnesota Twins. He has, however, played a little bit at shortstop and third base during his career — and he indicated that new Detroit manager AJ Hinch is open to moving him around.
MLB – Chicago Cubs announce deals with OF Pederson, 2 pitchers
Joc Pederson has joined the Chicago Cubs, finalizing a $7 million, one-year contract with the NL Central champions. The Cubs also completed a  $2.75 million, one-year deal for pitcher Andrew Chafin and a  $2.5 million, one-year agreement for pitcher Trevor Williams. Chicago had just three outfielders on its 40-man roster before the addition of Pederson, who hit .190 with seven homers and 16 RBIs last season for the World Series champion Los Angeles Dodgers.
MLB – Cubs' Hoyer: Wrigley Field must be place for women to thrive
The Cubs might conduct more thorough background checks when deciding hires in the wake of sexual harassment accusations against former director of pro scouting Jared Porter. President of baseball operations Jef Hoyer calls the alleged incidents disturbing and says there's "no place for them in the game," Porter was fired for cause last month as general manager of the New York Mets. He was let go following a report by ESPN he sent sexually explicit, uninvited text messages and images to a female reporter in 2016 while he was working for Chicago. The Cubs are conducting an investigation.
MLB – MLB renews 7-inning doubleheaders, runners on 2nd in extras
Seven-inning doubleheaders and runners on second base to start extra innings will return as experiments for a second straight season under an agreement for 2021 health protocols reached Monday between Major League Baseball and the players' association. The deal did not include last year's experimental rule to extend the designated hitter to the National League or expanded playoffs. After allowing 16 teams in the postseason last year instead of 10, MLB has proposed 14 for this year before withdrawing that plan last month. Last year's expanded playoffs agreement did not come together until hours before the season's first pitch.
MHSAA – Michigan teen sets a US indoor mile record at weekend race
A teenager from Michigan has set a record for the fastest indoor mile by a high school runner. USA Track & Field says Hobbs Kessler finished in 3:57.66 Sunday at the American Track League meet in Arkansas. Kessler is a student at Skyline High School in Ann Arbor. Kessler finished third in the race behind former Olympian Nick Willis and winner Takieddine Hedeilli. Kessler, who plans to run at Northern Arizona, finished second in the Michigan cross country championship last fall.
MHSAA – Virus, compressed season put stress on Michigan referees
Basketball is returning to Michigan gyms after a coronavirus timeout. But high schools are anticipating a shortage of men and women who blow the whistle. The Michigan High School Athletic Association says registration of referees is down 25% from a year ago. The risk of COVID-19 is seen as a "contributing factor." High school basketball typically starts in December, but the state delayed it because of the coronavirus. The regular season will last six weeks followed by the state tournament. Middle school coaches are being encouraged to register as officials. Some high schools will likely schedule two games a day, which would allow refs to work both games.
MHSAA – High School Sports
Last Night
Boys Basketball
Berrien Springs 71, Lawrence 23
Paw Paw 73, Watervliet 61
Girls Basketball
Buchanan 61, Berrien Springs 18
Watervliet 51, Dowagiac 39
Tonight
Boys Basketball
St. Joseph at Buchanan, 7:00 p.m.
Benton Harbor at Fennville, 7:00 p.m.
Countryside Academy at Eau Claire, 7:00 p.m.
River Valley at Brandywine, 7:00 p.m.
Comstock at Parchment, 7:00 p.m.
Centreville at Bangor, 7:30 p.m.
Cassopolis at Decatur, 7:30 p.m.
Marcellus at White Pigeon, 7:30 p.m.
Otsego at Paw Paw, 7:15 p.m.
Dowagiac at Plainwell, 7:15 p.m.
Three Rivers at Vicksburg, 7:15 p.m.
Howardsville Christian at Battle Creek Academy, 7:00 p.m.
Portage Northern at Battle Creek Lakeview, 7:15 p.m.
Gull Lake at Rockford, 7:00 p.m.
Girls Basketball
Michigan Lutheran at Lawrence, 6:00 p.m.
Plainwell at Dowagiac, 7:15 p.m.
Niles at Edwardsburg, 7:15 p.m.
Paw Paw at Otsego, 7:15 p.m.
Mendon at Bloomingdale, 7:30 p.m.
Decatur at Cassopolis, 6:00 p.m.
Allegan at Sturgis, 7:15 p.m.
Three Rivers at Vicksburg, 6:00 p.m.
Howardsville Christian at Battle Creek Academy, 5:30 p.m.
Marcellus at Comstock, 6:00 p.m.
Battle Creek Lakeview at Portage Northern, 7:15 p.m.