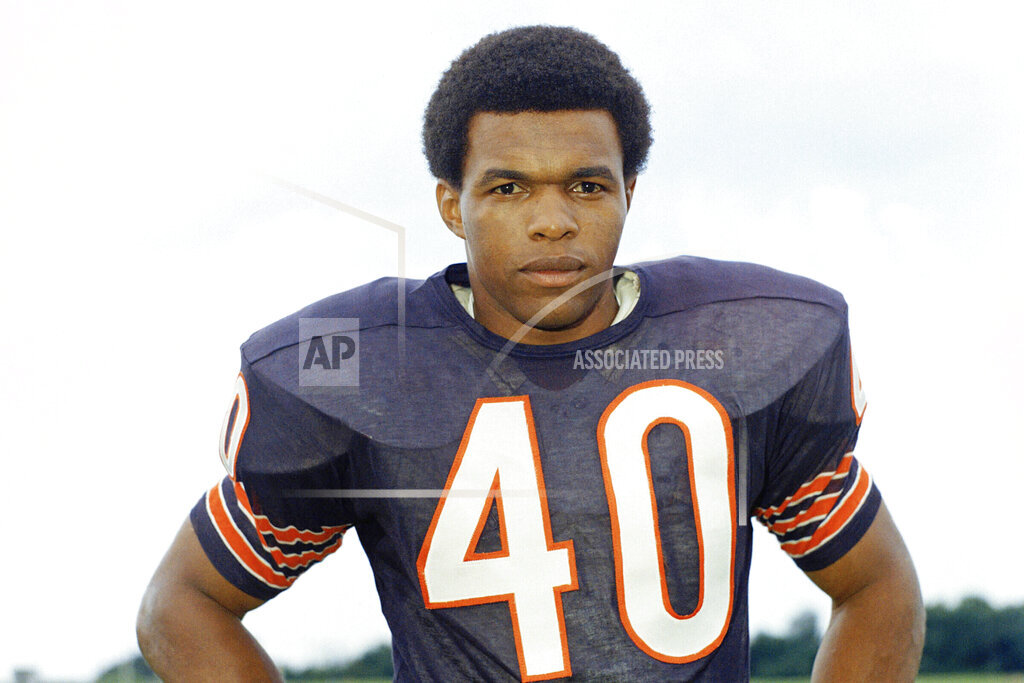 NFL – Gale Sayers, Bears Hall of Fame running back, dies at 77
Chicago Bears Hall of Fame running back Gale Sayers has died. Sayers made his mark as one of the NFL's best all-purpose running backs and was later celebrated for his enduring friendship with a Bears teammate with cancer. Nicknamed "The Kansas Comet," Sayers was considered among the best open-field runners the game has ever seen. Yet it was his rock-steady friendship with Brian Piccolo depicted in the 1971 film "Brian's Song" that marked him as more than a sports star. Sayers died Wednesday at the age of 77, according to the Pro Football Hall of Fame. Relatives say he was diagnosed with dementia. His wife said she partly blamed his football career.
NFL – National Football League – Week 3
Tonight
Miami Dolphins at Jacksonville Jaguars, 8:20 p.m.             WSJM 94.9 8:00
MLB – Major League Baseball
Last Night
Minnesota Twins 7, Detroit Tigers 6
Cleveland Indians 3, Chicago White Sox 2
Pittsburgh Pirates 2, Chicago Cubs 1
Twins 7, Tigers 6 – Twins assume first in AL Central with 7-6 win against Tigers
Jake Cave hit a pair of home runs, Kenta Maeda finished off his regular season with another strong start and the Minnesota Twins beat the Detroit Tigers 7-6 to take over sole possession of the AL Central lead for the first time since late August. Eddie Rosario added a two-run homer for Minnesota, which has won four straight. The Twins moved a half-game ahead of the second-place White Sox. Maeda allowed three runs and four hits in six innings with nine strikeouts., improving to 6-1.
Indians 3, White Sox 2 – Bieber lowers ERA to 1.63, Indians top White Sox 3-2
Shane Bieber lowered his ERA to 1.63 in his final regular-season start, the lowest in the American League since Luis Tiant's 1.60 for Cleveland in 1968, and Jordan Luplow hit a game-ending home run that gave the Indians a 3-2 win over Chicago and dropped the White Sox into second in the AL Central, a half-game behind Minnesota. Bieber, who leads the big leagues with eight wins, allowed an unearned run and two hits in five innings with 10 strikeouts in his eighth double-digit strikeout game, also the major league high.
Pirates 2, Cubs 1 – Pirates cool off Hendricks, slip past playoff-bound Cubs 2-1
Adam Frazier and Ke'Bryan Hayes led off the bottom of the first inning with back-to-back homers off Kyle Hendricks, giving the Pittsburgh Pirates all the offense they'd need to slip by the playoff-bound Chicago Cubs 2-1. Frazier turned on the fourth pitch he saw from Hendricks and sent it to the railing atop the seats in right field. Hayes continued his impressive rookie season when he followed with his fourth of the season, a lined shot to right-center field. Anthony Rizzo hit his 11th of the season for the Cubs, who have dropped four of five.
Tonight
Chicago Cubs (Mills 5-4) at Pittsburgh (Kuhl 1-3), 1:35 p.m.
Chicago White Sox (Keuchel 6-2) at Cleveland (Plesac 4-2), 6:10 p.m.
Detroit (Fulmer 0-2) at Kansas City (Bubic 1-6), 8:05 p.m.    WCSY 103.7 7:40
NHL – National Hockey League – Stanley Cup Finals – (Best of 7)
Last Night
Tampa Bay Lightning 5, Dallas Stars 2                                        (TBL leads 2-1)
Lightning 5, Stars 2 – Stamkos sparks Lightning
Steven Stamkos played sparingly in his return to action, but he opened the scoring in the first period of the Tampa Bay Lightning's 5-2 victory against the Dallas Stars in Game 3 of the Stanley Cup final. Stamkos was playing for the first time in almost seven months and didn't hit the ice over the final two periods. Victor Hedman's power-play goal was the eventual game-winner as the Lightning took a two-games-to-one lead in the series.
NBA – National Basketball Association Playoffs – Conference Finals (Best of 7)
Last Night
Miami Heat 112, Boston Celtics 109                                           (MIA leads 3-1)
Heat 112, Celtics 109 – Herroic performance for Heat
Tyler Herro set a Miami Heat rookie playoff record by pouring in 37 points in a 112-109 victory over the Boston Celtics. Herro was 14 of 21 from the floor and 5 of 10 from 3-point range in joining Magic Johnson as the only 20-year-olds in NBA playoff history to score at least 37 in a game. Herro delivered 17 points in the fourth quarter, including five straight to help Miami take a 3-1 lead in the Eastern Conference finals.
Tonight
Los Angeles Lakers vs. Denver Nuggets, 9:00 p.m.                       (LAL leads 2-1)
NBA – NBA teams that didn't advance can have workouts
NBA teams who didn't qualify for the restart of the season at Walt Disney World are now allowed to have voluntary team workouts. Wednesday was the first time they were able to practice since the season was suspended because of the coronavirus on March 11. The eight clubs had to create their own bubbles where players and staff would stay together and be tested daily for the virus. Players such as Cleveland's Kevin Love and Minnesota's Karl-Anthony Towns were among those who joined their teams for workouts. The teams can practice until Oct. 6 and then wait to learn when next season will start.
NCAA Football – Games go on, but many traditions on hold in college football
Football is being played in the Power Five conferences, but many of the longstanding traditions that go along with the games are on hold during the pandemic. Georgia's white English bulldog Uga and other live animal mascots won't be in SEC stadiums because of precautions against coronavirus. The Grove at Mississippi is closed. War Eagle flights are grounded at Auburn. Fans won't Gather at the Paw after games at Clemson. Experts say the traditions create community and give fans an awareness of their shared history and culture.
NCAA – Budget shortfall forces deep cuts in Ohio St sports program
Ohio State says it is cutting a handful of jobs, furloughing hundreds of other employees and asking coaches to take pay cuts to deal with a budget shortfall expected to be over $100 million because of the coronavirus pandemic. Athletic director Gene Smith says none of the 36 sports will be cut and athlete support services will be maintained. He says the numbers right now are hard to pin down because it doesn't include TV revenue, which is still being negotiated. Coaches and other contracted employees are being asked to take a 5% pay cut.
MHSAA – Prep golfer gets hole-in-one on first shot at first match
First high school match, first shot _ hole in one. Stephanie Scott, a freshman at Otsego High School, aced hole No. 8 Monday at Lake Doster Golf Club. Scott says she couldn't see what happened, but the reaction was swift. One of the parents yelled, "It went in the hole!" Scott, who has been golfing since she was 7 years old, says she had never had a birdie or even a par. She finished the nine-hole round at 53. Scott says, "It feels really awesome."
MHSAA – Prep football game in Kent County will be on big screen
A high school football game in western Michigan is hitting the big screen. Lowell plans to hold a drive-in-style event Friday night to show its game against Northview and raise money to fight cancer. Admission to the fairgrounds will be $40 per vehicle, but the charge will be waived if fans are wearing a special shirt created for the event. Lowell's annual Pink Arrow game has raised more than $1 million over 12 years, but attendance at the field is restricted this year because of the coronavirus. The Red Arrows usually wear red jerseys, but they'll wear pink Friday. Each player will have the name of someone affected by cancer on the jersey.
MHSAA – High School Sports
Yesterday
Girls Volleyball
St. Joseph 3, Lakeshore 0                               (25-21, 25-17, 26-24)
Mattawan 3, Portage Northern 2                   (19-25, 25-23, 26-24, 25-17, 15-10)
Portage Central 3, Battle Creek Central 0
Brandywine def. South Haven
Niles 3, Bridgman 0                                      (25-13, 25-10, 25-14)
Boys Soccer
South Haven 1, Berrien Springs 0
Allegan 4, Sturgis 1
Plainwell 2, Dowagiac 0
Paw Paw 3, Three Rivers 3 – TIE
Otsego 2, Vicksburg 1
Brandywine 3, Bridgman 2
Comstock 5, Buchanan 0
Hartford 4, Bloomingdale 2
Bangor 3, Cassopolis 1
Coloma 3, Constantine 1
Watervliet 3, Delton-Kellogg 1
Fennville 8, Parchment 0
Kalamazoo Hackett 3, Schoolcraft 1
Saugatuck 1, Lawton 1 – TIE
Girls Swimming and Diving
Portage Northern 94, St. Joseph 91
Allegan 95, Harper Creek 85
Cross Country
Girls: St. Joseph 24, Lakeshore 32
Boys: St. Joseph 26, Lakeshore 29
Today
Boys Soccer
Battle Creek Central at St. Joseph, 6:30 p.m.
Lakeshore at Mattawan, 6:30 p.m.
Kalamazoo Loy Norrix at Portage Central, 6:30 p.m.
Battle Creek Lakeview at Gull Lake, 6:30 p.m.
Portage Northern at Kalamazoo Central, 6:30 p.m.
Fennville at Otsego, 6:30 p.m.
Niles at Cassopolis, 5:00 p.m.
Bridgman at Coloma, 6:00 p.m.
Brandywine at Schoolcraft, 5:00 p.m.
Kalamazoo Christian at Hartford, 5:00 p.m.
Girls Volleyball
Benton Harbor at G. R. Ottawa Hills, 6:00 p.m.
Plainwell at Dowagiac, 6:00 p.m.
Paw Paw at Otsego, 6:00 p.m.
Allegan at Sturgis, 6:00 p.m.
Three Rivers at Vicksburg, 6:00 p.m.
Howardsville Chri at New Buffalo, 6:00 p.m.
Cassopolis at Bangor, 7:30 p.m.
Mendon at Bloomingdale, 7:00 p.m.
Marcellus at Decatur, 7:00 p.m.
Centreville at White Pigeon, 7:00 p.m.
Galesburg-Augusta at Coloma, 6:30 p.m.
Martin at Delton-Kellogg, 6:00 p.m.
Constantine at Gobles, 6:30 p.m.
Kalamazoo Christian at Watervliet, 6:30 p.m.
Kalamazoo Hackett at Lawton, 6:30 p.m.
Parchment at Saugatuck, 6:30 p.m.
Boys Tennis
St. Joseph at New Prairie (IN), 5:00 p.m.
Edwardsburg at Lakeshore, 4:00 p.m.
Otsego at South Haven, 4:00 p.m.
Cross Country
Paw Paw at South Haven, 5:00 p.m.