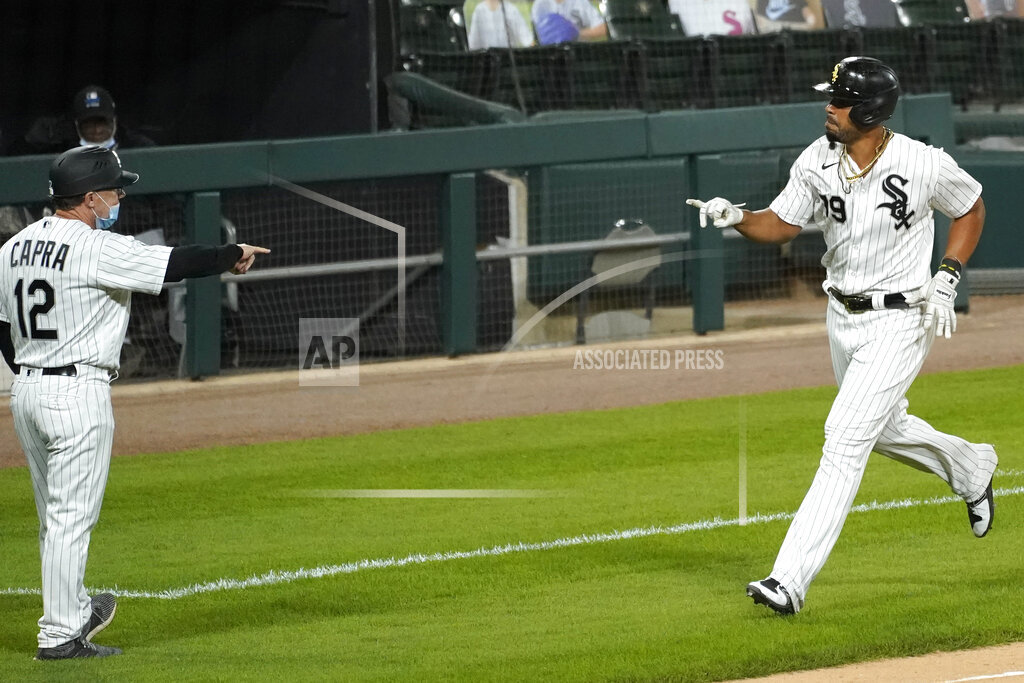 Major League Baseball
Last Night
White Sox 5, Tigers 3
St. Louis 9, Cubs 3 – Game 1 (7 Innings)
Cubs 4, St. Louis 2 – Game 2 (7 Innings)
White Sox 5, Tigers 3 
Jose Abreu hit a tie-breaking homer in the eighth inning, then Edwin Encarnacion followed with his second solo shot of the game to lift the White Sox over the Tigers 5-3 . It was Chicago's fourth straight win. Abreu lofted the first pitch he faced from Gregory Soto down the right field line and just over the wall, giving Chicago a 4-3 lead with one out. Encarnacion then sent a drive to left-center for his 37th career multi-homer game, sealing the Tigers' eighth loss in row.  Evan Marshall pitched a perfect eighth for the win. Alex Colome followed with a 1-2-3 ninth for his sixth save.
Cubs vs. Cardinals 
The Cubs beat the St. Louis Cardinals 4-2 to earn a split of a doubleheader. David Bote hit a tiebreaking two-run single in the seventh and final inning of Wednesday's nightcap, sending the Cubs to their third win in four games. Reliever Jeremy Jeffress earned the win and Craig Kimbrel worked the seventh for his first save of the season. In the opener, Matt Carpenter belted a first-inning grand slam and the Cardinals beat the Cubs 9-3. St. Louis held Chicago to two hits in the seven-inning game even though shaky starter Jack Flaherty recorded only five outs.
Today
Tigers at White Sox, 2:10 – on 94.9 WSJM
Cubs are off
MLB – Reds broadcaster Thom Brennaman suspended for anti-gay slur
Reds broadcaster Thom Brennaman has been suspended from working Cincinnati's games after using an anti-gay slur on air. Brennaman used the slur moments after the Fox Sports Ohio feed returned from a commercial break before the top of the seventh inning in the first game of a doubleheader at Kansas City. Brennaman did not seem to realize he was already on air and later apologized. The 56-year-old Brennaman was pulled from the broadcast in the fifth inning of the second game. The Reds say they will "be addressing our broadcasting team in the coming days."
NHL – Stanley Cup Playoffs – Round 1 (Best of 7)
Last Night
Tampa Bay 5, Columbus 4 – OT  (TB wins 4-1)
Boston 2, Carolina 1  (BOS win 4-1)
Montreal 5, Philadelphia 3  (PHI leads 3-2)
Colorado 7, Arizona 1  (COL wins 4-1)
Vancouver 4, St. Louis 3  (VAN leads 3-2)
Tonight
NY Islanders vs. Washington, 8:00  (NYI leads 3-1)
Dallas vs. Calgary, 10:30  (DAL leads 3-2)
NBA Playoffs – Round 1 (Best of 7)
Last Night
Toronto 104, Brooklyn 99  (TOR leads 2-0)
Boston 128, Philadelphia 101  (BOS leads 2-0)
Utah 124, Denver 105  (Series tied 1-1)
Dallas 127, LA Clippers 114  (Series tied 1-1)
Today
Miami vs. Indiana, 1:00  (MIA leads 1-0)
Milwaukee vs. Orlando, 6:00  (ORL leads 1-0)
Houston vs. Oklahoma City, 3:30  (HOU leads 1-0)
Portland vs. LA Lakers, 9:00  (POR leads 1-0)
NFL – NFL installs coronavirus committee
The NFL says it will consult an advisory committee made up of former coaches, general managers and players on such issues as postponing, moving or even canceling games this season due to the coronavirus pandemic.  The league will consider playoff games in a bubble environment, noting that "all options are on the table."  The league sent game-day and travel protocols to the 32 teams this week. The extensive in-stadium specifics include rules for the field, sidelines, locker rooms, tunnels, entrances and training rooms.
NCAA – NCAA moves toward free year of eligibility for fall athletes
College athletes who play fall sports, including football, will be given a free year of eligibility no matter how much they compete over the next 10 months if an NCAA recommendation is approved later this week. The council also recommended NCAA should pursue staging fall sports championships during the spring and it approved a 12-hour per week schedule of football activities for teams not competing in the fall. The proposals need approval by the Division I Board of Directors, which meets Friday.

High School Sports
Yesterday
Girls Golf
-St. Joseph won the opening match of the 2020 season with a victory at the Gull Lake Invitational.
The Lady Bears had a score of 355, with Maya Hunter taking medalist honors with a score of 75.  Other scores for St. Joe.  Madison Jackson (90) Gracie Thomas (95), Maddy Cleveland (96), Morgan Guzzo (100), and Izzy Ugalde (102).
-Edwardsburg defeated Niles 212-233.
Shelby Hardin and Autumn Sawyer of Edwardsburg tied for medalist (51)
Boys Tennis
Brandywine 5, South Haven 3 – 100th win for Brandywine head coach David Sidenbender
Edwardsburg wins Niles Invitational
Fall Sports
The MHSAA will release their decision about whether other fall sports like soccer, volleyball, and swimming will be able to proceed this season.  The MHSAA announced last Friday that football would be shifted to spring of next year due to concerns over COVID-19.  Similar concerns have been made with these three sports.