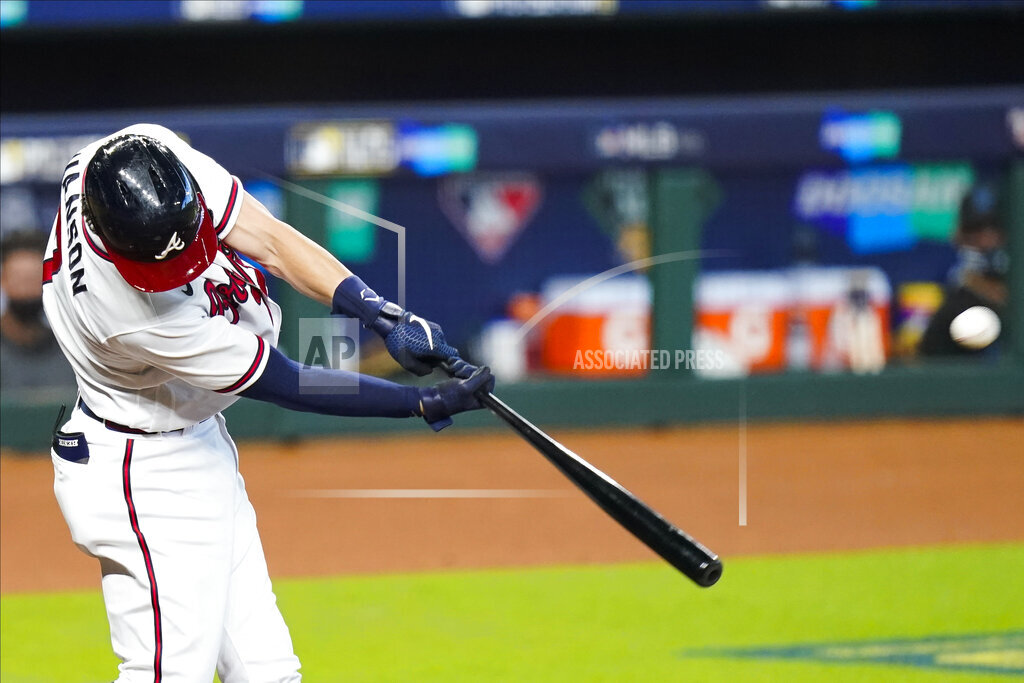 MLB – MLB Postseason – Division Series (Best of 5)
Yesterday
American League
Oakland A's 8, Houston Astros 4                                                         (HOU leads 2-1)
Tampa Bay Rays 9, New York Yankees 7                                                  (TBR leads 2-1)
Athletics 8, Astros 4 – Oakland stays alive
The Oakland Athletics have avoided a three-game sweep in the AL Division Series by rallying for a 9-7 win over the Houston Astros. Chad Pinder tied the game with a three-run homer in the seventh inning before adding a sacrifice fly in the eighth to cap the scoring. Tommy La Stella, Marcus Semien, Matt Olson and Mark Canha (KAN'-ah) also homered for the A's.
Rays 9, Yankees 7 – Rays take control
The Rays are up 2-1 in their AL Division Series after blasting three more home runs in an 8-4 trouncing of the Yankees.  Kevin Kiermaier provided the big blow with a three-run homer off losing pitcher Masahiro Tanaka to break a 1-1 tie. Randy Arozarena (ah-roh-zah-RAY'-nah) added a solo shot to chase Tanaka an inning later, and Michael Perez smacked a two-run shot against Chad Green in the sixth. Charlie Morton gave Tampa Bay five strong innings, striking out six and allowing one earned run and four hits.
National League
Atlanta Braves 2, Miami Marlins 0                                                       (ATL leads 2-0)
Los Angeles Dodgers 5, San Diego Padres 4                                         (LAD leads 2-0)
Braves 2, Marlins 0 – Braves win again
Ian Anderson combined with four relievers on the Atlanta Braves' third shutout in four postseason games, 2-0 over the Miami Marlins. Anderson struck out eight and allowed three hits over 5 2/3 innings before the Atlanta bullpen tossed no-hit ball the rest of the way. Dansby Swanson and Travis d'Arnaud homered for the second straight day as the Braves took a 2-0 lead in the best-of-5 NL Division Series.
Dodgers 6, Padres 5 – Dodgers on the verge
The Dodgers also can finish up a three-game sweep on Thursday following a 6-5 win over the Padres.  Corey Seager delivered three hits for Los Angeles, including a two-run double in the third inning to put the Dodgers ahead to stay. Cody Bellinger padded the lead with a solo shot in the fourth and also robbed Fernando Tatis Jr. of a potential go-ahead, two-run home run in the seventh. Clayton Kershaw was sailing until Manny Machado and Eric Hosmer hit back-to-back homers in the sixth. Kershaw got the win after allowing three runs and six hits over six innings.
Today
American League
Oakland (Montas 3-5) vs. Houston, 3:35 p.m.                                       (HOU leads 2-1      )
Tampa Bay (Thompson 1-2) vs. NY Yankees (Montgomery 2-3), 7:10 p.m.  (TBR leads 2-1)
National League
Atlanta (Wright 2-4) vs. Miami (Sánchez 3-2), 2:08 p.m.                       (ATL leads 2-0)
Los Angeles Dodgers vs. San Diego, 9:08 p.m.                                      (LAD leads 2-0)
MLB – MLB starts process of taking over minors' governance
Major League Baseball will eliminate the separate ruling body of minor league baseball and move governance of the farm teams to the commissioner's office in New York as it moves forward with plans to shrink affiliations from 160 to 120. The Professional Baseball Agreement between MLB and the National Association of Professional Baseball Leagues expired Sept. 30 without a successor deal following a year of acrimonious negotiations. The National Association was founded in 1901. The National Association office has been in St. Petersburg, Florida. MLB retained Peter B. Freund and Trinity Sports Consultants to work on the transition.
NFL – National Football League – Week 5
Tonight
Tampa Bay Buccaneers at Chicago Bears, 8:20 p.m.   News/Talk/Sports 94.9 WSJM 8:00
NFL – NFL investigates Titan's outbreak
The NFL's investigation into how Tennessee turned into the league's first COVID-19 outbreak found "several specific incidents" of the Titans possibly breaking protocols dealing with the coronavirus pandemic. That's according to a person with knowledge of the probe.  Also, the headmaster of a private school in Nashville confirmed to the AP that several Titans, including quarterback Ryan Tannehill, practiced there a day before the NFL first postponed Tennessee's game with Pittsburgh before rescheduling the game to Oct. 25.  The Titans' outbreak is now up to 22 people, with 20 positive tests returned since Sept. 29. Tennessee is set to host Buffalo next and already has had a game with Pittsburgh rescheduled. Commissioner Roger Goodell warned all 32 teams that protocol violations forcing changes in the schedule could lead to forfeiting games.  The NFL is trying to play a full schedule amid the pandemic without isolating teams in bubbles as other sports have done.
NFL – Washington benches Haskins for Allen
Dwayne Haskins is being benched by the Washington Football Team and replaced at quarterback by Kyle Allen for this week's game against the Los Angeles Rams. Washington's team Twitter feed announced the QB switch, which comes after just four games under new head coach Ron Rivera. Washington is off to a 1-3 start and currently on a three-game losing streak. Haskins was a first-round pick in the 2019 NFL draft out of Ohio State. He has thrown for 939 yards and has completed 61% of his passes this season, with four touchdowns and three interceptions.
NHL – Red Wings scouting director drafts son
Detroit Red Wings director of Amateur Scouting and former Red Wings player Kris Draped selected his son Kienan Draper in the 7th round of yesterday's 2020 NHL Entry Draft.  Kris Draper won four Stanley Cup Championship while with Detroit.  Kienan was the 187th overall selection and he scored 26 goals in 56 games while playing for St. Andrews College.  Most of the Red Wings staff made the selections in a conference room at the team offices at Little Caesars Arena, with the exception of General Manager Steve Yzerman, who was in isolation after being exposed to COVID-19. Yzerman has tested negative numerous times.
Tennis – Kvitova serves up storm to reach 1st semifinal since 2012
Fourth seed Sofia Kenin and No. 7 Petra Kvitova have advanced to the French Open semifinals.  Kenin was pushed to a third set for the fourth time in five matches at Roland Garros before coming away with a 6-4, 4-6, 6-0 win over fellow American Danielle Collins.  Kvitova rained down aces to earn a 6-3, 6-3 victory over Laura Siegemund and her first semifinal spot at Roland Garros since 2012.  On the men's side, Novak Djokovic overcame a bothersome left arm and an early deficit to reach the semifinals at Roland Garros for the 10th time. The tournament's top-seeded man came back to beat Pablo Carreño Busta, 4-6, 6-2, 6-3, 6-4.  Stefanos Tsitsipas is into his first French Open semifinal. The fifth-seeded Greek player beat 13th-seeded Andrey Rublev 7-5, 6-2, 6-3 to avenge a loss in the Hamburg final less than two weeks ago. Rafael Nadal faces Diego Schwartzman in the other men's semifinal.
Olympics – Coe supports athletes' right to take knee on Olympic podium
Sebastian Coe has repeated his support for the right of athletes at next year's Tokyo Olympics to "take the knee" on the medal podium to protest social or racial injustice. Coe spoke during a trip to Tokyo's new National Stadium. He was speaking out in direct opposition to Rule 50 of the Olympic Charter. It says "no kind of demonstration or political, religious or racial propaganda is permitted in any Olympic sites, venues or other areas." Coe is an International Olympic Committee member, a two-time Olympic champion, and the head of the governing body of track and field.
MHSAA – High School Sports
Yesterday
Girls Volleyball
Michigan Lutheran 3, Lawrence 0
Portage Central 3, St. Joseph 0
Mattawan 3, Lakeshore 0     
Battle Creek Lakeview 3, Portage Northern 1
Bridgman 3, Berrien Springs 0
South Haven 3, Buchanan 0
River Valley 3, Eau Claire 0
Niles 3, Comstock 0

Boys Soccer
Dowagiac 3, Paw Paw 2
Sturgis 3, Edwardsburg 1
Three Rivers 1, Vicksburg 0
Allegan 4, South Haven 0
Brandywine 7, Buchanan 2
Niles 9, Berrien Springs 1
Watervliet 4, Kalamazoo Christian 2
Coloma 7, Lawton 1
Schoolcraft 3, Bloomingdale 1
Fennville 6, Delton-Kellogg 1
Kalamazoo Hackett 8, Constantine 0
Boys Tennis – Districts
Division 3 at St. Joseph 
Semifinal:      St. Joseph 7, Gull Lake 1
Semifinal:      Edwardsburg 6, Vicksburg 2
Final:           St. Joseph 7, Edwardsburg 1
Division 3 at Sturgis     
Semifinal:      Sturgis 7, Niles 1
Semifinal:      Lakeshore 7, Plainwell 1
Final:           Sturgis 5, Lakeshore 3
Division 4 at Brandywine
Semifinal:     New Buffalo/Bridgman/LMC 5, Buchanan 3
Semifinal:     Brandywine 6, Bronson 2
Final:           Brandywine 7, New Buffalo/Bridgman/LMC 1
Today
Football
Southwest 10
Centreville (3-0) at Mendon (3-0), 7:00 p.m.
Decatur (0-3) at Hartford (0-3), 7:00 p.m.
SAC
Kalamazoo United (3-0) at Watervliet (2-1), 7:00 p.m.
A total of four football games originally scheduled for Friday have been moved.  A lack of officials was cited as the reason.  The MHSAA estimates there are 25% less officials available for football this year because of COVID-19.  Berrien Springs vs. South Haven's game has been moved to Saturday at 1:00 p.m.
Boys Soccer
SMAC Tournament (with tournament seed)
#4 Portage Central at #1 Mattawan, 6:30 p.m.
#3 Gull Lake at #2 St. Joseph, 6:30 p.m.
#8 Kalamazoo Loy Norrix at #5 Kalamazoo Central, 6:30 p.m.
#7 Lakeshore at #6 Portage Northern, 6:30 p.m.
#10 Battle Creek Central at #9 Battle Creek Lakeview, 6:30 p.m.
Other games
Coloma at Comstock, 5:00 p.m.
South Haven at Niles, 5:30 p.m.
Kalamazoo Home School at Cassopolis, 5:00 p.m.
Bloomingdale at Hartford, 5:00 p.m.
Saugatuck at Byron Center Zion Chr. 4:00 p.m.
Constantine at Schoolcraft, 5:00 p.m.
Girls Volleyball
Three Rivers at Edwardsburg, 6:00 p.m.
Paw Paw at Vicksburg, 6:00 p.m.
Dowagiac at Sturgis, 6:00 p.m.
Plainwell at Otsego, 6:00 p.m.
Bangor at Centreville, 7:00 p.m.
Hartford at Decatur, 5:30 p.m.
Bloomingdale at Marcellus, 7:00 p.m.
White Pigeon at Mendon, 7:00 p.m.
Watervliet at Gobles, 6:30 p.m.
Saugatuck at Holland, 6:00 p.m.
Kalamazoo Christian at Holland Christian, 6:00 p.m.
Boys Tennis – District
Division 4 at Berrien Springs, 9:00 a.m.
Semifinal: Three Rivers vs. South Haven
Semifinal: Berrien Springs (Bye)
Finals:          
Girls Swimming and Diving
Sturgis at South Haven, 6:00 p.m.