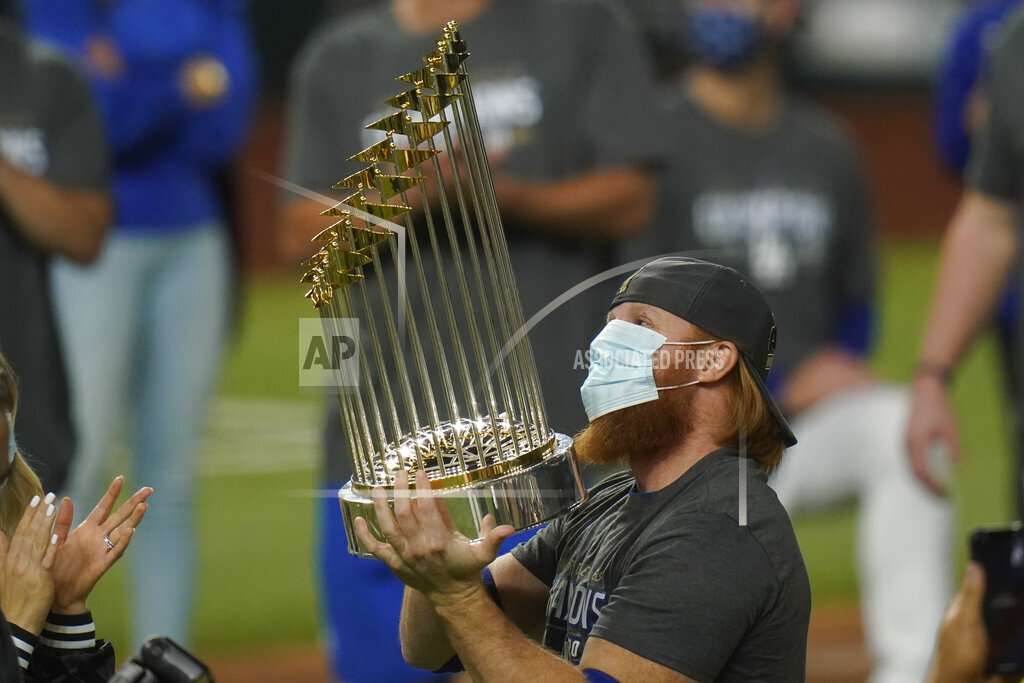 MLB – MLB says Turner violated protocols when he returned to field
Major League Baseball says Justin Turner risked the safety of others by violating coronavirus protocols when he celebrated the Los Angeles Dodgers' World Series win with his teammates and refused instructions from security to leave Globe Life Field. The commissioner's office said Wednesday that it is starting a full investigation of the 35-year-old third baseman. Turner was pulled from Tuesday night's game following the seventh inning after MLB was notified that he had tested positive for COVID-19. Dodgers president of baseball operations Andrew Friedman said Turner was quarantined in a doctor's office off to the side. But he later returned to the field and took down his mask to pose for a team photo on the field. The commissioner's office said it will consult with the players' association as part of its investigation. The union was in the process of gathering facts on the events. The Dodgers won their first World Series championship since 1988 with a 3-1 victory over Tampa Bay in Game 6 on Tuesday night.
MLB – Offseason begins
What figures to be a down and perhaps brutal market for baseball free agents in the offseason following the pandemic began Wednesday when a dozen players were told their contract options had been declined, among them St. Louis Cardinals Gold Glove second baseman Kolten Wong. The 30-year-old Wong will receive a $1 million buyout. Wong, a first-round pick in the 2011 draft, made his big league debut in 2013 and spent his first eight seasons with St. Louis. Wong hit. 265 with a homer and 16 RBIs in 53 games during the pandemic-shortened season.
NFL – National Football League – Week 8
Tonight
Atlanta Falcons at Carolina Panthers, 8:20 p.m.      News/Talk/Sports 94.9 WSJM 8:00
NFL – Bears Robinson in concussion protocol
Chicago Bears star receiver Allen Robinson is in the NFL's concussion protocol, throwing his status for this week's game against the New Orleans Saints into question. He was hurt late in their lopsided loss to the Los Angeles Rams on Monday night and left the game. Robinson's face hit the field when he was tackled on a helmet-to-helmet play by safety Nick Scott on a fourth-down catch with about four minutes left, and an official sent him to the sideline. The Bears lost 24-10 and fell out of the NFC North lead.
NFL – Lions new acquisition Griffen won't be available Sunday
Detroit Lions coach Matt Patricia says newly acquired defensive end Everson Griffen will not be available to practice or play until next week due to NFL's COVID-19 protocols. The Lions acquired Griffen from the Dallas Cowboys for a conditional 2021 draft pick on Tuesday night. NFL protocols require players who join a new team to begin testing for six days before they can enter the franchise's facilities. Detroit will be without Griffen when it hosts the Indianapolis Colts on Sunday. Griffen can join the team on Monday, following a series of negative tests for the Covid-19.
NCAA Football – No. 9 Wisconsin cancels Nebraska game; Chryst tests positive
The pandemic hit Big Ten football just two weeks into its season Wednesday as No. 9 Wisconsin canceled its game at Nebraska and paused team activities for at least a week after a dozen people in the program — including coach Paul Chryst — tested positive for COVID-19.  Athletic director Barry Alvarez and Chancellor Rebecca Blank made the decision in consultation with Big Ten officials. Alvarez said the team had only one positive test two days before Friday's season-opening 45-7 victory over Illinois and 12 positive tests afterward.  The game won't be rescheduled.
NCAA Football – No. 4 Notre Dame passing game picking up with Ga Tech next
No. 4 Notre Dame's passing attack is beginning to show life again heading into Saturday's game at Georgia Tech. Quarterback Ian Book finally looked like his old self last week in a 45-3 victory at Pittsburgh, throwing for 312 yards and three touchdowns. The Fighting Irish had to replace two stars in Chase Claypool and Cole Kmet, who are now in the NFL.  Freshman tight end Michael Mayer leads the team with 12 catches for 153 yards and two touchdowns.
NASCAR – Kyle Busch wins in Texas
Kyle Busch won for the first time this season to extend a 16-season streak when he won the NASCAR playoff race at Texas. The race finished Wednesday, three days after it started. Busch finished ahead of penalized teammate Martin Truex Jr., who missed a chance to secure a spot in the championship.  Busch, the reigning Cup champion who is already out of contention for this year's title, finished 0.468 seconds ahead of his Joe Gibbs Racing teammate.  The last chance to get in the championship four is Sunday at Martinsville, where Truex won in June.  There are spots for three other drivers to join Joey Logano for a run at the championship in the season finale Nov. 8 at Phoenix.
2021 Boston Marathon postponed at least until the fall
The Boston Marathon has been postponed once again. The Boston Athletic Association says it won't hold the race as scheduled in April because of the COVID-19 pandemic. Organizers say it will be put off "at least until the fall of 2021." This year's marathon was initially postponed from April until the fall and later canceled outright. It was to be the 124th edition of the world's oldest and most prestigious annual 26.2-mile race.
AHL – American Hockey League pushes start of season back to Feb. 5
The American Hockey League is targeting a Feb. 5 start date for next season. The AHL's board of governors determined that projected start date during a call Wednesday. The AHL is the top minor league affiliate of the NHL, which is targeting a Jan. 1 start for the season. A typical AHL season usually starts after the NHL gets underway. NHL deputy commissioner Bill Daly says he doesn't expect the AHL announcement to affect the NHL's planning. Daly adds the AHL has kept the NHL informed during its decision-making process and that general managers were briefed last week.
MHSAA – High School Sports
Yesterday
Boys Soccer – Regional Semifinals
Division 2 at Vicksburg
St. Joseph 4, Marshall 1
Gull Lake 3, Holland 2
-Regional championship Saturday 11:00 a.m. at Vicksburg high school
Girls Volleyball
Countryside Academy 3, Eau Claire 1
Edwardsburg 3, Bronson 0
Edwardsburg 3, Mendon 1
Coloma 2, Dowagiac 0
Dowagiac 2, Marcellus 0
Bridgman 2, Dowagiac 0
Mendon 3, Niles 1
Niles 3, Bronson 1
Watervliet 2, Bangor 0
Watervliet 2, Comstock 0
Yesterday
Boys Soccer – Regional Semifinals
Division 2 at Dearborn
Mattawan vs. Saline, 5:00 p.m.
Division 3 at GR South Christian
Dowagiac vs. GR South Christian, 6:00 p.m.
Division 4 at Portage Central
Howardsville Christian vs. Grandville Calvin Christian, 6:00
Girls Volleyball
Three Rivers at Paw Paw, 6:00 p.m.
Otsego at Schoolcraft, 6:00 p.m.
South Haven, GR Covenant Christian, Allegan at Saugatuck, 4:30 p.m.
River Valley at Howardsville Christian, 4:00 p.m.
Gobles at Decatur, 5:00 p.m.
Parchment at Vermontville Maple Valley, 6:00 p.m.