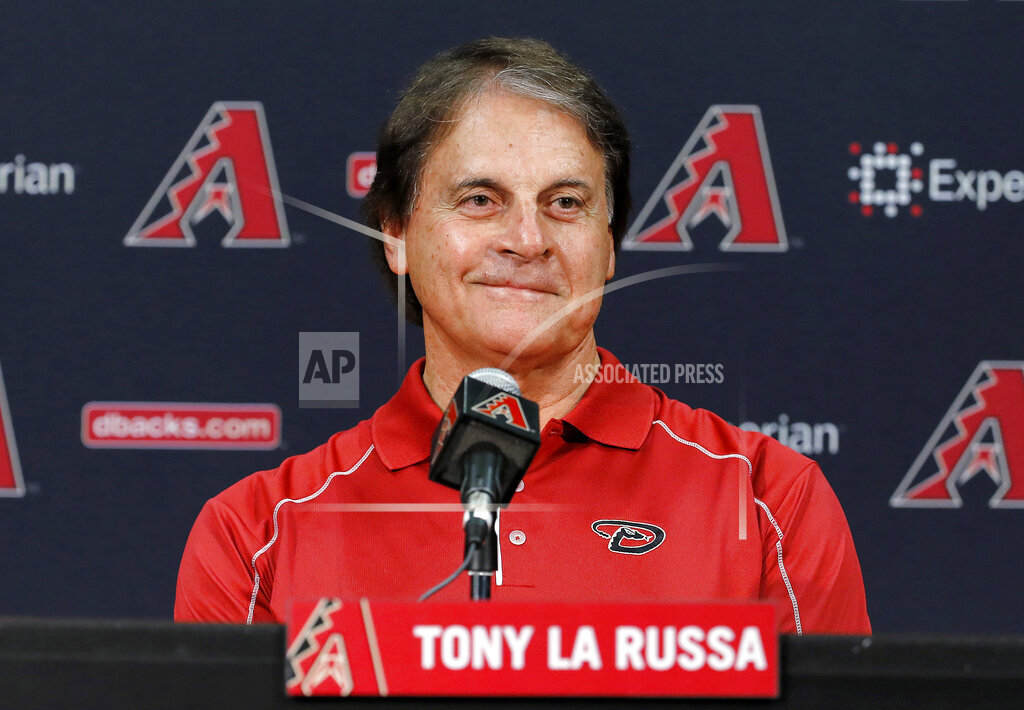 MLB – AP source: Angels give White Sox OK to interview La Russa
The Los Angeles Angels have granted the Chicago White Sox permission to interview Hall of Famer Tony La Russa for their managing job. That's according to a person familiar with the situation who confirmed a USA Today report. The person spoke on the condition of anonymity because the Angels typically do not comment on personnel matters. A three-time World Series-winning manager, the 76-year-old La Russa joined the Angels prior to this season as senior advisor of baseball operations. The White Sox and Rick Renteria agreed to split after a disappointing finish to a breakthrough season in which Chicago made the playoffs for the first time since 2008.
MLB – MLB Postseason – League Championship Series (Best of 7)
Yesterday
American League
Houston Astros 4, Tampa Bay Rays 3                                                    (TBR leads 3-1)
Astros 4, Rays 3 – Astros stay alive
George Springer broke a tie with a two-run homer, José Altuve also went deep and hit an RBI double, and Zack Greinke escaped a bases-loaded jam for the Houston Astros, who beat the Tampa Bay Rays 4-3 to stay alive in the AL Championship Series. With Altuve atoning for his poor defense this series, the Astros finally got their offense going after being pushed to the brink of a sweep. Seeking their third pennant in four seasons, they trail 3-1 going into Game 5 on Thursday afternoon. The Rays remain one win from going to the World Series for the second time in franchise history.
National League
Los Angeles Dodgers 15, Atlanta Braves 3                                           (ATL leads 2-1)
Dodgers 15, Braves 3 – Braves' 1st playoff loss a doozy
Max Muncy's grand slam capped a record-setting 11-run first inning for the Los Angeles Dodgers, who coasted to a 15-3 rout of the Atlanta Braves that cut their National League Championship Series deficit to 2 games to 1. Muncy's slam was the third homer in the first inning and one of a franchise-record five in a playoff game for the Dodgers. Joc Pederson and Edwin Rios went deep on consecutive pitches in the first. Atlanta still has a 2-1 lead in the best-of-seven series.
Today
National League
L.A. Dodgers (Kershaw 6-2) vs. Atlanta (Wilson 1-0), 8:08 p.m.            (ATL leads 2-1)
American League
Tampa Bay (TBA) vs. Houston (TBA), 5:05 p.m.                                                (TBR leads 3-1)
NFL – Bears assistant Juan Castillo in quarantine
Chicago Bears offensive line coach Juan Castillo will quarantine at least through Sunday's game at Carolina after coming in contact with someone away from the team who tested positive for COVID-19.  Coach Matt Nagy said Wednesday Castillo has not tested positive for the coronavirus. The person he came in contact with tested positive Tuesday.  Castillo was not with the team Wednesday. He will continue to coach through Zoom this week, but will not travel to the game.  "Juan had a close contact away from the facility test positive yesterday, so he's considered high-risk," Nagy said. "And we're just trying to be overly cautious to quarantine him through Sunday through the guidance of the NFL and our medical experts."  Offensive lineman Badara Traore was moved from the practice squad to the COVID-19 list Saturday after testing positive for the virus. But Nagy said Castillo's situation was "completely unrelated." Chicago last played Thursday night, so Halas Hall was closed over the weekend. Traore was not on the sideline for the Bears' victory over Tampa Bay at Soldier Field. Chicago placed left guard James Daniels on injured reserve as expected Wednesday because of a pectoral injury. Nagy does not expect him to play again this season.
NFL – Pro Bowl Cancelled
The NFL has canceled next January's Pro Bowl scheduled for Las Vegas. The league opted to call off the all-star game, hoping to replace it with a variety of virtual activities. The NFL needs flexibility in January in case it needs to move regular-season games to that month because of the coronavirus pandemic. If the game is held in 2022, it will be at the new Allegiant Stadium in Las Vegas.
NCAA Football – Nick Saban, Alabama AD Greg Byrne test positive for COVID-19
Alabama coach Nick Saban and athletic director Greg Byrne have tested positive for COVID-19, three days before the Southeastern Conference's biggest regular-season showdown. Both said their tests Wednesday morning came back positive, but Saban said he didn't have any symptoms by late afternoon. Saban says he "immediately left work and isolated at home." He remained scheduled to talk to the media Wednesday evening. The second-ranked Crimson Tide is set to face No. 3 Georgia on Saturday, and may be without their iconic 68-year-old coach. Saban said he immediately left the football building to isolate at home.
NCAA Football – Michigan expected to be good, not great, again with Harbaugh
Michigan has been merely good under coach Jim Harbaugh. Harbaugh's sixth season in charge of college football's winningest program is expected to follow its recent form. The Wolverines are No. 19 in The Associated Press college poll, way behind rival and sixth-ranked Ohio State. Michigan is also going into the season trailing No. 9 Penn State and No. 16 Wisconsin, two teams that are scheduled to play at the Big House during the Big Ten's shortened season. Wolverines defensive end Kwity Paye says the team is under the radar and has taken a lot of punches from people.
NCAA Football – Expectations tempered for Michigan St in Tucker's 1st season
Michigan State won't be burdened by huge expectations in coach Mel Tucker's first season. The last few years under Mark Dantonio were difficult, and the Spartans appeared to be in a rebuilding mode well before the novel coronavirus interfered with Tucker's transition into the job. Dantonio retired in February, and Tucker took over shortly after that. He had about a month of normalcy before the virus began affecting sports all over the country. Michigan State went just 17-19 in Big Ten play in Dantonio's final four seasons. The Spartans open this season Oct. 24 against Rutgers.
NCAA Football – No tailgating at MSU as football opener approaches
Tailgating and alcohol are banned on football Saturdays at Michigan State University. Campus police say parking lots will also be closed, all in an effort to prevent the spread of the coronavirus. Certain rules are typically suspended for home football games, but not this year. Capt. Chris Rozman says Spartan fans are encouraged to watch football games on TV at home. There will be no public sale of tickets to Spartan Stadium. The first home game is Oct. 24 against Rutgers. East Lansing says any violation of its health orders could carry a $500 fine. Masks are mandatory — indoors and outdoors — in Downtown Development Authority areas.
NCAA Football – No. 4 Notre Dame riding experienced o-line to 3-0 start
No. 4 Notre Dame is riding one of the nation's top offensive lines. The five starters have 123 combined starts. They have helped Notre Dame average 270.7 rushing yards, fifth best in the nation. They have allowed just three sacks over three games. The Fighting Irish host Louisville on Saturday. – Cam expected to practice Thursday
NCAA Football – Kickoff approaches for Big Ten
The wait is almost over for the Big Ten. The ACC, Big 12 and SEC have been playing anywhere from three to five weeks during this pandemic-plagued college football season, and all the players and coaches around the Big Ten could do is watch. Ohio State coach Ryan Day called it torture. The eight-game conference-only schedule begins Oct. 23 with Illinois visiting No. 16 Wisconsin. The rest of the league gets started Oct. 24. No open dates are built into the schedule. Every team plays every week through Dec. 12 barring cancellations because of outbreaks of COVID-19.
NCAA Football – SEC postpones LSU-Florida game as Gators deal with outbreak
The Southeastern Conference has postponed Saturday's game between No. 10 Florida and defending national champion LSU after the Gators had 19 players test positive for COVID-19. The game was tentatively rescheduled for Dec. 12, the league's built-in bye week before its title game.  It's the second SEC game bumped this week. Missouri-Vanderbilt already was postponed.  Florida hosts Missouri next, on Oct. 24, and that game also could be in jeopardy. LSU's next scheduled game is also Oct. 24, when the Tigers are slated to host South Carolina.
NCAA Basketball – Vegas to host NCAA Tournament men's regional for first time
Las Vegas will host an NCAA Tournament men's regional for the first time after the NCAA changed a policy that prevented states with sports wagering from hosting championships. The city will host the 2023 NCAA Tournament men's regional.  Nevada will host 11 events, including the 2026 men's Frozen Four, after the NCAA changed its stance on cities with sports betting last year.  Dayton, Ohio will continue to host the NCAA First Four through at least 2026. It has served as the site for the start of the NCAA Tournament since 2001.  The 2020 Final Four in Atlanta was wiped out by the cancellation of the NCAA Tournament due to the coronavirus pandemic.
NCAA Women's Basketball – Tampa, Phoenix chosen as women's Final Four sites
The NCAA women's basketball Final Four is finally headed west again. The NCAA says Phoenix will host the 2026 championship. It will be the first time since 2012, when Denver was the host, that the women's Final Four will be in the Mountain or Western time zone. Tampa was awarded the 2025 Final Four, marking the fourth time that the Florida city will be the host. Tampa last hosted in 2019.The NCAA also announced the eight cities that will host regionals from 2023-26.
NCAA – NCAA will vote in January to change NIL, transfer rules
An NCAA proposal to permit college athletes to earn money from endorsements and sponsorships deals will go up for vote in January. But that will not be the last word on how name, image and likeness compensation will work. Federal lawmakers are still expected to weigh in. The Division I Council also approved a proposal that would permit all NCAA athletes to transfer one time without having to sit out a season of competition. Currently, football, basketball, baseball and hockey players must sit out a year after they transfer as an undergraduate. Athletes in other sports have already had access to a one-time exception. Both proposals will now go to membership for comment and feedback.
MHSAA – High School Sports
Yesterday
Boys Soccer – Districts round 1
St. Joseph 3, Sturgis 0
Three Rivers 4, Lakeshore 3
Portage Central 5, Jackson 0
Battle Creek Central 8, Charlotte 0
Dowagiac 8, Berrien Springs 0
Watervliet 8, Buchanan 0
Howardsville Christian 7, Lawton 0
Coloma 3, Brandywine 0
Delton-Kellogg 6, Jonesville 0
South Haven 8, Constantine 0


Girls Volleyball
Gull Lake 3, St. Joseph 1
Niles 3, Buchanan 0
New Buffalo 3, Eau Claire 0
Today
Boys Soccer – Districts round 1
Paw Paw at Edwardsburg, 5:00 p.m.
Plainwell at Hastings, 5:00 p.m.
Allegan at Otsego, 6:00 p.m.
Portage Northern at Kalamazoo Central, 6:00 p.m.
Battle Creek Lakeview at Kal. Loy Norrix, 6:00 p.m.
Comstock at Parchment, 5:00 p.m.
Boys Tennis – State Finals (round of 16)
Division 3 at Holland Harbor Lights Middle School
St. Joseph vs. Detroit Country Day
Division 4 at Portage Central
Brandywine vs Traverse City St. Francis
Division 4 at Portage Northern
Berrien Springs vs. GR Northpoint Christian
Girls Volleyball
Benton Harbor at Covert, 5:30 p.m.
New Buffalo at Michigan Lutheran, 6:30 p.m.
River Valley at Marcellus, 6:30 p.m.
Niles at Hamilton, 5:00 p.m.
Edwardsburg at Allegan, 6:00 p.m.
Vicksburg at Dowagiac, 6:00 p.m.
Sturgis at Otsego, 6:00 p.m.
Three Rivers at Plainwell, 6:00 p.m.
Gobles at Delton-Kellogg, 6:30 p.m.
Lawton at Kalamazoo Christian, 6:30 p.m.
Coloma at Schoolcraft, 6:30 p.m.
Constantine at Martin, 6:30 p.m.
Saugatuck at Galesburg-Augusta, 6:30 p.m.